Results and Reports for May 4-10, 2002
United Kingdom
Promoters wishing to submit results should send them to cyclingnews
Under 23 Road Championships
Buckinghamshire, May 5, 2002
British espoirs road title for Alberts
By Gerry McManus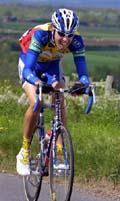 An in-form Jamie Alberts
Photo: © Gerry McManus
Ending a fantastic week for the youngster, Jamie Alberts (CG Etupes) convincingly took the British National Under-23 Road Race title in Buckinghamshire, UK on Sunday 5th May.
The 93-mile race was another stern test for the French based rider following his 10th place in the Under 23 Liege-Bastogne-Liege event on Wednesday.
An early break had been brought back after 20 miles only for another to launched almost immediately with six key riders working together.
Gary Willis (Scottish Cycling CU) was the only one from the original break to make the second move and this helped him secure the most aggressive rider award. Alberts, James Barnes (CC Chateaubriant), Mark Baker (SG Bollington), Mark Kelly (Dataphonics RT), David Law (Velo Sport Quimper) and James Flanagan (Team Milton Keynes) completed the group of six.
The lead quickly grew to 1.40 as a chasing group of set off in hot Pursuit, containing pre-race favourites Kieran page (SP Systems WightLink), Karl Freeman (Team Milton Keynes) and Tom Southam (Team Nijdam).
As the front men worked steadily together at around 30 miles the chase group behind split on the climb through the finish at Chilton, with the bunch were at 2.05, losing a further minute more by the end of lap five.
The remaining eight chasers seemed to be clawing their way back with a time check of 57 seconds on the sixth ascent of to Ashendon but the leaders responded dropping first Flanagan and then Law in the process.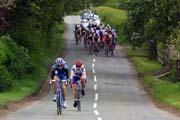 Too late: Remants of main bunch react in vain
Photo: © Gerry McManus
With three chase groups on the road ahead, Liam Killeen and Phil Dixon (Team Y2K) decided to leave the idling bunch and proceeded to work their way through the field.
Alberts was noticeably the strongest rider, taking the lead on most of the climbs on the rolling circuit and when he jumped his race companions with 20 miles they had no answer. He built a lead up to 1-12 and completed a fine solo to the finish.
Meanwhile, news had reached Kelly and Barnes that chasers were at 45 secs and were gaining with one lap to go forcing them to work hard together. In what must have seemed like a desperate lunge for the line, Kelly sprinted away taking Barnes with him as a rushing Killeen got to within half a wheel at the finish.
Another 10 yards would likely have seen a different podium result.
Alberts clearly enjoyed the event. "My form is pretty good at the moment," he said: " Five of the six in my group are based over in France and everyone knows the score. It all went perfectly with no problems. I'm going back to France where I have got quite a big month leading up to the Ronde-Issard where I will be wearing the champions jersey for the first time and I am looking forward to that."
Mark Kelly's second spot confirms the Isle of Man commonwealth games selectors decision to include the 20-year-old on the track and road team.
"I've got the Lincoln (Grand Prix) next week and then we've got the Milk Rás in Ireland and that will an experience. I expect the Rás to be really hard." Kelly said: "Today's race was good for me. I was pleased to get into an early break because I wasn't looking forward to jumping around. I am strong on the flat at the moment but not so much on the climbs and was happy to get away early.
I knew Jamie (Alberts) was strong and definitely the man to watch and when he jumped away, there was no stopping him."
20-year-old Killeen was disappointed to have missed a medal on having completed the ride of the day on the championship quality circuit:
"I have been feeling a bit rough for about ten days now and I was planning on sitting in the bunch for the first few laps and as the riders weren't doing anything, I decided to have a go. Phil Dixon and I worked together and managed to get back group-by-group. It's a shame really that we left it a little too late as I feel like I could have got a medal but that's road racing."
Photography
Images courtesy of Gerry McManus
Results, 93 miles
1 Jamie Alberts (CC Etupes)                           3.58.52
2 Mark Kelly  (Dataphonics RT/United Rent)               0.49
3 James Barnes (CC Chateaubriant)
4 Liam Killeen (Team (Y2K/Trek/SRAM/Luco)
5 Tim Morley (Team Y2K/Trek/SRAM/Luco)
6 Phil Dixon (Team Y2K/Trek/SRAM/Luco)                   1.05
7 Tom Southam (Team Nijdam)  
8 Alexander Ross (Scottish Cycling Union                 1.20
9 Daniel LLoyd (Co Chamalierois)                         1.33
10 Jody Crawford (Team Y2K/Trek/SRAM/Luco)               6.31
11 David Law (Velo SPort Quimper)                        6.57
12 Graham Briggs (Dinnington RC)
13 Keiran Page (SP Syems/Wightlink)                      7.01
14 James Williamson (Fatrack)                            7.41
15 Chriopher Penketh (DataphonicsRT/United Rent)        10.37
16 Martin Freeman (Team Milton Keynes)                  10.39
17 Karl Freeman (Team Milton Keynes)                    10.44
18 Ross Adams (Red Kite Cycles)                         11.11
19 James Scouler (Owens Cycles Petersfield)
20 Owyn Wallace Race Scene