Tour of Elk Grove - NE
USA, August 12-13, 2006
Clarke repeats, Uhl redeems in Elk Grove
By Mark Zalewski, North American Editor in Elk Grove Village, IL
Clarke does it again
Photo ©: Mark Zalewski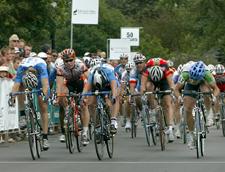 The second day of the Tour of Elk Grove featured slightly less money, but the same level of heated action as riders battled for a healthy $30,000 between the men and women.
Clarke wins field sprint for double win
The shorter race for the second day of the Tour of Elk Grove resulted in a seemingly harder race, as the speed started fast and only got faster over the sixty kilometers. This spelled field sprint for the men, with a narrow and curving last kilometer to negotiate. But Hilton Clarke (Navigators Insurance) showed he can sprint through a field just as well as out of a breakaway, taking the win by half a wheel over Brad Huff (TIAA-CREF) and Alejandro Acton (TargeTraining).
"My team here is all sprinters," said Clarke. "We waited for the last possible minute [to sprint.] Siro Camponogara set me up great again."
"The final sprint was so hectic," said runner-up Huff. "I was leading it at 400 meters and I had to go then to get either first or second. If I waited I would have gotten fifth or sixth."
Clarke was ready for Huff's move and used it to his own advantage. "He got the jump on me, but it was so far I was able to get on his wheel and rest."
New day, new race for Sarah Uhl
The sprint on the line went to Sarah Uhl (Serotta)
Photo ©: Mark Zalewski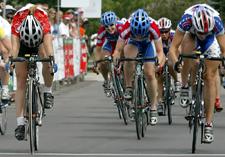 "I was twenty-fourth yesterday and pissed!" said Sarah Uhl (Serotta) who guest rode for Cheerwine this weekend. But the new day brought a new dynamic to the race. And with little attacking the field sprint was just the ticket for the young but seasoned track rider, who held off Lauren Franges (Victory Brewing) on the line for the win.
"Today was much for mellow," said Uhl. "Yesterday I wanted to be in a break -- I'm trying to work on being a break rider." But today the breaks did not form, and Uhl had to revert back to her sprinting knowledge.
On the last lap, Uhl rode under the protection of her new teammates, one of whom led for the majority of the final lap.
"Everyone was happy with the positioning coming out of the last turn," Uhl explained. "But I had to go at three hundred meters because I just felt the pack coming." Uhl's speed coming around the bend in the final fifty meters was enough to hold off the rushing field.
Uhl was most happy about her guest riding experience, particularly after today, and was glad to be able to give her team the win. "It was a really rewarding experience for me, and it was a great team."
Photography
For a thumbnail gallery of these images, click here
Images by Mark Zalewski/Cyclingnews.com
Results
Men
 
1 Hilton Clarke (Aus) Navigators Insurance
2 Brad Huff (USA) TIAA-CREF
3 Alejandro Acton (USA) TargeTraining
 
Women
 
1 Sarah Uhl (USA) Cheerwine-Serotta