GP S.A.T.S. - 1.3
Denmark, May 3, 2003
2002 Results Results Past winners
Høj wins GP S.A.T.S.
Frank Høj on the attack
Photo: © Frank Rud Jensen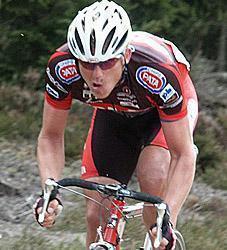 As expected, the GP S.A.T.S. became a duel between Denmark's two first category teams, Team fakta and CSC. More than three years after he last climbed onto the highest step of podium, Frank Høj managed to do so once again today after an impressive solo ride.
With over 18 km to go Frank Høj (Team fakta) attacked and rode away from the group of 10 riders. Team CSC's Andrea Tafi was unlucky to puncture and in the finale Team fakta dominated in numbers.
The fact that the GP S.A.T.S is a race on familiar home soil which he trained for hard and long only added to Frank's happiness.
"It was hard as hell to sit out there in the headwind in the finale," said Høj. "I didn't look back to see how much lead I had established and I took the radio out of my ear, so I couldn't hear what Kim told me from the car. Afterwards, I was told that I had 10-12 seconds for a long time."
"I had good legs from the start, but chose to save my power a bit. When we came to the 'Den gyldne middelvej' I decided to try and split up the front group."
"I knew this is a race I can win and that's why I was well prepared but also nervous; there is always the risk of getting disappointed," added Frank, who will now confidently take the start in the Giro d'Italia.
Photography
Images by Frank Rud Jensen/www.cykel-sport.dk
Results
1 Frank Høj (Den) Team fakta                   4.43.19 
2 Jeremy Hunt (GBr) MBK - Oktos                   2.38
3 Magnus Backstedt (Swe) Team fakta          
4 Bram Schmitz (Ned) Bankgiroloterij         
5 Staf Scheirlinckx (Bel) Flanders Iteaminova
6 Gerben Löwik (Ned) Bankgiroloterij         
7 Jacob Moe Rasmussen (Den) Team fakta       
8 Zbigniew Piatek (Pol) Mroz                 
9 Andy De Smet (Bel) Palmans-Collstrop       
10 Bert Scheirlinckx (Bel) Flanders          
11 Andrea Tafi (Ita) Team CSC                
12 Cezary Zamana (Pol) Mroz                       2.44
13 Gregory Zoledziowski (Pol) Legia               2.55
14 Jimmy Hansen (Den) Glud&Marstrand              3.23
15 Lars Michaelsen (Den) Team CSC                 
16 Christoph Roodhooft (Bel) Palmans-Collstrop    
17 Rudi Kemna (Ned) Bankgiroloterij               
18 Allan Bo Andresen (Den) Team fakta             
19 Bert Hiemstra (Ned) Bankgiroloterij            
20 Frederik Penne (Bel) Palmans-Collstrop         
21 Peter Gaarde Borg (Den) CK Kronborg            
22 Krzysztof Krzywy (Pol) Mroz                    
23 Ari Højgaard Jensen (Den)                      
24 Linas Balciunas (Ltu) Mbk-oktos                3.31
25 Bjarke Nielsen (Den) Team fakta           
26 Stéphane Barthe (Fra) Mbk - oktos              3.37
27 Wilco Zuijderwijk (Ned) Van Vliet              3.41
28 Mark Vlijm (Ned) Axa cycling team              4.24
29 Ivailo Gabrovski (Bul) Oktos                  12.03
30 Lars Ytting Bak (Den) Team fakta              12.06

 
KPMG Grusspurt 

1 Frank Høj (Den) Team fakta                    30 pts
2 Bjarke Nielsen (Den) Team fakta               15
3 Rudi Kemna (Ned) BankGiroLoterij              14
 
Midtbank Byspurt 

1 Lars Bak (Den) Team fakta                      6 pts
2 Gerben Lövik (Ned) BankGiroLoterij             3
3 Cezary Zamana (Pol)                            2
 
Telia U23 konkurrence 

1 Jakob Kollerup (Den) Post DK   

Ringkøbing Landbobank Supersprint 

1 Richard Slabbekoorn (Ned) Van Vliet-EBH advocaten

Østergaards Hotel supersprint 

1 Lars Bak (Ned) Team fakta 
 


Past winners
2002 Rudi Kemna (Ned) Bankgiroloterij-Batavus             
2001 Rudi Kemna (Ned) Bankgiroloterij Batavus
2000 Michael Sandstød (Den) MemoryCard-Jack & Jones 
1999 Michael Sandstød (Den) Home-Jack & Jones
1998 Bjarne Riis (Den) Telekom 
1997 Bjarne Riis (Den) Telekom  
1996 Bjarne Riis (Den) Telekom 
1995 Fréderic Moncassin (Fra) Novell 
1994 Brian Smith (GBr) Motorola
1993 Dennis Rasmussen (Den) Aarhus CK 
1992 Claus Michael Møller (Den) Ordrup

Past winners courtesy of Mario Stiehl, www.world-of-cycling.com