Recently on Cyclingnews.com
29th Cat's Hill Criterium - NE
Los Gatos, CA, USA, May 10, 2003
Carney pounces home at Cat's Hill
By Sammarye Lewis
Trent Klasna was stomping
Photo: © Len Ramirez/Cinealta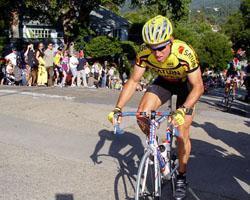 Warm sunshine and a warm reception from local cycling fans greeted the 2003 Cat's Hill Criterium, presented by Phoenix Technologies and The Los Gatos Bicycle Racing Club. From juniors to amateurs to pros, the unforgiving 23 per cent grade of Cat's Hill challenged and intimidated over 300 registered racers. This short section of Nicholson Avenue was lined with spectators, generously equipped with Phoenix Technologies cowbells, loudly cheering and (shh - don't tell the officials) sometimes giving a helping hand to racers who missed a shift on the Cat's Hill.
The mile long race route was ringed with yard parties, keggers and smoking barbeques, as residents got into the spirit of one of the oldest grass-roots cycling races in the US. Fans strolled the short block below Cat's Hill, buying pizza, drooling over a tempting convertible on display from B&B Saab, and lining up to buy Dylan Casey Day commemorative tee shirts. Dylan graciously spent time at the tee shirt booth, meeting fans and friends, while signing his name with a flourish and a smile.
Mayor Sandy Decker of the Town of Los Gatos presented an awesome Mayoral Commendation to Dylan Casey, and LGBRC President Barry Gordon presented Dylan with an honorary LGBRC team kit. Then Dylan joined race announcer Christopher Campbell to comment on the Men's Pro/1/2 final race, and to present the winner's trophy for that final event of the day.
Now, cat's hard
Photo: © Len Ramirez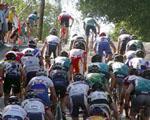 This late afternoon race was hotly contested, with Steve Larson of Webcor and Trent Klasna of Saturn setting a blistering pace in the lead. For over an hour and a half, the chasing peloton flew up Cat's Hill at high speed, making it look surprisingly easy. In the last few laps, the inevitable lactic acid in the legs began to dominate, and the Big Hurt began.
The suffering clearly showed on the sweaty faces of the riders. Fatigue mixed with determination was the mode of the day. In a last minute, crowd-pleasing finish, Jonas Carney of Prime Alliance swept to the front to take first place, with Trent Klasna of Saturn thundering right on his wheel. Jeff Angermann of Webcor found some extra in his legs and flew in for third.
Jonas jubilant
Photo: © Len Ramirez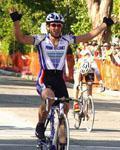 Dylan Casey presented the 2003 Cat's Hill winner's trophy to a triumphant Jonas Carney of Prime Alliance. Trent Klasna, mellow and smiling, promised to come back next year and capture that top spot on the podium. And Webcor? No doubt that this competitive team will be back next year. Yes, the 30th Annual Cat's Hill Criterium will be alive and well and promises to be more exciting than ever next year.
As many local cycling races fall by the wayside, unfortunate victims of a lagging economy, the Cat's Hill criterium is not just surviving, but thriving and growing with strong support from the Town of Los Gatos and from many enthusiastic sponsors such as Phoenix Technologies. Los Gatos Bicycle Racing Club President Barry Gordon predicts a bigger and better 30th Annual Cat's Hill next year, suggesting the possibilities of strong sponsor support and the prospect of prize money that may capture the attention of even more professional cycling teams.
Photos
Images by Len Ramirez/Cinealta
Image by Sammarye Lewis
The podium - Dylan Casey presents the 2003 Phoenix Technologies Cat's Hill winner's trophy to Jonas Carney (Prime Alliance), with Trent Klasna (Saturn) in second and Jeff Angermann (Webcor) in third place.
Results
Pro 1/2 Espoir

1 Jonas Carney (Prime Alliance)
2 Jeff Angermann (Webcor / Alto Velo)
3 Trent Klasna (Saturn)
4 Jackson Stewart (Ofoto.com / Lombardi Sports)
5 Devon Vigus (Team Health Net)
6 John Kelly (Webcor / Alto Velo)
7 Glen Mitchell (Navigators)
8 Chris Baumann (Sierra Nevada / Clif Bar)
9 Dean LaBerge (GS Lombardi Sport / Foundry)
10 Jason Klikna (Sierra Nevada / Clif Bar)
11 Russell Hamby (Ofoto.com / Lombardi Sports)
12 Patrick Briggs (SRM-USA)
13 Justin Robinson
14 Kalen Gruber (Los Gatos Bicycle Racing Club)
15 Dave Fuentes (Clif Bar)
16 Billy Clark Jr. (Morgan Stanley / Specialized Cycling Team)
17 Alex Kozlov (Team Health Net)
18 David Wyandt (Webcor / Alto Velo)
19 Skyler Bishop (Team Health Net)
20 Andes Gil (Delta Velo-City Bicycles / Specialized)
21 Justin Morgan (Sierra Nevada / Clif Bar)
22 John Hunt (Team Health Net)
23 Jon Erskine (Los Gatos Bicycle Race Club)
24 Mark Leffler (Rocknasium Cycling Team)
25 Andrew Touchstone (GS Lombardi Sport / Foundry)
26 Richard Pego (Los Gatos Bicycle Racing Club)
27 Michael Hernandez (Reno Wheelmen)
28 Zachary Walker (Olympic Club)
29 Christopher Pietrzak (Morgan Stanley / Specialized Cycling Team)
30 Ryan Barrett (Santa Cruz Spokesman)
31 Rob Kamppila (K.B. Home)
32 Anastasio Flores, Jr (Santa Cruz Spokesman)
33 Adam Haverstock (Specialized)
34 Kevin Nelson (Morgan Stanley / Specialized Cyclin Team)
35 Justin England (Team Spine)
36 Colin Beardsley (McGuire Real Estate / Cycle Couriers)
37 Rich delValle (Santa Cruz Spokesman)
38 Mike Anker (K.B. Home)
39 Jon Van Heel (Six Fifty Racing)
40 Sterling Magnell (Sierra Nevada / Clif Bar)
42 David Wierzba (Santa Cruz Spokesman)
43 Thomas Schuyler (Ofoto.com / Lombardi Sports)
45 Ed Adair (GS Lombardi Sport / Foundry)
46 Jason Farnschuss (GS Lombardi Sport / Foundry)
47 Christopher Skulley (GS Lombardi Sport / Foundry)
50 Juozas Martynaitis (GS Reno / Bicycle Warehouse)
51 Eric Wright (NorCal Velo Cycling Team)
52 Rob Ifflander (Sycip Racing)
53 Patrick Haeney (Webcor / Alto Velo)
54 Nathan Miller (Team Swift)
55 Jim Miller (K.B. Home)

109 starters

Women 1/2/3

1 Karen Brems (Webcor / Alto Velo)
2 Christine Thorburn (Palo Alto Bicycles Women's Team - PABW)
3 Cynthia Mommsen (Olympic Club)
4 Brenna Wolford (Palo Alto Bicycles Women's Team - PABW)
5 Hall Gina (Clif bar)
6 Brenda Lyons (NorCal Velo Cycling Team)
7 Kristin Drumm (Team Spine)
8 Cynthia Carroll (Excel Sports Boulder)
9 Cat Malone (Webcor / Alto Velo)
10 Tara Calhoun (Palo Alto Bicycles Women's Team - PABW)
13 Christine Vardaros (Velo Bella Monterey)
14 Amy Fowlkes (Santa Cruz Spokesman)
15 Katheryn Curi (Los Gatos Bicycle Racing Club)
16 Betina Hold (Webcor / Alto Velo)
17 Lisa Hauck (Palo Alto Bicycles Women's Team - PABW)
18 Yukie Nakamura (Webcor / Alto Velo)
19 Eryn Hanna (Los Gatos Bicycle Racing Club)
20 Ginger Bulles (Velo Bella Monterey)
21 Barbara Howe (G 6)
22 Taitt Sato (Los Gatos Bicycle Racing Club)
23 Erin Kassoy (Palo Alto Bicycles Women's Team - PABW)

41 starters