20th Chris Thater Memorial Criterium - NE
Binghamton, New York, USA, August 24, 2003
2002 Results Results Past winners
Carney wins bunch kick, Mayolo Pic again
By Kristy Scrymgeour
Tina Mayola (Diet Rite/National Criterium Champ) wins
Photo ©: Zui Hanafusa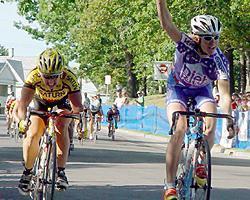 For the first year in many, the men's Chris Thater Memorial Criterium ended in a bunch sprint today won by Jonas Carney (Prime Alliance). On a technical course with many corners and a sharp uphill pinch not long after the start line the race was aggressive as always. With 18 laps to go of the 50 mile race, Navigators rider and two time winner of the race, Mark Walters (Navigators) attacked and got a good gap on the field. With Navigators having a strong team of eight riders present, Walters soon had a gap of 40 seconds, whilst the only other team with more than two riders in the field were suffering misfortune as 7UP Maxxis' rider John Lieswyn punctured.
Kevin Monahan
Photo ©: Zui Hanafusa

When Lieswyn was back in the field 7UP-Maxxis began to chase and within three laps Walters was reeled in. No other breaks eventuated and the race came down to a bunch sprint led by favored criterium sprinter Carney. Carney took the win over Navigators riders Marty Northstein and Vasilli Davidenko with US National Road Champion Mark McCormack (Saturn) taking fourth place.
Men's podium
Photo ©: Zui Hanafusa

Women's podium
Photo ©: Zui Hanafusa

In the women's race, despite a small field, the racing was aggressive from the start. Break after break was formed with Saturn, Diet Rite and Victory Brewing all being aggressive. Finally Charm Breon (Diet Rite) got away solo and with only 8 laps remaining in the race. For four laps Breon stayed away from the field whilst Amy Moore, Laura Van Gilder (Saturn) and Kristy Scheffenacker (Team Snow Valley) chased her down.
From here it was a fight for wheels for the bunch sprint. Tanya Duff Miller led into the last corner with her teammate and US National Criterium Champion, Tina Mayolo Pic on her wheel. Mayolo Pic came around Duff Miller to win the sprint ahead of Van Gilder and Gina Grain (Victory Brewing) for yet another win, adding to her large tally for the season.
Photography
Images by Zui Hanafusa/www.miyashojicycling.org
Results

Men Brief Results
 
1 Jonas Carney (Prime Alliance)
2 Marty Northstein (Navigators)
3 Vasilli Davidenko (Navigators)
4 Mark McCormack (Saturn)
5 Kevin Monahan (7UP-Maxxis)
6 Oscar Pineda (7UP-Maxxis)
 
Women Brief Results
 
1 Tina Mayolo Pic (Diet Rite)
2 Laura Van Gilder (Saturn)
3 Gina Grain (Victory Brewing)

Past winners
Men
 
2002 Mark Walters (Can) Navigators
2001 John Lieswyn (USA) 7 UP/Colorado Cyclist 
2000 Mark Walters (Can) Team Shaklee
1999 John Lieswyn (USA) Team Shaklee
1998 (2) Frank McCormack (USA) Saturn
1997 Ashley Powell (USA) Elite
1996 Scott Mercer (USA) Team Shaklee
1995 Frank McCormack (USA) Saturn
1994 Roberto Gaggioli (Ita) Coors
1993 Mark McCormack (USA) IME-Bolla
 
Women
 
2002 Laura Van Gilder (USA) Trek-Plus
2001 Kristy Scrymgeour (Aus) Saturn
2000 Katrina Berger (USA) Charles Schwab

Past winners by Mario Stiehl, www.world-of-cycling.com