Ringerike GP - 2.5
Norway, April 30-May 4, 2003
Main Page Results Previous Stage
Stage 5 - May 5: Hønefoss - Hønefoss, 169.2 km
Luke Roberts climbs to the podium with Holmkvist and Kaggestad
By Jean-François Quénet in Hønefoss
Luke Roberts on his way to third overall
Photo: © Gunnar Mjaugedal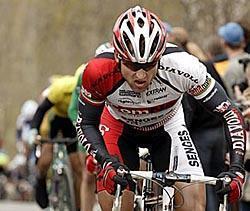 It was a tremendous finale on the gruelling climb of Riperbakken in the center of Hønefoss, but no one threatened Jonas Holmkvist's yellow jersey. To tell the truth, this is a well deserved win for his Swedish Team Bianchi Scandinavia, directed by Tommy Prim and Martin Silberg. They have constantly kept an eye on their two main adversaries: Mads Kaggestad from Crédit Agricole and Jonathan Dayus from Team Ringerike.
All the GC contenders neutralised each other, which allowed Luke Roberts to attack with ten kilometres to go. He actually counter-attacked after Dayus on the second last time up Riperbakken. "It's a good turn around today," the Australian said. "I'm really happy because it's been a pretty hard race all week. Yesterday I suffered a lot in the cold, I don't how I survived that, and today I didn't expect much because I normally don't go so well in the climbs, so I sat on and saved myself early in the stage. The second last time we did that hill, I followed Dayus and went away alone. It was a nice time trial till the finish."
This is Roberts's second win this year on the road after stage 4 in the Giro del Capo in South Africa in March. His moves from road to track and back don't affect his fantastic abilities, this is for sure a rider who deserves a chance to ride for a big team soon.
Jonas Holmkvist
Photo: © Gunnar Mjaugedal

Another one who is knocking at the big world's door soon is Holmkvist, double stage and overall winner. "When I came to Hønefoss I didn't expect to win the overall at all, I was hoping for a stage win," the young Swede said. "I think it's been an advantage for us Scandinavians to ride in these extremely bad weather conditions. Since I took the yellow jersey back yesterday, I was a little bit nervous, but I knew I had good legs and a very strong team behind me. I didn't worry at all. Being three Bianchi riders in the finishing laps, we were able to control the race. I had won the Scandinavian Open last year but this is by far my biggest win so far."
Holmkvist, 21, is a friendly guy hailing from Laholm on the west coast of Sweden. He came 5th in the European championship for mountain biking two years ago and was the Nordic champion off road. "I started cycling when I was ten but it's only during my first year as an elite that I realised that this sport could become my job. I can do a bit of everything. Last year, my weakness was to ride in the hills, but I've worked on it, and after the Ringerike Grand Prix which is a very hilly race, I can't say that I'm not a climber anymore."
Holmkvist has a great future in cycling, following the path of Gustav Larsson who was the impressive Swedish rider in the Ringerike Grand Prix last year, and got a pro contract with Fassa Bortolo for this year. "Hopefully I'll be able to join a big division one team in the future," he declared. "But I'll still be Under 23 next year and I plan to stay with Team Bianchi for one more season. It's not good to rush up. I have many years left to show what I can do on a bike."
Roberts wins
Photo: © Gunnar Mjaugedal

For Team Bianchi Scandinavia, this is the second stage race win in one month after the Circuit des Ardennes with Tomas Lovkvist in France. There's a lot more to be seen from Scandinavia in this sport and it's a pity that the Postgirot (Tour of Sweden) has been cancelled this year due to a lack of sponsorship and the Ringerike Grand Prix is the only UCI race in Norway.
Steffen Kjærgaard from US Postal was a passionate spectator in Hønefoss before heading to France and ride the Four Days of Dunkirk. He could see that there are some very motivated young Scandinavians coming up in the sport. Jonas Olsson drove the bunch almost by himself for about 100 kilometres today!
or these guys from Northern Europe, Team Bianchi and Team Ringerike are the way to join the highest level of cycling. Like Larsson to Fassa Bortolo, Mads Kaggestad has jumped from Team Krone (now Ringerike) to Crédit Agricole, but he still loves to race back home and was close to repeating his success from last year in the Ringerike Grand Prix.
Photography
Images by Gunnar Mjaugedal/catchlight.no
Images by Jean-Francois Quenet
Results
1 Luke Roberts (Aus) Team Comnet- Senges
2 Richard Faltus (Cze) Ac Sparta Praha                  0.27
3 Morten Hegreberg (Swe) Deschacht- Granville
4 Eric Leblacher (Fra) Credit Agricole
5 Jonas Holmkvist (Swe) Team Bianchi
6 Mads Kaggestad (Nor) Credit Agricole
7 Jonathan Dayus (GBr) Team Ringerike
8 Valery Kobzarenko (Ukr) Team Maestro Nella
9 Tobias Lergård (Swe) Team Bianchi
10 Jonas Ljungblad (Swe) Team Bianchi
11 Glen Zelderloo (Bel) Deschacht- Granville            1.19
12 Klaas De Gruyter (Bel) Deschacht- Granville
13 Robert Österling (Swe) Motala
14 Oliver Penney (Bel) Rcs Bioagrico
15 Andreas Molandsveen (Nor) National Team Norway       1.33
16 Phil Thuaux (Aus) Team Down Under
17 Kristian Ellertsen (Nor) National Team Norway
18 Johan Svensson (Swe) Team Mälarenergi
19 Hans-Jörgen Juretzek (Ger) Team Comnet- Senges
20 Per Martin Lund (Nor) National Team Norway
21 Andreas Johansson (Swe) Cyclecomponents.Com/Sollerö
22 Trond Schweder (Nor) Kristian Bærum Ock
23 Udo Müller (Ger) Rg Nordland
24 Alexandru Sabalin (Mda) National Team Moldavia
25 Stian Remme (Nor) Fana I L Sykkel
26 Geir Lien (Nor) Nes SK
27 Kalle Sandell (Swe) Motala
28 Are Andresen (Nor) Ck Bjørgvin
29 Cameron Jennings (Aus) Team Down Under
30 Stijn Penne (Bel) Deschacht- Granville
31 Evgheni Gutalov (Mda) National Team Moldavia
32 Lars Breiseth (Nor) Team Ringerike                   1.58
33 Stefan Ganser (Ger) Team Comnet- Senges              2.39
34 Stian Nørve (Nor) Ck Bjørgvin                        4.29
35 Gregory Saw (Nor) Ringerike Sk                      12.08
36 Joachim Bøhler (Nor) Ringerike Sk
37 Tarmo Raudsepp (Est) Nantes 44
38 Petter Renäng (Swe) Team Bianchi
39 Dimitri Creciun (Mda) National Team Moldavia
40 Stefan Repshus (Nor) Nes SK
41 Håkan Nilsson (Swe) Degeberg Ck
42 Martin Vestby (Nor) Rcs Bioagrico                   14.08
43 Tuomas Turunen (Fin) National Team Finland
44 Christian Dahl Nor Einung Fredrikstad Sk
45 Alexandru Pugaci (Mda) National Team Moldavia
46 Kent Olsen (Nor) Håkon Ck Bjørgvin
47 Robin Van Der Pluim (Ned) Bert Story- Piels
48 Morten Christiansen (Nor) Bærum Ock
49 Timothy Bayley (GBr) Arctic Shorter Rochford
50 Ben Raby (USA) Rcs Bioagrico
51 Sven De Werdt (Bel) Team Down Under
52 Yohan Charpenteau (Fra) Credit Agricole
53 Tjarco Cuppens (Ned) Team Comnet- Senges
54 Roland Mittendorf (Ger) Bbc/team Profline
55 Matthew Melville (Nor) Frikransen                   16.08
56 Jos Harms (Ned) Bert Story- Piels
57 Timothy Wood (GBr) Arctic Shorter Rochford
58 George Rose (GBr) Wales
59 James Norfolk (GBr) Wales
60 Espen Jogert (Nor) National Team Norway
61 Nils Grutle (Nor) Einar Fana I L Sykkel
62 Jarle Wermskog (Nor) Frikransen
63 Nico Indekeu (Bel) Team Down Under
64 Daniel Strauch (Ger) Rg Nordland
65 Roger Karlsson (Swe) Degeberg Ck                    18.08
66 Jussi Veikanen (Swe) Team Mälarenergi
67 Arve Lyngstad (Nor) Asker CK
68 Markos Moraitakis (Gre) National Team Greece        20.08
69 Cody Stevenson (Aus) Team Down Under
70 Jan Mattsson (Swe) Team Mälarenergi
71 Christofer Stevenson (Swe) Cyclecomponents.Com/So   22.08
72 Michael Stevenson (Swe) Cyclecomponents.Com/Sollerö
73 Oskari Kargu (Est) Mâe Ratturite Klubi              24.08
74 Jonas Olsson (Swe) Team Bianchi
75 Mikael Segersäll (Swe) Team Bianchi
76 David Pell (Aus) Team Comnet- Senges
77 Sebastian Freese (Ger) Rg Nordland                  26.08
78 Mikko Siltanen (Fin) National Team Finland
79 Dimitri Bondari (Mda) National Team Moldavia        29.08
DNF Mathias Carlsson (Swe) Team Ringerike
DNF Simon Gerrans (Aus) Team Ringerike
DNF Jukka Heinikainen (Fin) Team Mälarenergi
DNF Sabino Cannone (Ita) Team Maestro Nella
DNF Adam Broyad (GBr) Arctic Shorter Rochford
DNF Geert van Crombruggen (Bel) Bioagrico
DNF Luuk Hutten (Ned) Bert Story - Piels
DNF Marvin van der Pluim (Ned) Bert Story - Piels
DNF Kor Steenbergen (Ned) Bert Story - Piels
DNF Martin Pecenka (Cze) Ac Sparta Praha
DNF Huw Pritchard (GBr) Wales
DNF John Svensson (Swe) Motala
DNF Per-Erik Johansson (Swe) Motala
DNF Eirik Helgesen (Nor) Fana Il Sykkel

Final general classification

1 Jonas Holmkvist (Swe) Team Bianchi                20.24.15
2 Mads Kaggestad (Nor) Credit Agricole                  0.06
3 Luke Roberts (Aus) Team Comnet- Senges                1.12
4 Eric Leblacher (Fra) Credit Agricole                  1.16
5 Jonathan Dayus (GBr) Team Ringerike                   1.20
6 Valery Kobzarenko (Ukr) Team Maestro Nella            1.22
7 Jonas Ljungblad (Swe) Team Bianchi                    1.42
8 Morten Hegreberg (Swe) Deschacht- Granville           1.50
9 Tobias Lergård (Swe) Team Bianchi                     2.13
10 Richard Faltus (Cze) Ac Sparta Praha                 2.22
11 Oliver Penney (Bel) Rcs Bioagrico                    2.43
12 Udo Müller (Ger) Rg Nordland                         3.40
13 Geir Lien (Nor) Nes SK                               4.58
14 Alexandru Sabalin (Mda) National Team Moldavia       5.01
15 Glen Zelderloo (Bel) Deschacht- Granville            6.02
16 Klaas De Gruyter (Bel) Deschacht- Granville          6.12
17 Evgheni Gutalov (Mda) National Team Moldavia         6.40
18 Phil Thuaux (Aus) Team Down Under                    6.56
19 Hans-Jörgen Juretzek (Ger) Team Comnet- Senges       7.18
20 Johan Svensson (Swe) Team Mälarenergi                7.47
21 Stian Remme (Nor) Fana I L Sykkel
22 Are Andresen (Nor) Ck Bjørgvin                       8.10
23 Kristian Ellertsen (Nor) National Team Norway        8.14
24 Cameron Jennings (Aus) Team Down Under               8.19
25 Trond Schweder (Nor) Kristian Bærum Ock              8.39
26 Andreas Molandsveen (Nor) National Team Norway
27 Stijn Penne (Bel) Deschacht- Granville              10.40
28 Lars Breiseth (Nor) Team Ringerike                  11.27
29 Robert Österling (Swe) Motala                       15.29
30 Kalle Sandell (Swe) Motala                          16.09
31 Yohan Charpenteau (Fra) Credit Agricole             16.17
32 Andreas Johansson (Swe) Cyclecomponents.Com/Solle   19.05
33 Stefan Ganser (Ger) Team Comnet- Senges             19.40
34 Ben Raby (USA) Rcs Bioagrico                        20.17
35 Sven De Werdt (Bel) Team Down Under                 20.39
36 Petter Renäng (Swe) Team Bianchi                    21.17
37 Jos Harms (Ned) Bert Story- Piels                   22.49
38 Martin Vestby (Nor) Rcs Bioagrico                   23.44
39 Tjarco Cuppens (Ned) Team Comnet- Senges            24.37
40 Tarmo Raudsepp (Fra) Nantes 44                      24.42
41 Jonas Olsson (Swe) Team Bianchi                     25.52
42 Morten Christiansen (Nor) Bærum Ock                 25.59
43 Alexandru Pugaci (Mda) National Team Moldavia       26.44
44 Jan Mattsson (Swe) Team Mälarenergi                 27.09
45 Gregory Saw (Nor) Ringerike Sk                      29.44
46 Roland Mittendorf (Ger) Bbc/team Profline           29.52
47 Dimitri Creciun (Mda) National Team Moldavia        30.51
48 Jussi Veikanen (Swe) Team Mälarenergi               31.17
49 James Norfolk (GBr) Wales                           31.26
50 Christofer Stevenson (Swe) Cyclecomponents.Com/So   32.07
51 Kent Olsen (Nor) Håkon Ck Bjørgvin                  32.32
52 Stian Nørve (Nor) Ck Bjørgvin                       33.24
53 Robin Van Der Pluim (Ned) Bert Story- Piels         36.33
54 Per Martin Lund (Nor) National Team Norway          38.32
55 Cody Stevenson (Aus) Team Down Under                44.09
56 Joachim Bøhler (Nor) Ringerike Sk                   44.14
57 Markos Moraitakis (Gre) National Team Greece        47.15
58 Mikael Segersäll (Swe) Team Bianchi                 49.52
59 Stefan Repshus (Nor) Nes SK                         50.01
60 Nils Grutle (Nor) Einar Fana I L Sykkel             50.27
61 Håkan Nilsson (Swe) Degeberg Ck                     51.04
62 Espen Jogert (Nor) National Team Norway             51.18
63 Christian Dahl Nor Einung Fredrikstad Sk            52.00
64 Daniel Strauch (Ger) Rg Nordland                    52.50
65 Tuomas Turunen (Fin) National Team Finland          54.55
66 Nico Indekeu (Bel) Team Down Under                  55.25
67 Roger Karlsson (Swe) Degeberg Ck                  1.00.22
68 Mikko Siltanen (Fin) National Team Finland        1.01.26
69 Timothy Wood (GBr) Arctic Shorter Rochford        1.04.48
70 Michael Stevenson (Swe) Cyclecomponents.Com/Solle 1.05.49
71 Arve Lyngstad (Nor) Asker CK                      1.06.50
72 Jarle Wermskog (Nor) Frikransen                   1.11.21
73 David Pell (Aus) Team Comnet- Senges              1.12.16
74 Oskari Kargu (Est) Mâe Ratturite Klubi            1.20.29
75 Sebastian Freese (Ger) Rg Nordland                1.23.03
76 Dimitri Bondari (Mda) National Team Moldavia      1.23.56
77 Timothy Bayley (GBr) Arctic Shorter Rochford      1.25.08
78 George Rose (GBr) Wales                           1.26.03
79 Matthew Melville (Nor) Frikransen                 1.33.50

Courtesy of Syklingens Verden