Ringerike GP - 2.5
Norway, April 30-May 4, 2003
Main Page Results Previous Stage Next Stage
Stage 3 - May 3: Hønefoss - Ringkollen, 146.6 km
Norwegian import Jonathan Dayus repeats his triumph
By Jean-François Quénet in Hønefoss
Jonathan Dayus
Photo: © Gunnar Mjaugedal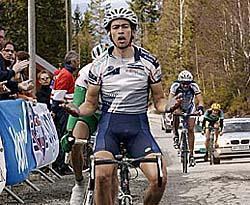 Englishman Jonathan Dayus from the Norwegian Team Ringerike has repeated his triumph from last year at the top of Ringkollen, the "l'Alpe d'Huez" of Norway. He outsprinted Frenchman Eric Leblacher (Crédit Agricole) and Valery Kobzarenko from the Ukraine. He also took the lead with only one and two seconds advantage respectively on the two men able to hold his wheel on the steep 8 km climb.
"I was fresh at the end because I didn't have any work to do before the climb. We rode really well as a team, always with someone in the front," Dayus explained.
This "someone" was his Australian mate Simon Gerrans, who was a part of a five man breakaway with Yannick Rebouilleau (Nantes 44), Morten Christiansen (Bærum), Joachim Bøhler (Ringerike SK) and Martin Hebik (Sparta Praha). They rode ahead of the bunch for 120 kilometres, never had more than three minutes lead, and Gerrans was still able to continue on his own for a little while before the peloton, led by Crédit Agricole, bridged the gap.
When they hit Ringkollen, another Australian, team pursuit world champion Luke Roberts attacked and Mads Kaggestad, who is the defending champion in this race, followed him. "He killed me, the Norwegian neo-pro said. But he also killed himself."
Kaggestad was quite happy with the way his teammates rode. He likes the aggressive style of Leblacher who is the king of the mountains in this race and only one second down on Dayus in GC, whereas Yohan Charpenteau is ranked 4th, only three seconds behind.
It looks like there will be a battle between Crédit Agricole and Team Ringerike in the last two stages. They both started with only five riders, as the pro team from Norway had to forget about Christopher Myhre, who was hit by a truck and is recovering in an hospital but he's OK with nothing broken. "Unfortunately we lost our captain Gabriel Rasch in a crash today", Dayus added.
Simon Gerrans
Photo: © Gunnar Mjaugedal

"I'm strong enough to win the overall, but it will be hard with so few teammates," he told the TV commentator who called him "Mister Dayus". He was delighted of course, but not very much of a showman. Has he adopted the cold style of the Nordic people who welcomed him in their team this year? "Here it's not my home but it's my hill," he declared.
In the May issue of Cycle Sport magazine, 'the voice of cycling' Phil Liggett wrote: "Britain has a new professional in Jonathan Dayus from Worcester, a talented rider who has virtually bypassed the British system by living and racing in Nantes throughout his amateur days. [...] although he is already 28, feel he has a lot to offer his sport in the immediate years ahead. [...] watch out for a Brit called Dayus who can climb and time trial."
Racing for Nantes 44, he won in Ringkollen one year ago. That's where he got to be mentioned by the Norwegian team called Team Krone at the time. They signed him with one goal: to win Ringkollen again and if possible the overall classification of the Ringerike Grand Prix as well. He didn't feel any pressure but he's on his way to make it, even though he's aware of the competition with Crédit Agricole, Team Bianchi, which hasn't given up its high ambitions, and Kobzarenko. The latter also rode for the Nantes 44 organisation five years ago, before Dayus did. He's now a teammate of Mario Cipollini at Domina Vacanze.
"But there was a hole in my calendar so I came here as a mixed team with Maestro Nella, Kob explained. "I wanted to win today but I had a problem with my chain."
There are more hills to come and the Ringerike Grand Prix is far from being over. A huge crowd is expected on Sunday in Hønefoss to support the Englishman that everyone in Norway appreciates.
Photography
Images by Gunnar Mjaugedal/catchlight.no
Images by Jean-Francois Quenet
Results
1 Jonathan Dayus (Nor) Team Ringerike
2 Eric Leblacher (Fra) Credit Agricole
3 Valery Kobzarenko (GBr) Team Maestro Nella
4 Petter Renäng (Swe) Team Bianchi                           0.06
5 Yohan Charpenteau (Fra) Credit Agricole
6 Klaas De Gruyter (Bel) Deschacht- Granville                0.19
7 Luke Roberts (Ger) Team Comnet- Senges
8 Jonas Ljungblad (Swe) Team Bianchi
9 Glen Zelderloo (Bel) Deschacht- Granville
10 Jonas Holmkvist (Swe) Team Bianchi                        0.33
11 Oliver Penney (Bel) Rcs Bioagrico
12 Evgheni Gutalov (Mda) National Team Moldavia
13 Mads Kaggestad (Fra) Credit Agricole
14 Morten Hegreberg (Bel) Deschacht- Granville
15 Geir Lien (Nor) Nes
16 Tarmo Raudsepp (Fra) Nantes 44                            0.41
17 Tobias Lergård (Swe) Team Bianchi                         0.55
18 Phil Thuaux (Aus) Team Down Under                         1.02
19 Bart Bastiaens (Aus) Team Down Under                      1.09
20 Richard Faltus (Cze) Ac Sparta Praha
21 Ioannis Tamouridis (Gre) National Team Greec
22 Hans-Jörgen Juretzek (Ger) Team Comnet- Senges            1.16
23 Jussi Veikanen (Swe) Team Mälarenergi
24 Udo Müller (Ger) Rg Nordland
25 Lars Breiseth (Nor) Team Ringerike
26 Are Andresen (Nor) Ck Bjørgvin
27 Cameron Jennings (Aus) Team Down Under                    1.25
28 Jan Mattsson (Swe) Team Mälarenergi                       1.40
29 Ben Raby (USA) Rcs Bioagrico
30 Kristian Ellertsen (Nor) National Team Norway             1.45
31 Andreas Molandsveen (Nor) National Team Norway
32 Stian Remme (Nor) Fana I L Sykkel
33 Andreas Johansson (Swe) Cyclecomponents. Com/ Sollerö
34 Trond Kristian Schweder (Nor) Bærum Ock
35 Alexandru Sabalin (Mda) National Team Moldavia
36 Vasileios Anastopoulos (Gre) National Team Greec
37 Jos Harms (Ned) Bert Story- Piels
38 Johan Svensson (Swe) Team Mälarenergi
39 Sven De Werdt (Aus) Team Down Under                       1.57
40 Jonas Olsson (Swe) Team Bianchi                           2.30
41 Mathias Carlsson (Nor) Team Ringerike                     3.06
42 Börre Fjeld Halvorsen (Nor) Bærum Ock
43 Kalle Sandell (Swe) Motala
44 James Norfolk (GBr) Wales
45 Gregory Saw (Nor) Ringerike Sk
46 Frank Dressler (Ger) Team Comnet- Senges
47 Yan Tournier (Fra) Credit Agricole
48 Fredrik Løfsgaard (Nor) Bærum Ock                         3.20
49 Martin Ford (GBr) Arctic Shorter Rochford                 3.25
50 Kent Håkon (Nor) Olsen Ck Bjørgvin
51 Jan Fredrik (Nor) Mohn Fana I L Sykkel                    3.33
52 Alges Maasikmets (Est) Mâe Ratturite Klubi                3.46
53 Alexandru Pugaci (Mda) National Team Moldavia
54 Stijn Penne (Bel) Deschacht- Granville
55 David Migne (Fra) Nantes 44                               3.57
56 Ion Pripa (Mda) National Team Moldavia
57 Roland Mittendorf (Ger) Bbc/team Profline                 4.07
58 Dimitri Creciun (Mda) National Team Moldavia              4.13
59 Markos Moraitakis (Gre) National Team Greec
60 Elpidoforos Potouridis (Gre) National Team Greec
61 Simon Gerrans (Nor) Team Ringerike                        4.18
62 Danny Schewe (Ger) Rg Nordland
63 Tuomas Turunen (Fin) National Team Finland
64 Håvard Kristiansen (Nor) Ringerike Sk                     4.23
65 Robin Van Der Pluim (Ned) Bert Story- Piels
66 Germ Van Der Burg (Ned) Bert Story- Piels
67 Per Martin Lund (Nor) National Team Norway                4.38
68 Jostein Hole (Nor) Bærum Ock
69 Christofer Stevenson (Swe) Cyclecomponents. Com/ Sollerö
70 Jukka Heinikainen (Swe) Team Mälarenergi
71 Tjarco Cuppens (Ger) Team Comnet- Senges                  5.08
72 Andreas Keuser (Ger) Bbc/team Profline
73 Stefan Ganser (Ger) Team Comnet- Senges
74 Kor Steenbergen (Ned) Bert Story- Piels                   5.19
75 Christophe Diguet (Fra) Nantes 44
76 Martin Hebik (Cze) Ac Sparta Praha
77 Stefan Repshus (Nor) Nes                                  6.30
78 Morten Christiansen (Nor) Bærum Ock
79 Espen Jogert (Nor) National Team Norway
80 Per-Erik Johansson (Swe) Motala
81 Christian Einung Dahl (Nor) Fredrikstad Sk                6.47
82 Martin Vestby BELG Rcs Bioagrico                          6.53
83 Anders Gerhardsson (Swe) Motala                           8.34
84 Andrew Roche (GBr) Team Maestro Nella
85 Martin Axelsson (Swe) Degeberg Ck
86 Robert Österling (Swe) Motala
87 Corey Sweet (Fra) Credit Agricole                         9.12
88 Sabino Cannone (GBr) Team Maestro Nella
89 Michael Stevenson (Swe) Cyclecomponents. Com/ Sollerö
90 Idar Baekken (Nor) Oslo/ Akershus-
91 Bill Nickson (GBr) Arctic Shorter Rochford
92 Huw Pritchard (GBr) Wales
93 Timothy Bayley (GBr) Arctic Shorter Rochford
94 Mirko Poldma (Est) Mâe Ratturite Klubi
95 Martin Pecenka (Cze) Ac Sparta Praha
96 Peter Pucelik (Cze) Ac Sparta Praha
97 Joachim Bøhler (Nor) Ringerike Sk
98 Marc Mackay (NZl) Rcs Bioagrico
99 Geert Van Crombruggen (Bel) Rcs Bioagrico
100 Ioannis Tsakouridis (Gre) National Team Greec
101 Arve Lyngstad ACK Asker CK                               9.39
102 Adam Broyad (GBr) Arctic Shorter Rochford                9.53
103 Pavel Vesely (Cze) Ac Sparta Praha
104 Deniz Tuzcu (Ger) Bbc/team Profline
105 Marvin Van Der Pluim (Ned) Bert Story- Piels
106 Roger Karlsson (Swe) Degeberg Ck
107 Nils Einar (Nor) Grutle Fana I L Sykkel
108 Robert Johansson (Swe) Cyclecomponents. Com/ Sollerö
109 Adrian Bird (GBr) Arctic Shorter Rochford
110 Håkan Nilsson (Swe) Degeberg Ck
111 Jan-Magnus Mansner (Fin) National Team Finland          10.31
112 Daniel Strauch (Ger) Rg Nordland                        10.40
113 Geroge Rose (GBr) Wales
114 Nico Indekeu (Aus) Team Down Under                      10.49
115 Mikko Siltanen (Fin) National Team Finland
116 Aron Huysmans (Bel) Deschacht- Granville
117 Cody Stevenson (Aus) Team Down Under
118 Patrick Koeman (Ned) Bert Story- Piels
119 Raido Kodanipork (Est) Mâe Ratturite Klubi
120 Sebastian Freese (Ger) Rg Nordland
121 Jarle Wermskog (Nor) Frikransen                         10.57
122 Anders Lennartsson (Swe) Degeberg Ck                    11.39
123 Tommi Martikainen (Fin) National Team Finland           12.09
124 Mikale Segersäll (Swe) Team Bianchi                     13.51
125 Oskari Kargu (Est) Mâe Ratturite Klubi                  13.57
126 Frank Pedersen (Nor) Ck Bjørgvin                        14.25
127 Stian Nørve (Nor) Ck Bjørgvin
128 Dimitri Bondari (Mda) National Team Moldavia            15.06
129 Anders Iversby (Nor) Hvideberg Fredrikstad Sk           15.17
130 Timothy Wood (GBr) Arctic Shorter Rochford
131 Yannick Rebouilleau (Fra) Nantes 44                     17.11
132 David Pell (Ger) Team Comnet- Senges                    17.16
133 Bjørn Ivar (Nor) Ekberg Nes                             17.45
134 Eirik Helgesen (Nor) Fana I L Sykkel                    18.37
135 Patrick Blannin (Bel) Rcs Bioagrico                     20.22
136 Herve Arcade (Fra) Nantes 44                            24.11
137 Matthew Melville (Nor) Frikransen                       28.16
138 Trygve Eriksen (Nor) Oslo/ Akershus-                    32.44
139 Anston Hulth (Swe) Cyclecomponents. Com/ Sollerö        43.32
140 Tom Vastmans (Bel) Deschacht- Granville
141 Peter Lemke (Ger) Rg Nordland                           45.57
142 Ryan Bevis (GBr) Wales
143 Oliver Stock (Ger) Rg Nordland                        1.01.04

General classification after stage 3

1 Jonathan Dayus (GBr) Team Ringerike                    11.42.04
2 Eric Leblacher (Fra) Credit Agricole                       0.01
3 Valery Kobzarenko (Ukr) Team Maestro Nella                 0.02
4 Yohan Charpenteau (Fra) Credit Agricole                    0.09
5 Luke Roberts (Aus) Team Comnet- Senges                     0.22
6 Jonas Ljungblad (Swe) Team Bianchi
7 Jonas Holmkvist (Swe) Team Bianchi                         0.32
8 Morten Hegreberg (Nor) Deschacht- Granville                0.36
9 Oliver Penney (Bel) Rcs Bioagrico
10 Mads Kaggestad (Nor) Credit Agricole
11 Tobias Lergård (Swe) Team Bianchi                         0.58
12 Richard Faltus (Cze) Ac Sparta Praha                      1.09
13 Lars Breiseth (Nor) Team Ringerike                        1.17
14 Udo Müller (Ger) Rg Nordland                              1.19
15 Alexandru Sabalin (Mda) National Team Moldavia            1.48
16 Jonas Olsson (Swe) Team Bianchi                           2.33
17 Glen Zelderloo (Bel) Deschacht- Granville                 3.35
18 Petter Renäng (Swe) Team Bianchi                          3.47
19 Klaas De Gruyter (Bel) Deschacht- Granville               4.00
20 Evgheni Gutalov (Mda) National Team Moldavia              4.14
21 Geir Lien (Nor) Nes
22 Tarmo Raudsepp (Est) Nantes 44                            4.22
23 Phil Thuaux (Aus) Team Down Under                         4.43
24 Ioannis Tamouridis (Gre) National Team Greec              4.50
25 Are Andresen (Nor) Ck Bjørgvin                            4.57
26 Hans-Jörgen Juretzek (Ger) Team Comnet- Senges
27 Jussi Veikanen (Fin) Team Mälarenergi
28 Jos Harms (Ned) Bert Story- Piels                         5.01
29 Kristian Ellertsen (Nor) National Team Norway
30 Cameron Jennings (Aus) Team Down Under                    5.06
31 Ben Raby (USA) Rcs Bioagrico                              5.21
32 Jan Mattsson (Swe) Team Mälarenergi
33 Johan Svensson (Swe) Team Mälarenergi                     5.26
34 Vasileios Anastopoulos (Gre) National Team Greec
35 Trond Kristian Schweder (Nor) Bærum Ock
36 Andreas Molandsveen (Nor) National Team Norway
37 Sven De Werdt (Bel) Team Down Under                       5.38
38 Gregory Saw (Aus) Ringerike Sk                            6.47
39 Frank Dressler (Ger) Team Comnet- Senges
40 Yan Tournier (Fra) Credit Agricole
41 James Norfolk (GBr) Wales
42 Mathias Carlsson (Swe) Team Ringerike
43 Börre Fjeld Halvorsen (Nor) Bærum Ock
44 Jan Fredrik Mohn (Nor) Fana I L Sykkel                    7.14
45 Bart Bastiaens (Bel) Team Down Under                      7.21
46 Alexandru Pugaci (Mda) National Team Moldavia             7.27
47 Stijn Penne (Bel) Deschacht- Granville
48 Alges Maasikmets (Est) Mâe Ratturite Klubi
49 David Migne (Fra) Nantes 44                               7.38
50 Roland Mittendorf (Ger) Bbc/team Profline                 7.48
51 Dimitri Creciun (Mda) National Team Moldavia              7.54
52 Markos Moraitakis (Gre) National Team Greec
53 Danny Schewe (Ger) Rg Nordland                            7.59
54 Simon Gerrans (Aus) Team Ringerike
55 Germ Van Der Burg (Ned) Bert Story- Piels                 8.04
56 Christofer Stevenson (Swe) Cyclecomponents. Com/Soller    8.19
57 Per Martin Lund (Nor) National Team Norway
58 Tjarco Cuppens (Ned) Team Comnet- Senges                  8.49
59 Stefan Ganser (Ger) Team Comnet- Senges
60 Christophe Diguet (Fra) Nantes 44                         9.00
61 Martin Hebik (Cze) Ac Sparta Praha
62 Kor Steenbergen (Ned) Bert Story- Piels
63 Jostein Hole (Nor) Bærum Ock                              9.10
64 Morten Christiansen (Nor) Bærum Ock                      10.11
65 Espen Jogert (Nor) National Team Norway
66 Martin Vestby (Nor) Rcs Bioagrico                        10.34
67 Anders Gerhardsson (Swe) Motala                          12.15
68 Geert Van (Bel) Crombruggen Rcs Bioagrico                12.27
69 Andrew Roche (Irl) Team Maestro Nella                    12.35
70 Robert Österling (Swe) Motala
71 Joachim Bøhler (Nor) Ringerike Sk                        12.53
72 Bill Nickson (GBr) Arctic Shorter Rochford
73 Peter Pucelik (Cze) Ac Sparta Praha
74 Huw Pritchard (GBr) Wales
75 Corey Sweet (Aus) Credit Agricole
76 Kalle Sandell (Swe) Motala                               12.56
77 Fredrik Løfsgaard (Nor) Bærum Ock                        13.10
78 Kent Håkon (Nor) Olsen Ck Bjørgvin                       13.15
79 Marvin Van Der Pluim (Ned) Bert Story- Piels             13.32
80 Roger Karlsson (Swe) Degeberg Ck                         13.34
81 Elpidoforos Potouridis (Gre) National Team Greec         14.03
82 Marc Mackay (NZl) Rcs Bioagrico                          14.05
83 Robin Van Der Pluim (Ned) Bert Story- Piels              14.13
84 Raido Kodanipork (Est) Mâe Ratturite Klubi               14.30
85 Daniel Strauch (Ger) Rg Nordland                         14.41
86 Andreas Keuser (Ger) Bbc/team Profline                   14.58
87 Anders Lennartsson (Swe) Degeberg Ck                     15.20
88 Cody Stevenson (Aus) Team Down Under                     15.49
89 Andreas Johansson (Swe) Cyclecomponents. Com/Sollerö     15.52
90 Per-Erik Johansson (Swe) Motala                          16.20
91 Stian Remme (Nor) Fana I L Sykkel                        17.26
92 Mikale Segersäll (Swe) Team Bianchi                      17.32
93 Stian Nørve (Nor) Ck Bjørgvin                            18.06
94 Ioannis Tsakouridis (Gre) National Team Greec            19.02
95 Sabino Cannone (Ita) Team Maestro Nella
96 Håkan Nilsson (Swe) Degeberg Ck                          19.43
97 Mikko Siltanen (Fin) National Team Finland               20.39
98 Yannick Rebouilleau (Fra) Nantes 44                      20.52
99 Idar Baekken (Nor) Oslo/ Akershus-                       21.37
100 Håvard Kristiansen (Nor) Ringerike Sk                   22.45
101 Patrick Koeman (Ned) Bert Story- Piels                  24.56
102 Martin Ford (GBr) Arctic Shorter Rochford               25.15
103 Pavel Vesely (Cze) Ac Sparta Praha                      25.34
104 Deniz Tuzcu (Ger) Bbc/team Profline                     26.07
105 Nils Einar (Nor) Grutle Fana I L Sykkel
106 Tuomas Turunen (Fin) National Team Finland              26.08
107 Christian Einung Dahl (Nor) Fredrikstad Sk              27.03
108 Ion Pripa (Mda) National Team Moldavia                  27.08
109 Jukka Heinikainen (Fin) Team Mälarenergi                27.18
110 Stefan Repshus (Nor) Nes                                29.41
111 Martin Pecenka (Cze) Ac Sparta Praha                    31.02
112 Nico Indekeu (Bel) Team Down Under                      31.05
113 Robert Johansson (Swe) Cyclecomponents. Com/Sollerö     31.43
114 Martin Axelsson (Swe) Degeberg Ck                       31.45
115 Bjørn Ivar (Nor) Ekberg Nes                             31.52
116 Aron Huysmans (Bel) Deschacht- Granville                34.00
117 Tommi Martikainen (Fin) National Team Finland           34.45
118 Dimitri Bondari (Mda) National Team Moldavia            36.56
119 Oskari Kargu (Est) Mâe Ratturite Klubi                  37.08
120 Arve Lyngstad (Nor) Asker CK                            37.53
121 Michael Stevenson (Swe) Cyclecomponents. Com/Sollerö    38.32
122 Sebastian Freese (Ger) Rg Nordland                      39.03
123 Adrain Bird (GBr) Arctic Shorter Rochford               39.13
124 Jan-Magnus Mansner (Fin) National Team Finland          39.51
125 David Pell (Aus) Team Comnet- Senges                    39.56
126 Timothy Wood (GBr) Arctic Shorter Rochford              43.31
127 Anders Iversby Hvideberg (Nor) Fredrikstad Sk
128 Frank Pedersen (Nor) Ck Bjørgvin                        43.45
129 Mirko Poldma (Est) Mâe Ratturite Klubi                  44.56
130 Adam Broyad (GBr) Arctic Shorter Rochford               45.37
131 Jarle Wermskog (Nor) Frikransen                         46.41
132 Geroge Rose (GBr) Wales                                 47.34
133 Patrick Blannin (Aus) Rcs Bioagrico                     49.42
134 Herve Arcade (Fra) Nantes 44                            53.31
135 Timothy Bayley (GBr) Arctic Shorter Rochford            55.19
136 Eirik Helgesen (Nor) Fana I L Sykkel                    59.36
137 Anston Hulth (Swe) Cyclecomponents. Com/Sollerö       1.01.54
138 Ryan Bevis (GBr) Wales                                1.06.13
139 Trygve Eriksen (Nor) Oslo/ Akershus-                  1.08.28
140 Matthew Melville (GBr) Frikransen                     1.09.46
141 Tom Vastmans (Bel) Deschacht- Granville               1.12.21
142 Oliver Stock (Ger) Rg Nordland                        1.52.25
143 Peter Lemke (Ger) Rg Nordland                         1.53.15

Courtesy of Syklingens Verden