Dutch National Road Championships - CN
Nijmegen, June 29-30, 2002
Main page Results Previous day Past winners
Day 1 - June 29: Elite Men's Road Race
Van Dijk wins Dutch championships in a mass sprint
Ever so close
Photo: © Patrick Weegink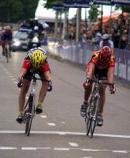 Lotto-Adecco's Stefan van Dijk surprised many of the bigger teams to win his first national jersey as a pro, taking the Dutch road championships in Nijmegen in a bunch sprint. The Lotto man edged in front of his former teammate Rudi Kemna (BankGiroLoterij-Batavus) in a photo finish, with Domo's Max van Heeswijk taking third. The best placed Rabobank rider was Steven de Jongh, who finished fourth.
Rabobank missed its opportunity once again to dominate the race, despite having 17 starters. Last year it was Jans Koerts (Mercury) who stole the show from them. This year they banked on getting the in form De Jongh across the line to win in a bunch sprint. According to manager Theo de Rooy, there was nothing else to do on a circuit like this but to work for the best sprinter of the team. BankGiroLoterij had the same mission, for them it was Rudi Kemna's duty to get the gold medal. The second bigest dutch professional team controled the race during the final laps with many breakaways and managed to place Rudi Kemna in a great position. In spite of this great teamwork, Rudi could not beat Stefan van Dijk who had only one teammate with him, Aart Vierhouten.
Domo-Farm Frites led it out but Max van Heeswijk was forced to jump too early, and both Van Dijk and Kemna came around him. The pair traded the lead in the final metres, but it was Van Dijk who got his wheel in front of the BankGiroLoterij man on the line.
"I didn't have a super day, or I probably would have done too much," said Van Dijk afterwards. "I have to give Aart Vierhouten a big thank you. He set me up well for the finale."
Dutch fans will not see his national champion's jersey in the Tour de France, as Van Dijk wasn't selected. His contract with Lotto is also up at the end of the season, but now he has more bargaining power with other teams.
Thanks to René Post
Photography
Images courtesy Patrick Weegink
Results
1 Stefan van Dijk (Lotto-Adecco/Honselersdijk)    5.02.40  (42.225 km/h)
2 Rudie Kemna (BankGiroLoterij-Batavus/Deurningen)
3 Max van Heeswijk (Domo-Farm Frites/Weelde (B))
4 Steven De Jongh (Rabobank/Essen (B))
5 Martin van Steen (Dongen)
6 Tristan Hoffman (Kalmthout-Niewmoer(B))
7 Raymond Meijs (Hulsberg)
8 Marcel Luppes (Hoogeveen)
9 Marco Engels (Liessel)
10 Bram Schmitz (Aalst-Waalre)
11 Jans Koerts (Weelde (B))
12 Arthur Farenhout (Spijkenisse)
13 Marc Lotz (Lanaken (B))
14 Arno Wallaard (Noordeloos)
15 Rik Reinerink (Notter)
16 Matthé Pronk (Grote Spouwen (B))
17 Leon van Bon (Hasselt (B))
18 Germ V.D. Burg (Nijland)
19 Roy Sentjens (Hamont-Achel (B))
20 Angelo van Melis (Oss)
21 Bas van Dooren (Ravenstein)
22 Aart Vierhouten (Oud Turnhout (B))
23 Koos Moerenhout (Steenbergen)
24 Edwin Dunning (Hoogeveen)
25 Peter van Der Velden (Rotterdam)
26 Servais Knaven (Meerle (B))
27 Michael Boogerd (Essen (B))
28 Cees Jeurissen (Deurne)
29 Remmert Wielinga (Eindhoven)
30 Danny Sijen (Maastricht)
31 Pieter Vries (Tuitjenhoorn)
32 Jos Lucassen (Margraten)
33 Jan van Velzen (Zoetermeer)
34 Bart Voskamp (Zetten)                             0.17
35 Jan Boven (Minderhout (B))                        0.44
36 Karsten Kroon (Veldwezel (B))
37 Jeroen Boelen (Drunen)                            1.06
38 Maint Berkenbosch (Oldeberkoop)                   1.10
39 Thorwald Veneberg (Lemiers)                       1.19
40 Bobbie Traksel (Tiel)
41 Tom Cordes (Baarle-Nassau)
42 Bert Hiemstra (Tilburg)                           1.23
43 Gerben Löwik (Maasmechelen (B))                   1.44
44 Ruud Verspaandonk (Veldhoven)                     2.15
45 Bram Tankink (Haaksbergen)                        2.18
46 Marcel Nagengast (Hoogeveen)                      2.53
47 Bram De Groot (Lanaken (B))                       4.30
48 Addy Engels (Hoogerheide)
49 Erik Dekker (Meerle-Hoogstraten(B)
50 Thijs Al (Wormer)
51 Lex Nederlof (Oostvoorne)                         5.42
52 Daniël van Elven (Etten-leur)
53 Paul van Schalen (Arnhem)
Past winners
2002 Stefan van Dijk
2001 Jans Koerts
2000 Leon van Bon 
1999 Maarten Den Bakker 
1998 Michael Boogerd 
1997 Michael Boogerd