12th Montreal World Cup - CDM
Canada, May 30, 2009
Britain's Pooley claims solo World Cup win
Johansson takes series lead
By Kirsten Robbins
Emma Pooley (Cervélo TestTeam) had a long time to enjoy
Photo ©: Rob Jones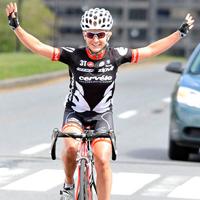 Great Britain's talented Emma Pooley (Cervelo Test Team) broke away from a stellar women's field in kilometer one of the Montreal World Cup. She soled into victory with a nearly one and half minute lead. Emma Johansson (Sweden National Team) won the chase group sprint for second place followed by Trixi Worrak (Nuernberger-Versicherung) in third place.
"Even though it was so difficult to ride alone, I succeeded thanks to the support of my team, my director and the many fans cheering me along the way," said Pooley.
Johansson was presented with the World-Cup leader's jersey atop the podium. The event marked round 6 of a 10-event world-cups. Dutch powerhouse, Marianne Vos (DSB Bank) lead the world cup standings by a mere 5 points ahead of Johansson heading into the day, while America's Kristin Armstrong (Cervelo Test Team) trailed by 129 points. Neither Vos nor Armstrong attending round six and Johansson's second place gave her enough points to overtake Vos in the world-cup standings.
"It's too bad Vos couldn't come," said Jacinthe Lemire, the event press officer. "Emma's Cervelo Test Team came into Montreal with just four women and they wanted to win so that Emma could take the jersey today. Second place was enough for that."
Twenty-two teams started the famed World Cup known for being one of the most challenging in the series, with 12-laps of a 10-kilometre totalling 110-kiloemtres in down town Montreal. "This is the best edition we have ever presented, thanks to the work of the organization and the volunteers, as well as the unique showing by Pooley," said Daniel Manibal, event promoter.
Pooley made her winning move on the first climb to the top of Mont Royal, the circuit's significant two-kilometre ascent. The solo rider held her speed on the descent through the technical twists and turns of Montreal's City streets and around Jeanne-Mance park before their arrival back to Park Avenue finish line. She would complete this another 11 times alone.
"It was a great race," said Lemire. "Emma attacked on the first lap and she is small and perfect for that course. When we saw her go that early we all thought she could not possibly hold that until the end. But she gained seconds and then she gained minutes – she was extraordinary."
Pooley gained to a maximum of four minutes when teams Nürnberger-Versicherung and Columbia-Highroad started to push the pace from behind. The main field dwindled to a small but decisive group of fifteen riders. The heavy hitting teams further organized a strong chase on the last lap to help bring down the hefty margin to Pooley. By doing so, they reduced the main field to just ten riders that included two of Pooley's teammates who would not participate in the chase, Carla Ryan and Regina Bruins.
The chasers included Johansson, Trixi Worrak, Ruth Crosett (Australian National Team) and Catherine Cheatley and Tiffany Cromwell (Colavita-Sutter Home), Erinne Willock (Webcor-Builders), Amber Neben (Nürnberger-Versicherung) and Mara Abbott (Columbia-HighRoad). On the completion of the twelfth and final lap, Pooley's advantage was reduced to two minutes.
Photography
For a thumbnail gallery of these images, click here
Images by Rob Jones/www.canadiancyclist.com
Results - 110.7km
1 Emma Pooley (GBr) Cervélo TestTeam                             3.09.09  (35.1 km/h)
2 Emma Johansson (Swe) Swedish National Team                        1.14
3 Trixi Worrack (Ger) Equipe Nuernberger Versicherung                   
4 Ruth Corsett (Aus) Australian National Team                           
5 Regina Bruins (Ned) Cervélo TestTeam                                  
6 Catherine Cheatley (NZl) Colavita Sutter Homes p/b Cooking Light      
7 Tiffany Cromwell (Aus) Colavita Sutter Homes p/b Cooking Light    1.18
8 Erinne Willock (Can) Webcor Builders                              1.21
9 Carla Ryan (Aus) Cervélo TestTeam                                 1.24
10 Amber Neben (Ger) Equipe Nuernberger Versicherung                1.25
11 Mara Abbott (USA) Team Columbia Highroad Women                   3.19
12 Tina Pic (USA) Colavita Sutter Homes p/b Cooking Light           4.58
13 Nikki Butterfield (Aus) Webcor Builders                              
14 Joanne Kiesanowski (NZl) Team TIBCO                                  
15 Giuseppina Grassi (Mex) Mexican National Team                        
16 Joelle Numainville (Can) ESGL93-GSD Gestion                          
17 Amy Dombroski (USA) Webcor Builders                                  
18 Carla Swart (RSA) Team MTN Energade                                  
19 Alexis Rhodes (Aus) Webcor Builders                                  
20 Heather Logan (Can) Colavita Sutter Homes p/b Cooking Light          
21 Kim Anderson (USA) Team Columbia Highroad Women                      
22 Martina Ruzickova (Cze) Team Uniqa-ELK                               
23 Judith Arndt (Ger) Team Columbia Highroad Women                      
24 Laura Morfin (Mex) Mexican National Team                             
25 Bianca Purath (Ger) Equipe Nuernberger Versicherung                  
26 Andrea Dvorak (USA) Colavita Sutter Homes p/b Cooking Light      5.03
27 Julie Beveridge (Can) Team TIBCO                                 6.35
28 Karin Aune (Swe) Swedish National Team                           9.11
29 Leda Cox (GBr) ESGL93-GSD Gestion                                    
30 Martine Bras (Ned) Selle Italia Ghezzi                           9.12
31 Marissa Van der Merwe (RSA) Team MTN Energade                   10.41
32 Véronique Fortin (Can) Équipe du Québec                         11.42
33 Veronica Leal (Mex) Mexican National Team                       13.17
HD Gloria Presti (Ita) Selle Italia Ghezzi                              
HD Cherise Taylor (RSA) Team MTN Energade                               
HD Rachel Heal (GBr) Colavita Sutter Homes p/b Cooking Light            
HD Sarah Stewart (Can) Canadian National Team                           
HD Eleonora Van Dijk (Ned) Team Columbia Highroad Women                 
HD Moriah MacGregor (Can) Canadian National Team                        
HD Sarah Duster (Ger) Cervélo TestTeam                                  
HD Laura Bozzolo (Ita) Selle Italia Ghezzi                              
HD Christine Majerus (Lux) ESGL93-GSD Gestion                           
HD Giada Borgato (Ita) Selle Italia Ghezzi                              
HD Veronica Andreasson (Swe) Swedish National Team                      
HD Suzanne De Goede (Ned) Equipe Nuernberger Versicherung               
HD Natacha Elliott (Can) Specialized Mazda Samson                       
HD Line Foss (Nor) Team Hitec Products UCK                              
HD Mary Zider (USA) Specialized Mazda Samson                            
HD Denise Ramsden (Can) Canadian National Team                          
HD Nathalie Lamborelle (Lux) Team Uniqa-ELK                             
HD Lex Albrecht (Can) Équipe du Québec                                  
HD Véronique Labonté (Can) Équipe Cascades-ABC Cycles                   
HD Lucie Poulin (Can) Équipe Cascades-ABC Cycles                        
HD Elke Gebhardt (Ger) German National Team                             
HD Denise Zuckermandel (Ger) German National Team                       
HD Laura Dittman (Ger) German National Team                             
HD Anna Schnitzmeier (Ger) German National Team                         
HD Stefanie Degle (Ger) Team Uniqa-ELK                                  
HD Emma Petersen (NZl) Team Ultralink                                   
HD Karol Ann Canuel (Can) Specialized Mazda Samson                      
HD Chrissie Viljoen (RSA) Team MTN Energade                             
HD Daniela Pintarelli (Aut) Team Uniqa-ELK                              
DNF Pascale Schnider (Swi) Cervélo TestTeam                             
DNF Kirsten Wild (Ned) Cervélo TestTeam                                 
DNF Charlotte Becker (Ger) Equipe Nuernberger Versicherung              
DNF Eva Lutz (Ger) Equipe Nuernberger Versicherung                      
DNF Katherine Bates (Aus) Team Columbia Highroad Women                  
DNF Alexandra Wrubleski (Can) Team Columbia Highroad Women              
DNF Linn Torp (Nor) Lotto-Belisol Ladiesteam                            
DNF Rochelle Gilmore (Aus) Lotto-Belisol Ladiesteam                     
DNF Vera Koedooder (Ned) Lotto-Belisol Ladiesteam                       
DNF Emma Mackie (Aus) Lotto-Belisol Ladiesteam                          
DNF Luisa Tomanini (Ita) Selle Italia Ghezzi                            
DNF Agne Bagdonaviciute (Ltu) Selle Italia Ghezzi                       
DNF Larissa Kleinmann (Ger) Team MTN Energade                           
DNF Audrey Lemieux (Can) ESGL93-GSD Gestion                             
DNF Sophie Creux (Fra) ESGL93-GSD Gestion                               
DNF Jennifer Letue (Fra) ESGL93-GSD Gestion                             
DNF Tone Hatteland (Nor) Team Hitec Products UCK                        
DNF Sara Mustonen (Swe) Team Hitec Products UCK                         
DNF Margriet Kloppenburg (Den) Team Hitec Products UCK                  
DNF Isabelle Soderberg (Swe) Team Hitec Products UCK                    
DNF Hanka Kupfernagel (Ger) German National Team                        
DNF Fransiska Merten (Ger) German National Team                         
DNF Carlee Taylor (Aus) Australian National Team                        
DNF Kirsty Broun (Aus) Australian National Team                         
DNF Lauren Kitchen (Aus) Australian National Team                       
DNF Bridie O'Donnell (Aus) Australian National Team                     
DNF Amber Halliday (Aus) Australian National Team                       
DNF Jessica Kihlbom (Swe) Swedish National Team                         
DNF Leah Guloien (Can) Canadian National Team                           
DNF Andrea Bunin (Can) Canadian National Team                           
DNF Megan Rathwell (Can) Canadian National Team                         
DNF Jessica Jurado (Mex) Mexican National Team                          
DNF Miriam Dominguez (Mex) Mexican National Team                        
DNF Mayra Rocha (Mex) Mexican National Team                             
DNF Brooke Miller (USA) Team TIBCO                                      
DNF Lauren Tamayo (USA) Team TIBCO                                      
DNF Emma Rickards (Aus) Team TIBCO                                      
DNF Amber Rais (USA) Team TIBCO                                         
DNF Katheryn Mattis (USA) Webcor Builders                               
DNF Elisa Gagnon (Can) Specialized Mazda Samson                         
DNF Kyla Rollinson (Can) Specialized Mazda Samson                       
DNF Julie Marceau (Can) Specialized Mazda Samson                        
DNF Joanie Caron (Can) Équipe Cascades-ABC Cycles                       
DNF Véronique Bilodeau (Can) Équipe Cascades-ABC Cycles                 
DNF Laurie-Anne Dupont-Renaud (Can) Équipe du Québec                    
DNF Geneviève Gagnon (Can) Équipe du Québec                             
DNF Shanie Bergeron (Can) Team Ultralink                                
DNF Allison Lampi (Can) Team Ultralink                                  
DNF Krystal Jeffs (Can) Team Ultralink                                  
DNF Chloe St Arnaud Watt (Can) Team Ultralink