Tour de Berne - CDM
Switzerland, May 10, 2009
Armstrong takes first career World Cup
The Tour de Berne podium
Photo ©: Tour de Berne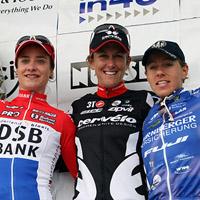 She already had an Olympic gold medal and a world championship to her name, but American Kristin Armstrong added a long-elusive World Cup win to her list of victories in the Tour de Berne in Switzerland on Sunday. The Cervelo TestTeam rider attacked on the final climb and escaped with only fellow Olympic gold medallist Marianne Vos in tow.
While Vos would normally be the favourite to win a two-up sprint in this pairing, Armstrong surprised the Dutch woman to take the victory in a photo finish. The American was thrilled to finally win a World Cup.
"Now I can scratch it off the list!" said Armstrong. "On the last climb I attacked together with Marianne Vos and we worked perfectly together," she explained. "In the last 200 metres she started to sprint to the finish and I came just off of her wheel and past her to take first at the finish line."
"Our team controlled the whole race today," said Sports Director, Manel Lacambra. "In the first two laps we rode a high speed with Emma Pooley on the hills making it hard for everyone else. In the third lap Claudia Häusler attacked and had a 30 km break. On the last hill Emma attacked, as did Armstrong, situating herself behind Marianne Vos' wheel.
"Both worked great together, normally Vos is faster in the sprint but Kristin kept the speed high and that made Vos tired. The whole team worked perfectly to cover Kristin's break. Emma won the mountain classification and Häusler was the most active rider, a perfect result in our home race!"
Vos was given a consolation prize in the World Cup leader's jersey, which she gained thanks to her countrywoman Andrea Bosman slipping to the line ahead of former series leader Emma Johannson (Red Sun).
Vos now leads the World Cup by a slim five points on the Swede. Armstrong moved into third in the classification.
Photography
For a thumbnail gallery of these images, click here
Images by Tour de Berne
The Tour de Berne podium (l-r) Marianne Vos (DSB Bank - LTO), Kirstin Armstrong Savola (Cervélo TestTeam) and Trixi Worrack (Equipe Nürnberger Versicherung).
Results
1 Kirstin Armstrong Savola (USA) Cervélo TestTeam           3.30.19 (38.74 km/h)
2 Marianne Vos (Ned) DSB Bank - LTO                                
3 Trixi Worrack (Ger) Equipe Nürnberger Versicherung           0.47
4 Andrea Bosman (Ned) National Team Netherlands                    
5 Emma Johansson (Swe) Red Sun Cycling Team                        
6 Grace Verbeke (Bel) Lotto-Belisol Ladiesteam                     
7 Susanne Ljungskog (Swe) Team Flexpoint                           
8 Linda Villumsen (Den) Team Columbia Highroad Women               
9 Elizabeth Armitstead (GBr) Lotto-Belisol Ladiesteam              
10 Nicole Cooke (GBr) Vision 1 Racing                              
11 Regina Bruins (Ned) Cervélo TestTeam                            
12 Svetlana Bubnenkova (Rus) Fenixs                                
13 Yulia Martisova (Rus) Gauss RDZ Ormu - Colnago                  
14 Loes Gunnewijk (Ned) Team Flexpoint                             
15 Eva Lutz (Ger) Equipe Nürnberger Versicherung                   
16 Kimberly Anderson (USA) Team Columbia Highroad Women            
17 Edwige Pitel (Fra) National Team France                         
18 Claudia Häusler (Ger) Cervélo TestTeam                          
19 Modesta Vzesniauskaite (Ltu) Bigla Cycling Team                 
20 Jeannie Longo (Fra) National Team France                        
21 Fabiana Luperini (Ita) Selle Italia Ghezzi                      
22 Julie Beveridge (Can) National Team Canada                      
23 Emma Pooley (GBr) Cervélo TestTeam                          1.14
24 Valentina Carretta (Ita) Top Girls Fassa Bortolo Raxy Line      
25 Elena Berlato (Ita) Safi -Pasta Zara Titanedi               1.21
26 Christine Majerus (Lux) National Team Luxembourg            2.18
27 Luise Keller (Ger) Team Columbia Highroad Women             4.36
28 Tina Liebig (Ger) DSB Bank - LTO                            7.37
29 Bianca Purath (Ger) Equipe Nürnberger Versicherung              
30 Joelle Numainville (Can) National Team Canada              11.34
31 Martine Bras (Ned) Selle Italia Ghezzi                          
32 Mascha Pijnenborg (Ned) Red Sun Cycling Team                    
33 Liesbet De Vocht (Bel) DSB Bank - LTO                           
34 Victoria Withelaw (Aus) Vision 1 Racing                         
35 Karin Aune (Swe) Fenixs                                         
36 Saskia Elemans (Ned) Team Flexpoint                             
37 Christel Ferrier-Bruneau (Fra) Vision 1 Racing                  
38 Oxana Kozonchuk (Rus) Selle Italia Ghezzi                       
39 Carolyn Cartmill (Can) National Team Canada                     
40 Chantal Blaak (Ned) National Team Netherlands                   
41 Petra Dijkman (Ned) Red Sun Cycling Team                        
42 Kaytee Boyd (NZl) Selle Italia Ghezzi                           
43 Diana Ziliute (Ltu) Safi -Pasta Zara Titanedi              11.38
44 Tania Belvederesi (Ita) Gauss RDZ Ormu - Colnago                
45 Veronica Andréasson (Swe) Bigla Cycling Team                    
46 Edita Pucinskaite (Ltu) Team Cmax Dila'                         
47 Ludivine Henrion (Bel) Red Sun Cycling Team                     
48 Tatiana Antoshina (Rus) Gauss RDZ Ormu - Colnago                
49 Sigrid Corneo (Slo) Selle Italia Ghezzi                         
50 Martina Corazza (Ita) Gauss RDZ Ormu - Colnago                  
51 Marta Vilajosana Andreu (Spa) Team Cmax Dila'                   
HD Heather Logan (Can) National Team Canada                        
HD Lien Lanssens (Bel) Lotto-Belisol Ladiesteam                    
HD Rasa Leleivyte (Ltu) Safi -Pasta Zara Titanedi                  
HD Eugenie Mermillod (Fra) National Team France                    
HD Fanny Riberot (Fra) National Team France                        
HD Edita Unguryte (Ltu) USC Chirio Forno d'Asolo                   
HD Flavia M. Olivira (Bra) S.C. Michela Fanini Record Rox          
HD Emma Silversides (GBr) Lotto-Belisol Ladiesteam                 
HD Moriah Mc Gregor (Can) National Team Canada                     
HD Daniela Pintarelli (Aut) National Team Austria                  
HD Jennifer Hohl (Swi) Bigla Cycling Team                          
HD Alessandra D'ettorre (Ita) Top Girls Fassa Bortolo Raxy Line    
HD Chiara Rozzini (Ita) Top Girls Fassa Bortolo Raxy Line          
HD Suzanne Van Veen (Ned) National Team Netherlands                
HD Virginia Hennig (Ger) National Team Germany                     
HD Lucinda Brand (Ned) National Team Netherlands                   
HD Laura Dittmann (Ger) National Team Germany                      
HD Bernadette Schober (Aut) National Team Austria                  
HD Monika Schachl (Aut) National Team Austria                      
HD Denise Zuckermandel (Ger) National Team Germany                 
HD Rosane Kirch (Bra) S.C. Michela Fanini Record Rox               
HD Jennifer Fiori (Ita) Top Girls Fassa Bortolo Raxy Line          
HD Alice Donadoni (Ita) Team Cmax Dila'                            
HD Anne-Marie Schmitt (Lux) National Team Luxembourg               
HD Nathalie Lamborelle (Lux) National Team Luxembourg              
HD Suzanne De Goede (Ned) Equipe Nürnberger Versicherung           
HD Iris Slappendel (Ned) Team Flexpoint                            
HD Patricia Schwager (Swi) Cervélo TestTeam                        
HD Mir Melchers-Van Poppel (Ned) Team Flexpoint                    
HD Katherine Bates (Aus) Team Columbia Highroad Women              
HD Marieke Van Wanroij (Ned) DSB Bank - LTO                        
HD Trine Schmidt (Den) Team Flexpoint                              
HD Laura Bozzolo (Ita) Selle Italia Ghezzi                         
HD Sarah Düster (Ger) Cervélo TestTeam                             
HD Paulina Brzezna (Pol) Red Sun Cycling Team                      
HD Saneila Biagi (Ita) Team Cmax Dila'                             
HD Natalia Boyarskaya (Rus) Fenixs                                 
HD Corine Hierckens (Bel) Fenixs                                   
HD Debby Van Den Berg (Ned) Vision 1 Racing                        
HD Chantal Beltman (Ned) Team Columbia Highroad Women              
HD Madeleine Sandig (Ger) Equipe Nürnberger Versicherung           
HD Charlotte Becker (Ger) Equipe Nürnberger Versicherung           
DNF Emilia Fahlin (Swe) Team Columbia Highroad Women               
DNF Elke Gebhardt (Ger) DSB Bank - LTO                             
DNF Angela Hennig (Ger) DSB Bank - LTO                             
DNF Nicole Brändli (Swi) Bigla Cycling Team                        
DNF Noemi Cantele (Ita) Bigla Cycling Team                         
DNF Monica Holler (Swe) Bigla Cycling Team                         
DNF Chiara Bortolus (Ita) Gauss RDZ Ormu - Colnago                 
DNF Eleonora Suelotto (Ita) Gauss RDZ Ormu - Colnago               
DNF Laure Werner (Bel) Red Sun Cycling Team                        
DNF Eleonora Patuzzo (Ita) Safi -Pasta Zara Titanedi               
DNF Helen Wyman (GBr) Vision 1 Racing                              
DNF Gabriella Day (GBr) Vision 1 Racing                            
DNF Elise Depoorter (Bel) Lotto-Belisol Ladiesteam                 
DNF Kim Schoonbaert (Bel) Lotto-Belisol Ladiesteam                 
DNF Arien Torsius (RSA) Team Cmax Dila'                            
DNF Elonora Spaliviero (Ita) USC Chirio Forno d'Asolo              
DNF Egle Zablockyte (Ltu) USC Chirio Forno d'Asolo                 
DNF Daiwa Tuslaite (Ltu) USC Chirio Forno d'Asolo                  
DNF Edita Janeliunaite (Ltu) USC Chirio Forno d'Asolo              
DNF Simon Frapporti (Ita) USC Chirio Forno d'Asolo                 
DNF Suzie Godart (Lux) Fenixs                                      
DNF Alice Marmorini (Ita) Fenixs                                   
DNF Erika Vilunaite (Ltu) S.C. Michela Fanini Record Rox           
DNF Giulia Lazzernini (Ita) S.C. Michela Fanini Record Rox         
DNF Alessia Quarta (Ita) S.C. Michela Fanini Record Rox            
DNF Eleonora Soldo (Ita) S.C. Michela Fanini Record Rox            
DNF Laura Pisaneschi (Ita) Top Girls Fassa Bortolo Raxy Line       
DNF Stefanie Degle (Ger) National Team Germany                     
DNF Franziska Merten (Ger) National Team Germany                   
DNF Silke Schrattenecker (Aut) National Team Austria               
DNF Viktoria Berger (Aut) National Team Austria                    
DNF Jenny Trew (Can) National Team Canada                          
DNF Monique Ludovicy (Lux) National Team Luxembourg                
 
Climbs
1 Emma Pooley (GBr) Cervelo Testteam                             13 pts
2 Kirstin Armstrong Savola (USA) Cervélo TestTeam                 5
3 Claudia Häusler (Ger) Cervelo Testteam                          5
4 Trixi Worrack (Ger) Equipe Nürnberger Versicherung              4
5 Marianne Vos (Ned) DSB Bank - LTO                               3
6 Elena Berlato (Ita) Safi -Pasta Zara Titanedi                   3
7 Valentina Carretta (Ita) Top Girls Fassa Bortolo Raxy Line      2
8 Emma Johansson (Swe) Red Sun Cycling Team                       1
 
Intermediate Sprints
1 Eva Lutz (Ger) Equipe Nürnberger Versicherung                   6 pts
2 Kirstin Armstrong Savola (USA) Cervélo TestTeam                 5
3 Regina Bruins (Ned) Cervelo Testteam                            5
4 Nicole Brändli (Swi) Bigla Cycling Team                         5
5 Monica Holler (Swe) Bigla Cycling Team                          5
6 Marianne Vos (Ned) DSB Bank - LTO                               3
7 Patricia Schwager (Swi) Cervelo Testteam                        3
8 Trixi Worrack (Ger) Equipe Nürnberger Versicherung              1
9 Noemi Cantele (Ita) Bigla Cycling Team                          1
10 Valentina Carretta (Ita) Top Girls Fassa Bortolo Raxy Line     1
11 Jennifer Hohl (Swi) Bigla Cycling Team                         1