Tour of Missouri - 2.1
USA, September 8-14, 2008
Main Page Results Overall standings Stage Details Live report Previous Stage Next Stage
Stage 2 - September 9: Clinton - Springfield, 126 miles
Cavendish, Columbia owning Missouri
By Mark Zalewski, North American Editor with Kirsten Robbins in Springfield, Missouri
[There was] nothing else to do but win!
Photo ©: John Pierce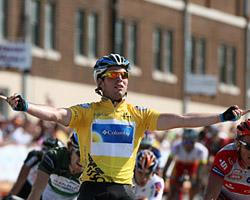 Even though the Tour of Missouri does not pass through Columbia, Missouri like it did last year, that city's name is well represented in this year's Tour. Team Columbia's Mark Cavendish showed once again that he and his team are the strongest in the entire race with his lead-out train delivering him to 250 metres with clean wheels, making his win by a bike length over Eric Baumann (Sparkasse) and yesterday's third place Francesco Chicchi (Liquigas) look easy.
"When you've got a team like mine then yes, it is as easy as it looks," Cavendish told Cyclingnews. "When you've got a team as good as mine you just jump on their wheel and go. When you start that far ahead the only thing you can do is win. It's been that way all year."
Even after an almost entire day on the front, the team was still powerful and organized enough to take control on the finishing circuits, despite attempts from Liquigas, Garmin-Chipotle and Sparkasse. "The whole team was there and we showed our control the whole day by riding up front," said Cavendish. "We came in and had pressure from teams like Liquigas and Sparkasse. We had to show how dominant we are and it was just a case of keeping our position at the front in the last two kilometres. The pace was so high and I was dropped off at 150 metres to go with nothing else to do but win."
Team Columbia's owner Bob Stapleton even alluded to Cyclingnews that Cavendish is not quite at 100 percent this week, but that the team effort more than makes up for it.
The man in charge of shepherding him to the finish was last year's winner here, George Hincapie. "Hincapie is so strong and so fast in the finish. The hardest part of the race was in that last kilometre when George was at the front. When the pace is that high it tires out a lot of legs. He helped me by telling me last night that it was the perfect distance and terrain, slightly up hill, headwind. He was able to go through all that like a bullet."
Team Columbia sets the tempo
Photo ©: Jon Devich
Trying to find any chink in the Columbia armour were a host of sprinters, including the only Missouri-native in the race Brad Huff (Jelly Belly), who managed sixth. Huff put sprinting against Cavendish into perspective quite well.
"I don't actually know what it's like sprinting against Cavendish because it is so hectic behind I have to sprint just to get up to Cavendish," said Huff. "Columbia has it really controlled and nobody can come around their lead-out train. All of us small teams have to sprint just to get to his wheel, so we never actually sprint against him - that becomes the actual sprint. When a guy like Cavendish has a team so that he never touches the wind until 200 metres to go... we can't compete with that."
Cavendish's win keeps him in the leader's yellow jersey, but likely only for one more day. Tomorrow is the race's only time trial, possibly the only time Cavendish will not be on the podium this week. However, with three strong time trialists on the team - including multiple world time trial champion Michael Rogers and Tour de France top ten time trialist George Hincapie - Cavendish's prediction of handing the jersey to a teammate is not all that unlikely.
"I never had any intention of keeping the jersey after the time trial," he said. "I'll go as hard as I can because I'm wearing it but I can't see myself keeping it. But I would be surprised if we don't keep it within the team after tomorrow."
On the flip side, with the way the first two stages have gone, other teams might be throwing everything and the kitchen sink into the time trial for a win.
How it unfolded
The break that stuck
Photo ©: Jon Devich

The second stage was an identical stage to last year's, with a start in Clinton and heading south to Springfield along country farm roads. The rolling hills would make for a long day to go along with the longest stage in terms of distance, at 126 miles. This stage was also the now infamous 'armadillo incident' which ended Missouri-native Dan Schmatz' race early last year. Luckily all of the armadillos stayed in their homes for the stage.
With Team Columbia and Mark Cavendish looking impossible to beat in a field sprint the only other way would be to win out of a breakaway. As such many riders were actively manoeuvring to get into a breakaway from the opening kilometres, especially the smaller domestic teams. Colavita-Sutter Home was represented in five early moves, as were other teams such as Bissell, Kelly Benefits Strategies-Medifast and Rock Racing.
Eventually Andy Guptill (Colavita-Sutter Home) and Reid Mumford (Kelly Benefits Strategies-Medifast) escaped and Andreas Schillinger (Sparkasse), Mike Sayers (BMC) and Andrew Randell (Symmetrics) were able to join. This seemed to please Columbia as they turned off the gas enough to let the lead build to a minute.
By the time the lead grew to more than two minutes the peloton was all blue with Columbia assuming control. Up front the break worked extremely well together with a rotating pace line of 15-second pulls. But even despite this Columbia only allowed them to have a maximum gap of 3:15.
"I think we rolled steady and did what we could," said Randall. "It went over 3:15 but then came right back down to just over 2 minutes. I don't think Columbia would have let any more guys get up the road."
And for a total of around 100 miles, that was story. Columbia was alone in controlling the field, but they stepped up to the challenge.
Break rider Mike Sayers, who is retiring after this season, said the break worked well. "It was actually pretty good, except for the Sparkasse guy everyone was giving 100 percent. I was just out there trying to represent and just trying... like always. And you never know, everyone could just fall down! And they way these finishes are going everyone is falling down. But I think our guys will ride good in the time trial tomorrow."
The main bunch crosses one of today's larger bridges.
Photo ©: Jon Devich

Schillinger won the first intermediate sprint. After the second intermediate sprint, won by Sayers, the gap began to fall significantly. By this point Garmin-Chipotle put riders into the chase, including Dave Zabriskie, to set-up Tyler Farrar for the sprint. Liquigas was also near the front looking to set-up their sprinter Francesco Chicchi.
With the writing on the wall the break began to attack itself, looking for TV time or the most aggressive award on the day. This of course doomed the chances of the break straight away.
"We tried to pick it up at the end and then the stupid aggressive rider's jersey makes the guys attack instead of trying to hold it together for the finish," said Randall. "It upped the tempo and puts the hurt in the legs when we could have been riding together for a bit more. But it's better than riding in the pack for seven days!"
But this did not decide the aggressive award, given by the media. The award was a team effort today as the constant attacking by the Colavita-Sutter Home team in the beginning, which helped launch the break, earned Andy Guptill the jersey.
The catch was finally made with around 12km to go, with the finishing circuits beginning at 10km. Entering the circuits another crash occurred, similar to stage one, ending the chances for some sprinters early.
But the favorites were already at the front and out of harm's way. Liquigas, Sparkasse and Garmin-Chipotle all trying to wrestle control from Columbia. As well another suicide solo move by a Symmetrics' Will Routely gave the crowd something to cheer for. But in the end it was all Columbia when it mattered. George Hincapie moved up Garmin's train with Cavendish in two, delivering him perfectly to the line for his second win in a row.
Cyclingnews will continue its live coverage for tomorrow's time trial in Branson, as well as in-depth reporting and photography.
Photography
For a thumbnail gallery of these images, click here
Images by Jonathan Devich/

Images by John Pierce/Photosport International
Results
1 Mark Cavendish (GBr) Team Columbia                                             4.53.19
2 Eric Baumann (Ger) Team Sparkasse                                                     
3 Francesco Chicchi (Ita) Liquigas                                                      
4 Tyler Farrar (USA) Garmin/Chipotle Presented by H3O                                   
5 Andrew Pinfold (Can) Symmetrics Cycling Team                                          
6 Brad Huff (USA) Jelly Belly Cycling Team                                              
7 Michael Van Stayen (Bel) Rabobank Continential                                        
8 Danilo Wyss (Swi) BMC Racing Team                                                     
9 Dominique Rollin (Can) Toyota-United Pro Cycling Team                                 
10 Luis Hernandez (Mex) Tecos de la Universidad Autonoma de Guadalaiara                 
11 Boy Van Poppel (Ned) Rabobank Continential                                           
12 Alejandro Borrajo (Arg) Colavita/Sutter Home Presented By Cooking Light              
13 Bernhard Eisel (Aut) Team Columbia                                                   
14 Richard England (Aus) Bissell Pro Cycling                                            
15 Danny Pate (USA) Garmin/Chipotle Presented by H3O                                    
16 Karl Menzies (Aus) Health Net Presented By Maxxis                                    
17 John Murphy (USA) Health Net Presented By Maxxis                                     
18 Michael Rogers (Aus) Team Columbia                                                   
19 Darren Lill (RSA) BMC Racing Team                                                    
20 Edward King (USA) Bissell Pro Cycling                                                
21 Hilton Clarke (Aus) Toyota-United Pro Cycling Team                                   
22 Ben Jacques-Maynes (USA) Bissell Pro Cycling                                         
23 Christian Vande Velde (USA) Garmin/Chipotle Presented by H3O                         
24 Tom Danielson (USA) Garmin/Chipotle Presented by H3O                                 
25 Marco Pinotti (Ita) Team Columbia                                                    
26 Blake Caldwell (USA) Garmin/Chipotle Presented by H3O                                
27 George Hincapie (USA) Team Columbia                                                  
28 Benjamin Day (Aus) Toyota-United Pro Cycling Team                                    
29 Luis Amaran Romero (Cub) Colavita/Sutter Home Presented By Cooking Light             
30 Davide Frattini (Ita) Colavita/Sutter Home Presented By Cooking Light                
31 Thomas Berkhout (Ned) Rabobank Continential                                          
32 Kayle Leogrande (USA) Rock Racing                                                    
33 Brent Bookwalter (USA) BMC Racing Team                                               
34 Michael Barry (Can) Team Columbia                                                    
35 Elliott Cervantes (Mex) Tecos de la Universidad Autonoma de Guadalaiara              
36 Jetse Bol (Ned) Rabobank Continential                                                
37 Marcel Beima (Ned) Rabobank Continential                                             
38 Steven Kruijswijk(Ned) Rabobank Continential                                            
39 Antonio Cruz (USA) BMC Racing Team                                                   
40 Nick Reistad (USA) Jelly Belly Cycling Team                                          
41 Kiel Reijnen (USA) Jelly Belly Cycling Team                                          
42 Steven Cozza (USA) Garmin/Chipotle Presented by H3O                                  
43 Roman Kreuziger (Cze) Liquigas                                                       
44 Cameron Evans (Can) Symmetrics Cycling Team                                          
45 Jeffry Louder (USA) BMC Racing Team                                                  
46 Matej Mugerli (Slo) Liquigas                                                         
47 Daniel Holloway (USA) Garmin/Chipotle Presented by H3O                               
48 Martin Kohler (Swi) BMC Racing Team                                                  
49 Vincenzo Nibali (Ita) Liquigas                                                       
50 Jonathan Garcia (USA) BMC Racing Team                                                
51 Andrew Bajadali (USA) Kelly Benefit Strategies-Medifast                          0.11
52 Richard Faltus (Cze) Team Sparkasse                                                  
53 David Veilleux (Can) Kelly Benefit Strategies-Medifast                               
54 David Zabriskie (USA) Garmin/Chipotle Presented by H3O                               
55 Thomas Rabou (Ned) Rabobank Continential                                             
56 Ryan Anderson (Can) Symmetrics Cycling Team                                          
57 Oyarzun Carlos (Chi) Tecos de la Universidad Autonoma de Guadalaiara                 
58 Darren Lapthorne (Aus) Team Sparkasse                                                
59 Rory Sutherland (Aus) Health Net Presented By Maxxis                                 
60 Bernardo Tepoz (Mex) Tecos de la Universidad Autonoma de Guadalaiara                 
61 Nicholas Sanderson (Aus) Jelly Belly Cycling Team                                    
62 Bernard Van Ulden (USA) Jelly Belly Cycling Team                                     
63 Svein Tuft (Can) Symmetrics Cycling Team                                             
64 Andreas Schillinger (Ger) Team Sparkasse                                             
65 Dan Bowman (USA) Kelly Benefit Strategies-Medifast                                   
66 Creed Michael (USA) Rock Racing                                                      
67 Eric Wohlberg (Can) Symmetrics Cycling Team                                          
68 Rob Ruijgh (Ned) Team Sparkasse                                                      
69 Christopher Baldwin (USA) Toyota-United Pro Cycling Team                             
70 Tom Zirbel (USA) Bissell Pro Cycling                                                 
71 Anthony Colby (USA) Colavita/Sutter Home Presented By Cooking Light                  
72 John Devine (USA) Team Columbia                                                      
73 Kai Reus (Ned) Rabobank Continential                                                 
74 Jeremy Powers (USA) Jelly Belly Cycling Team                                         
75 Justin Spinelli (USA) Kelly Benefit Strategies-Medifast                              
76 Dirk Muller (Ger) Team Sparkasse                                                     
77 Chris Wherry (USA) Toyota-United Pro Cycling Team                                    
78 Kyle Gritters (USA) Health Net Presented By Maxxis                                   
79 Jeremiah Wiscovitch (USA) Rock Racing                                                
80 Scott Zwizanski (USA) Bissell Pro Cycling                                            
81 Juan Pablo Aranda (Mex) Tecos de la Universidad Autonoma de Guadalaiara              
82 Frank Pipp (USA) Health Net Presented By Maxxis                                      
83 Lui Colunga (Mex) Tecos de la Universidad Autonoma de Guadalaiara                    
84 Tim Johnson (USA) Health Net Presented By Maxxis                                     
85 Roman Kilun (USA) Health Net Presented By Maxxis                                     
86 Omar Diaz (Mex) Tecos de la Universidad Autonoma de Guadalaiara                      
87 Jacopo Guarnieri (Ita) Liquigas                                                      
88 Will Routley (Can) Symmetrics Cycling Team                                           
89 Bryce Mead (USA) Jelly Belly Cycling Team                                            
90 Craig Lewis (USA) Team Columbia                                                      
91 Gustavo Artacho (Arg) Colavita/Sutter Home Presented By Cooking Light                
92 Gianni Da Ros (Ita) Liquigas                                                     0.24
93 Omer Kem (USA) Bissell Pro Cycling                                                   
94 Caleb Manion (Aus) Toyota-United Pro Cycling Team                                    
95 Lars Wackernagel (Ger) Team Sparkasse                                            0.28
96 Matthew Rice (Aus) Jelly Belly Cycling Team                                      0.47
97 Garrett Peltonen (USA) Bissell Pro Cycling                                       0.50
98 Sebastian Frey (Ger) Team Sparkasse                                              1.15
99 Kirk O'bee (USA) Health Net Presented By Maxxis                                  1.27
100 Sterling Magnell (USA) Rock Racing                                              1.36
101 Ivan Dominguez (Cub) Toyota-United Pro Cycling Team                                 
102 Andy Guptill (USA) Colavita/Sutter Home Presented By Cooking Light              2.08
103 Henk Vogels (Aus) Toyota-United Pro Cycling Team                                2.34
104 Alex Candelario (USA) Kelly Benefit Strategies-Medifast                             
105 Mike Sayers (USA) BMC Racing Team                                               2.47
106 Cesar Grajales (Col) Rock Racing                                                    
107 Andrew Randell (Can) Symmetrics Cycling Team                                    3.11
108 Keven Lacombe (Can) Kelly Benefit Strategies-Medifast                           3.42
109 Jonathan Mumford (USA) Kelly Benefit Strategies-Medifast                        4.12
110 Luca Damiani (Ita) Colavita/Sutter Home Presented By Cooking Light              4.25
111 Sergio Hernandez (USA) Rock Racing                                                  
112 Lucas Sebastian Haedo (Arg) Colavita/Sutter Home Presented By Cooking Light     6.02
113 Justin Williams (USA) Rock Racing                                               6.43
114 Jonathan Sundt (USA) Kelly Benefit Strategies-Medifast                          8.09
DNS Jeremy Vennell (NZl) Bissell Pro Cycling                                            
 
Sprints
 
Sprint 1
1 Andreas Schillinger (Ger) Team Sparkasse                                             5 pts
2 Mike Sayers (USA) BMC Racing Team                                                    3
3 Andy Guptill (USA) Colavita/Sutter Home Presented By Cooking Light                    
 
Sprint 2
1 Andreas Schillinger (Ger) Team Sparkasse                                             5 pts
2 Mike Sayers (USA) BMC Racing Team                                                    3
3 Andy Guptill (USA) Colavita/Sutter Home Presented By Cooking Light                    
 
Teams
 
1 Team Columbia                                                                 14.39.57
2 Garmin/Chipotle Presented by H3O                                                      
3 Rabobank Continential                                                                              
4 Bissell Pro Cycling                                                                   
5 Toyota-United Pro Cycling Team                                                        
6 BMC Racing Team                                                                       
7 Colavita/Sutter Home Presented By Cooking Light                                       
8 Jelly Belly Cycling Team                                                              
9 Liquigas                                                                              
10 Health Net Presented By Maxxis                                                   0.11
11 Tecos de la Universidad Autonoma de Guadalaiara                                      
12 Symmetrics Cycling Team                                                              
13 Team Sparkasse                                                                   0.22
14 Rock Racing                                                                          
15 Kelly Benefit Strategies-Medifast                                                0.33
 
Young rider
 
1 Mark Cavendish (GBr) Team Columbia                                             4.53.19
2 Michael Van Stayen (Bel) Rabobank Continential                                        
3 Danilo Wyss (Swi) BMC Racing Team                                                     
4 Boy Van Poppel (Ned) Rabobank Continential                                            
5 Elliott Cervantes (Mex) Tecos de la Universidad Autonoma de Guadalaiara               
6 Jetse Bol (Ned) Rabobank Continential                                                 
7 Steven Kruijswijk(Ned) Rabobank Continential                                             
8 Kiel Reijnen (USA) Jelly Belly Cycling Team                                           
9 Steven Cozza (USA) Garmin/Chipotle Presented by H3O                                   
10 Roman Kreuziger (Cze) Liquigas                                                       
11 Daniel Holloway (USA) Garmin/Chipotle Presented by H3O                               
12 Martin Kohler (Swi) BMC Racing Team                                                  
13 David Veilleux (Can) Kelly Benefit Strategies-Medifast                           0.11
14 Ryan Anderson (Can) Symmetrics Cycling Team                                          
15 Rob Ruijgh (Ned) Team Sparkasse                                                      
16 John Devine (USA) Team Columbia                                                      
17 Kai Reus (Ned) Rabobank Continential                                                 
18 Omar Diaz (Mex) Tecos de la Universidad Autonoma de Guadalaiara                      
19 Jacopo Guarnieri (Ita) Liquigas                                                      
20 Craig Lewis (USA) Team Columbia                                                      
21 Gianni Da Ros (Ita) Liquigas                                                     0.24
22 Keven Lacombe (Can) Kelly Benefit Strategies-Medifast                            3.42
23 Sergio Hernandez (USA) Rock Racing                                               4.25
24 Justin Williams (USA) Rock Racing                                                6.43
 
General classification after stage 2
 
1 Mark Cavendish (GBr) Team Columbia                                             8.08.13
2 Francesco Chicchi (Ita) Liquigas                                                  0.12
3 Eric Baumann (Ger) Team Sparkasse                                                 0.14
4 Tyler Farrar (USA) Garmin/Chipotle Presented by H3O                                   
5 Martin Kohler (Swi) BMC Racing Team                                               0.15
6 Michael Van Stayen (Bel) Rabobank Continential                                    0.20
7 Andrew Pinfold (Can) Symmetrics Cycling Team                                          
8 Danilo Wyss (Swi) BMC Racing Team                                                     
9 Boy Van Poppel (Ned) Rabobank Continential                                            
10 John Murphy (USA) Health Net Presented By Maxxis                                     
11 Luis Hernandez (Mex) Tecos de la Universidad Autonoma de Guadalaiara                 
12 Richard England (Aus) Bissell Pro Cycling                                            
13 Alejandro Borrajo (Arg) Colavita/Sutter Home Presented By Cooking Light              
14 Danny Pate (USA) Garmin/Chipotle Presented by H3O                                    
15 Dominique Rollin (Can) Toyota-United Pro Cycling Team                                
16 Jetse Bol (Ned) Rabobank Continential                                                
17 Edward King (USA) Bissell Pro Cycling                                                
18 George Hincapie (USA) Team Columbia                                                  
19 Luis Amaran Romero (Cub) Colavita/Sutter Home Presented By Cooking Light             
20 Davide Frattini (Ita) Colavita/Sutter Home Presented By Cooking Light                
21 Brent Bookwalter (USA) BMC Racing Team                                               
22 Antonio Cruz (USA) BMC Racing Team                                                   
23 Michael Rogers (Aus) Team Columbia                                                   
24 Christian Vande Velde (USA) Garmin/Chipotle Presented by H3O                         
25 Daniel Holloway (USA) Garmin/Chipotle Presented by H3O                               
26 Benjamin Day (Aus) Toyota-United Pro Cycling Team                                    
27 Michael Barry (Can) Team Columbia                                                    
28 Blake Caldwell (USA) Garmin/Chipotle Presented by H3O                                
29 Jeffry Louder (USA) BMC Racing Team                                                  
30 Darren Lill (RSA) BMC Racing Team                                                    
31 Steven Cozza (USA) Garmin/Chipotle Presented by H3O                                  
32 Marco Pinotti (Ita) Team Columbia                                                    
33 Steven Kruijswijk(Ned) Rabobank Continential                                            
34 Matej Mugerli (Slo) Liquigas                                                         
35 Jonathan Garcia (USA) BMC Racing Team                                                
36 Tom Danielson (USA) Garmin/Chipotle Presented by H3O                                 
37 Marcel Beima (Ned) Rabobank Continential                                             
38 Ben Jacques-Maynes (USA) Bissell Pro Cycling                                         
39 Nick Reistad (USA) Jelly Belly Cycling Team                                          
40 Vincenzo Nibali (Ita) Liquigas                                                       
41 Hilton Clarke (Aus) Toyota-United Pro Cycling Team                                   
42 Thomas Berkhout (Ned) Rabobank Continential                                          
43 Kayle Leogrande (USA) Rock Racing                                                    
44 Brad Huff (USA) Jelly Belly Cycling Team                                             
45 Roman Kreuziger (Cze) Liquigas                                                       
46 Cameron Evans (Can) Symmetrics Cycling Team                                          
47 Karl Menzies (Aus) Health Net Presented By Maxxis                                    
48 Kiel Reijnen (USA) Jelly Belly Cycling Team                                          
49 Andreas Schillinger (Ger) Team Sparkasse                                         0.25
50 Tom Zirbel (USA) Bissell Pro Cycling                                             0.28
51 Ryan Anderson (Can) Symmetrics Cycling Team                                      0.31
52 Oyarzun Carlos (Chi) Tecos de la Universidad Autonoma de Guadalaiara                 
53 Eric Wohlberg (Can) Symmetrics Cycling Team                                          
54 Darren Lapthorne (Aus) Team Sparkasse                                                
55 Nicholas Sanderson (Aus) Jelly Belly Cycling Team                                    
56 Dirk Muller (Ger) Team Sparkasse                                                     
57 Andrew Bajadali (USA) Kelly Benefit Strategies-Medifast                              
58 David Veilleux (Can) Kelly Benefit Strategies-Medifast                               
59 Svein Tuft (Can) Symmetrics Cycling Team                                             
60 Kai Reus (Ned) Rabobank Continential                                                 
61 Rob Ruijgh (Ned) Team Sparkasse                                                      
62 Jeremiah Wiscovitch (USA) Rock Racing                                                
63 Richard Faltus (Cze) Team Sparkasse                                                  
64 Dan Bowman (USA) Kelly Benefit Strategies-Medifast                                   
65 John Devine (USA) Team Columbia                                                      
66 Creed Michael (USA) Rock Racing                                                      
67 Thomas Rabou (Ned) Rabobank Continential                                             
68 Roman Kilun (USA) Health Net Presented By Maxxis                                     
69 Scott Zwizanski (USA) Bissell Pro Cycling                                            
70 Justin Spinelli (USA) Kelly Benefit Strategies-Medifast                              
71 Bernardo Tepoz (Mex) Tecos de la Universidad Autonoma de Guadalaiara                 
72 Rory Sutherland (Aus) Health Net Presented By Maxxis                                 
73 Gustavo Artacho (Arg) Colavita/Sutter Home Presented By Cooking Light                
74 David Zabriskie (USA) Garmin/Chipotle Presented by H3O                               
75 Juan Pablo Aranda (Mex) Tecos de la Universidad Autonoma de Guadalaiara              
76 Bernard Van Ulden (USA) Jelly Belly Cycling Team                                     
77 Chris Wherry (USA) Toyota-United Pro Cycling Team                                    
78 Christopher Baldwin (USA) Toyota-United Pro Cycling Team                             
79 Anthony Colby (USA) Colavita/Sutter Home Presented By Cooking Light                  
80 Jeremy Powers (USA) Jelly Belly Cycling Team                                         
81 Omar Diaz (Mex) Tecos de la Universidad Autonoma de Guadalaiara                      
82 Lui Colunga (Mex) Tecos de la Universidad Autonoma de Guadalaiara                    
83 Craig Lewis (USA) Team Columbia                                                      
84 Will Routley (Can) Symmetrics Cycling Team                                           
85 Bryce Mead (USA) Jelly Belly Cycling Team                                            
86 Jacopo Guarnieri (Ita) Liquigas                                                      
87 Omer Kem (USA) Bissell Pro Cycling                                               0.44
88 Gianni Da Ros (Ita) Liquigas                                                         
89 Caleb Manion (Aus) Toyota-United Pro Cycling Team                                    
90 Lars Wackernagel (Ger) Team Sparkasse                                            0.48
91 Matthew Rice (Aus) Jelly Belly Cycling Team                                      1.07
92 Garrett Peltonen (USA) Bissell Pro Cycling                                       1.10
93 Sebastian Frey (Ger) Team Sparkasse                                              1.35
94 Kirk O'bee (USA) Health Net Presented By Maxxis                                  1.47
95 Ivan Dominguez (Cub) Toyota-United Pro Cycling Team                              2.20
96 Andy Guptill (USA) Colavita/Sutter Home Presented By Cooking Light               2.26
97 Tim Johnson (USA) Health Net Presented By Maxxis                                 2.39
98 Alex Candelario (USA) Kelly Benefit Strategies-Medifast                          2.54
99 Henk Vogels (Aus) Toyota-United Pro Cycling Team                                     
100 Mike Sayers (USA) BMC Racing Team                                               3.03
101 Cesar Grajales (Col) Rock Racing                                                3.07
102 Andrew Randell (Can) Symmetrics Cycling Team                                    3.31
103 Frank Pipp (USA) Health Net Presented By Maxxis                                     
104 Jonathan Mumford (USA) Kelly Benefit Strategies-Medifast                        4.32
105 Luca Damiani (Ita) Colavita/Sutter Home Presented By Cooking Light              4.45
106 Bernhard Eisel (Aut) Team Columbia                                              5.38
107 Kyle Gritters (USA) Health Net Presented By Maxxis                              5.49
108 Sterling Magnell (USA) Rock Racing                                              9.30
109 Jonathan Sundt (USA) Kelly Benefit Strategies-Medifast                         10.16
110 Lucas Sebastian Haedo (Arg) Colavita/Sutter Home Presented By Cooking Light    11.40
111 Sergio Hernandez (USA) Rock Racing                                             12.19
112 Elliott Cervantes (Mex) Tecos de la Universidad Autonoma de Guadalaiara        12.35
113 Keven Lacombe (Can) Kelly Benefit Strategies-Medifast                          20.48
114 Justin Williams (USA) Rock Racing                                              23.47
 
Sprint classification
 
1 Mark Cavendish (GBr) Team Columbia                                                  30 pts
2 Francesco Chicchi (Ita) Liquigas                                                    20
3 Tyler Farrar (USA) Garmin/Chipotle Presented by H3O                                 20
4 Eric Baumann (Ger) Team Sparkasse                                                   19
5 Andreas Schillinger (Ger) Team Sparkasse                                            10
6 Michael Van Stayen (Bel) Rabobank Continential                                      10
7 Andrew Pinfold (Can) Symmetrics Cycling Team                                         9
8 Martin Kohler (Swi) BMC Racing Team                                                  8
9 Jonathan Sundt (USA) Kelly Benefit Strategies-Medifast                               8
10 Mike Sayers (USA) BMC Racing Team                                                   6
11 Brad Huff (USA) Jelly Belly Cycling Team                                            5
12 Alex Candelario (USA) Kelly Benefit Strategies-Medifast                             5
13 Tom Zirbel (USA) Bissell Pro Cycling                                                4
14 Danilo Wyss (Swi) BMC Racing Team                                                   4
15 John Murphy (USA) Health Net Presented By Maxxis                                    4
16 Andy Guptill (USA) Colavita/Sutter Home Presented By Cooking Light                  4
17 Jetse Bol (Ned) Rabobank Continential                                               2
18 Dominique Rollin (Can) Toyota-United Pro Cycling Team                               2
19 Luis Hernandez (Mex) Tecos de la Universidad Autonoma de Guadalaiara                2
 
Teams classification
 
1 Garmin/Chipotle Presented by H3O                                              24.25.39
2 Rabobank Continential                                                                             
3 Team Columbia                                                                         
4 BMC Racing Team                                                                       
5 Bissell Pro Cycling                                                                   
6 Colavita/Sutter Home Presented By Cooking Light                                       
7 Toyota-United Pro Cycling Team                                                        
8 Liquigas                                                                              
9 Jelly Belly Cycling Team                                                              
10 Symmetrics Cycling Team                                                          0.11
11 Health Net Presented By Maxxis                                                       
12 Tecos de la Universidad Autonoma de Guadalaiara                                      
13 Team Sparkasse                                                                   0.22
14 Rock Racing                                                                          
15 Kelly Benefit Strategies-Medifast                                                0.33
 
Young rider classification
 
1 Mark Cavendish (GBr) Team Columbia                                             8.08.13
2 Martin Kohler (Swi) BMC Racing Team                                               0.15
3 Michael Van Stayen (Bel) Rabobank Continential                                    0.20
4 Danilo Wyss (Swi) BMC Racing Team                                                     
5 Boy Van Poppel (Ned) Rabobank Continential                                            
6 Jetse Bol (Ned) Rabobank Continential                                                 
7 Daniel Holloway (USA) Garmin/Chipotle Presented by H3O                                
8 Steven Cozza (USA) Garmin/Chipotle Presented by H3O                                   
9 Steven Kruijswijk(Ned) Rabobank Continential                                             
10 Roman Kreuziger (Cze) Liquigas                                                       
11 Kiel Reijnen (USA) Jelly Belly Cycling Team                                          
12 Ryan Anderson (Can) Symmetrics Cycling Team                                      0.31
13 David Veilleux (Can) Kelly Benefit Strategies-Medifast                               
14 Kai Reus (Ned) Rabobank Continential                                                 
15 Rob Ruijgh (Ned) Team Sparkasse                                                      
16 John Devine (USA) Team Columbia                                                      
17 Omar Diaz (Mex) Tecos de la Universidad Autonoma de Guadalaiara                      
18 Craig Lewis (USA) Team Columbia                                                      
19 Jacopo Guarnieri (Ita) Liquigas                                                      
20 Gianni Da Ros (Ita) Liquigas                                                     0.44
21 Sergio Hernandez (USA) Rock Racing                                              12.19
22 Elliott Cervantes (Mex) Tecos de la Universidad Autonoma de Guadalaiara         12.35
23 Keven Lacombe (Can) Kelly Benefit Strategies-Medifast                           20.48
24 Justin Williams (USA) Rock Racing                                               23.47