23rd Tour de Beauce - 2.2
Canada, June 10-15, 2008
Main Page Results Overall standings Previous Stage Next Stage
Stage 3 - June 12: St-Georges / Mont Mégantic, 153km
Martinez masters Mont Mégantic
By Mark Zalewski, North American Editor on top of Mont MéGantic, Québec
Colex retains overall; Heavy hitters look to TT
Miguel Martinez (Amore & Vita-McDonald's) claims his first professional
Photo ©: Mark Zalewski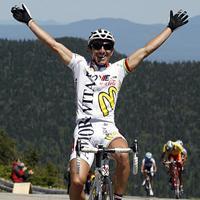 Miguel Martinez (Amore & Vita-McDonald's) is one of the best mountain bikers and cyclo-cross racers in the history of the sport, winning multiple world championships and an Olympic Games gold medal. Following his mountain biking gold at the Athens Olympics, 'Little Mig' turned his focus to the road, signing with Mapei.
However, his road career never really flourished in the ways his mountain bike and cyclo-cross careers had. The 32 year-old had decided to retire from the road after last season - but a last minute decision to try once more put him in touch with Ivano Fanini and his squad. The decision was a good one as Martinez scored his first professional road win in the queen stage of the Tour de Beauce, attacking up the final metres of Mont Mégantic.
"For me today, I am so happy," he told Cyclingnews. "This is my first [road] victory as a professional. Last year I said to myself 'no more'. But in January I felt good and had motivation, so I called Ivano Fanini and asked if it was possible to race on the team."
Martinez said the original motivation to race on the road came from his father's success. "This is unbelieveable," he said. "My father, 40 years ago, was a stage winner twice in the Tour de France. He also raced the World Championships here in Montreal." Martinez then was interrupted by his director with a phone call from Ivano Fanini direct from Italy.
The French rider attacked out of a select group of eight riders. The group included yellow jersey Bernardo Colex (Tecos-Trek), who was being marked closely by other general classification contenders, including three Team Type 1 riders and Symmetrics' Svein Tuft.
"It was very, very hard," said Martinez. "But it was good situation because my team-mate Phil Cortes was out in a break. And he told me about the climb. At one kilometre to the finish it was very steep but I attacked at 300 metres."
"I don't even know how to say how difficult it was," Colex said. "The team brought me to the bottom of the climb and I just could not let them down."
Beyond the difficulty of the climb itself - a seven kilometre ascent with portions above 14 percent - the Mexican rider was isolated from his team immediately as the road turned uphill. Around him were three dangerous Team Type 1 riders - defending stage champion Glen Chadwick, Valeriy Kobzarenko and fellow Mexican Moises Aldape. But as the kilometres ticked off a Tecos-Trek team-mate came back to the rescue.
"Part of the plan was to have Ladino attack, so Bernardo had to be patient and wait for him to come up," said assistant director John Gohl. "Then we sent him to get everyone disorganised by going after him and then have them pop."
"I know they are a very strong team and they attacked some," said Colex. "I held on as long as I could, until Ladino reached me."
"The plan was to hit it from the bottom and single everyone out," said Chadwick. "There were around eight of us but he was a good climber. Martinez and the yellow jersey are really good climbers, so if we could stay within 10 or 20 seconds of them here and try to put a lot of time into them tomorrow. But we also wanted to get some time on some other good time trialers. Tuft is only a number of seconds behind us and he is a time trial guru!"
"For myself all I can do is try to cover my losses," said Tuft. "When [the pure climbers] go they can just punch is so hard on the climbs. If I had to race like that I would just blow sky high! I stayed in my realm and I knew it was 20 minutes of sheer suffering, so if I could just stay on that threshold."
Tuft knows this climb well, and even referred back to his power output file from last year before the stage. "Last night I looked at the file [from last year] and I said, 'Yeah, that is going to hurt!'," he said. "But I try not to look at it while I'm racing."
A common theme among many veteran Beauce racers is that the tactics this year are quite unconventional compared to previous years. "This is the weirdest Beauce I've ever ridden," noted Tuft. "Normally it's really aggressive but everyone is playing a different game this year. So we just had to play along and sit in with the rest of them, waiting for this climb.
"It's a hard frickin' day - who wants to go up there alone?" laughed Tuft.
In regards to teams like Sparkasse quieter than previous years, Tuft said: "I think they've learned - it's their third time here and I remember they had the jersey on this day and blew up, so I think they've learned their lesson."
Last year's second place on this stage, Francois Parisien (Team RACE) had a different opinion. "I don't understand what is going on with the big teams," he said. "Everyone is playing poker right now and everyone is going to lose except the Mexicans," he said. "Normally on this stage a team is all decimated with 30 km to go - there are only two guys left with the leader.
"This year it wasn't going hard until 30 km to go," he continued. "I don't understand why Symmetrics, Team Type 1 and Sparkasse...those team should try to win, but they instead tried to follow. I don't know if they think they can do a good TT, and put two minutes in them. Maybe Svein Tuft can do a good TT, but it will be hard to put a lot of time."
The stage results did not have as much affect on the overall as in previous years, with Martinez the biggest beneficiary. He moves into second place overall at 16 seconds adrift. In third and fourth are two Team Type 1 threats in Aldape and Chadwick at 26 and 39 seconds behind respectively. Tuft, who finished third on the same time trial course last year, is still in the hunt at 51 seconds.
"I'm feeling good and I'll try to get a good recovery now," said Tuft about tomorrow's time trial.
On the other side, the climbing-centric race leader said he will be motivated to become a good time trialist. "I am going to race tomorrow with faith," he said. "I have the yellow jersey so I don't want to lose it - I will put up a good time."
Before the race up Mont Mégantic the day was owned by two - Amore & Vita-McDonald's Canadian connection Phil Cortes and the rider who should now be known as 'Breakaway Beauce', Sébastien Fournet-Fayard (A-Style Stomn). The two broke away with Pezula's Derek Burke tagging on. This marks the third day in-a-row that Frenchman Fournet-Fayard has attacked, and ended up solo on the road.
"It must be Canada's air," he joked. "I admit it might have been too early today, but when you are in a breakaway you have to go."
Tomorrow's 20km time trial might not decide who will win the overall, but it might help decide who will not.
Photography
For a thumbnail gallery of these images, click here
Images by Mark Zalewski / Cyclingnews.com
Images by Jerome Lessard
Results
1 Miguel Martinez (Fra) Amore & Vita-McDonald's                      4.22.03 (35.031 km/h)
2 Bernardo Colex Tepoz (Mex) Tecos Trek Uag                             0.06
3 Moises Aldape (Mex) Team Type 1                                       0.08
4 Glen Chadwick (NZl) Team Type 1                                       0.13
5 Gregorio Ladino Vega (Col) Tecos Trek Uag                             0.21
6 Soren Nissen (Den) Amore & Vita-McDonald's                            0.23
7 Svein Tuft (Can) Symmetrics                                           0.25
8 Valeriy Kobzarenko (Ukr) Team Type 1                                  0.31
9 Christopher Newton (GBr) Rapha Condor Recyclingcouk                   0.38
10 François Parisien (Can) Team Race Pro                                0.43
11 Michael Stevenson (Swe) Amore & Vita-McDonald's                      1.03
12 Darren Lapthorne (Aus) Team Sparkasse                                1.04
13 Johann Rabie (RSA) South African U23 National Team                   1.09
14 Jacob Erker (Can) Symmetrics                                         1.10
15 Rob Britton (Can) Trek-Red Truck Racing                              1.14
16 Cameron Evans (Can) Symmetrics                                       1.28
17 Ryan Bonser (GBr) Rapha Condor Recyclingcouk                         1.34
18 Patrique Gama Azevedos (Bra) Garneau-Crocs                           1.52
19 Paul Brousse (Fra) A-Style Stomn                                     1.53
20 Andreas Schillinger (Ger) Team Sparkasse                             2.12
21 Christian Meier (Can) Symmetrics                                     2.14
22 Graziano Gasparre (Ita) Amore & Vita-McDonald's                      2.22
23 Graham Briggs (GBr) Rapha Condor Recyclingcouk                       2.28
24 Hichem Chaabane (Alg) Konica-Minolta                                 2.35
25 Benjamin Martel (Can) 2Peercom                                       2.44
26 Carlos Oyarzun Guinez (Chi) Tecos Trek Uag                           2.45
27 Jacobus Venter (RSA) South African U23 National Team                     
28 Chris Jones (USA) Team Type 1                                        2.46
29 Dustin Macburnie (Can) Team Race Pro                                 2.47
30 Aristide Ratti (Ita) A-Style Stomn                                   2.58
31 Kristian House (GBr) Rapha Condor Recyclingcouk                      3.02
32 Dennis Van Niekerk (RSA) Konica-Minolta                                  
33 Cameron Jennings (Aus) Pezula Racing                                 3.03
34 Dave Vukets (Can) Trek-Red Truck Racing                                  
35 Dominique Perras (Can) Eva Devinci                                   3.15
36 Travis Allen (RSA) Konica-Minolta                                        
37 Robert Partridge (GBr) Rapha Condor Recyclingcouk                        
38 Mathieu Toulouse (Can) Eva Devinci                                   3.19
39 Ryan Sullivan (Aus) Jittery Joe's                                    3.35
40 Zachary Bell (Can) Symmetrics                                        3.49
41 Arnaud Papillon (Can) Équipe Volkswagen                              3.55
42 Matt Shriver (USA) Jittery Joe's                                         
43 Charles Dionne (Can) Équipe Québec                                       
44 Siphiwe Sowella (RSA) South African U23 National Team                4.31
45 Bruno Langlois (Can) Équipe Volkswagen                               4.45
46 Jean-Sébastien Perron (Can) Eva Devinci                              5.05
47 Alexandre Cloutier (Can) Équipe Québec                               5.06
48 Mohamed Aoun Seghir (Alg) Konica-Minolta                             5.09
49 Sylvain Georges (Fra) A-Style Stomn                                      
50 Pascal Bussières (Can) 2Peercom                                      5.16
51 Forero Carreño Juan Pablo (Col) Équipe Nationale Colombienne         5.19
52 Ian MacGregor (USA) Team Type 1                                      5.28
53 Matt Wilson (Aus) Team Type 1                                            
54 Neil Shirley (USA) Jittery Joe's                                         
55 Francisco Javier Matamoros (Mex) Tecos Trek Uag                          
56 Jairo Perez Suarez (Col) Équipe Nationale Colombienne                5.32
57 Matt Guse (Can) Équipe Québec                                        5.57
58 Luis Macias Hernandez (Mex) Tecos Trek Uag                           6.24
59 Jonathan Kinnear (RSA) South African U23 National Team                   
60 Florencio Ramos Torres (Mex) Tecos Trek Uag                          6.25
61 Peter Ladd (Aus) Garneau-Crocs                                           
62 Rhys Lloyd (GBr) Rapha Condor Recyclingcouk                              
63 Ben Kneller (USA) Jittery Joe's                                          
64 George-Édouard Duquette (Can) Eva Devinci                            6.26
65 Yuriy Metlushenko (Ukr) Amore & Vita-McDonald's                      6.27
66 Jamie Sparling (Can) Trek-Red Truck Racing                               
67 Matthew Bell (Can) Équipe Québec                                     6.49
68 Eric Baumann (Ger) Team Sparkasse                                    7.11
69 Michael Joanisse (Can) Garneau-Crocs                                 7.25
70 Ramos Kleber (Bra) Garneau-Crocs                                     7.43
71 Dan Timmerman (USA) Team Race Pro                                    7.50
72 Bradley Potgieter (RSA) South African U23 National Team                  
73 Mark Pozniak (Can) Team Race Pro                                     8.10
74 Kevin Noils (Can) Trek-Red Truck Racing                              8.18
75 Tyler Trace (Can) Trek-Red Truck Racing                              8.26
76 Guillaume Boivin (Can) Eva Devinci                                   8.35
77 Ryan Roth (Can) Team Race Pro                                        8.59
78 Evan Elken (USA) Jittery Joe's                                       9.02
79 Fabio Calabria (Aus) Team Type 1                                     9.05
80 Lars Wackernagel (Ger) Team Sparkasse                                9.18
81 Sebastian Frey (Ger) Team Sparkasse                                  9.19
82 Ciaran Power (Irl) Pezula Racing                                         
83 Jean-Michel Lachance (Can) Équipe Québec                             9.55
84 Fournet-Fayard Sébastien (Fra) A-Style Stomn                        10.24
85 David O'Loughlin (Irl) Pezula Racing                                10.27
86 Tilo Schüler (Ger) Team Sparkasse                                   10.47
87 Hartley Chad (USA) Jittery Joe's                                    10.48
88 Tim Hucker (Aus) Garneau-Crocs                                      10.49
89 Jean-François Racine (Can) Garneau-Crocs                                 
90 Omar Cervantes Diaz (Mex) Tecos Trek Uag                            11.01
91 Christoff Van Heerden (RSA) Konica-Minolta                          11.40
92 Herman Fouche (RSA) Konica-Minolta                                       
93 Phil Cortes (Can) Amore & Vita-McDonald's                           11.43
94 Andrew Randell (Can) Symmetrics                                     12.02
95 Derrick St-John (Can) Garneau-Crocs                                      
96 Kevin Buck Miller (Can) Team Race Pro                                    
97 Morgan Fox (Irl) Pezula Racing                                      12.03
98 Philipp Mamos (Ger) Team Sparkasse                                  12.42
99 Juan Esteban Arango Carvajal (Col) Équipe Nationale Colombienne     14.22
100 Martyn Irvine (Irl) Pezula Racing                                  16.23
101 Tomas Roba (Cze) Rocky Mountain Bikes                              17.16
102 Andrew Pinfold (Can) Symmetrics                                    17.44
103 Carlos Eduardo Alzate Escobar (Col) Équipe Nationale Colombienne        
104 Norman Bryner (USA) Rocky Mountain Bikes                           21.06
105 Arles Antonio Castro Laverde (Col) Équipe Nationale Colombienne    21.54
106 Courtney Guck (USA) Rocky Mountain Bikes                           26.26
107 Randy Reichardt (USA) Rocky Mountain Bikes                         33.49
108 Derek Burke (Irl) Pezula Racing                                    34.20
109 John Bairo Casallas (Col) 2Peercom                                 35.55
110 Pierre Boilard (Can) 2Peercom                                      36.43
DNF Christian Deshaies (Can) Équipe Volkswagen                                 
DNF François Chabot (Can) Équipe Volkswagen                                    
DNF Charly Vives (Can) Équipe Québec                                           
DNF Jay Robert Thomson (RSA) South African U23 National Team                   
 
Sprints
 
1
1 Fournet-Fayard Sébastien (Fra) A-Style Stomn                             3 pts
2 Phil Cortes (Can) Amore & Vita-McDonald's                                2
3 Derek Burke (Irl) Pezula Racing                                          1
 
2
1 Fournet-Fayard Sébastien (Fra) A-Style Stomn                             3 pts
2 Phil Cortes (Can) Amore & Vita-McDonald's                                2
3 Eric Baumann (Ger) Team Sparkasse                                        1
 
Finish
1 Miguel Martinez (Fra) Amore & Vita-McDonald's                           15 pts
2 Bernardo Colex Tepoz (Mex) Tecos Trek Uag                               14
3 Moises Aldape (Mex) Team Type 1                                         13
4 Glen Chadwick (NZl) Team Type 1                                         12
5 Gregorio Ladino Vega (Col) Tecos Trek Uag                               11
6 Soren Nissen (Den) Amore & Vita-McDonald's                              10
7 Svein Tuft (Can) Symmetrics                                              9
8 Valeriy Kobzarenko (Ukr) Team Type 1                                     8
9 Christopher Newton (GBr) Rapha Condor Recyclingcouk                      7
10 François Parisien (Can) Team Race Pro                                   6
11 Michael Stevenson (Swe) Amore & Vita-McDonald's                         5
12 Darren Lapthorne (Aus) Team Sparkasse                                   4
13 Johann Rabie (RSA) South African U23 National Team                      3
14 Jacob Erker (Can) Symmetrics                                            2
15 Rob Britton (Can) Trek-Red Truck Racing                                 1
 
Mountains
 
1
1 Phil Cortes (Can) Amore & Vita-McDonald's                                7 pts
2 Fournet-Fayard Sébastien (Fra) A-Style Stomn                             5
3 Derek Burke (Irl) Pezula Racing                                          3
4 Siphiwe Sowella (RSA) South African U23 National Team                    2
5 John Bairo Casallas (Col) 2Peercom                                       1
2
1 Phil Cortes (Can) Amore & Vita-McDonald's                               10 pts
2 Fournet-Fayard Sébastien (Fra) A-Style Stomn                             8
3 Derek Burke (Irl) Pezula Racing                                          6
4 Glen Chadwick (NZl) Team Type 1                                          5
5 François Parisien (Can) Team Race Pro                                    4
6 Svein Tuft (Can) Symmetrics                                              3
7 Christian Meier (Can) Symmetrics                                         2
8 Bernardo Colex Tepoz (Mex) Tecos Trek Uag                                1
 
3
1 Fournet-Fayard Sébastien (Fra) A-Style Stomn                            10 pts
2 Phil Cortes (Can) Amore & Vita-McDonald's                                8
3 Glen Chadwick (NZl) Team Type 1                                          6
4 Florencio Ramos Torres (Mex) Tecos Trek Uag                              5
5 Luis Macias Hernandez (Mex) Tecos Trek Uag                               4
6 Gregorio Ladino Vega (Col) Tecos Trek Uag                                3
7 Andreas Schillinger (Ger) Team Sparkasse                                 2
 
4
1 Miguel Martinez (Fra) Amore & Vita-McDonald's                           20 pts
2 Bernardo Colex Tepoz (Mex) Tecos Trek Uag                               16
3 Moises Aldape (Mex) Team Type 1                                         13
4 Glen Chadwick (NZl) Team Type 1                                         10
5 Gregorio Ladino Vega (Col) Tecos Trek Uag                                8
6 Soren Nissen (Den) Amore & Vita-McDonald's                               6
7 Svein Tuft (Can) Symmetrics                                              4
8 Valeriy Kobzarenko (Ukr) Team Type 1                                     3
9 Christopher Newton (GBr) Rapha Condor Recyclingcouk                      2
10 François Parisien (Can) Team Race Pro                                   1
 
Teams
 
1 Team Type 1                                                       13.07.01
2 Amore & Vita-McDonald's                                               0.34
3 Symmetrics                                                            2.11
4 Tecos Trek Uag                                                        2.20
5 Rapha Condor Recyclingcouk                                            3.48
6 South African U23 National Team                                       7.33
7 Konica-Minolta                                                        8.00
8 A-Style Stomn                                                         9.08
9 Team Sparkasse                                                        9.35
10 Trek-Red Truck Racing                                                9.52
11 Team Race Pro                                                       10.28
12 Eva Devinci                                                         10.47
13 Jittery Joe's                                                       12.06
14 Équipe Québec                                                       14.06
15 Garneau-Crocs                                                       14.50
16 Pezula Racing                                                       21.57
17 Équipe Nationale Colombienne                                        24.21
18 2Peercom                                                            43.03
19 Rocky Mountain Bikes                                              1.03.56
 
General Classification after Stage 3
 
1 Bernardo Colex Tepoz (Mex) Tecos Trek Uag                         12.56.03
2 Miguel Martinez (Fra) Amore & Vita-McDonald's                         0.16
3 Moises Aldape (Mex) Team Type 1                                       0.26
4 Glen Chadwick (NZl) Team Type 1                                       0.39
5 Gregorio Ladino Vega (Col) Tecos Trek Uag                             0.47
6 Soren Nissen (Den) Amore & Vita-McDonald's                            0.49
7 Svein Tuft (Can) Symmetrics                                           0.51
8 Valeriy Kobzarenko (Ukr) Team Type 1                                  0.57
9 Michael Stevenson (Swe) Amore & Vita-McDonald's                       1.23
10 Darren Lapthorne (Aus) Team Sparkasse                                1.30
11 François Parisien (Can) Team Race Pro                                1.42
12 Cameron Evans (Can) Symmetrics                                       1.54
13 Christopher Newton (GBr) Rapha Condor Recyclingcouk                  2.04
14 Johann Rabie (RSA) South African U23 National Team                   2.08
15 Jacob Erker (Can) Symmetrics                                         2.09
16 Rob Britton (Can) Trek-Red Truck Racing                              2.13
17 Paul Brousse (Fra) A-Style Stomn                                     2.19
18 Andreas Schillinger (Ger) Team Sparkasse                             2.34
19 Christian Meier (Can) Symmetrics                                     2.40
20 Graziano Gasparre (Ita) Amore & Vita-McDonald's                      2.48
21 Carlos Oyarzun Guinez (Chi) Tecos Trek Uag                           3.11
22 Ryan Bonser (GBr) Rapha Condor Recyclingcouk                         3.25
23 Patrique Gama Azevedos (Bra) Garneau-Crocs                           3.43
24 Cameron Jennings (Aus) Pezula Racing                                 4.02
25 Dustin Macburnie (Can) Team Race Pro                                     
26 Jacobus Venter (RSA) South African U23 National Team                 4.11
27 Chris Jones (USA) Team Type 1                                        4.12
28 Aristide Ratti (Ita) A-Style Stomn                                   4.13
29 Benjamin Martel (Can) 2Peercom                                       4.35
30 Kristian House (GBr) Rapha Condor Recyclingcouk                      4.42
31 Charles Dionne (Can) Équipe Québec                                   5.21
32 Graham Briggs (GBr) Rapha Condor Recyclingcouk                       5.30
33 Arnaud Papillon (Can) Équipe Volkswagen                              5.40
34 Dominique Perras (Can) Eva Devinci                                   6.10
35 Robert Partridge (GBr) Rapha Condor Recyclingcouk                    6.17
36 Travis Allen (RSA) Konica-Minolta                                        
37 Bruno Langlois (Can) Équipe Volkswagen                               6.21
38 Francisco Javier Matamoros (Mex) Tecos Trek Uag                      6.27
39 Ryan Sullivan (Aus) Jittery Joe's                                    6.30
40 Neil Shirley (USA) Jittery Joe's                                     6.43
41 Dennis Van Niekerk (RSA) Konica-Minolta                              6.45
42 Siphiwe Sowella (RSA) South African U23 National Team                6.55
43 Jairo Perez Suarez (Col) Équipe Nationale Colombienne                6.58
44 Eric Baumann (Ger) Team Sparkasse                                    7.30
45 Matt Shriver (USA) Jittery Joe's                                     7.31
46 Yuriy Metlushenko (Ukr) Amore & Vita-McDonald's                      7.39
47 Luis Macias Hernandez (Mex) Tecos Trek Uag                               
48 Hichem Chaabane (Alg) Konica-Minolta                                 7.42
49 Sylvain Georges (Fra) A-Style Stomn                                  8.04
50 Ramos Kleber (Bra) Garneau-Crocs                                     8.05
51 Florencio Ramos Torres (Mex) Tecos Trek Uag                          8.10
52 Ian MacGregor (USA) Team Type 1                                      8.22
53 Mathieu Toulouse (Can) Eva Devinci                                   8.26
54 Jean-Sébastien Perron (Can) Eva Devinci                              8.48
55 Dave Vukets (Can) Trek-Red Truck Racing                              8.51
56 Michael Joanisse (Can) Garneau-Crocs                                 9.16
57 Jonathan Kinnear (RSA) South African U23 National Team               9.26
58 Ciaran Power (Irl) Pezula Racing                                    10.12
59 Alexandre Cloutier (Can) Équipe Québec                              10.13
60 Mohamed Aoun Seghir (Alg) Konica-Minolta                            10.16
61 Pascal Bussières (Can) 2Peercom                                     10.23
62 Ryan Roth (Can) Team Race Pro                                       10.25
63 Matt Wilson (Aus) Team Type 1                                       10.35
64 Matt Guse (Can) Équipe Québec                                       11.04
65 Guillaume Boivin (Can) Eva Devinci                                  11.05
66 Mark Pozniak (Can) Team Race Pro                                         
67 Ben Kneller (USA) Jittery Joe's                                     11.32
68 Peter Ladd (Aus) Garneau-Crocs                                           
69 Jamie Sparling (Can) Trek-Red Truck Racing                          11.34
70 Bradley Potgieter (RSA) South African U23 National Team             11.38
71 Fournet-Fayard Sébastien (Fra) A-Style Stomn                        11.41
72 Matthew Bell (Can) Équipe Québec                                    11.56
73 Evan Elken (USA) Jittery Joe's                                      11.57
74 Zachary Bell (Can) Symmetrics                                       12.09
75 David O'Loughlin (Irl) Pezula Racing                                12.26
76 Omar Cervantes Diaz (Mex) Tecos Trek Uag                            12.46
77 Kevin Noils (Can) Trek-Red Truck Racing                             13.25
78 Jean-Michel Lachance (Can) Équipe Québec                            13.43
79 Fabio Calabria (Aus) Team Type 1                                    14.12
80 Sebastian Frey (Ger) Team Sparkasse                                 14.26
81 Rhys Lloyd (GBr) Rapha Condor Recyclingcouk                         14.45
82 Philipp Mamos (Ger) Team Sparkasse                                  14.47
83 Tilo Schüler (Ger) Team Sparkasse                                   15.54
84 Hartley Chad (USA) Jittery Joe's                                    15.55
85 Juan Esteban Arango Carvajal (Col) Équipe Nationale Colombienne     16.46
86 Phil Cortes (Can) Amore & Vita-McDonald's                                
87 Derrick St-John (Can) Garneau-Crocs                                 17.05
88 Dan Timmerman (USA) Team Race Pro                                   18.21
89 Lars Wackernagel (Ger) Team Sparkasse                               18.29
90 Christoff Van Heerden (RSA) Konica-Minolta                          19.13
91 Herman Fouche (RSA) Konica-Minolta                                       
92 Kevin Buck Miller (Can) Team Race Pro                               20.22
93 Andrew Randell (Can) Symmetrics                                     21.28
94 George-Édouard Duquette (Can) Eva Devinci                           21.35
95 Forero Carreño Juan Pablo (Col) Équipe Nationale Colombienne        22.06
96 Tomas Roba (Cze) Rocky Mountain Bikes                               22.23
97 Martyn Irvine (Irl) Pezula Racing                                   22.43
98 Carlos Eduardo Alzate Escobar (Col) Équipe Nationale Colombienne    26.04
99 Andrew Pinfold (Can) Symmetrics                                     26.28
100 Morgan Fox (Irl) Pezula Racing                                     27.12
101 Tyler Trace (Can) Trek-Red Truck Racing                            33.27
102 Tim Hucker (Aus) Garneau-Crocs                                     35.20
103 Arles Antonio Castro Laverde (Col) Équipe Nationale Colombienne    36.57
104 Jean-François Racine (Can) Garneau-Crocs                           45.22
105 Randy Reichardt (USA) Rocky Mountain Bikes                       1.08.22
106 Courtney Guck (USA) Rocky Mountain Bikes                         1.13.54
107 Derek Burke (Irl) Pezula Racing                                  1.19.48
108 Norman Bryner (USA) Rocky Mountain Bikes                         1.27.16
109 Pierre Boilard (Can) 2Peercom                                    1.45.50
110 John Bairo Casallas (Col) 2Peercom                               1.48.05
 
Sprint classification
 
1 Moises Aldape (Mex) Team Type 1                                         30 pts
2 Bernardo Colex Tepoz (Mex) Tecos Trek Uag                               29
3 Miguel Martinez (Fra) Amore & Vita-McDonald's                           27
4 Ramos Kleber (Bra) Garneau-Crocs                                        24
5 Glen Chadwick (NZl) Team Type 1                                         21
6 Andreas Schillinger (Ger) Team Sparkasse                                20
7 Michael Stevenson (Swe) Amore & Vita-McDonald's                         19
8 Yuriy Metlushenko (Ukr) Amore & Vita-McDonald's                         18
9 Eric Baumann (Ger) Team Sparkasse                                       16
10 Valeriy Kobzarenko (Ukr) Team Type 1                                   16
11 Gregorio Ladino Vega (Col) Tecos Trek Uag                              15
12 Soren Nissen (Den) Amore & Vita-McDonald's                             15
13 Graziano Gasparre (Ita) Amore & Vita-McDonald's                        15
14 Ciaran Power (Irl) Pezula Racing                                       14
15 Charles Dionne (Can) Équipe Québec                                     12
16 Christoff Van Heerden (RSA) Konica-Minolta                             11
17 Svein Tuft (Can) Symmetrics                                            10
18 Fournet-Fayard Sébastien (Fra) A-Style Stomn                            9
19 Herman Fouche (RSA) Konica-Minolta                                      8
20 Paul Brousse (Fra) A-Style Stomn                                        7
21 Christopher Newton (GBr) Rapha Condor Recyclingcouk                     7
22 Juan Esteban Arango Carvajal (Col) Équipe Nationale Colombienne         7
23 Darren Lapthorne (Aus) Team Sparkasse                                   6
24 François Parisien (Can) Team Race Pro                                   6
25 Evan Elken (USA) Jittery Joe's                                          5
26 Phil Cortes (Can) Amore & Vita-McDonald's                               4
27 Philipp Mamos (Ger) Team Sparkasse                                      4
28 Dennis Van Niekerk (RSA) Konica-Minolta                                 4
29 Luis Macias Hernandez (Mex) Tecos Trek Uag                              3
30 Johann Rabie (RSA) South African U23 National Team                      3
31 Jacob Erker (Can) Symmetrics                                            2
32 Aristide Ratti (Ita) A-Style Stomn                                      2
33 Derek Burke (Irl) Pezula Racing                                         1
34 Ian MacGregor (USA) Team Type 1                                         1
35 Guillaume Boivin (Can) Eva Devinci                                      1
36 Rob Britton (Can) Trek-Red Truck Racing                                 1
 
Mountains classification
 
1 Glen Chadwick (NZl) Team Type 1                                         54 pts
2 Bernardo Colex Tepoz (Mex) Tecos Trek Uag                               31
3 Phil Cortes (Can) Amore & Vita-McDonald's                               29
4 Fournet-Fayard Sébastien (Fra) A-Style Stomn                            23
5 Miguel Martinez (Fra) Amore & Vita-McDonald's                           20
6 Gregorio Ladino Vega (Col) Tecos Trek Uag                               18
7 Patrique Gama Azevedos (Bra) Garneau-Crocs                              18
8 Moises Aldape (Mex) Team Type 1                                         16
9 Martyn Irvine (Irl) Pezula Racing                                       14
10 Svein Tuft (Can) Symmetrics                                             9
11 Derek Burke (Irl) Pezula Racing                                         9
12 Soren Nissen (Den) Amore & Vita-McDonald's                              6
13 Valeriy Kobzarenko (Ukr) Team Type 1                                    6
14 Hichem Chaabane (Alg) Konica-Minolta                                    6
15 Luis Macias Hernandez (Mex) Tecos Trek Uag                              6
16 François Parisien (Can) Team Race Pro                                   6
17 Cameron Evans (Can) Symmetrics                                          6
18 Paul Brousse (Fra) A-Style Stomn                                        5
19 Matt Wilson (Aus) Team Type 1                                           5
20 Francisco Javier Matamoros (Mex) Tecos Trek Uag                         5
21 Florencio Ramos Torres (Mex) Tecos Trek Uag                             5
22 Christian Meier (Can) Symmetrics                                        5
23 Zachary Bell (Can) Symmetrics                                           4
24 Andreas Schillinger (Ger) Team Sparkasse                                4
25 Andrew Pinfold (Can) Symmetrics                                         3
26 Siphiwe Sowella (RSA) South African U23 National Team                   2
27 Ian MacGregor (USA) Team Type 1                                         2
28 Christopher Newton (GBr) Rapha Condor Recyclingcouk                     2
29 Darren Lapthorne (Aus) Team Sparkasse                                   1
30 Neil Shirley (USA) Jittery Joe's                                        1
31 Matt Shriver (USA) Jittery Joe's                                        1
32 John Bairo Casallas (Col) 2Peercom                                      1
 
Young rider classification
 
1 Johann Rabie (RSA) South African U23 National Team                12.58.11
2 Christian Meier (Can) Symmetrics                                      0.32
3 Ryan Bonser (GBr) Rapha Condor Recyclingcouk                          1.17
4 Jacobus Venter (RSA) South African U23 National Team                  2.03
5 Arnaud Papillon (Can) Équipe Volkswagen                               3.32
6 Robert Partridge (GBr) Rapha Condor Recyclingcouk                     4.09
7 Siphiwe Sowella (RSA) South African U23 National Team                 4.47
8 Hichem Chaabane (Alg) Konica-Minolta                                  5.34
9 Ramos Kleber (Bra) Garneau-Crocs                                      5.57
10 Jean-Sébastien Perron (Can) Eva Devinci                              6.40
11 Dave Vukets (Can) Trek-Red Truck Racing                              6.43
12 Michael Joanisse (Can) Garneau-Crocs                                 7.08
13 Jonathan Kinnear (RSA) South African U23 National Team               7.18
14 Mohamed Aoun Seghir (Alg) Konica-Minolta                             8.08
15 Matt Guse (Can) Équipe Québec                                        8.56
16 Guillaume Boivin (Can) Eva Devinci                                   8.57
17 Mark Pozniak (Can) Team Race Pro                                         
18 Peter Ladd (Aus) Garneau-Crocs                                       9.24
19 Bradley Potgieter (RSA) South African U23 National Team              9.30
20 Fournet-Fayard Sébastien (Fra) A-Style Stomn                         9.33
21 Matthew Bell (Can) Équipe Québec                                     9.48
22 Omar Cervantes Diaz (Mex) Tecos Trek Uag                            10.38
23 Jean-Michel Lachance (Can) Équipe Québec                            11.35
24 Fabio Calabria (Aus) Team Type 1                                    12.04
25 Rhys Lloyd (GBr) Rapha Condor Recyclingcouk                         12.37
26 Juan Esteban Arango Carvajal (Col) Équipe Nationale Colombienne     14.38
27 Christoff Van Heerden (RSA) Konica-Minolta                          17.05
28 Herman Fouche (RSA) Konica-Minolta                                       
29 George-Édouard Duquette (Can) Eva Devinci                           19.27
30 Martyn Irvine (Irl) Pezula Racing                                   20.35
31 Derek Burke (Irl) Pezula Racing                                   1.17.40
32 Norman Bryner (USA) Rocky Mountain Bikes                          1.25.08
 
Teams classification
 
1 Team Type 1                                                       38.50.19
2 Amore & Vita-McDonald's                                               0.33
3 Tecos Trek Uag                                                        2.04
4 Symmetrics                                                            2.11
5 Rapha Condor Recyclingcouk                                            7.27
6 Team Sparkasse                                                        9.35
7 A-Style Stomn                                                        10.57
8 South African U23 National Team                                      11.04
9 Team Race Pro                                                        12.50
10 Garneau-Crocs                                                       17.15
11 Jittery Joe's                                                       17.53
12 Konica-Minolta                                                      18.34
13 Eva Devinci                                                         18.37
14 Trek-Red Truck Racing                                               19.47
15 Équipe Québec                                                       23.09
16 Pezula Racing                                                       24.03
17 Équipe Nationale Colombienne                                        32.00
18 2Peercom                                                          1.57.50
19 Rocky Mountain Bikes                                              2.29.46