23rd Tour de Beauce - 2.2
Canada, June 10-15, 2008
Main Page Results Overall standings Next Stage
Stage 1 - June 10: Lac-Etchemin / Lac-Etchemin, 167km
Colex dances away with Beauce opener
By Mark Zalewski, North American Editor in Lac-Etchemin, Québec
Bernardo Colex Tepoz (Tecos Trek Uag)
Photo ©: Mark Zalewski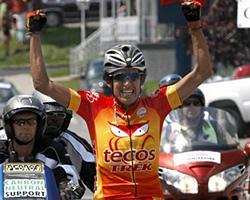 Bernardo Colex (Tecos-Trek) showed last week that he could climb, ascending Mt. Penn in the Reading Classic along with the top riders like Oscar Sevilla. The 25 year-old Mexican rider apparently took that form with him up north to the Tour de Beauce, where he bridged alone to the main break before soloing away on the hilly course for the win.
"I just decided I was going to leave the pack and reach the group without looking behind me," he told Cyclingnews. "Nobody came with me. I just maintained my pace and just kept going, never thought about [looking back.]"
Colex reached the two-rider break of Jay Robert Thomson (South Africa U23) and Martyn Ivine (Pezula) after suffering in the middle alone for many kilometres. The other two pulled as much as they could after being out front for much of the day, but the tough rolling hills took their toll. On the last KOM of the day Colex just danced on the pedals up the climb, while Thomson and Ivine could only watch.
"When he came across we tried to roll with him for as long as we good, but on the climbs he was just too strong, and he just danced away from me and my compatriot in the break," said Thomson. "We tried to stay away but being out there so long we just didn't have the legs. For a big boy like me these climbs are enough!"
Back in the field the chase was nonexistent, with the gap growing to around five minutes. "We spoke with different teams and they said they would ride with us, so we started and nobody did," said Eric Baumann (Sparkasse) who finished second in the field sprint behind Michael Stevenson (Amore & Vita-McDonalds). "So we said we are in Canada and we are the visitors, it's your home race so we stopped. The other teams became nervous and started to ride, but a little too late."
Still the late chase made things interesting as Colex only had 3 minutes on the now-organized field with less that 10km in the race - and those 10km are notoriously difficult, with an exceptionally steep rise at 5km to go.
"It was Type 1 and us, along with Amore & Vita helping us," said Baumann. "Then Symmetrics as well, those four teams. It was very hard at the end, all up and down, and he was a long time out there. We heard 5km and two minutes but in the end it was just 20 seconds, so a good ride for him!"
Colex was obviously hurting over that steep rise, with his team car shouting as much encouragement as they could. "I thought they were going to get me, but I could not give up," said Colex. As for when he felt confident in the win, he replied, "At 10 meters before the line!"
The win here is important for the team and Colex, "It's very important for all the team, everyone is excited and happy!"
Thomson earned the first KOM jersey of the race for his work in the break. The South African rode with his team in the U23 Coupe des Nations Ville Saguenay, and said he is a little tired from that effort to really defend the jersey well. "I don't think so in these mountains and we just finished the U23 cup, so I am a little tired. But you never know in these hills."
Tomorrow's 166km second stage is another loop of rolling countryside, starting and finishing in Vallée-Jonction.
Photography
For a thumbnail gallery of these images, click here
Images by Mark Zalewski / Cyclingnews.com
Results
1 Bernardo Colex Tepoz (Mex) Tecos Trek Uag                          4.17.09 (38.498 km/h)
2 Michael Stevenson (Swe) Amore & Vita-McDonald's                       0.16
3 Eric Baumann (Ger) Team Sparkasse                                         
4 Miguel Martinez (Fra) Amore & Vita-McDonald's                             
5 Ramos Kleber (Bra) Garneau-Crocs                                          
6 Andreas Schillinger (Ger) Team Sparkasse                              0.17
7 Glen Chadwick (NZl) Team Type 1                                           
8 Valeriy Kobzarenko (Ukr) Team Type 1                                      
9 Paul Brousse (Fra) A-Style Stomn                                          
10 Graziano Gasparre (Ita) Amore & Vita-McDonald's                          
11 Soren Nissen (Den) Amore & Vita-McDonald's                               
12 Gregorio Ladino Vega (Col) Tecos Trek Uag                            0.18
13 Moises Aldape (Mex) Team Type 1                                          
14 Darren Lapthorne (Aus) Team Sparkasse                                0.19
15 Svein Tuft (Can) Symmetrics                                              
16 Cameron Evans (Can) Symmetrics                                           
17 Carlos Oyarzun Guinez (Chi) Tecos Trek Uag                           0.20
18 Christian Meier (Can) Symmetrics                                         
19 Ciaran Power (Irl) Pezula Racing                                     0.49
20 Johann Rabie (RSA) South African U23 National Team                       
21 François Parisien (Can) Team Race Pro                                    
22 Jacob Erker (Can) Symmetrics                                             
23 Rob Britton (Can) Trek-Red Truck Racing                                  
24 Francisco Javier Matamoros (Mex) Tecos Trek Uag                      0.50
25 Cameron Jennings (Aus) Pezula Racing                                     
26 Luis Macias Hernandez (Mex) Tecos Trek Uag                           1.05
27 Dustin Macburnie (Can) Team Race Pro                                     
28 Neil Shirley (USA) Jittery Joe's                                         
29 Aristide Ratti (Ita) A-Style Stomn                                       
30 Ryan Roth (Can) Team Race Pro                                        1.16
31 Christopher Newton (GBr) Rapha Condor Recyclingcouk                  1.17
32 Jacobus Venter (RSA) South African U23 National Team                     
33 Mark Walters (Can) Team Race Pro                                         
34 Charles Dionne (Can) Équipe Québec                                       
35 Chris Jones (USA) Team Type 1                                            
36 Fournet-Fayard Sébastien (Fra) A-Style Stomn                         1.18
37 Derrick St-John (Can) Garneau-Crocs                                      
38 Yuriy Metlushenko (Ukr) Amore & Vita-McDonald's                          
39 David O'Loughlin (Irl) Pezula Racing                                     
40 Jairo Perez Suarez (Col) Équipe Nationale Colombienne                1.19
41 Bruno Langlois (Can) Équipe Volkswagen                               1.26
42 Kristian House (GBr) Rapha Condor Recyclingcouk                      1.30
43 Arnaud Papillon (Can) Équipe Volkswagen                              1.35
44 Florencio Ramos Torres (Mex) Tecos Trek Uag                              
45 Omar Cervantes Diaz (Mex) Tecos Trek Uag                             1.36
46 Michael Joanisse (Can) Garneau-Crocs                                 1.41
47 Ryan Bonser (GBr) Rapha Condor Recyclingcouk                         1.42
48 Benjamin Martel (Can) 2Peercom                                       1.43
49 Philipp Mamos (Ger) Team Sparkasse                                   1.44
50 Patrique Gama Azevedos (Bra) Garneau-Crocs                           1.45
51 Siphiwe Sowella (RSA) South African U23 National Team                2.14
52 Juan Esteban Arango Carvajal (Col) Équipe Nationale Colombienne          
53 Guillaume Boivin (Can) Eva Devinci                                   2.20
54 Dominique Perras (Can) Eva Devinci                                   2.45
55 Mark Pozniak (Can) Team Race Pro                                         
56 Ryan Sullivan (Aus) Jittery Joe's                                    2.46
57 Ian MacGregor (USA) Team Type 1                                          
58 Matt Shriver (USA) Jittery Joe's                                         
59 Sylvain Georges (Fra) A-Style Stomn                                      
60 Evan Elken (USA) Jittery Joe's                                           
61 Travis Allen (RSA) Konica-Minolta                                    2.52
62 Jonathan Kinnear (RSA) South African U23 National Team                   
63 Graham Briggs (GBr) Rapha Condor Recyclingcouk                           
64 Robert Partridge (GBr) Rapha Condor Recyclingcouk                    2.53
65 Jean-Sébastien Perron (Can) Eva Devinci                              3.33
66 Dennis Van Niekerk (RSA) Konica-Minolta                              3.34
67 Bradley Potgieter (RSA) South African U23 National Team              3.38
68 Jean-Michel Lachance (Can) Équipe Québec                                 
69 Tomas Roba (Cze) Rocky Mountain Bikes                                4.57
70 Phil Cortes (Can) Amore & Vita-McDonald's                                
71 Peter Ladd (Aus) Garneau-Crocs                                           
72 Hichem Chaabane (Alg) Konica-Minolta                                     
73 Tim Hucker (Aus) Garneau-Crocs                                           
74 Pascal Bussières (Can) 2Peercom                                          
75 Mohamed Aoun Seghir (Alg) Konica-Minolta                                 
76 Alexandre Cloutier (Can) Équipe Québec                               4.58
77 Sebastian Frey (Ger) Team Sparkasse                                      
78 Matt Guse (Can) Équipe Québec                                            
79 Hartley Chad (USA) Jittery Joe's                                         
80 Charly Vives (Can) Équipe Québec                                         
81 Ben Kneller (USA) Jittery Joe's                                          
82 Fabio Calabria (Aus) Team Type 1                                         
83 Jamie Sparling (Can) Trek-Red Truck Racing                               
84 Andrew Pinfold (Can) Symmetrics                                      4.59
85 Tilo Schüler (Ger) Team Sparkasse                                        
86 Mathieu Toulouse (Can) Eva Devinci                                       
87 Matthew Bell (Can) Équipe Québec                                         
88 Dave Vukets (Can) Trek-Red Truck Racing                                  
89 Kevin Noils (Can) Trek-Red Truck Racing                              5.00
90 Diego Genovesi (Ita) A-Style Stomn                                       
91 Matt Wilson (Aus) Team Type 1                                            
92 Arles Antonio Castro Laverde (Col) Équipe Nationale Colombienne      5.01
93 Martyn Irvine (Irl) Pezula Racing                                    6.10
94 Jay Robert Thomson (RSA) South African U23 National Team                 
95 Forero Carreño Juan Pablo (Col) Équipe Nationale Colombienne         6.41
96 Christoff Van Heerden (RSA) Konica-Minolta                           7.23
97 Herman Fouche (RSA) Konica-Minolta                                       
98 Zachary Bell (Can) Symmetrics                                        8.10
99 Kevin Buck Miller (Can) Team Race Pro                                    
100 Andrew Randell (Can) Symmetrics                                         
101 Lars Wackernagel (Ger) Team Sparkasse                                   
102 Rhys Lloyd (GBr) Rapha Condor Recyclingcouk                             
103 Carlos Eduardo Alzate Escobar (Col) Équipe Nationale Colombienne    8.11
104 Christian Deshaies (Can) Équipe Volkswagen                          8.48
105 Dan Timmerman (USA) Team Race Pro                                  10.21
106 Jean-François Racine (Can) Garneau-Crocs                           14.59
107 Morgan Fox (Irl) Pezula Racing                                          
108 Randy Reichardt (USA) Rocky Mountain Bikes                              
109 George-Édouard Duquette (Can) Eva Devinci                               
110 Tyler Trace (Can) Trek-Red Truck Racing                            24.51
111 Courtney Guck (USA) Rocky Mountain Bikes                           27.54
112 François Chabot (Can) Équipe Volkswagen                            35.54
113 Norman Bryner (USA) Rocky Mountain Bikes                           37.27
114 Pierre Boilard (Can) 2Peercom                                      40.24
115 John Bairo Casallas (Col) 2Peercom                                 40.25
116 Derek Burke (Irl) Pezula Racing                                    45.19
117 William Connolly (Irl) Pezula Racing                               45.47
118 Abdalla Ben Youcef (Alg) Konica-Minolta                            49.16
119 Nathan Macdonald (Can) Trek-Red Truck Racing                       49.17
120 Justin Brunner (USA) Rocky Mountain Bikes                          55.46
DNF Trent Wilson (Aus) Jittery Joe's                                        
DNF Alain Van Der Velde (Ned) A-Style Stomn                                 
DNF Dale Appleby (GBr) Rapha Condor Recyclingcouk                           
DNF Alexander Fulton (Can) Eva Devinci                                      
DNF Eric Boily (Can) Équipe Volkswagen                                      
DNF François-Charles Malo (Can) Équipe Volkswagen                           
DNF Marc Allard (Can) Équipe Volkswagen                                     
DNF Maxime Vives (Can) Équipe Québec                                        
DNF Dave Brooks (Can) Trek-Red Truck Racing                                 
DNF Daniel Ceccato (Arg) 2Peercom                                           
DNF Ugo Lapierre (Can) 2Peercom                                             
DNF Vincent Veilleux (Can) 2Peercom                                         
DNF Brad Gehrig (USA) Rocky Mountain Bikes                                  
 
Sprints
 
Sprint 1 
1 Trent Wilson (Aus) Jittery Joe's                                         3 pts
2 Philipp Mamos (Ger) Team Sparkasse                                       2
3 Moises Aldape (Mex) Team Type 1                                          1
  
Sprint 2 
1 Yuriy Metlushenko (Ukr) Amore & Vita-McDonald's                          3 pts
2 Philipp Mamos (Ger) Team Sparkasse                                       2
3 Ian MacGregor (USA) Team Type 1                                          1
 
Finish 
1 Bernardo Colex Tepoz (Mex) Tecos Trek Uag                               15 pts
2 Michael Stevenson (Swe) Amore & Vita-McDonald's                         14
3 Eric Baumann (Ger) Team Sparkasse                                       13
4 Miguel Martinez (Fra) Amore & Vita-McDonald's                           12
5 Ramos Kleber (Bra) Garneau-Crocs                                        11
6 Andreas Schillinger (Ger) Team Sparkasse                                10
7 Glen Chadwick (NZl) Team Type 1                                          9
8 Valeriy Kobzarenko (Ukr) Team Type 1                                     8
9 Paul Brousse (Fra) A-Style Stomn                                         7
10 Graziano Gasparre (Ita) Amore & Vita-McDonald's                         6
11 Soren Nissen (Den) Amore & Vita-McDonald's                              5
12 Gregorio Ladino Vega (Col) Tecos Trek Uag                               4
13 Moises Aldape (Mex) Team Type 1                                         3
14 Darren Lapthorne (Aus) Team Sparkasse                                   2
15 Svein Tuft (Can) Symmetrics                                             1
 
Mountains
 
Mountains 1
 
1 Trent Wilson (Aus) Jittery Joe's                                         7 pts
2 Glen Chadwick (NZl) Team Type 1                                          5
3 Andrew Pinfold (Can) Symmetrics                                          3
4 Gregorio Ladino Vega (Col) Tecos Trek Uag                                2
5 Matt Shriver (USA) Jittery Joe's                                         1
 
Mountains 2
 
1 Jay Robert Thomson (RSA) South African U23 National Team                10 pts
2 Martyn Irvine (Irl) Pezula Racing                                        8
3 Bernardo Colex Tepoz (Mex) Tecos Trek Uag                                6
4 Paul Brousse (Fra) A-Style Stomn                                         5
5 Zachary Bell (Can) Symmetrics                                            4
6 Glen Chadwick (NZl) Team Type 1                                          3
7 Cameron Evans (Can) Symmetrics                                           2
8 François Parisien (Can) Team Race Pro                                    1
 
Mountains 3
 
1 Jay Robert Thomson (RSA) South African U23 National Team                10 pts
2 Bernardo Colex Tepoz (Mex) Tecos Trek Uag                                8
3 Martyn Irvine (Irl) Pezula Racing                                        6
4 Patrique Gama Azevedos (Bra) Garneau-Crocs                               5
5 Glen Chadwick (NZl) Team Type 1                                          4
6 Cameron Evans (Can) Symmetrics                                           3
7 Andreas Schillinger (Ger) Team Sparkasse                                 2
8 Neil Shirley (USA) Jittery Joe's                                         1

Teams
 
1 Tecos Trek Uag                                                     4.17.09
2 Amore & Vita-McDonald's                                               0.16
3 Team Sparkasse                                                            
4 Garneau-Crocs                                                             
5 Team Type 1                                                           0.17
6 A-Style Stomn                                                             
7 Symmetrics                                                            0.19
8 Pezula Racing                                                         0.49
9 South African U23 National Team                                           
10 Team Race Pro                                                            
11 Trek-Red Truck Racing                                                    
12 Jittery Joe's                                                        1.05
13 Rapha Condor Recyclingcouk                                           1.17
14 Équipe Québec                                                            
15 Équipe Nationale Colombienne                                         1.19
16 Équipe Volkswagen                                                    1.26
17 2Peercom                                                             1.43
18 Eva Devinci                                                          2.20
19 Konica-Minolta                                                       2.52
20 Rocky Mountain Bikes                                                 4.57
 
General classification after stage 1
 
1 Bernardo Colex Tepoz (Mex) Tecos Trek Uag                          4.16.59
2 Michael Stevenson (Swe) Amore & Vita-McDonald's                       0.20
3 Eric Baumann (Ger) Team Sparkasse                                     0.22
4 Miguel Martinez (Fra) Amore & Vita-McDonald's                         0.26
5 Ramos Kleber (Bra) Garneau-Crocs                                          
6 Andreas Schillinger (Ger) Team Sparkasse                              0.27
7 Glen Chadwick (NZl) Team Type 1                                           
8 Valeriy Kobzarenko (Ukr) Team Type 1                                      
9 Paul Brousse (Fra) A-Style Stomn                                          
10 Graziano Gasparre (Ita) Amore & Vita-McDonald's                          
11 Soren Nissen (Den) Amore & Vita-McDonald's                               
12 Moises Aldape (Mex) Team Type 1                                          
13 Gregorio Ladino Vega (Col) Tecos Trek Uag                            0.28
14 Darren Lapthorne (Aus) Team Sparkasse                                0.29
15 Svein Tuft (Can) Symmetrics                                              
16 Cameron Evans (Can) Symmetrics                                           
17 Carlos Oyarzun Guinez (Chi) Tecos Trek Uag                           0.30
18 Christian Meier (Can) Symmetrics                                         
19 Ciaran Power (Irl) Pezula Racing                                     0.59
20 Johann Rabie (RSA) South African U23 National Team                       
21 François Parisien (Can) Team Race Pro                                    
22 Jacob Erker (Can) Symmetrics                                             
23 Rob Britton (Can) Trek-Red Truck Racing                                  
24 Francisco Javier Matamoros (Mex) Tecos Trek Uag                      1.00
25 Cameron Jennings (Aus) Pezula Racing                                     
26 Luis Macias Hernandez (Mex) Tecos Trek Uag                           1.15
27 Dustin Macburnie (Can) Team Race Pro                                     
28 Neil Shirley (USA) Jittery Joe's                                         
29 Aristide Ratti (Ita) A-Style Stomn                                       
30 Yuriy Metlushenko (Ukr) Amore & Vita-McDonald's                      1.25
31 Ryan Roth (Can) Team Race Pro                                        1.26
32 Christopher Newton (GBr) Rapha Condor Recyclingcouk                  1.27
33 Jacobus Venter (RSA) South African U23 National Team                     
34 Mark Walters (Can) Team Race Pro                                         
35 Charles Dionne (Can) Équipe Québec                                       
36 Chris Jones (USA) Team Type 1                                            
37 Fournet-Fayard Sébastien (Fra) A-Style Stomn                         1.28
38 Derrick St-John (Can) Garneau-Crocs                                      
39 David O'Loughlin (Irl) Pezula Racing                                     
40 Jairo Perez Suarez (Col) Équipe Nationale Colombienne                1.29
41 Bruno Langlois (Can) Équipe Volkswagen                               1.36
42 Kristian House (GBr) Rapha Condor Recyclingcouk                      1.40
43 Arnaud Papillon (Can) Équipe Volkswagen                              1.45
44 Florencio Ramos Torres (Mex) Tecos Trek Uag                              
45 Omar Cervantes Diaz (Mex) Tecos Trek Uag                             1.46
46 Philipp Mamos (Ger) Team Sparkasse                                   1.50
47 Michael Joanisse (Can) Garneau-Crocs                                 1.51
48 Ryan Bonser (GBr) Rapha Condor Recyclingcouk                         1.52
49 Benjamin Martel (Can) 2Peercom                                       1.53
50 Patrique Gama Azevedos (Bra) Garneau-Crocs                           1.55
51 Siphiwe Sowella (RSA) South African U23 National Team                2.24
52 Juan Esteban Arango Carvajal (Col) Équipe Nationale Colombienne          
53 Guillaume Boivin (Can) Eva Devinci                                   2.30
54 Dominique Perras (Can) Eva Devinci                                   2.55
55 Mark Pozniak (Can) Team Race Pro                                         
56 Ian MacGregor (USA) Team Type 1                                          
57 Ryan Sullivan (Aus) Jittery Joe's                                    2.56
58 Matt Shriver (USA) Jittery Joe's                                         
59 Sylvain Georges (Fra) A-Style Stomn                                      
60 Evan Elken (USA) Jittery Joe's                                           
61 Travis Allen (RSA) Konica-Minolta                                    3.02
62 Jonathan Kinnear (RSA) South African U23 National Team                   
63 Graham Briggs (GBr) Rapha Condor Recyclingcouk                           
64 Robert Partridge (GBr) Rapha Condor Recyclingcouk                    3.03
65 Jean-Sébastien Perron (Can) Eva Devinci                              3.43
66 Dennis Van Niekerk (RSA) Konica-Minolta                              3.44
67 Bradley Potgieter (RSA) South African U23 National Team              3.48
68 Jean-Michel Lachance (Can) Équipe Québec                                 
69 Tomas Roba (Cze) Rocky Mountain Bikes                                5.07
70 Phil Cortes (Can) Amore & Vita-McDonald's                                
71 Peter Ladd (Aus) Garneau-Crocs                                           
72 Hichem Chaabane (Alg) Konica-Minolta                                     
73 Tim Hucker (Aus) Garneau-Crocs                                           
74 Pascal Bussières (Can) 2Peercom                                          
75 Mohamed Aoun Seghir (Alg) Konica-Minolta                                 
76 Alexandre Cloutier (Can) Équipe Québec                               5.08
77 Sebastian Frey (Ger) Team Sparkasse                                      
78 Matt Guse (Can) Équipe Québec                                            
79 Hartley Chad (USA) Jittery Joe's                                         
80 Charly Vives (Can) Équipe Québec                                         
81 Ben Kneller (USA) Jittery Joe's                                          
82 Fabio Calabria (Aus) Team Type 1                                         
83 Jamie Sparling (Can) Trek-Red Truck Racing                               
84 Andrew Pinfold (Can) Symmetrics                                      5.09
85 Tilo Schüler (Ger) Team Sparkasse                                        
86 Mathieu Toulouse (Can) Eva Devinci                                       
87 Matthew Bell (Can) Équipe Québec                                         
88 Dave Vukets (Can) Trek-Red Truck Racing                                  
89 Kevin Noils (Can) Trek-Red Truck Racing                              5.10
90 Diego Genovesi (Ita) A-Style Stomn                                       
91 Matt Wilson (Aus) Team Type 1                                            
92 Arles Antonio Castro Laverde (Col) Équipe Nationale Colombienne      5.11
93 Martyn Irvine (Irl) Pezula Racing                                    6.20
94 Jay Robert Thomson (RSA) South African U23 National Team                 
95 Forero Carreño Juan Pablo (Col) Équipe Nationale Colombienne         6.51
96 Christoff Van Heerden (RSA) Konica-Minolta                           7.33
97 Herman Fouche (RSA) Konica-Minolta                                       
98 Zachary Bell (Can) Symmetrics                                        8.20
99 Kevin Buck Miller (Can) Team Race Pro                                    
100 Andrew Randell (Can) Symmetrics                                         
101 Lars Wackernagel (Ger) Team Sparkasse                                   
102 Rhys Lloyd (GBr) Rapha Condor Recyclingcouk                             
103 Carlos Eduardo Alzate Escobar (Col) Équipe Nationale Colombienne    8.21
104 Christian Deshaies (Can) Équipe Volkswagen                          8.58
105 Dan Timmerman (USA) Team Race Pro                                  10.31
106 Jean-François Racine (Can) Garneau-Crocs                           15.09
107 Morgan Fox (Irl) Pezula Racing                                          
108 Randy Reichardt (USA) Rocky Mountain Bikes                              
109 George-Édouard Duquette (Can) Eva Devinci                               
110 Tyler Trace (Can) Trek-Red Truck Racing                            25.01
111 Courtney Guck (USA) Rocky Mountain Bikes                           28.04
112 François Chabot (Can) Équipe Volkswagen                            36.04
113 Norman Bryner (USA) Rocky Mountain Bikes                           37.37
114 Pierre Boilard (Can) 2Peercom                                      40.34
115 John Bairo Casallas (Col) 2Peercom                                 40.35
116 Derek Burke (Irl) Pezula Racing                                    45.29
117 William Connolly (Irl) Pezula Racing                               45.57

Sprints classification
 
1 Bernardo Colex Tepoz (Mex) Tecos Trek Uag                               15 pts
2 Michael Stevenson (Swe) Amore & Vita-McDonald's                         14
3 Eric Baumann (Ger) Team Sparkasse                                       13
4 Miguel Martinez (Fra) Amore & Vita-McDonald's                           12
5 Ramos Kleber (Bra) Garneau-Crocs                                        11
6 Andreas Schillinger (Ger) Team Sparkasse                                10
7 Glen Chadwick (NZl) Team Type 1                                          9
8 Valeriy Kobzarenko (Ukr) Team Type 1                                     8
9 Paul Brousse (Fra) A-Style Stomn                                         7
10 Graziano Gasparre (Ita) Amore & Vita-McDonald's                         6
11 Soren Nissen (Den) Amore & Vita-McDonald's                              5
12 Philipp Mamos (Ger) Team Sparkasse                                      4
13 Moises Aldape (Mex) Team Type 1                                         4
14 Gregorio Ladino Vega (Col) Tecos Trek Uag                               4
15 Yuriy Metlushenko (Ukr) Amore & Vita-McDonald's                         3
16 Darren Lapthorne (Aus) Team Sparkasse                                   2
17 Ian MacGregor (USA) Team Type 1                                         1
18 Svein Tuft (Can) Symmetrics                                             1

Mountains classification
 
1 Jay Robert Thomson (RSA) South African U23 National Team                20 pts
2 Bernardo Colex Tepoz (Mex) Tecos Trek Uag                               14
3 Martyn Irvine (Irl) Pezula Racing                                       14
4 Glen Chadwick (NZl) Team Type 1                                         12
5 Paul Brousse (Fra) A-Style Stomn                                         5
6 Patrique Gama Azevedos (Bra) Garneau-Crocs                               5
7 Cameron Evans (Can) Symmetrics                                           5
8 Zachary Bell (Can) Symmetrics                                            4
9 Andrew Pinfold (Can) Symmetrics                                          3
10 Andreas Schillinger (Ger) Team Sparkasse                                2
11 Gregorio Ladino Vega (Col) Tecos Trek Uag                               2
12 François Parisien (Can) Team Race Pro                                   1
13 Neil Shirley (USA) Jittery Joe's                                        1
14 Matt Shriver (USA) Jittery Joe's                                        1

Teams classification
 
1 Tecos Trek Uag                                                     4.17.09
2 Amore & Vita-McDonald's                                               0.16
3 Team Sparkasse                                                            
4 Garneau-Crocs                                                             
5 Team Type 1                                                           0.17
6 A-Style Stomn                                                             
7 Symmetrics                                                            0.19
8 Pezula Racing                                                         0.49
9 South African U23 National Team                                           
10 Team Race Pro                                                            
11 Trek-Red Truck Racing                                                    
12 Jittery Joe's                                                        1.05
13 Rapha Condor Recyclingcouk                                           1.17
14 Équipe Québec                                                            
15 Équipe Nationale Colombienne                                         1.19
16 Équipe Volkswagen                                                    1.26
17 2Peercom                                                             1.43
18 Eva Devinci                                                          2.20
19 Konica-Minolta                                                       2.52
20 Rocky Mountain Bikes                                                 4.57