23rd Tour de Beauce - 2.2
Canada, June 10-15, 2008
Tour de Beauce announces teams, courses
By Mark Zalewski
Ben Day won the race last year
Photo ©: Jerome Lessard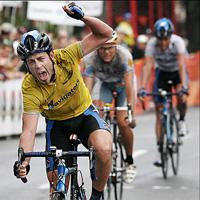 Twenty teams will make-up the peloton in the Tour de Beauce, Canada's major UCI stage race for men from June 10 - 15 in eastern Quebéc. The composition of the field is a good balance from within North America - between Canada, Mexico and the United States of America - as well as good representation from overseas. As with past editions the ascent up the tough Mont Megantic after 153km, followed the next day by a individual time trial, will likely be the deciding moments of the race.
Both Symmetrics and Team R.A.C.E. make-up the Canadian UCI teams, with both understandably interested in winning their 'home' race. 2007 runner-up Svein Tuft will lead a Symmetrics team that has had strong showings in many of the major North American races of the year, including the Tour de Georgia and a recent final stage victory at Mt. Hood with sprinter Andrew Pinfold. Mark Walters will lead Team R.A.C.E.
A number of Canadian elite amateur teams will get a chance to show their stuff on a bigger stage, along with a sprinkling of guest riders, such as Charles Dionne riding for the Quebéc Team. Adding even more motivation for the Canucks to perform well is the fact that Beauce will be the final race before the Canadian Cycling Association chooses its Olympic team.
The podium las year (l-r): Danny Pate (Slipstream), Ben Day (Navigators Insurance), Svein Tuft (Symmetrics)
Photo ©: Jerome Lessard

The USA will be represented by Team Type 1, made up of many former Navigators riders which dominated this race the past two years. The UCI Continental Pro team Slipstream-Chipotle-H30 was scheduled but suffered in the streets of Philadelphia. They cannot post a full team. Jittery Joe's is the other American UCI team with strong ties to the region through their equipment sponsor Louis Garneau. The Mexican Tecos-Trek team will be back with many strong climbers to contend the rolling parcours in defense of the climber's jersey. This will be a tall order with the inclusion of the Colombian National Team.
The German Sparkasse team, which held the yellow jersey in the last two editions, leads an overseas contingent. Amore & Vita-McDonalds from Poland, the Irish Pezula Racing team and Rapha Condor Recycling.co.uk from England make up some of the other European teams.
The major change to the parcours is a switching of the final two days' circuit races - swapping Saint-Georges and Quebéc City in order to the finish the race in conjunction with Quebéc City's 400th anniversary celebrations. The very demanding course could make holding onto the yellow jersey a little more difficult than in past year.
Cyclingnews will once again have full reports and photos of every stage.