Open de Suède Vargarda - CDM
Sweden, July 30, 2008
Main Page Results Live report ProTour standings
Seehafer conquers Sweden in US 1-2
Second World Cup for US and for Menikini; Arndt consolidates lead
By Ben Atkins
Seehafer has time for a victory salute
Photo ©: WomensCycling.net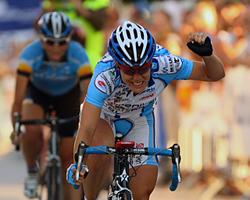 Kori Kelley-Seehafer (Menkini-Selle Italia-Master Colors) has taken the biggest victory of her career by beating American compatriot Kim Anderson (Team Columbia) in a two-up sprint. The pair broke away from a six-woman group at the beginning of the penultimate lap of 12 and successfully built a lead to finish more than a minute clear. This is the second World Cup race taken by a US rider after Katheryn Kuri-Mattis won in Geelong, and the second for the Menikini-Selle Italia-Master Colors team after Susanne Ljungskog (who has since retuned to Flexpoint) won the Tour de Berne.
Behind the American duo, the remains of the breakaway was led home by Equipe Nürnberger Versicherung sprinter Charlotte Becker from Karin Thürig (Cervelo-Lifeforce), Erinne Willock (Webcor Builders). Andrea Thürig(Bigla) - the younger sister of Karin - followed a few seconds back. Another minute and a half later, the main peloton was led home by Angela Henning (DSB Bank).
"I am so happy," said a delighted Seehafer - who adds this victory to the Tour of Prince Edward Island in June - after the race, " we were going quite slowly coming into the finish and Kim was in the front with 500m to go and in the past I have had a good sprint but it hasn't been that good lately. I just wanted to believe in myself and I waited until the 250m mark to jump. I went and did not look back."
"Actually, that wasn't my focus," second-placed Anderson told Cyclingnews after the race, "I was just trying to stay ahead of that group that we'd dropped; so I was just keeping it going all the way to the line. It was kind of Petra's orders: 'Keep going! Keep going! Keep going!' because we just had such a small gap and so I just went all the way to the line as hard as I could. We were both working.
"Actually," said Anderson of Team Columbia's tactics for the race, "the plan was to either save it for Ina: maybe later she could get into a break, or maybe if it came down to a sprint the I would work for her, or maybe Judith could get off into a break because we wanted to get as many World Cup points as we could before the next two World Cups."
Luckily for Anderson, the break that she was marking turned out to be the on that was successful, but team orders prevented her from contributing fully until the moment was right. "I was just covering moves," she explained, "I felt real good today and just happened to be in a couple of breaks and was just following. Then all of a sudden this one was the move that went and so I sat on for a little while, then Kori attacked on a climb and I went across the her and I told her 'let's go' and I think we worked together for two or maybe three laps, I can't remember."
Once the pair had established themselves off the front of the race they worked together well to gradually increase their lead over a determined but disorganised chase behind. "Definitely," said Anderson, in answer to a question about how good it was to heave her compatriot with her in the escape, "because I've known Kori for a long time and she's really strong and it was really fun! When was the last time two Americans have been off the front in a World Cup? It was awesome!
"I knew she was an awesome sprinter," she said of the final stages of the race, "so you just hope that you have enough legs, but no, it didn't happen."
Erinne Willock (Webcor) leads the chasers
Photo ©: WomensCycling.net

"It was my attack," Karin Thürig said. "After that attack we had this break, and then we were working very well - except Kimberly was not working. Then a little bit later [Seehafer] attacked and Kimberly followed and we other four: nobody acted, so that was very bad. The those two got away and then we started working together - we four - and we were not always working very good together so there were a few attacks and at the end we just sprinted for the third place."
Despite riding for different teams (Cervelo-Lifeforce and Bigla), the Thürig sisters are both still based in Switzerland. Nevertheless it is relatively rare for them to be in a small group together. "It's always special to be in a breakaway with your sister because…" she laughed, "you don't want to beat her somehow, but you have to look for yourself. It happened also in Thuringen… you have to look for yourself, but sometimes it's hard, yeah."
The recent tough German stage race - won by World Cup leader Judith Arndt (Team Columbia) was still in the legs of a number of riders: "I'm still a little bit tired," explained Thürig, "but a lot of the others also raced Thuringen, so it's just the last preparation for Beijing, so I think it was a good race today. Also we had a good teamwork and we could race our Olympic [Cervelo] bikes so that was a very good opportunity."
"It was definitely a hard race from the get go," fifth placed Erinne Willock said. "It was pretty unselective - it was fairly flat - but it was technical. It was definitely the course for a breakaway. Our goal was to cover the breaks and we did that really well and the one I covered worked!
"It was funny," she continued, "because half a lap before they got away, Kori and I ended up being the only two that were working in the group of six. Kim Anderson was sitting on in the first bit and then everybody kind of started not working. There were attacks on the climb that lap and no one got away, and Kori just kind of rolled off with Kim on her wheel.
"Everybody gave it a shot to attack to try and bridge up to Kori and Kim and no one succeeded, but we're happy with the ride and coming in fifth in a World Cup."
That fifth place should stand the Canadian in good stead as she now heads to Beijing for the Olympic Games road race. "Definitely," she agreed, "it's a great confidence booster."
"The race was petty fast," confirmed Andrea Thürig's Bigla team-mate Noemi Cantele. "But there were a lot of attacks. Then we had only one team-mate in the breakaway; it was better to have maybe two, but okay we couldn't make it," she laughed.
Swedish RR Champion, Emilia Fahlin (Team Columbia)
Photo ©: WomensCycling.net

Finishing in 13th place, the Italian echoed a number of other riders, citing tiredness after a hard week in Germany as an explanation for her own personal race. "Today I was not so very good because I have done Thuringen," she said, "and I need a little bit of recovery."
Good news for both the Bigla and Switzerland teams is that Nicole Brändli seems to have fully recovered from the thigh injury that forced her to abandon in Turingen last week. She finished in the main pack in 29th place.
World Cup leader Arndt finished 8th, picking up 18 points in the overall standings; she now leads Marianne Vos (DSB Bank) by 108 points. Suzanne De Goede (Equipe Nürnberger Versicherung) finished one place behind Arndt in 9th meaning that while her deficit to the German increased slightly he has closed the gap to Vos to 4 points.
How it unfolded
Karin Thurig (Cervelo Lifeforce) in the bunch
Photo ©: WomensCycling.net

A number of attacks were launched at the peloton during the first half of the 132km race, but none were successful until a concerted move by Karin Thürig (Cervelo-Lifeforce) pulled a group of fifteen riders clear.
With around three and a half of the twelve 11km laps remaining pressure from Thurig and Erinne Willock (Webcor Builders) caused this breakaway group to split again, leaving just six riders at the head of the race.
The breakaway now consisted of: Kim Anderson (Team Columbia), Kori Kelley-Seehafer (Menikini-Selle Italia-Master Colors), Erinne Willock (Webcor Builders), Karin Thürig (Cervelo-Lifeforce), Charlotte Becker (Equipe Nürnberger Versicherung) and Andrea Thürig (Bigla).
With just less than two laps to go, Seehafer launched herself off the font of the group with Anderson in tow. Between them the pair managed to hold a lead of just over 20 seconds for a while before gradually increasing it over the closing stages.
As the chasing foursome began to attack one another, the two ahead managed to pull their lead to over a minute as they approached the finish.
Anderson led into the final few hundred metres, but was ultimately unable to match the sprint of her compatriot and Seehafer took the victory.
Becker led the remaining group home 1' 10" later from Karin Thürig, Willock and Andreea Thürig. Angela Henning won the peloton sprint for 7th from Judith Arndt (Team Columbia), who increases her lead in the overall World Cup over her nearest rivals.
Photography
For a thumbnail gallery of these images, click here
Images by WomensCycling.net/WomensCycling.net
Results
1 Kori Kelley Seehafer (USA) Menikini - Selle Italia      3.21.12 (43.5 km/h)
2 Kim Anderson (USA) Team Columbia Women                         
3 Charlotte Becker (Ger) Equipe Nürnberger Versicherung      1.10
4 Karin Thürig (Swi) Cervelo Lifeforce Pro Cycling Team          
5 Erinne Willock (Can) Webcor Builders Cycling Team              
6 Andrea Thürig (Swi) Bigla Cycling Team                     1.13
7 Angela Henning (Ger) Team DSB Bank                         2.43
8 Judith Arndt (Ger) Team Columbia Women                         
9 Suzanne De Goede (Ned) Equipe Nürnberger Versicherung          
10 Martine Bras (Ned) Vrienden Van Het Platteland                
11 Loes Markerink (Ned) Team Flexpoint                           
12 Andrea Bosman (Ned) Team DSB Bank                             
13 Noemi Cantele (Ita) Bigla Cycling Team                        
14 Monica Holler (Swe) Bigla Cycling Team                        
15 Kirsten Wild (Ned) AA-Drink Cycling Team                      
16 Sarah Düster (Ger) Cervelo Lifeforce Pro Cycling Team         
17 Emma Johansson (Swe) AA-Drink Cycling Team                    
18 Liesbet De Vocht (Bel) Vrienden Van Het Platteland            
19 Trixi Worrack (Ger) Equipe Nürnberger Versicherung            
20 Marie Lindberg (Swe) Equipe Nürnberger Versicherung           
21 Karin Aune (Swe) Sweden                                       
22 Grete Treier (Est) Estonia                                    
23 Eleonora Van Dijk (Ned) Vrienden Van Het Platteland           
24 Sara Mustonen (Swe) Sweden                                    
25 Oxana Kozonchuk (Rus) Menikini - Selle Italia                 
26 Irene Van Den Broek (Ned) AA-Drink Cycling Team               
27 Alex Wrubleski (Can) Webcor Builders Cycling Team             
28 Annemiek Van Vleuten (Ned) Vrienden Van Het Platteland        
29 Nicole Brändli (Swi) Bigla Cycling Team                       
30 Laure Werner (Bel) AA-Drink Cycling Team                      
31 Priska Doppmann (Swi) Cervelo Lifeforce Pro Cycling Team      
32 Carla Ryan (Aus) Cervelo Lifeforce Pro Cycling Team           
33 An Van Rie (Bel) Vrienden Van Het Platteland                  
34 Loes Gunnewijk (Ned) Team Flexpoint                           
35 Iris Slappendel (Ned) Team Flexpoint                      2.52
36 Laura Lepasalu (Est) Estonia                                  
37 Bianca Knöpfle (Ger) Team Flexpoint                           
38 Christine Thorburn (USA) Webcor Builders Cycling Team         
39 Christiane Soeder (Aut) Cervelo Lifeforce Pro Cycling Team    
40 Tina Liebig (Ger) Team DSB Bank                               
41 Adrie Visser (Ned) Team DSB Bank                              
42 Fabiana Luperini (Ita) Menikini - Selle Italia                
43 Katheryn Mattis (USA) Webcor Builders Cycling Team            
44 Luise Keller (Ger) Team Columbia Women                        
45 Linda Villumsen (Den) Team Columbia Women                     
46 Veronica Andréasson (Swe) Bigla Cycling Team              9.25
DNF Ina Teutenberg (Ger) Team Columbia Women                     
DNF Emilia Fahlin (Swe) Team Columbia Women                      
DNF Liisa Ehrberg (Est) Estonia                                  
DNF Maris Nurm (Est) Estonia                                     
DNF Elise Van Hage (Ned) Team Flexpoint                          
DNF Trine Schmidt (Den) Team Flexpoint                           
DNF Serena Danesi (Ita) Top Girls Fassa Bortolo Raxy Line        
DNF Sara Muccioli (Ita) Top Girls Fassa Bortolo Raxy Line        
DNF Laura Pisaneschi (Ita) Top Girls Fassa Bortolo Raxy Line     
DNF Francesca Tognali (Ita) Top Girls Fassa Bortolo Raxy Line    
DNF Anna Zugno (Ita) Top Girls Fassa Bortolo Raxy Line           
DNF Marlijn Binnendijk (Ned) AA-Drink Cycling Team               
DNF Chantal Blaak (Ned) AA-Drink Cycling Team                    
DNF Giada Borgato (Ita) Menikini - Selle Italia                  
DNF Marina Romoli (Ita) Menikini - Selle Italia                  
DNF Silvia Valsecchi (Ita) Menikini - Selle Italia               
DNF Liesbeth Bakker (Ned) Vrienden Van Het Platteland            
DNF Kristine Saastad (Nor) Norway                                
DNF Elin Fylkesnes (Nor) Norway                                  
DNF Frøydis Meen Wærsted (Nor) Norway                            
DNF Tone Temtemoen (Nor) Norway                                  
DNF Caroline Wöien (Nor) Norway                                  
DNF Janel Holcomb (USA) Webcor Builders Cycling Team             
DNF Rebecca Much (USA) Webcor Builders Cycling Team              
DNF Pascale Schnider (Swi) Cervelo Lifeforce Pro Cycling Team    
DNF Sharon Van Essen (Ned) Team DSB Bank                         
DNF Linda Van Rijen (Ned) Team DSB Bank                          
DNF Regina Schleicher (Ger) Equipe Nürnberger Versicherung       
DNF Edita Pucinscaite (Ltu) Equipe Nürnberger Versicherung       
DNF Bettina Kuhn (Swi) Bigla Cycling Team                        
DNF Catrine Josefsson (Swe) Sweden                               
DNF Isabelle Söderberg (Swe) Sweden                              
DNF Jennie Stenerhag (Swe) Sweden                                
DNF Avalo Lyngbaek (Swe) Sweden                                  
DNF Heini Ilmarinen (Fin) Finland                                
DNF Heljä Korhonen (Fin) Finland                                 
DNF Lotta Lepistö (Fin) Finland                                  
DNF Riina Miettinen (Fin) Finland                                
DNF Anne Rautio (Fin) Finland                                    

ProTour standings
1 Judith Arndt (Ger) Team Columbia Women                         260 pts
2 Marianne Vos (Ned) Team DSB Bank                               152
3 Suzanne De Goede (Ned) Equipe Nürnberger Versicherung          148
4 Emma Pooley (GBr) Team Specialized Designs For Women           117
5 Chantal Beltman (Ned) Team Columbia Women                      114
6 Marta Bastianelli (Ita) Safi - Pasta Zara Manhattan            101
7 Kristin Armstrong (USA) Cervelo Lifeforce Pro Cycling Team      88
8 Alex Wrubleski (Can) Webcor Builders Cycling Team               85
9 Kori Kelley Seehafer (USA) Menikini - Selle Italia              75
10 Katheryn Curi Mattis (USA) Webcor Builders Cycling Team        75
11 Susanne Ljungskog (Swe) Menikini - Selle Italia                75
12 Ina Teutenberg (Ger) Team Columbia Women                       70
13 Oenone Wood (Aus) Team Columbia Women                          61
14 Julia Martisova (Rus) Gauss RDZ Ormu                           60
15 Emma Johansson (Swe) AA-Drink Cycling Team                     60
16 Kirsten Wild (Ned) AA-Drink Cycling Team                       59
17 Rochelle Gilmore (Aus) Australian National Team                57
18 Kimberly Anderson (USA) Team Columbia Women                    53
19 Emma Rickards (Aus) Cervelo Lifeforce Pro Cycling Team         53
20 Charlotte Becker (Ger) Equipe Nürnberger Versicherung          53
21 Fabiana Luperini (Ita) Menikini - Selle Italia                 50
22 Erinne Willock (Can) Webcor Builders Cycling Team              48
23 Nicole Brändli (Swi) Bigla Cycling Team                        46
24 Miho Oki (Jpn) Menikini - Selle Italia                         40
25 Leigh Hobson (Can) Canada                                      35
26 Mirjam Melchers-Van Poppel (Ned) Team Flexpoint                35
27 Diana Ziliute (Ltu) Safi - Pasta Zara Manhattan                35
28 Priska Doppmann (Swi) Cervelo Lifeforce Pro Cycling Team       35
29 Jolanta Polikeviciute (Ltu) USC Chirio Forno d'Asolo           34
30 Karin Thürig (Swi) Cervelo Lifeforce Pro Cycling Team          30
31 Sara Carrigan (Aus) Lotto-Belisol Ladiesteam                   30
32 Nikki Egyed (Aus) Vrienden Van Het Platteland                  29
33 Amber Neben (USA) Team Flexpoint                               28
34 Regina Schleicher (Ger) Equipe Nürnberger Versicherung         27
35 Noemi Cantele (Ita) Bigla Cycling Team                         25
36 Andrea Thürig (Swi) Bigla Cycling Team                         24
37 Anne Samplonius (Can) Canada                                   24
38 Liesbeth De Vocht (Bel) Vrienden Van Het Platteland            24
39 Nicole Cooke (GBr) Team Halfords Bikehut                       24
40 Sarah Düster (Ger) Cervelo Lifeforce Pro Cycling Team          23
41 Edita Pucinskaite (Ltu) Equipe Nürnberger Versicherung         22
42 Angela Henning (Ger) Team DSB Bank                             21
43 Sara Mustonen (Swe) Team Cmax Dila                             21
44 Tiffany Cromwell (Aus) Australia                               21
45 Grete Treier (Est) Gauss RDZ Ormu                              20
46 Christiane Soeder (Aut) Cervelo Lifeforce Pro Cycling Team     18
47 Sofie Goor (Bel) Lotto-Belisol Ladiesteam                      17
48 Joanne Kiesanowski (NZl) Cervelo Lifeforce Pro Cycling Team    17
49 Regina Bruins (Ned) Netherlands                                17
50 Lorian Graham (Aus) Vrienden Van Het Platteland                15
51 Gina Grain (Can) Webcor Builders Cycling Team                  15
52 Trixi Worrack (Ger) Equipe Nürnberger Versicherung             13
53 Angela Brodtka (Ger) Team DSB Bank                             13
54 Martine Bras (Ned) Vrienden Van Het Platteland                 12
55 Edwige Pitel (Fra) Team Pro Feminin Les Carroz                 12
56 Lang Meng (Chn) Giant Pro Cycling                              12
57 Lieselot Decroix (Bel) Lotto-Belisol Ladiesteam                11
58 Monica Holler (Swe) Bigla Cycling Team                         11
59 Loes Markerink (Ned) Team Flexpoint                            10
60 Andrea Bosman (Ned) Team DSB Bank                               9
61 Lauren Franges (USA) United States Of America                   9
62 Zulfiya Zabirova (Kaz) Bigla Cycling Team                       9
63 Sophie Creux (Fra) France                                       9
64 Peta Mullens (Aus) Australia                                    9
65 Claudia Häusler (Ger) Equipe Nürnberger Versicherung            8
66 Carly Hibberd (Aus) Australian National Team                    8
67 Vicki Whitelaw (Aus) Australian National Team                   6
68 Anita Valen De Vries (Nor) Team Flexpoint                       6
69 Tatiana Stiajkina (Ukr) USC Chirio Forno d'Asolo                6
70 Linda Villumsen Serup (Den) Team Columbia Women                 5
71 Modesta Vzesniauskaite (Ltu) Equipe Nürnberger Versicherung     5
72 Maryline Salvetat (Fra) France                                  5
73 Alison Powers (USA) United States Of America                    5
74 Carla Ryan (Aus) Australia                                      4
75 Felicia Gomez (Can) Canada                                      4
76 Monika Schachl (Aut) Team Uniqa                                 4
77 Carissa Wilkes (NZl) New Zealand                                4
78 Monia Baccaille (Ita) Fenixs                                    3
79 Carlee Taylor (Aus) Australian National Team                    3
80 Giuseppina Grassi Herrera (Mex) Mexico                          2
81 Tina Mayolo Pic (USA) Vrienden Van Het Platteland               2
82 Marie Lindberg (Swe) Equipe Nürnberger Versicherung             1
83 Oxana Kozonchuk (Rus) Menikini - Selle Italia                   1
84 Yong Li Liu (Chn) Giant Pro Cycling                             1