18th Post Danmark Rundt - Tour of Denmark - 2.HC
Denmark, July 30-August 3, 2008
Wanted: All-rounder with time trialling abilities
By Bjorn Haake
Chris Anker Sørensen is hoping to deliver the win for CSC-Saxo Bank
Photo ©: Gepa-Pictures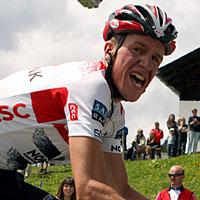 The 18th Post Danmark Rundt will be run over 890 kilometres in five days and six stages. The only split stage is on the penultimate day and will see the riders tackle a road race in the morning, followed by a time trial in the afternoon. The lack of mountains will be compensated by the conditions, with lots of winds necessitating some typical echelons. A good all-rounder with time trialling abilities should be the number one favourite.
Last year's winner Kurt-Asle Arvesen (CSC-Saxo Bank) will not take the start, as he recovers from a successful, but tiring, Tour de France. Number one will therefore be worn by Matti Breschel, who won the second stage last year. The question on everyone's lips will be if anybody can stop CSC-Saxo Bank in its home race. Nobody has been able to prevent the team, which also dominated the Tour de France, from winning since 2003. That year, Gerolsteiner's Sebastian Lang took the honours. The German squad, still looking for a sponsor, would dearly like a repeat performance in its quest to find a sponsor.
Breschel's team-mate Chris Anker Sørensen finished fourth in the recent Österreich Rundfahrt and will have good chances of taking the overall title here in Denmark. CSC-Saxo Bank has three foreigners on its team. Swede Gustav Erik Larsson will eye the time trial. Argentinean Juan José Haedo is looking forward to some sprint wins. US boy Jason McCartney can rival Larsson in the race against the clock and/or win a stage in a breakaway.
Who can topple CSC-Saxo Bank?
Belgian champion Jürgen Roelandts has a good sprint
Photo ©: Tim Van Wichelen

The Danish team will be racing against Columbia this year, with Linus Gerdemann back after a long time out, following a crash in Tirreno-Adriatico.
Silence-Lotto will hope to get a better overall result than in the Tour de France (second via Cadel Evans). Dominique Cornu is the strong-man in the time trial. Jürgen Roelandts showed in the Belgian Championships that he has a very good sprint. The youngster is one of Belgium's biggest talents. Barloworld's Enrico Gasparotto is leaving the team and would love to go out with a bang.
CSF Navigare is certainly out for sprint wins. The Italian team will bring Paride Grillo and Mauro Abel Richeze along. On the other hand, Skil Shimano is more likely to be represented in breakaways.
Garmin Chipotle - H30 is expected to put up a fight, too. Scandinavian Magnus Backstedt will feel right at home and is unlikely to face a time-cut that prevented him from finishing the Tour de France. Tyler Farrar is a hot contestant for a stage victory.
Sebastian Lang (Gerolsteiner) had the polka dot in the Tour for a few days, but his better references in Denamrk are his 2003 overall victory
Photo ©: Roberto Bettini

Danish teams include Team GLS - Pakke Shop (with former Discovery guy Brian Vandborg), Glud & Marstrand Horsens, Team Designa Køkken (Top mountain biker Jakob Fuglsang) and Team Løgstør - Cycling for Health. There is also a Danish selection, which includes Frank Hoj, who normally rides for Cofidis.
A flat route all along
Most of the route is very flat. The first stage is a 175-kilometre circle from Holstebro to Holstebro. Stage 2 sees the riders go from Skjern down south to Sønderborg. One hill of 132 metres in height is the biggest geographical difficulty of the day. But the fact that it is the longest stage at 220 kilometres should make up for that. On day three, the peloton heads back up north, from Padborg to Vejle (200 kilometres).
Day four is split. A short 115-kilometre run in the morning brings the riders from Ringe to Odense. In the afternoon a 14.5-kilometre time trial around Kerteminde will likely be the decision maker in the quest for overall victory. The final day is a 165-kilometre long party from Slagelse to Frederiksberg.
Expect some furious battles in the northern winds where it will be all against one – 14 teams trying to dislodge CSC-Saxo Bank.