Open de Suède Vargarda TTT - CDM
Sweden, August 1, 2008
Main Page Results Live report World Cup standings
Cervelo-Lifeforce streaks to Swedish victory; Overall World Cup largely unchanged
By Ben Atkins
Cervelo Lifeforce in a long, fast line and en route to winning
Photo ©: WomensCycling.net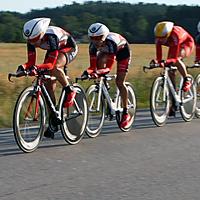 The Cervelo-Lifeforce team of Priska Doppmann, Karin Thürig, Christianne Soeder, Sarah Düster, Carla Ryan and Pascale Schinder set a blistering time around the 32km circuit, with an average speed of 49.3kph to win the Suede Vargarda team time trial. Rivals Team Columbia were second, more than a minute back, with Equipe Nürnberger Versicherung a further thirteen seconds behind.
"Definitely [a hard race]," Carla Ryan told Cyclingnews after the race, "you always prepare for a hard race; it's never going to be easy. The team time trial everyone's got to just go full gas, so that's what we did and fortunately we were strong enough to come away with the win.
"Everyone rode really well," continued the young former Australian time trial champion, "and rode well as a team, and it was just a really good team effort today. We kept it together and we had six riders finish together so that was an awesome result."
With a part rolling, part flat course and very little wind on a warm evening, the roads and conditions were always going to suit a team of strong rouleurs like Cervelo-Lifeforce, as Ryan concurred. "It was a really nice course actually, some rolling hills through the middle of the course, but generally relatively flat and out and back, smooth roads, nice scenery - not that we were taking any of it in! It was an enjoyable course."
As a team full of time trial specialists, Cervelo-Lifeforce was always going to be the team to beat. "We have Christiane [Soeder], Priska [Doppmann] and Karin [Thürig] going to the Olympics," said Ryan, "and all of them in the time trial so it makes for a strong team time trial team. So it was a strong team today, and also Sarah [Düster], Pascale [Schinder] and myself are riding quite well in time trials at the moment - in good form - so we come together as a strong unit today."
Equipe Nürnberger finished third
Photo ©: WomensCycling.net

Not so long ago, Ryan was competing against riders like this as part of the Australian National team, only joining Cervelo-Lifeforce in June this year. "It's been a big step for me," she said, "but I've taken it on board and really enjoyed it. I'm having a great time with the team here, they've been really accepting of me and welcoming and I'm looking forward to the future with them, it's really exciting."
Austrian time trial champion Christiane Soeder is well used to victory in races against the clock - including victory at this year's GP Suisse - Souvenir Magali Pache - but winning as a team is a special experience. "We are all very happy," she said. "It was very hard for sure but we tried to keep the speed very high and yeah it was very nice; hard but nice.
"I think its one minute thirty," she said of the team's victory over Columbia [it was actually 1:13], "but I'm not sure. I think it was a bit of a surprise that it was one minute - or more than one minute - for us, but yeah, I think we have good time triallists. We have a very good team today because we [were] very good together; it's very important that we don't lose a rider in the beginning, so I think it was very good."
Soeder acknowledged the value of a victory like this to the less experienced riders in the team, as well as those who are accustomed to winning. "It's very different," she explained, "I think it's very nice because if you win as a team it is - how do you say it? For the young riders it's very nice because they win a World Cup and also for us older ones! Also, for us we are going to Beijing - and now it's very nice to have a victory, and go to Beijing. So I think it's very good for the whole team."
The homecourt advantage by the Swedish team helped to place eighth
Photo ©: WomensCycling.net

With her earlier victory in the GP Suisse - Souvenir Magali Pache and strong performances since, this victory surely puts Soeder towards the top of the list of favourites for the time trial in Beijing in less than two weeks time. "I think so," she agreed, "because I have had a very good week last week, in Thuringen, and now the two races here in [Vargarda] and now I think I'm very good.
"I was second in Thuringen and so I think I am very well prepared. In Beijing I think it's a different race; I think it's special, but I'm looking forward and will do my best and I hope it will be good."
Young Australian Alex Rhodes came up to Sweden to replace Judith Arndt in the Columbia team, as the German World Cup leader has already flown out to join the German Olympic team in China. The journey appeared to have been worth it for her, as Team Columbia got the result they were hoping for. "Linda [Villumsen], Ina [Teutenberg] and Lui [Keller] were really strong today," Rhodes said, "and they pretty much... yeah, they were just awesome. So, we're really happy with second, everyone rode really well."
The course, that met with the approval of the Cervelo-Lifeforce team also seemed to please Team Columbia. "It was rolling, I found it pretty tough, but it was good," she said.
Ordinarily, Team Columbia can expect to win - or get close to winning - events like this, but with Cervelo-Lifeforce riders at the peak of their condition for Beijing, Rhodes was not surprised to have been beaten so well by the Swiss team. "They've got three girls who are going to the Olympics - or is it four I can't remember," she explained, "so three time trial specialists and three really strong girls. We're happy with that, they were the team to beat and I guess that just the way it goes. We're really happy with second."
The result has very little bearing on the overall World Cup standings, in either the team or individual standings. Despite not riding, Judith Arndt (Columbia) only concedes a little of her lead to Suzanne De Goede (Equipe Nürnberger Versicherung) who gets 25 points for finishing third and leapfrogs Marianne Vos (DSB Bsnk) in the standings. Arndt's team-mate Ina Teutenberg also moves up to eighth. Columbia's enormous lead in the team classification increases over it's previously nearest rival Equipe Nürnberger Versicherung, but Cervelo-Lifeforce closes slightly, moving into second place.
How it unfolded
Trine Schmidt leads Team Flexpoint
Photo ©: WomensCycling.net

Top Girls-Fassa Bortolo-Raxy Line was the first of the thirteen teams to set off due to its lowly position on the World Cup overall standings. The team returned with a time of 44:27.5, giving the others something to aim at.
Third team to start, Norway, caught its Scandinavian rival Finland in the closing stages to take more than a minute off the Top Girls time with 43:13.7.
The first really fast time was posted by the Vrienden Van Het Platteland team, pushing it closer to the 40 minute mark with 40:52.9. The very next team, Flexpoint pushed it still lower though with 40:26.4.
Despite being outstanding favourites, the Cervelo-Lifeforce team was - because of its position in the World Cup standings - fourth from last to go. The team blitzed around the course knocking all but a minute and a half off the Flexpoint time with an incredible 38:26.7.
The last two teams to go - Equipe Nürnberger Versicherung and Columbia - were the only ones who looked capable of besting the Cervelo-Lifeforce time, but although they were both faster than Flexpoint, neither were able to come within a minute of the Swiss team.
Equipe Nürnberger Versicherung finished three seconds quicker than flexpoint to take a provisional second place, but Columbia were consistently faster all the way around and pushed them into third.
Photography
For a thumbnail gallery of these images, click here
Images by WomensCycling.net
Results
1  Cervelo Lifeforce Pro Cycling Team    38.56.7 (49.3 km/h)
 Priska Doppmann (Swi)                          
 Karin Thürig (Swi)                             
 Christiane Soeder (Aut)                        
 Carla Ryan (Aus)                               

2 Team Columbia Women                    40.10.2
 Luise Keller (Ger)                             
 Alexis Rhodes (Aus)                            
 Ina-Yoko Teutenberg (Ger)                      
 Linda Villumsen (Den)                          

3 Equipe Nürnberger Versicherung         40.23.1
 Charlotte Becker (Ger)                         
 Suzanne De Goede (Ned)                         
 Edita Pucinscaite (Ltu)                        
 Larissa Kleinmann (Ger)                        

4 Team Flexpoint                         40.26.4
 Loes Gunnewijk (Ned)                           
 Loes Markerink (Ned)                           
 Trine Schmidt (Den)                            
 Iris Slappendel (Ned)                          

5 Vrienden Van Het Platteland            40.52.9
 Liesbet De Vocht (Bel)                         
 An Van Rie (Bel)                               
 Ellen Van Dijk (Ned)                           
 Marit Huisman (Ned)                            
 Annemiek Van Vleuten (Ned)                     
 Liesbeth Bakker (Ned)                          

6 AA-Drink Cycling Team                  41.37.8
 Chantal Blaak (Ned)                            
 Marlijn Binnendijk (Ned)                       
 Kirsten Wild (Ned)                             
 Irene Van Den Broek (Ned)                      
 Laure Werner (Bel)                             
 Latoya Brulée (Bel)                            

7 Team DSB Bank                          41.42.1
 Angela Hennig (Ger)                            
 Tina Liebig (Ger)                              
 Andrea Bosman (Ned)                            
 Adrie Visser (Ned)                             

8 Sweden                                 42.36.4
 Karin Aune (Swe)                               
 Catrine Josefsson (Swe)                        
 Jennie Stenerhag (Swe)                         
 Isabelle Söderberg (Swe)                       
 Avalo Lyngbaek (Swe)                           

9 Menikini - Selle Italia                42.45.1
 Oxana Kozonchuk (Rus)                          
 Kori Seehafer (USA)                            
 Marina Romoli (Ita)                            
 Natalie Bates (Aus)                            

10 Norway                                43.13.7
 Kristine Saastad (Nor)                         
 Frøydis Meen Wærsted (Nor)                     
 Caroline Wöien (Nor)                           
 Elin Fylkesnes (Nor)                           

11 Bigla Cycling Team                    43.50.4
 Bettina Kuhn (Swi)                             
 Monica Holler (Swe)                            
 Andrea Thürig (Swi)                            
 Veronica Andréasson (Swe)                      

12 Top Girls Fassa Bortolo Raxy Line     44.27.5
 Serena Danesi (Ita)                            
 Laura Pisaneschi (Ita)                         
 Francesca Tognali (Ita)                        
 Anna Zugno (Ita)                               

13 Finland                               46.26.4
 Heljä Korhonen (Fin)                           
 Lotta Lepistö (Fin)                            
 Riina Miettinen (Fin)                          
 Anne Rautio (Fin)                                                 
ProTour standings
Coming!