Le Tour du Grand Montréal - 2.1
Canada, June 4-7, 2007
Main Page Results Overall standings Stage Details Previous Stage
Stage 5 - June 7: Mont-Saint-Hilaire, 115 km
Wood takes it all in Montreal
By Kirsten Robbins in Montreal, Canada
Oenone Wood (T-Mobile) wins the final stage
Photo ©: CJ Farquharson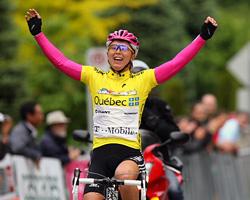 The world-class women's peloton ended the Tour du Grand Montreal on top of Mont St Hilaire where Oenone Wood (T-Mobile) held off Trixi Worrack (Équipe Nürnberger) and Giorgia Bronzini (Safi - Pasta Zara Manhattan) to stamp her authority all over the 2007 event, taking home the points and sprints jerseys to go with her overall victory and two stage wins.
"I surprised myself today because I wasn't feeling that great," said Wood after the up hill sprint. "I was just lucky that I had such a good team to do all the work for me. They brought me into good position for the climb and I knew all I had to do was hold on to Trixi's wheel. She had a lead out from her teammate Claudia Hausler and she attacked with about 300m to go. That meant that I had the opportunity to hold onto her wheel until 100m to go and I decided to counter and go for the win."
Wood and Worrack were separated by a mere six seconds at the start of the ultimate stage, and with several time bonuses up for grabs there was a strong possibility that Worrack could take the lead. Worrack won the first sprint over Wood, causing a little apprehension amongst the T-Mobile team. "I knew that she was going to have a strong finish because she is a very good rider on a hill like this," explained Wood. "I was concerned about the time bonus because she beat me in the first sprint but I'm just lucky I had a good team to control it after that."
Worrack took second by one second in last year's tour and knew it would be difficult to gain six seconds this time around given the flatter course than the previous year. "I got the first time bonus but it is really hard to gain seconds in this tour because the gaps are always so close," said the German. "I have done this tour three times and it has always been this close. I remember last year I had even less of a gap and I couldn't close it. The stages here are not easy but it is not possible to make up time that you've lost."
Trixi Worrack (Équipe Nürnberger Versicherung)
Photo ©: Andrea Brewer

Worrack commented on the strength of Wood's T-Mobile team, and how proud she was of her own team for not giving up their goal of winning the race. "This stage was not hard enough to split the bunch and T-Mobile was so strong today," she said. "My team was strong too, and we did what we could. I started the sprint but all Oenone had to do was stay on my wheel - I tried everything I could but I couldn't lose her from my wheel so she won."
Cheerwine's opportunist Chrissy Ruiter initiated a breakaway that caused upheaval amongst the leaders on GC after the first climb. She rode solo gaining a maximum of 1'15 before three riders bridged up to her including Meredith Miller (TEAm Lipton) and Carla Ryan (Australian National Team). The four stayed ahead of the peloton for 40km until T-Mobile and Nürnberger sent all their riders to the front to bring them back.
"The bunch split over the first climb and my team worked really hard to bring it back," recalled Wood. "The break went away and we had Chantel Beltman and Anke Wichmann bring it back to within 15 seconds before the next climb. After that climb Anke and Chantel got straight back on the front and chased it back all together. My team really rode well today. They just kept coming back to do so much work and then come straight back to the front for more."
Giorgia Bronzini
Photo ©: Mitch Friedman

Safi-Pasta's sprinter Giorgia Bronzini placed third in the field sprint and marked her fourth podium in five stages. Bronzini commented on how pleased she was in her performance this week and her preparations for the Giro d'Italia Femminile (women's Tour of Italy) starting on July 6. "I think we have had very good training for the Giro d'Italia," said Bronzini. "I like this race very much because I was able to be on the podium and today I felt very good on the hills - it is incredible that I could be third today."
T-Mobile showed their dominance during this year's tour with Wood claming three of the four jerseys on offer. The magenta team also placed three riders in the top four, enough to bring home the overall team prize.
German national champion Claudia Hausler (Équipe Nürnberger) came out on top in the Queen of the Mountains standings, while her team-mate Worrack and Safi-Pasta's Bronzini divided up the remaining podium spots in the sprint and points competitions.
Photography
For a thumbnail gallery of these images, click here
Images by Mitch Friedman/www.mitchophoto.com
Images by Andrea Brewer Photography/www.andreabrewer.com
Images by CJ Farquharson/WomensCycling.net
Results
1 Oenone Wood (Aus) T-Mobile                              2.54.38 (39.5 km/h)
2 Trixi Worrack (Ger) Équipe Nürnberger Versicherung         0.02
3 Giorgia Bronzini (Ita) Safi - Pasta Zara Manhattan             
4 Amber Neben (USA) Team Flexpoint                           0.06
5 Kristin Armstrong (USA) TEAm Lipton                        0.07
6 Annette Butler (Swi) Vinci-Specialized-Menikini                
7 Andrea Graus (Aut) Équipe Nürnberger Versicherung              
8 Venera Absalyamova (Rus) Russian Cyclist Federation            
9 Katherine Bates (Aus) T-Mobile                                 
10 Lorian Graham (Aus) Australian National Team                  
11 Edwige Pitel (Fra) Team UNIQA                                 
12 Christine Thorburn (USA) Webcor Builders                      
13 Alex Wrubleski (Can) Colavita Sutter Home                     
14 Judith Arndt (Ger) T-Mobile                                   
15 Jocelyn Loane (Aus) Australian National Team                  
16 Anne Samplonius (Can) Team expresscopy.com                    
17 Alison Powers (USA) Colavita Sutter Home                      
18 Elena Novikova (Rus) Russian Cyclist Federation               
19 Yudelmis Dominguez (Cub) Cuba National Team               0.14
20 Diana Ziliute (Ltu) Safi - Pasta Zara Manhattan               
21 Joelle Numainville (Can) Team expresscopy.com                 
22 Claudia Häusler (Ger) Équipe Nürnberger Versicherung          
23 Olivia Gollan (Aus) Menikini - Selle Italia - Gysko           
24 Mara Abbott (USA) Webcor Builders                             
25 Brooke Miller (USA) Team TIBCO                            0.18
26 Leigh Hobson (Can) Cheerwine                              0.20
27 Vicki Whitelaw (Aus) Australian National Team             0.21
28 Marisa Asplund (USA) Team TIBCO                               
29 Su Fen Ma (Chn) Giant Pro Cycling                             
30 Christine Ruiter (USA) Cheerwine                              
31 Dotsie Bausch (USA) Colavita Sutter Home                  0.25
32 Yoanka Gonzalez (Cub) Cuba National Team                  0.27
33 Sara Carrigan (Aus) Australian National Team                  
34 Jenipher Stevenson (Can) Cascades                             
35 Tina Mayolo Pic (USA) Colavita Sutter Home                    
36 Helen Kelly (Aus) Webcor Builders                             
37 Yumari Gonzalez (Cub) Cuba National Team                      
38 Elena Gayun (Rus) Russian Cyclist Federation                  
39 Monika Schachl (Aut) Team UNIQA                               
40 Megan Guarnier (USA) Terry Precision                          
41 Serena Sheridan (NZl) New Zealand National Team               
42 Yeima Torres (Cub) Cuba National Team                         
43 Gina Waibl (NZl) New Zealand National Team                    
44 Iona Wynter (Jam) Colavita Sutter Home                        
45 Stacy Marple (USA) Team TIBCO                             0.36
46 Brooke Ourada (NZl) Cheerwine                                 
47 Candice Sullivan (Aus) Australian National Team           0.38
48 Kori Kelley Seehafer (USA) TEAm Lipton                        
49 Dalila Rodriguez (Cub) Cuba National Team                 0.45
50 Kathleen Billington (USA) Target Training                     
51 Katie Lambden (USA) Team TIBCO                                
52 Natasha Elliot (Can) Terry Precision                          
53 Carla Ryan (Aus) Australian National Team                 0.48
54 Joanie Caron (Can) Cascades                                   
55 Victoria Bastide (Swe) Team TIBCO                             
56 Daniela Fusar Poli (Ita) Safi - Pasta Zara Manhattan          
57 Rachel Heal (GBr) Webcor Builders                         0.50
58 Gina Grain (Can) Team expresscopy.com                     0.52
59 Michelle Hyland (NZl) New Zealand National Team           0.53
60 Stacy Spencer (Can) Colavita Sutter Home                      
61 Anna Milkowski (USA) Target Training                      0.56
62 Magali Tisseyre (Can) Marinoni-Cadence                        
63 Hiroko Shimada (Jpn) Target Training                          
64 Kristen Lasasso (USA) TEAm Lipton                             
65 Veronika Sprugl (Aut) Team UNIQA                              
66 Katheryn Curi (USA) Webcor Builders                       1.00
67 Ekaterina Malomura (Rus) Russian Cyclist Federation           
68 Liza Rachetto (USA) Team TIBCO                                
69 Marie Lindberg (Swe) Équipe Nürnberger Versicherung       1.03
70 Julie Marceau (Can) Marinoni-Cadence                      1.07
71 Alessandra Borchi (Ita) Safi - Pasta Zara Manhattan       1.10
72 Élodie Touffet (Fra) Menikini - Selle Italia - Gysko      1.12
73 Luisa Tamanini (Ita) Safi - Pasta Zara Manhattan              
74 Claudia Stumpf (Ger) Équipe Nürnberger Versicherung           
75 Johanne Cyr (Can) Cascades                                1.18
76 Ireen Wieditz (Can) Terry Precision                       1.21
77 Lauren Franges (USA) TEAm Lipton                          1.25
78 Elisa Gagnon (Can) Advil/Chapstick                        1.27
79 Erinne Willock (Can) Team expresscopy.com                     
80 Jennifer Reither (USA) Marinoni-Cadence                   1.30
81 Mandy Lozanno (USA) Target Training                       1.38
82 Chantal Beltman (Ned) T-Mobile                            1.46
83 Meredith Miller (USA) TEAm Lipton                         1.56
84 Alexandra Burchenkova (Rus) Russian Cyclist Federation        
85 Marina Duvnjak (NZl) New Zealand National Team            2.00
86 Anke Wichmann (Ger) T-Mobile                              2.04
87 Regina Schleicher (Ger) Équipe Nürnberger Versicherung    2.06
88 Tina Liebig (Ger) Getranke-Hoffmann                       3.36
89 Karol-Ann Kanuel (Can) Vinci-Specialized-Menikini         3.50
90 Theresa Senff (Ger) Getranke-Hoffmann                         
91 Sigrid Corneo (Ita) Menikini - Selle Italia - Gysko       7.34
92 Jennifer Wilson (USA) Marinoni-Cadence                   30.59
DNF Alexis Rhodes (Aus) T-Mobile                                 
DNF Lara Kroepsch (USA) TEAm Lipton                              
DNF Marie-Pier Bédard (Can) Vinci-Specialized-Menikini           
DNF Virginia Hennig (Ger) Getranke-Hoffmann                      
DNF Natalie Bates (Aus) Getranke-Hoffmann                        
DNF Elke Gebhardt (Ger) Getranke-Hoffmann                        
DNF Kirsten Robbins (Can) Advil/Chapstick                        
DNF Xiao Ning Gao (Chn) Giant Pro Cycling                        
DNF Fei Wang (Chn) Giant Pro Cycling                             
DNF Véronique Labonté (Can) Cascades                             
DNF Lila Fraser (Can) Cascades                                   
DNF Geneviève Gagnon (Can) Cascades                              
DNF Ann Hansgate (USA) Terry Precision                           
DNF Karine Tessier (Can) Marinoni-Cadence                        
DNS Karin Aune (Swe) Menikini - Selle Italia - Gysko             
DNS Rochelle Gilmore (Aus) Menikini - Selle Italia - Gysko       
DNS Loes Markerink (Ned) Team Flexpoint                          
DNS Suzanne Van Veen (Ned) Team Flexpoint                        
DNS Catherine Cheatley (NZl) Cheerwine                           
DNS Melissa Holt (NZl) Team expresscopy.com                      
 
Teams
 
1 T-Mobile                                                8.44.08
2 Équipe Nürnberger Versicherung                             0.09
3 Australian National Team                                   0.21
4 Colavita Sutter Home Presented by Cooking Light            0.25
5 Russian Cyclist Federation                                 0.27
6 Webcor Builders Women's Cycling Team                       0.34
7 Safi - Pasta Zara Manhattan                                0.50
8 Cuban National Team                                        0.54
9 Team expresscopy.com                                       0.59
10 Team TIBCO                                                1.01
11 Cheerwine                                                 1.03
12 Team UNIQA                                                1.16
13 Lipton                                                    1.27
14 New Zealand National Team                                 1.33
15 Cascades                                                  2.19
16 Terry Precision                                               
17 Target Training Womens Team                               2.23
18 Marinoni-Cadence                                          3.19
19 Menikini - Selle Italia - Gysko                           8.46
 
Final General classification
 
1 Oenone Wood (Aus) T-Mobile                              9.38.10
2 Trixi Worrack (Ger) Équipe Nürnberger Versicherung         0.11
3 Katherine Bates (Aus) T-Mobile                             0.30
4 Judith Arndt (Ger) T-Mobile                                0.33
5 Christine Thorburn (USA) Webcor Builders                   0.38
6 Andrea Graus (Aut) Équipe Nürnberger Versicherung          0.39
7 Alison Powers (USA) Colavita Sutter Home                       
8 Anne Samplonius (Can) Team expresscopy.com                 0.42
9 Elena Novikova (Rus) Russian Cyclist Federation                
10 Giorgia Bronzini (Ita) Safi - Pasta Zara Manhattan        0.43
11 Alex Wrubleski (Can) Colavita Sutter Home                 0.44
12 Brooke Miller (USA) Team TIBCO                            0.51
13 Venera Absalyamova (Rus) Russian Cyclist Federation       0.53
14 Kristin Armstrong (USA) TEAm Lipton                           
15 Diana Ziliute (Ltu) Safi - Pasta Zara Manhattan           0.55
16 Annette Butler (Swi) Vinci-Specialized-Menikini           0.57
17 Amber Neben (USA) Team Flexpoint                          0.58
18 Christine Ruiter (USA) Cheerwine                              
19 Leigh Hobson (Can) Cheerwine                              1.00
20 Iona Wynter (Jam) Colavita Sutter Home                    1.02
21 Edwige Pitel (Fra) Team UNIQA                             1.05
22 Sara Carrigan (Aus) Australian National Team              1.06
23 Jocelyn Loane (Aus) Australian National Team              1.07
24 Tina Mayolo Pic (USA) Colavita Sutter Home                1.08
25 Lorian Graham (Aus) Australian National Team                  
26 Yoanka Gonzalez (Cub) Cuba National Team                  1.10
27 Mara Abbott (USA) Webcor Builders                         1.11
28 Dotsie Bausch (USA) Colavita Sutter Home                  1.12
29 Marisa Asplund (USA) Team TIBCO                           1.17
30 Yudelmis Dominguez (Cub) Cuba National Team               1.18
31 Vicki Whitelaw (Aus) Australian National Team             1.19
32 Helen Kelly (Aus) Webcor Builders                             
33 Olivia Gollan (Aus) Menikini - Selle Italia - Gysko       1.21
34 Megan Guarnier (USA) Terry Precision                      1.29
35 Serena Sheridan (NZl) New Zealand National Team               
36 Claudia Häusler (Ger) Équipe Nürnberger Versicherung      1.31
37 Gina Waibl (NZl) New Zealand National Team                1.32
38 Kori Kelley Seehafer (USA) TEAm Lipton                    1.37
39 Stacy Marple (USA) Team TIBCO                             1.40
40 Jenipher Stevenson (Can) Cascades                         1.41
41 Candice Sullivan (Aus) Australian National Team           1.44
42 Rachel Heal (GBr) Webcor Builders                         1.46
43 Monika Schachl (Aut) Team UNIQA                           1.50
44 Katheryn Curi (USA) Webcor Builders                       1.52
45 Gina Grain (Can) Team expresscopy.com                     1.58
46 Victoria Bastide (Swe) Team TIBCO                             
47 Brooke Ourada (NZl) Cheerwine                             2.02
48 Marie Lindberg (Swe) Équipe Nürnberger Versicherung           
49 Daniela Fusar Poli (Ita) Safi - Pasta Zara Manhattan      2.03
50 Dalila Rodriguez (Cub) Cuba National Team                     
51 Alessandra Borchi (Ita) Safi - Pasta Zara Manhattan       2.04
52 Kristen Lasasso (USA) TEAm Lipton                         2.05
53 Joanie Caron (Can) Cascades                               2.11
54 Liza Rachetto (USA) Team TIBCO                            2.17
55 Élodie Touffet (Fra) Menikini - Selle Italia - Gysko      2.24
56 Lauren Franges (USA) TEAm Lipton                              
57 Chantal Beltman (Ned) T-Mobile                            2.25
58 Hiroko Shimada (Jpn) Target Training                      2.26
59 Luisa Tamanini (Ita) Safi - Pasta Zara Manhattan          2.29
60 Regina Schleicher (Ger) Équipe Nürnberger Versicherung    2.35
61 Michelle Hyland (NZl) New Zealand National Team           2.50
62 Erinne Willock (Can) Team expresscopy.com                 2.51
63 Claudia Stumpf (Ger) Équipe Nürnberger Versicherung       2.53
64 Kathleen Billington (USA) Target Training                 2.58
65 Carla Ryan (Aus) Australian National Team                 3.00
66 Anke Wichmann (Ger) T-Mobile                              3.03
67 Stacy Spencer (Can) Colavita Sutter Home                  3.08
68 Meredith Miller (USA) TEAm Lipton                         3.11
69 Alexandra Burchenkova (Rus) Russian Cyclist Federation    4.11
70 Tina Liebig (Ger) Getranke-Hoffmann                       4.49
71 Theresa Senff (Ger) Getranke-Hoffmann                     4.58
72 Katie Lambden (USA) Team TIBCO                            5.02
73 Jennifer Reither (USA) Marinoni-Cadence                   6.00
74 Marina Duvnjak (NZl) New Zealand National Team            7.47
75 Sigrid Corneo (Ita) Menikini - Selle Italia - Gysko       8.46
76 Joelle Numainville (Can) Team expresscopy.com            12.07
77 Natasha Elliot (Can) Terry Precision                     12.45
78 Veronika Sprugl (Aut) Team UNIQA                         12.57
79 Anna Milkowski (USA) Target Training                     13.01
80 Ekaterina Malomura (Rus) Russian Cyclist Federation      13.29
81 Yumari Gonzalez (Cub) Cuba National Team                 17.19
82 Elisa Gagnon (Can) Advil/Chapstick                       18.04
83 Julie Marceau (Can) Marinoni-Cadence                     19.38
84 Elena Gayun (Rus) Russian Cyclist Federation             20.55
85 Ireen Wieditz (Can) Terry Precision                      20.56
86 Karol-Ann Kanuel (Can) Vinci-Specialized-Menikini        22.16
87 Su Fen Ma (Chn) Giant Pro Cycling                        25.34
88 Mandy Lozanno (USA) Target Training                      26.36
89 Yeima Torres (Cub) Cuba National Team                    28.08
90 Magali Tisseyre (Can) Marinoni-Cadence                   32.22
91 Johanne Cyr (Can) Cascades                               36.13
92 Jennifer Wilson (USA) Marinoni-Cadence                   37.59
 
Points classification
 
1 Oenone Wood (Aus) T-Mobile                                   34 pts
2 Giorgia Bronzini (Ita) Safi - Pasta Zara Manhattan           22
3 Regina Schleicher (Ger) Équipe Nürnberger Versicherung       21
4 Trixi Worrack (Ger) Équipe Nürnberger Versicherung           17
5 Judith Arndt (Ger) T-Mobile                                  10
6 Dotsie Bausch (USA) Colavita Sutter Home                      7
7 Kristin Armstrong (USA) TEAm Lipton                           4
8 Elena Novikova (Rus) Russian Cyclist Federation               3
9 Chantal Beltman (Ned) T-Mobile                                3
10 Amber Neben (USA) Team Flexpoint                             3
11 Andrea Graus (Aut) Équipe Nürnberger Versicherung            1
 
Montains classification
 
1 Claudia Häusler (Ger) Équipe Nürnberger Versicherung         18 pts
2 Carla Ryan (Aus) Australian National Team                    17
3 Christine Ruiter (USA) Cheerwine                             15
4 Trixi Worrack (Ger) Équipe Nürnberger Versicherung           14
5 Katheryn Curi (USA) Webcor Builders                          12
6 Lorian Graham (Aus) Australian National Team                 10
7 Elena Gayun (Rus) Russian Cyclist Federation                 10
8 Oenone Wood (Aus) T-Mobile                                    8
9 Chantal Beltman (Ned) T-Mobile                                7
10 Kristin Armstrong (USA) TEAm Lipton                          7
11 Olivia Gollan (Aus) Menikini - Selle Italia - Gysko          7
12 Christine Thorburn (USA) Webcor Builders                     5
13 Andrea Graus (Aut) Équipe Nürnberger Versicherung            5
14 Giorgia Bronzini (Ita) Safi - Pasta Zara Manhattan           3
15 Judith Arndt (Ger) T-Mobile                                  3
16 Meredith Miller (USA) TEAm Lipton                            3
17 Brooke Miller (USA) Team TIBCO                               1
18 Élodie Touffet (Fra) Menikini - Selle Italia - Gysko         1
19 Elena Novikova (Rus) Russian Cyclist Federation              1

Sprint classification
 
1 Oenone Wood (Aus) T-Mobile                                   44 pts
2 Trixi Worrack (Ger) Équipe Nürnberger Versicherung           36
3 Giorgia Bronzini (Ita) Safi - Pasta Zara Manhattan           22
4 Regina Schleicher (Ger) Équipe Nürnberger Versicherung       21
5 Katherine Bates (Aus) T-Mobile                               15
6 Judith Arndt (Ger) T-Mobile                                  14
7 Anke Wichmann (Ger) T-Mobile                                 10
8 Dotsie Bausch (USA) Colavita Sutter Home                      7
9 Kristin Armstrong (USA) TEAm Lipton                           7
10 Sara Carrigan (Aus) Australian National Team                 5
11 Christine Ruiter (USA) Cheerwine                             5
12 Chantal Beltman (Ned) T-Mobile                               4
13 Rochelle Gilmore (Aus) Menikini - Selle Italia - Gysko       4
14 Elena Novikova (Rus) Russian Cyclist Federation              3
15 Christine Thorburn (USA) Webcor Builders                     3
16 Katheryn Curi (USA) Webcor Builders                          3
17 Amber Neben (USA) Team Flexpoint                             3
18 Alison Powers (USA) Colavita Sutter Home                     1
19 Elke Gebhardt (Ger) Getranke-Hoffmann                        1
20 Andrea Graus (Aut) Équipe Nürnberger Versicherung            1
21 Helen Kelly (Aus) Webcor Builders                            1
22 Meredith Miller (USA) TEAm Lipton                            1 

Teams classification
 
1 T-Mobile                                               28.56.21
2 Équipe Nürnberger Versicherung                             0.14
3 Colavita Sutter Home Presented by Cooking Light            0.25
4 Russian Cyclist Federation                                 1.02
5 Webcor Builders Women's Cycling Team                       1.17
6 Australian National Team                                   1.24
7 Safi - Pasta Zara Manhattan                                1.45
8 Cheerwine                                                  1.49
9 Team TIBCO                                                 1.57
10 Lipton                                                    2.00
11 Cuban National Team                                       2.02
12 Team expresscopy.com                                      2.07
13 Team UNIQA                                                3.06
14 New Zealand National Team                                 3.52
15 Menikini - Selle Italia - Gysko                          10.27
16 Cascades                                                 12.58
17 Target Training Womens Team                              16.32
18 Terry Precision                                          27.54
19 Marinoni-Cadence                                         30.32