22nd Tour de Beauce - 2.2
Canada, June 12-17, 2007
Main Page Results Overall standings Stage Details Next Stage
Stage 1 - June 12: Lac Etchemin, 180 km
Walters solos to win in Beauce opener
By Mark Zalewski, North American Editor in Lac-Etchemin, Québec
Kodak Gallery Canadians finish one, two
Mark Walters (Kodak Gallery)
Photo ©: Mark Zalewski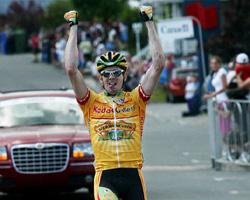 Mark Walters (Kodak Gallery) took his first win for his new team today in Lac-Etchemin, and his first win in about a year. "This is the first race I have won in a long time and I did it solo, which is the way I prefer to win races," he told Cyclingnews after the race. "It's a new team and I am showing what I can do with teammates working for me."
Walters attacked a breakaway of ten with 12 kilometres to go in a hilly opening stage of the Tour de Beauce. The six-time Canadian champion was sore and tired from racing (and crashing) in Philadelphia, just two days ago. "It was really hard with my crash in the final turn. My ribs were really sore - I didn't feel it at the end but in the beginning I felt it every time I stepped on my right pedal," he said. "There was a lot of attacking going on, but I just waited for a time between the hills where the guys were sitting up a little. I just took a shot at it and hoped I would catch them tired and getting lazy."
Hector Hugo Rangel (Tecos-Trek)
Photo ©: Mark Zalewski

Walters was followed by the nine riders left in the main break 26 second later. Leading this pack to the line was Walters' teammate, and current Canadian champion, Dominique Rollin. "I knew I was the only sprinter," said Rollin about the make-up of the break. "I won this stage two years ago, so I knew exactly where to go in the sprint, especially with the downhill drag."
Two Navigators Insurance riders were present in the break, but that was not enough to satisfy team director Ed Beamon. "It wasn't an ideal situation with only two guys up there," he said. "So we attacked the last KOM to split it up which worked pretty good - that put the Mexicans out a little and they climb really well. We just didn't have the numbers up there and I didn't want to let it get 25 minutes."
The chase group
Photo ©: Mark Zalewski

One of the two Navigators was David O'Loughlin, who drove up a lot of the climbs trying to catch Walters in the end. "We have a really strong team here and two is not really enough," he said. "We had our guys in the back smash it over the last climb and try to get across, but it was too big of a gap and we left it a little too late. I think the rest of the week is going to be a lot like this, with big time gaps."
Walters is definitely satisfied with getting the first win of the season out of the way, but is optimistic about his chances for the overall. "There are still a lot of guys that are good time trialers, but we will see how it goes," said Walters. "This shows that I am going well and I am certainly no more fresh than any of the other guys that did Philly week."
How it unfolded
The field took its time
Photo ©: Mark Zalewski

There was certainly no hurry to start racing today. With beautiful clear to partly cloudy skies and mild temperatures, the peloton sat back and enjoyed the spectacular Beauce countryside. The fact that almost a third of the field suffered through Philly week last week likely added to the slow start. "I could not believe how hard a 181km could be!" said Svein Tuft who rode hard in Philadelphia.
Finally, while the peloton chatted away, Jean-Sebastian Beland (Volkswagen-Trek) took the opportunity to give his team some television time. He rode solo for a while, building an advantage of more than a few minutes. Eventually the field put their knitting away and turned on the gas.
Mark Walters (Kodak Gallery)
Photo ©: Mark Zalewski

With the gap more than six minutes a few riders broke away to bridge across. After a few more kilometers and a KOM climb, a group of fifteen caught and passed Beland, including: Mark Walters and Dominique Rollin (Kodak Gallery), Jacob Erker and Svein Tuft (Symmetrics), Ben Day and David O'Loughlin (Navigators Insurance), Danny Pate (Team Slipstream), Philipp Mamos (Team Sparkasse) and Dominique Perras (Équipe du Quebec).
At first the group rolled rather steady but not really motivated. "Once the gap went up without doing much work, guys started really rolling," said Tuft. However, after a while the gap got too big for Navigators and the remaining teammates back in the peloton drove the pace. "Initially they pulled but then the chase group developed so they stopped pulling," said Walters.
Canadian champion Dominque Rollin (Kodak Gallery)
Photo ©: Mark Zalewski

But the timing was too late - over the third and final KOM of the day the break still had four minutes and looked to stay away. Thirty kilometres from the finish the attacks started, and never really stopped. "You had to [attack]," said Pate. "The hills were small enough and you were either attacking or accelerating on the guys wheel, which is about the same."
The attacking shrunk the break down to a final 10 before Walters made his move with 12km to go - and never looked back. "For us it was the perfect move - I had Jacob there covering a million moves," said Tuft, who was content to finish in the lead group behind his countryman. "I was happy for Mark to win - we weren't going to chase that back. He fought hard for the win."
Tomorrow's second stage is a brand new parcours starting and finishing in Vallée-Jonction, and is a 171km loop with three KOM climbs.
Photography
For a thumbnail gallery of these images, click here
Images by Mark Zalewski/Cyclingnews.com
Images by Jerome Lessard
Results
1 Mark Walters (Can) Kodak Gallery Pro Cycling Team     4.48.59
2 Dominique Rollin (Can) Kodak Gallery Pro Cycling Team    0.26
3 Jacob Erker (Can) Symmetrics                                 
4 Ben Day (Aus) Navigators Insurance                           
5 David O'loughlin (Irl) Navigators Insurance                  
6 Danny Pate (USA) Team Slipstream                             
7 Juan Pablo Magallanes Arawda (Mex) Tecos Trek Vh             
8 Philipp Mamos (Ger) Team Sparkasse                           
9 Dominique Perras (Can) Québec                                
10 Svein Tuft (Can) Symmetrics                                 
11 Gregorio Ladino Vega (Col) Tecos Trek Vh                    
12 Soren Petersen (Den) Farso Denmark Nat                  1.32
13 Craig Mccarney (Aus) Savings And Loans Cycling Team     5.11
14 Jacob Nielsen (Den) Farso Denmark Nat                   9.29
15 Charles Dionne (Can) Québec                            14.02
16 Tilo Schüler (Ger) Team Sparkasse                           
17 Ryan Mckenzie (Can) Volkswagen Trek                         
18 Jamie Sparling (Can) La_Z_Boy                          14.07
19 Derrick St-John (Can) Garneau - Crocs                       
20 Peter Morse (Can) Tean Spin 12                              
21 Stefan Parinussa (Ger) Team Sparkasse                       
22 Rob Britton (Can) La_Z_Boy                                  
23 Ben Raby (USA) Kodak Gallery Pro Cycling Team               
24 Luis Fernando Macias (Mex) Tecos Trek Vh                    
25 Glen Alan Chadwick (NZl) Navigators Insurance               
26 Francois Parisien (Can) Team Slipstream                     
27 Joel Dion-Poitras (Can) Eva-Devinci                         
28 Connor Trevor (Can) La_Z_Boy                                
29 Hector Hugo Rangel (Mex) Tecos Trek Vh                      
30 Lars Wackernagel (Ger) Team Sparkasse                       
31 Christian Meier (Can) Symmetrics                            
32 Buck Milller (Can) Team R.A.C.E                             
33 Mathieu Roy (Can) Eva-Devinci                               
34 Ivor Bruin (Den) Farso Denmark Nat                          
35 Eric Wohlberg (Can) Symmetrics                              
36 David Pell (Aus) Savings And Loans Cycling Team             
37 Alex Howes (USA) Team Slipstream                            
38 Fausto Esparza (Mex) Tecos Trek Vh                          
39 Timo Honstein (Ger) Team Sparkasse                          
40 Andreas Schillinger (Ger) Team Sparkasse                    
41 Andrew Randell (Can) Symmetrics                             
42 Sergey Lagutin (Uzb) Navigators Insurance                   
43 Pascal Bussières (Can) Québec                               
44 Dirk Müller (Ger) Team Sparkasse                            
45 Valeriy Kobzarenko (Ukr) Navigators Insurance               
46 John Fredy Parra Calada (Col) Tecos Trek Vh                 
47 Heberth Gutierrez Garcia (Col) Tecos Trek Vh                
48 Mike Dietrich (USA) Kodak Gallery Pro Cycling Team          
49 Will Routley (Can) Symmetrics                               
50 Ciarán Power (Irl) Navigators Insurance                     
51 Greg Reain (Can) Calyon-Litespeed                           
52 Cameron Evans (Can) Symmetrics                              
53 Ian Macgregor (USA) Team Slipstream                         
54 Dustin Macbernie (Can) Team R.A.C.E                         
55 Peter Mueller (Aus) Savings And Loans Cycling Team          
56 Dan Timmerman (USA) Kodak Gallery Pro Cycling Team          
57 Tim Hucker (Aus) Garneau - Crocs                       18.59
58 William Goodfellow (Can) Volkswagen Trek                    
59 Benjamin Martel (Can) Garneau - Crocs                       
60 Jamie Lamb (Can) Garneau - Crocs                            
61 Michael Joanisse (Can) Garneau - Crocs                      
62 Peter Ladd (Aus) Garneau - Crocs                            
63 Rene Ahrenkiel (Den) Farso Denmark Nat                      
64 Mark Batty (Can) Team R.A.C.E                               
65 André Tremblay (Can) Volkswagen Trek                        
66 Maxime Vives (Can) Calyon-Litespeed                         
67 Jean-François Racine (Can) Garneau - Crocs                  
68 David Veilleux (Can) Québec                                 
69 Cody O'rielly (USA) Kodak Gallery Pro Cycling Team          
70 Ryan Beliveau (Can) Calyon-Litespeed                        
71 Charly Vives (Can) Calyon-Litespeed                         
72 Will Dickison (Aus) Savings And Loans Cycling Team          
73 Thorben Wieditz (Can) Tean Spin 12                          
74 Matt Guse (Can) Calyon-Litespeed                       19.02
75 Mark Pozniak (Can) Team R.A.C.E                             
76 Martin Gilbert (Can) Québec                                 
77 Adam Thuss (Can) Team R.A.C.E                               
78 Keven Lacombe (Can) Volkswagen Trek                         
79 Morten Christiansen (Den) Farso Denmark Nat                 
80 Charlie Bryer (Can) Tean Spin 12                            
81 Jean-Sebastien Perron (Can) Calyon-Litespeed                
82 Dave Vukets (Can) Tean Spin 12                              
83 Éric Boily (Can) Eva-Devinci                                
84 Oleg Grishkin (Rus) Navigators Insurance                    
85 Phil Cortes (Can) Calyon-Litespeed                     19.27
86 Brett Aitken (Aus) Savings And Loans Cycling Team      25.12
87 Jesse Athony (USA) Kodak Gallery Pro Cycling Team      26.57
88 Jeffrey Dirksen (Ned) Team R.A.C.E                     32.26
89 Jean-Sébastien Beland (Can) Volkswagen Trek            32.29
90 Troy Wells (USA) Tean Spin 12                               
91 Ugo Lapierre (Can) Farso Denmark Nat                   39.01
92 Charles Thibault (Can) Eva-Devinci                          
93 Eric Robertson (Can) Team R.A.C.E                           
94 Jesper Lund (Den) Farso Denmark Nat                    44.46
95 Tyler Trace (Can) La_Z_Boy                           1.03.05
96 Dave Brooks (Can) La_Z_Boy                                  
97 Ryan Mcnamara (Can) La_Z_Boy                                
98 Ian Manning (Can) Tean Spin 12                       1.13.46
99 Camron Holt (NZl) Tean Spin 12                              
DNF Mike Friedman (USA) Team Slipstream                        
DNF Charles Bradley Huff (USA) Team Slipstream                 
DNF Christian Deshaies (Can) Volkswagen Trek                   
DNF Frédéric Boivin (Can) Eva-Devinci                          
DNF Raphael Tremblay (Can) Eva-Devinci                         
DNF Alexandre Cloutier (Can) Québec                            
 
Points
 
1 Dominique Rollin (Can) Kodak Gallery Pro Cycling Team      17 pts
2 Mark Walters (Can) Kodak Gallery Pro Cycling Team          15
3 Jacob Erker (Can) Symmetrics                               13
4 Ben Day (Aus) Navigators Insurance                         12
5 David O'loughlin (Irl) Navigators Insurance                11
6 Danny Pate (USA) Team Slipstream                           10
7 Philipp Mamos (Ger) Team Sparkasse                          9
8 Juan Pablo Magallanes Arawda (Mex) Tecos Trek Vh            9
9 Dominique Perras (Can) Québec                               7
10 Svein Tuft (Can) Symmetrics                                6
11 Gregorio Ladino Vega (Col) Tecos Trek Vh                   5
12 Soren Petersen (Den) Farso Denmark Nat                     4
13 Jean-Sébastien Beland (Can) Volkswagen Trek                3
14 Craig Mccarney (Aus) Savings And Loans Cycling Team        3
15 Stefan Parinussa (Ger) Team Sparkasse                      2
16 Andreas Schillinger (Ger) Team Sparkasse                   2
17 Jacob Nielsen (Den) Farso Denmark Nat                      2
18 Ryan Mckenzie (Can) Volkswagen Trek                        1
19 Charles Dionne (Can) Québec                                1
 
Mountains 1 
 
1 Jean-Sébastien Beland (Can) Volkswagen Trek                 7 pts
2 Dustin Macbernie (Can) Team R.A.C.E                         5
3 Gregorio Ladino Vega (Col) Tecos Trek Vh                    3
4 Valeriy Kobzarenko (Ukr) Navigators Insurance               2
5 Glen Alan Chadwick (NZl) Navigators Insurance               1
 
Mountains 2
 
1 Gregorio Ladino Vega (Col) Tecos Trek Vh                   10 pts
2 Ben Day (Aus) Navigators Insurance                          8
4 Philipp Mamos (Ger) Team Sparkasse                          6
3 Dominique Perras (Can) Québec                               5
9 David O'loughlin (Irl) Navigators Insurance                 4
11 Svein Tuft (Can) Symmetrics                                3
7 Andreas Schillinger (Ger) Team Sparkasse                    2
6 Mark Walters (Can) Kodak Gallery Pro Cycling Team           1
 
Teams
 
1 Kodak Gallery Pro Cycling Team                       14.41.30
2 Navigators Insurance                                     0.26
3 Tecos Trek Vh                                                
4 Symmetrics                                                   
5 Farso Denmark Nat                                       10.55
6 Team Sparkasse                                          14.02
7 Québec                                                       
8 Team Slipstream                                         14.07
9 Savings And Loans Cycling Team                          18.52
10 La_Z_Boy                                               28.08
11 Team R.A.C.E                                           32.40
12 Eva-Devinci                                            32.43
13 Volkswagen Trek                                        37.27
14 Garneau - Crocs                                        37.32
15 Calyon-Litespeed                                            
16 Tean Spin 12                                           37.35
 
General Classification after Stage 1
 
1 Mark Walters (Can) Kodak Gallery Pro Cycling Team     4.48.49
2 Dominique Rollin (Can) Kodak Gallery Pro Cycling Team    0.27
3 Jacob Erker (Can) Symmetrics                             0.32
4 Philipp Mamos (Ger) Team Sparkasse                       0.35
5 Ben Day (Aus) Navigators Insurance                       0.36
6 David O'loughlin (Irl) Navigators Insurance                  
7 Danny Pate (USA) Team Slipstream                             
8 Juan Pablo Magallanes Arawda (Mex) Tecos Trek Vh             
9 Dominique Perras (Can) Québec                                
10 Svein Tuft (Can) Symmetrics                                 
11 Gregorio Ladino Vega (Col) Tecos Trek Vh                    
12 Soren Petersen (Den) Farso Denmark Nat                  2.02
13 Craig Mccarney (Aus) Savings And Loans Cycling Team     5.21
14 Jacob Nielsen (Den) Farso Denmark Nat                   9.39
15 Ryan Mckenzie (Can) Volkswagen Trek                    14.11
16 Charles Dionne (Can) Québec                            14.12
17 Tilo Schüler (Ger) Team Sparkasse                           
18 Stefan Parinussa (Ger) Team Sparkasse                  14.15
19 Andreas Schillinger (Ger) Team Sparkasse                    
20 Derrick St-John (Can) Garneau - Crocs                  14.17
21 Peter Morse (Can) Tean Spin 12                              
22 Rob Britton (Can) La_Z_Boy                                  
23 Ben Raby (USA) Kodak Gallery Pro Cycling Team               
24 Luis Fernando Macias (Mex) Tecos Trek Vh                    
25 Glen Alan Chadwick (NZl) Navigators Insurance               
26 Francois Parisien (Can) Team Slipstream                     
27 Joel Dion-Poitras (Can) Eva-Devinci                         
28 Connor Trevor (Can) La_Z_Boy                                
29 Hector Hugo Rangel (Mex) Tecos Trek Vh                      
30 Lars Wackernagel (Ger) Team Sparkasse                       
31 Christian Meier (Can) Symmetrics                            
32 Buck Milller (Can) Team R.A.C.E                             
33 Mathieu Roy (Can) Eva-Devinci                               
34 Ivor Bruin (Den) Farso Denmark Nat                          
35 Eric Wohlberg (Can) Symmetrics                              
36 David Pell (Aus) Savings And Loans Cycling Team             
37 Alex Howes (USA) Team Slipstream                            
38 Fausto Esparza (Mex) Tecos Trek Vh                          
39 Timo Honstein (Ger) Team Sparkasse                          
40 Andrew Randell (Can) Symmetrics                             
41 Sergey Lagutin (Uzb) Navigators Insurance                   
42 Pascal Bussières (Can) Québec                               
43 Dirk Müller (Ger) Team Sparkasse                            
44 Valeriy Kobzarenko (Ukr) Navigators Insurance               
45 John Fredy Parra Calada (Col) Tecos Trek Vh                 
46 Heberth Gutierrez Garcia (Col) Tecos Trek Vh                
47 Mike Dietrich (USA) Kodak Gallery Pro Cycling Team          
48 Will Routley (Can) Symmetrics                               
49 Ciarán Power (Irl) Navigators Insurance                     
50 Greg Reain (Can) Calyon-Litespeed                           
51 Cameron Evans (Can) Symmetrics                              
52 Ian Macgregor (USA) Team Slipstream                         
53 Dustin Macbernie (Can) Team R.A.C.E                         
54 Peter Mueller (Aus) Savings And Loans Cycling Team          
55 Dan Timmerman (USA) Kodak Gallery Pro Cycling Team          
56 Jamie Sparling (Can) La_Z_Boy                          14.37
57 Tim Hucker (Aus) Garneau - Crocs                       19.09
58 William Goodfellow (Can) Volkswagen Trek                    
59 Benjamin Martel (Can) Garneau - Crocs                       
60 Jamie Lamb (Can) Garneau - Crocs                            
61 Michael Joanisse (Can) Garneau - Crocs                      
62 Peter Ladd (Aus) Garneau - Crocs                            
63 Rene Ahrenkiel (Den) Farso Denmark Nat                      
64 Mark Batty (Can) Team R.A.C.E                               
65 André Tremblay (Can) Volkswagen Trek                        
66 Maxime Vives (Can) Calyon-Litespeed                         
67 Jean-François Racine (Can) Garneau - Crocs                  
68 David Veilleux (Can) Québec                                 
69 Cody O'rielly (USA) Kodak Gallery Pro Cycling Team          
70 Ryan Beliveau (Can) Calyon-Litespeed                        
71 Charly Vives (Can) Calyon-Litespeed                         
72 Will Dickison (Aus) Savings And Loans Cycling Team          
73 Thorben Wieditz (Can) Tean Spin 12                          
74 Matt Guse (Can) Calyon-Litespeed                       19.12
75 Mark Pozniak (Can) Team R.A.C.E                             
76 Martin Gilbert (Can) Québec                                 
77 Adam Thuss (Can) Team R.A.C.E                               
78 Keven Lacombe (Can) Volkswagen Trek                         
79 Morten Christiansen (Den) Farso Denmark Nat                 
80 Charlie Bryer (Can) Tean Spin 12                            
81 Jean-Sebastien Perron (Can) Calyon-Litespeed                
82 Dave Vukets (Can) Tean Spin 12                              
83 Éric Boily (Can) Eva-Devinci                                
84 Oleg Grishkin (Rus) Navigators Insurance                    
85 Phil Cortes (Can) Calyon-Litespeed                     19.37
86 Brett Aitken (Aus) Savings And Loans Cycling Team      25.22
87 Jesse Athony (USA) Kodak Gallery Pro Cycling Team      27.07
88 Jeffrey Dirksen (Ned) Team R.A.C.E                     32.36
89 Jean-Sébastien Beland (Can) Volkswagen Trek                 
90 Troy Wells (USA) Tean Spin 12                          32.39
91 Ugo Lapierre (Can) Farso Denmark Nat                   39.11
92 Charles Thibault (Can) Eva-Devinci                          
93 Eric Robertson (Can) Team R.A.C.E                           
94 Jesper Lund (Den) Farso Denmark Nat                    44.56
 
Mountains classification
 
1 Gregorio Ladino Vega (Col) Tecos Trek Vh                   21 pts
2 Ben Day (Aus) Navigators Insurance                         18
3 Dominique Perras (Can) Québec                              10
4 Philipp Mamos (Ger) Team Sparkasse                          8
5 Jean-Sébastien Beland (Can) Volkswagen Trek                 7
6 Mark Walters (Can) Kodak Gallery Pro Cycling Team           7
7 Andreas Schillinger (Ger) Team Sparkasse                    5
8 Dustin Macbernie (Can) Team R.A.C.E                         5
9 David O'loughlin (Irl) Navigators Insurance                 4
10 Juan Pablo Magallanes Arawda (Mex) Tecos Trek Vh           4
11 Svein Tuft (Can) Symmetrics                                3
12 Valeriy Kobzarenko (Ukr) Navigators Insurance              2
13 Glen Alan Chadwick (NZl) Navigators Insurance              1
14 Dominique Rollin (Can) Kodak Gallery Pro Cycling Team      1
 
Teams classification
 
1 Kodak Gallery Pro Cycling Team                       14.41.30
2 Navigators Insurance                                     0.26
3 Tecos Trek Vh                                                
4 Symmetrics                                                   
5 Farso Denmark Nat                                       10.55
6 Team Sparkasse                                          14.02
7 Québec                                                       
8 Team Slipstream                                         14.07
9 Savings And Loans Cycling Team                          18.52
10 La_Z_Boy                                               28.08
11 Team R.A.C.E                                           32.40
12 Eva-Devinci                                            32.43
13 Volkswagen Trek                                        37.27
14 Garneau - Crocs                                        37.32
15 Calyon-Litespeed                                            
16 Tean Spin 12                                           37.35