Geelong Women's Tour - 2.2
Australia, February 27-March 1, 2007
T-Mobile holding the aces for Geelong Tour and World Cup
By John Flynn in Geelong, Australia
Ina Teutenberg (T-Mobile)
Photo ©: John Veage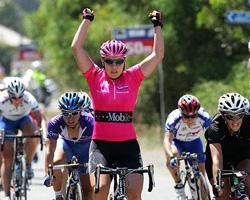 German juggernaut T-Mobile enters today's opening stage of the Geelong Women's Tour as the team to watch - with its galaxy of stars including last year's Geelong Tour winner Oenone Wood (formerly Nürnberger) and 2006 Geelong World Cup Winner Ina-Yoko Teutenberg.
Wood, who is one of three Australians in the T-Mobile lineup for the Tour is returning from a longer than usual off-season. It's a deliberate measure which the former World Cup Series Champion hopes will lead to success in Europe in 2007.
"For quite a few of us it's the first race of the season and a little bit of an unknown," Wood told Cyclingnews before the start of today's Geelong Tour's opening stage. "But I think we have an incredibly strong team here so we've got a great chance to win the individual stages and win the whole Tour."
T-Mobile has no shortage of options in Geelong, including Wood's Australian team-mates Australian criterium champion Alexis Rhodes and 2006 Australian Road Race Champion Kate Bates.
But it's T-mobile's sprint weapon Ina-Yoko Teutenberg who is rumoured to be in just as sharp form as she was in 2006, when the German champion won the Geelong World Cup.
Teutenberg has spent the Australian summer training and racing in Sydney and, according to T-Mobile's new Directeur Sportif Anna Wilson, will be a rider to watch.
"I've been hearing rumours about her from Melbourne when she's been riding the bunches in Sydney and beating the guys in sprints." Wilson said. "All six of our riders are capable of winning, so that gives us a huge advantage,"
The Geelong Tour begins with an eight kilometre time trial on the waterfront at Port Arlington.