Tour of California - 2.HC
USA, February 18-25, 2007
CSC eyes the overall in Californian stage race
Fabian Cancellara leads Team CSC on general classification
Photo ©: Jon Devich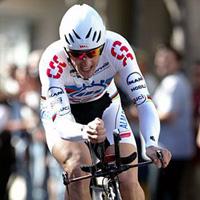 The pre-race training camp of ProTour outfits like Team CSC is indicative of race's growing importance. Now, the Danish-registered super-squad is prepped and ready for glory at the Tour of California, reports Cyclingnews' Kirsten Robbins.
Team CSC has begun the 2007 Tour of California coming off a ten-day training camp in Gilory, California. The Prologue on Sunday in downtown San Francisco saw CSC's Fabian Cancellara get things going with a fifth place in the 3.1km opener to the Californian race. After a controversial finish to Stage 1, the Swiss rider continues to sit just six seconds behind Discovery Channel's American race leader Levi Leipheimer.
According to US national time trial champion, CSC's Dave Zabriskie, who admits he's not in his best form at this stage of the season, the squad that's been assembled for the Tour of California is up to the challenge of getting one of its riders into top spot on general classification by the time the peloton rolls into Long Beach.
"From what I have seen at the camp, most of the guys are pretty strong and Bobby Julich seems to be in the best shape as far as the people who are racing," said Zabriski, who fell. "If he rides himself into the leader's jersey we are going to support him this week."
Team CSC's director sportif, Bjarne Riis, put the crew to the test during the training camp, with close to one thousand kilometres covered in some seven-hour rides, with riders burning close to 5500KJ of energy in the day, as well as doing intervals that suit each rider's discipline.
Riis writes the training programs for many of the riders on the team allowing leeway for the more seasoned riders like Jens Voigt, arguably CSC's most aggressive rider. "Bjarne has kept us at a good level before camp so that we can handle the workload that was put on us here," Voigt said.
"If Julrich rides himself into the leader's jersey we are going to support him."
- Dave Zabriskie throws his support behind the team's bid for victory
"We did a lot of tests working on our strengths and endurance. I can see that everyone is improving here. I don't know how Bjarne does it but he always manages to bring the riders to the brim when training to their maximum for a few days and then allows them to rest to be fresh for the next set days of training. Just before we feel like we can't do anymore, he stops our training to allow us to rest. That is what Bjarne is best at; he makes us train hard and pulls the most out of us to get the maximum from us and just before he cooks us, he tells us to stop, that's enough," the popular German rider said.
"We start as one unit and then go to ride at some medium efforts," Voigt said. "Then we always regroup for hill training. We wait for each other at the top and go descend together. Everyone trains at different levels during the intervals.
"Bjarne gives everyone the amount of watts they should be pushing and then we regroup when everyone gets their work done. Bjarne spends the time to make training programs for everyone during the season and if the riders want, he makes their off-season programs, too. I am old enough to know what I need to do in the winter months and Bjarne trusts me that I train hard so my program is only for specific intervals designed for races like Paris-Nice."
CSC brought its 'A game'
Bobby Julich is in race-winning condition
Photo ©: Jon Devich

To paraphrase Julich's comment from the final press conference of last year's ToC, CSC has brought its 'A game' to the Californian stage race and plans on using it to win the overall classification this year. It won the teams classification last year, with Zabriskie and Julich in second and third in the overall classification, respectively.
For 2007, CSC stepped it up a gear, including riders like Cancellara, Switzerland's reigning world time trial champion, as welll as Argentine sprinter, J.J. Haedo, who won two stages in last year's event while with Toyota - United Pro.
"Well if you can't beat him, buy him," Julich said in a pre-race press conference about the sprinting revelation of last year's race.
"As for the Tour of California, it's just us and the carnage," Voigt said plainly. "We have brought together a lot of horsepower. We also have three American riders who are very motivated for this race. Cancerella, myself, Haedo, O'Grady, we have a lot of strong riders and a good mix of everything for the Tour of California. We have riders that can go in a break, win a bunch sprint, time trialists, and overall leaders and I think we should be the team to watch out for."
Julich is surprised with his early season fitness and will use the training camp regime to his benefit during this week's race. "I am surprised with my form now and I was feeling really good during our camp," he said.
David Zabriskie fell on Stage 1
Photo ©: Jon Devich

Julich became a father for the second time this winter and spent six weeks in Lake Tahoe, not conducive to training in January. "I have been out of competition for a long time and trained a lot of hours alone. I am looking forward to getting back into the competition. I realize my time in the sport is limited and I want to take advantage of my fitness right now and do the best I can. The ToC was fantastic last year and it would be great to win it."
Because the Tour of California is the first major race of the year in North America, for most of the European team it is hard to tell who is on form and who is saving a little for the long season ahead.
"We have some hard climbs (in the race) but we can survive them or bring the group back together if we need to, and I think the time trial will decide the winner," Voigt said. "It is everybody's first race of the year so we are going into the unknown together. We don't know how much the others train or how seriously they take the race so it is hard to say who the competition is going to be.
"For sure we have the domestic teams here that are motivated to race against the European teams. There is also Discovery who wants to perform especially now because of their sponsor leaving. Of course we want to have a good start to the season because it is a good way to increase our morale. Everyone will have different motives for the race and what they hope to get form it."
Jens Voigt
Photo ©: David Wood

One sure thing is that all teams competing in the event have stronger squads than last year, and the organization is making every effort to ensure the event is bigger and better than last year.
"The thing about the Tour of California last year was that everyone was so fit and so ready and there wasn't a superior individual," Julich said. "We were all very close in the general classification. With the beauty of the race and how well the race was run last year, even more Americans will come here motivated and ready. We all saw how much publicity the race got and it's the biggest race in America. I think the guys are excited now and the competition level is better.
"I had no idea that the ToC was going to be as good as it was last year, it turned out to be the best race of the year. There was not a single person who went away from the ToC disappointed and this year, we have more ProTour teams, impressive riders, both world champions and a stellar field."
Concern over Unibet situation
Voigt also shared his frustrations regarding the stand-off between the UCI and its ProTour, and the Grand Tour organiserss. He said it is a no-win situation and in the end it is the cyclists and the sport that are going to suffer.
"I can understand both sides, they both have their points and want to do what is best for cycling," Voigt said. "But they need to come to an agreement and I can't see that happening for the moment. Someone has to sacrifice something and meet in the middle. It looks like no one is willing to make the first step towards the other one. They are so firm on their positions and stand points that they are not going to budge.
"They threaten each other and it is quite vicious. I would say, I don't know where this is going to go. Definitely, it is something we don't need and they should come to an agreement on the subject," Voigt said.
The dispute between UCI (Pro Tour) and Grand Tour organizers doesn't affect every team, but Voigt supports the smaller teams and how they are becoming the collateral damage in the dispute. "It does not affect our team as much because we get to ride either way. We are a good team so they like us," Voigt said.
"But for a team like Unibet things are not good," he said of the Swedish-registered team that has not received an invitation to major races, such as Paris-Nice and the Giro d'Italia, that are said to be part of the ProTour.
"For example, they (Unibet) paid money and beefed up their roster, they strengthened their budget and paid license fees to the UCI and now they are not going to ride (major races). It really scares away great sponsors and cycling needs them. It is a really bad situation and it is a no win situation right now. No one really wins, everyone is worried and concerned and in the end it hurts everyone."