Rory Sutherland (HealthNet)
Photo ©: Rory Sutherland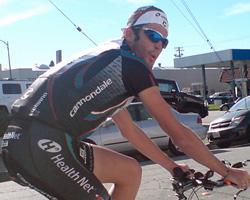 The Rory Sutherland Tour of California diary
San Francisco may be a long way away from the streets of Canberra, Australia, where Rory Sutherland spent his childhood, but the 24 year-old feels right at home there with his HealthNet presented by Maxxis squad. The 2004 Australian Under 23 National Champion will keep Cyclingnews readers up to date every day on his and the team's progress in the Tour of California.
A good day on the big bergs
Stage 3: Stockton to San José, 152.2km
Finally the legs turned better than expected. So, again I'm pretty happy with the way the stage has unfolded. First real climb for the tour as well (what I mean by real is one that's been raced up).
So, the day's run down: Hanging out in the motor home before the stage, drinking coffee, watching the previous day's stage which was recorded yesterday evening. We also had a special visit from a local junior cycling club from Stockton. This was great, the kids were so happy to come for the tour of our team bus and get some autographs. Just for the record: Cyclists are actually real people! The fact that people seriously want our autographs totally blows me away. Anyway, it was pretty cool to have them drop by.
And, I've just been informed by my roommate Tim [Johnson] that they were actually there especially for him.... sure Tim, keep telling yourself that!
Rest of the run down: 17 riders away from the gun, Discovery controlled all day, got to the steep-steep 5km climb on the finishing circuit and BOOM, the bunch exploded! Levi and a couple of others rode away and I was lucky enough to make the group just after. Decided I was on a pretty good run when I glued myself to Michael Rogers' wheel.
I've made a new fun competition here, too. There's now a fight firstly for the Canberra Cup: Michael Rogers and Matt Hayman also from my home city, and then there's the Kanga Cup (unfortunately only open to Aussies). Also for the record, this in not an official jersey, but hey, sometimes we have a lot of thinking time on the road.
Just nailing a packet of Oreos... God bless America!
Have also just been informed by Kyle [Gritters] of a new American word (Or southern Cali maybe): 'Chonies' - Translation in English = Boxer shorts.
I'm learning so much!
Till tomorrow
Rory