Rory Sutherland (HealthNet)
Photo ©: Rory Sutherland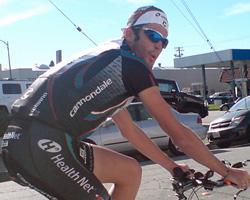 The Rory Sutherland Tour of California diary
San Francisco may be a long way away from the streets of Canberra, Australia, where Rory Sutherland spent his childhood, but the 24 year-old feels right at home there with his HealthNet presented by Maxxis squad. The 2004 Australian Under 23 National Champion will keep Cyclingnews readers up to date every day on his and the team's progress in the Tour of California.
Wine country, big winds, and bike changes
Stage 2: Santa Rosa - Sacramento, 186km
The truck!
Photo ©: Rory Sutherland

This place is pretty special. The feeling today at times was not only similar to, but also better than the Giro in 2005. Then the atmosphere was pretty special, but here…. Off tap! So many people along the roads, all of them screaming my name... hmmmm...or was that just part of the dream I was in during the climb??
So, what did I do for those long 186kms? I did some catching up with long lost ex-teammates, met some new guys, and tried to keep myself out of trouble! All went well 'til the dreaded plastic bag incident! Also a new one for me and not a real fun one I must admit.
There I was, 'attempting' to keep myself up the front and out of the cross wind when a plastic shopping bag goes right under my wheels. No big drama I hear you say, and normally you'd be right. However, when said bag decided to devour my rear derailleur…… trouble sprung. A bike change later, and I was on my way back to the bunch. Lucky for me I have some awesome teammates, and no one other than the "sub" Kyle Gritters came back to escort me back to the fray. Nice one, buddy!
So that's the day. Pretty boring actually.
I did see some kid absolutely nail a spectator though! I know it's not really that funny, and I hope both are okay…… BUT here's a lesson.
Roommate extraordinaire Timbo 'tailwind' Johnson
Photo ©: Rory Sutherland

Lesson 1: For the bike rider. Look where you're riding, and be aware of crazed camera-wielding fans.
Lesson 2: For the avid, excited, amateur photographer. Yes, bike races are fun to watch and photograph. However, if you stick your melon out on the road and put your eye up to a 1940s old school camera to take that 'pro shot,' be warned that bikes travel sometimes pretty quickly! So, by the time you try to retreat to safety, it might be too late!
That all being said, fans are awesome! I mean that's what makes it all so exciting at times. The finishing circuits today were deafening. And even big Arnie made his appearance and showed his big guns to the crowd. Wicked!
More photos of what pro bike riders get up to after stages. Three words: food, massage, and internet. That's it!
Till tomorrow! Hopefully, I won't be in too much of a box after the big berg stage.
Rory
Photography
For a thumbnail gallery of these images, click here
Images by Rory Sutherland