Rory Sutherland (HealthNet)
Photo ©: Rory Sutherland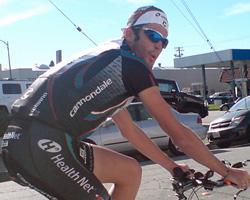 The Rory Sutherland Tour of California diary
San Francisco may be a long way away from the streets of Canberra, Australia, where Rory Sutherland spent his childhood, but the 24 year-old feels right at home there with his HealthNet presented by Maxxis squad. The 2004 Australian Under 23 National Champion will keep Cyclingnews readers up to date every day on his and the team's progress in the Tour of California.
Californian dreaming
Sutherland had the chance to see some sights.
Photo ©: Rory Sutherland

If I think of San Francisco, from the movies, of course, I think of a police chase with the cars going up and over city street rises and getting some serious airtime. Well, that's what the prologue was like, just without the downhill part and no, I wasn't going fast enough to get air. One kilometre of flat road, three blocks uphill, left hander, uphill again, right sweeper and, what do you know, 500 metres uphill to the finish. Good times!
Prologues, hmmm, what is a good word that springs to mind? Well, a word that can actually be printed on Cyclingnews! I'll take a word from my humble British counterpart Russell Downing (here after known as the 'Pommy Git'. Sorry Russ, you'll understand). Ouch, ouch and ouch some more!
Anyway, an awesome way to start off the tour! Personally, I had no expectation of ending up in the top 10, let alone the top five. So yes, to tell a long story short, I'm chuffed! Lactate level: high. Leg feeling at finish line: burning. So yeah - a typical prologue.
The HealthNet crew stop by the local coffee shop.
Photo ©: Rory Sutherland

As for San Fran itself - wow. The people were so amazing. Apparently there were like 280,000 people packed along the course!
One thing which surprised me was that the fans aren't necessarily all cycling fans, or even know much about cycling at all. Yet, they were out there cheering every rider on as they came through. And to think, all we seem to hear these days is what a bad condition cycling is in at the moment.
Presenting the first day comments from a few of my squadra mates for the tour:
HealthNet presented by Maxxis calls of the day:
Tim "I pumped Menzies today" Johnson
Ryder "Keep it chromed" Hesjedal
Karl "I had to ride in a head wind" Menzies (cry me a river Karl)
So that's it for today! First road stage up to Santa Rosa should be hard, but hopefully a good solid first day in the saddle.
Catch you tomorrow.
Rory
Photography
For a thumbnail gallery of these images, click here
Images by Rory Sutherland