17th Post Danmark Rundt - 2.HC
Denmark, August 1-5, 2007
Main Page Results Overall standings Stage Details Previous Stage
Stage 6 - August 5: Præsto - Frederiksberg, 175km
Arvesen repeats as Cavendish takes stage win
British sprint sensation Mark Cavendish (T-Mobile)
Photo ©: Frank Rud Jensen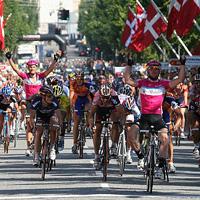 On Sunday, Norwegian Team CSC rider Kurt-Asle Arvesen wrote himself into cycling history when he became the first ever rider to win Tour of Denmark twice.
Since the race began in 1985, 16 different riders have climbed the podium as winners. The first time Arvesen won the race was in 2004, where he took the victory ahead of Jens Voigt and Stuart O'Grady, and this year it was with Enrico Gasparotto (Liquigas) in second place.
"It's a great feeling to be the first to win twice, but just like the last time I won it's more than anything a team effort. There's not a lot of opportunity for attack, when we have such strong people at the front of the peloton. Matti (Breschel), Nicki (Sørensen) and I were equally strong and they could just as easily have won this race. In the end it was decided by the time trial," explained Kurt-Asle Arvesen, who never really felt the victory was in jeopardy during Sunday's stage.
"Hardly anyone has the strength to attack, when you have strong tempo riders like Allan Johansen, Marcus Ljungqvist, Anders Lund, Nicki Sørensen and Michael Blaudzun setting the pace in the peloton, so we were in control the whole time," was the praising comments from Arvesen to his teammates.
The final stage to Frederiksberg Allé was won by T-Mobile's sprinter Mark Cavendish with Team CSC's Juan José Haedo in second place.
Photography
For a thumbnail gallery of these images, click here
Images by Frank Rud Jensen/www.gls-cycling.dk
Results
 
1 Mark Cavendish (GBr) T-Mobile Professional Cycling               4.05.17
2 Juan José Haedo (Arg) Team CSC                                          
3 Graeme Brown (Aus) Rabobank                                             
4 Tom Steels (Bel) Predictor-Lotto                                        
5 Francesco Chicchi (Ita) Liquigas                                        
6 Matti Breschel (Den) Team CSC                                           
7 Kenny Van Hummel (Ned) Skil-Shimano                                     
8 Rune Udby (Den) Glud & Marstrand Horsens                                
9 Jonas Aaen Jørgensen (Den) Team GLS                                     
10 Kurt Asle Arvesen (Nor) Team CSC                                       
11 Enrico Gasparotto (Ita) Liquigas                                       
12 Jens-Erik Madsen (Den) Team Designa Køkken                             
13 Greg Henderson (NZl) T-Mobile Professional Cycling                     
14 Mathew Haymann (Aus) Rabobank                                          
15 Stefano Zanini (Ita) Predictor-Lotto                                   
16 Marek Rutkiewicz (Pol) Intel-Action                                    
17 Maarten Tjallingii (Ned) Skil-Shimano                                  
18 Jakob Fuglsang (Den) Team Designa Køkken                               
19 Krzysztof Miara (Pol) Intel-Action                                     
20 Iljo Keisse (Bel) Chocolade Jacques-Topsport Vlaanderen                
21 Casper Jørgensen (Den) Team Odense Energi                              
22 Fabien Bacquet (Fra) Skil-Shimano                                      
23 Robby Meul (Bel) DFL-Cyclingnews-Litespeed                             
24 Lars Ulrich (Den) Team Odense Energi                                   
25 Dmitry Kozontchuk (Rus) Rabobank                                       
26 Kasper Jebjerg (Den) Team Designa Køkken                               
27 Jurgen Van Den Broeck (Bel) Predictor-Lotto                            
28 Roman Kreuziger (Cze) Liquigas                                         
29 Nicki Sørensen (Den) Team CSC                                          
30 Michael Vanderaerden (Bel) DFL-Cyclingnews-Litespeed                   
31 David Harrigan (Aus) DFL-Cyclingnews-Litespeed                         
32 Jonas Ljundsblad (Swe) Unibet.com                                      
33 Matthe Pronk (Ned) Unibet.com                                          
34 Bart Dockx (Bel) Predictor-Lotto                                       
35 Markus Eichler (Ger) Unibet.com                                        
36 Michael Blaudzun (Den) Team CSC                                        
37 Jimmy Casper (Fra) Unibet.com                                          
38 Dominique Cornu (Bel) Predictor-Lotto                                  
39 David Derod (Fra) Skil-Shimano                                         
40 Niko Eeckhout (Bel) Chocolade Jacques-Topsport Vlaanderen              
41 Kane Oakley (Aus) DFL-Cyclingnews-Litespeed                            
42 Frantisek Rabon (Cze) T-Mobile Professional Cycling                    
43 Cameron Jennings (Aus) DFL-Cyclingnews-Litespeed                       
44 Gerben Löwik (Ned) Rabobank                                            
45 Denys Kostyuk (Ukr) Intel-Action                                       
46 Matti Helminen (Fin) DFL-Cyclingnews-Litespeed                         
47 Anders Lund (Den) Team CSC                                             
48 André Steensen (Den) Glud & Marstrand Horsens                          
49 Lorenzo Bernucci (Ita) T-Mobile Professional Cycling                   
50 Robert Lauscha (Aut) Elk Haus-Simplon                                  
51 Harald Totschnig (Aut) Elk Haus-Simplon                                
52 Art Vierhouten (Ned) Skil-Shimano                                      
53 Preben Van Hecke (Bel) Predictor-Lotto                                 
54 Masahiro Shinagawa (Jpn) Skil-Shimano                                  
55 Lasse Bøchmann (Den) Glud & Marstrand Horsens                          
56 René Jørgensen (Den) Team Designa Køkken                               
57 Daniel Foder (Den) Team Designa Køkken                                 
58 Marcus Ljungqvist (Swe) Team CSC                                       
59 Jacob Moe (Den) Team GLS                                               
60 Michael Larsen (Den) Team Odense Energi                                
61 Morten Christiansen (Den) Glud & Marstrand Horsens                     
62 Thomas Oredsson (Den) Team GLS                                         
63 Piotr Chmielewski (Pol) Intel-Action                                   
64 Kenny Lisabeth (Bel) Chocolade Jacques-Topsport Vlaanderen             
65 Nic Ingels (Bel) Predictor-Lotto                                       
66 Michael Reihs (Den) Team Designa Køkken                                
67 Bart Vanheule (Bel) Chocolade Jacques-Topsport Vlaanderen              
68 Arnaud Coyot (Fra) Unibet.com                                          
69 Anders Fialla (Den) Team Odense Energi                                 
70 Michael Skelde (Den) Glud & Marstrand Horsens                          
71 Martin Mortensen (Den) Team Designa Køkken                         0.15
72 Rick Flens (Ned) Rabobank                                              
73 Allan Johansen (Den) Team CSC                                          
74 Robert Radosz (Pol) Intel-Action                                       
75 Floris Goesinnen (Ned) Skil-Shimano                                    
76 Bert Roesems (Bel) Predictor-Lotto                                     
77 Jesper Mørkøv (Den) Team Odense Energi                                 
78 Max Van Heeswijk (Ned) Rabobank                                        
79 Clemens Frankhauser (Aut) Elk Haus-Simplon                             
80 Benny De Schrooder (Bel) Chocolade Jacques-Topsport Vlaanderen         
81 Tom Criel (Bel) Unibet.com                                             
82 Jan Valach (Svk) Elk Haus-Simplon                                      
83 Evert Verbist (Bel) Chocolade Jacques-Topsport Vlaanderen              
84 Michael Pichler (Aut) Elk Haus-Simplon                                 
85 Kenny De Ketele (Bel) Chocolade Jacques-Topsport Vlaanderen            
86 Aaron Olson (USA) T-Mobile Professional Cycling                        
87 Kaoru Ouchi (Jpn) Skil-Shimano                                         
88 Servais Knaven (Ned) T-Mobile Professional Cycling                     
89 Ian Stannard (GBr) T-Mobile Professional Cycling                       
90 Niki Østergaard (Den) Team GLS                                         
91 Kasper Schjønnemann (Den) Glud & Marstrand Horsens                     
92 Jan Almblad (Den) Team GLS                                             
93 Marco Pinotti (Ita) T-Mobile Professional Cycling                      
94 Stefan Denifl (Aut) Elk Haus-Simplon                                   
95 Fredrik Johansson (Swe) Team Designa Køkken                            
96 Magnus Backstedt (Swe) Liquigas                                    0.23
97 Erwin Thijs (Bel) Unibet.com                                           
98 Kenny Dehaes (Bel) Chocolade Jacques-Topsport Vlaanderen           0.27
99 Mauro Da Dalto (Ita) Liquigas                                          
100 Vincenzo Nibali (Ita) Liquigas                                    0.29
101 Luca Paolini (Ita) Liquigas                                           
102 Michael Mørkøv (Den) Team GLS                                     0.33
103 Leon Van Bon (Ned) Rabobank                                       0.39
104 Jacob Nielsen (Den) Glud & Marstrand Horsens                      0.55
105 Jeremy Vennell (NZl) DFL-Cyclingnews-Litespeed                    0.59
106 Kristoffer G. Nielsen (Den) Team GLS                              1.10
107 Martin Lollesgaard (Den) Team Odense Energi                           
108 Jan Boven (Ned) Rabobank                                              
109 Michael Berling (Den) Glud & Marstrand Horsens                    4.37
110 Kasper Linde Jørgensen (Den) Team Odense Energi                   4.39
111 Morten Reckweg (Den) Team GLS                                     4.45
112 Marcin Osinski (Pol) Intel-Action                                 6.04
 
Points
 
1 Mark Cavendish (GBr) T-Mobile Professional Cycling                    15 pts
2 Juan José Haedo (Arg) Team CSC                                        12
3 Graeme Brown (Aus) Rabobank                                           10
4 Tom Steels (Bel) Predictor-Lotto                                       9
5 Francesco Chicchi (Ita) Liquigas                                       8
6 Matti Breschel (Den) Team CSC                                          7
7 Kenny Van Hummel (Ned) Skil-Shimano                                    6
8 Morten Reckweg (Den) Team GLS                                          6
9 Rune Udby (Den) Glud & Marstrand Horsens                               5
10 Fredrik Johansson (Swe) Team Designa Køkken                           5
11 Jonas Aaen Jørgensen (Den) Team GLS                                   4
12 Michael Berling (Den) Glud & Marstrand Horsens                        4
13 Kurt Asle Arvesen (Nor) Team CSC                                      3
14 Clemens Frankhauser (Aut) Elk Haus-Simplon                            3
15 Enrico Gasparotto (Ita) Liquigas                                      2
16 Jens-Erik Madsen (Den) Team Designa Køkken                            1
 
Finish
1 Mark Cavendish (GBr) T-Mobile Professional Cycling                    15 pts
2 Juan José Haedo (Arg) Team CSC                                        12
3 Graeme Brown (Aus) Rabobank                                           10
4 Tom Steels (Bel) Predictor-Lotto                                       9
5 Francesco Chicchi (Ita) Liquigas                                       8
6 Matti Breschel (Den) Team CSC                                          7
7 Kenny Van Hummel (Ned) Skil-Shimano                                    6
8 Rune Udby (Den) Glud & Marstrand Horsens                               5
9 Jonas Aaen Jørgensen (Den) Team GLS                                    4
10 Kurt Asle Arvesen (Nor) Team CSC                                      3
11 Enrico Gasparotto (Ita) Liquigas                                      2
12 Jens-Erik Madsen (Den) Team Designa Køkken                            1
 
Sprint 2
 Fredrik Johansson (Swe) Team Designa Køkken                              
 Michael Berling (Den) Glud & Marstrand Horsens                           
 Morten Reckweg (Den) Team GLS                                            
 
Sprint 1
1 Morten Reckweg (Den) Team GLS                                          5 pts
2 Clemens Frankhauser (Aut) Elk Haus-Simplon                             3
3 Michael Berling (Den) Glud & Marstrand Horsens                         1
 
Mountains
 
1 Clemens Frankhauser (Aut) Elk Haus-Simplon                            14 pts
2 Morten Reckweg (Den) Team GLS                                         12
3 Fredrik Johansson (Swe) Team Designa Køkken                           10
4 Michael Berling (Den) Glud & Marstrand Horsens                         8
 
Valby
1 Morten Reckweg (Den) Team GLS                                         10 pts
2 Fredrik Johansson (Swe) Team Designa Køkken                            6
3 Clemens Frankhauser (Aut) Elk Haus-Simplon                             4
4 Michael Berling (Den) Glud & Marstrand Horsens                         2
 
Valby
1 Clemens Frankhauser (Aut) Elk Haus-Simplon                            10 pts
2 Michael Berling (Den) Glud & Marstrand Horsens                         6
3 Fredrik Johansson (Swe) Team Designa Køkken                            4
4 Morten Reckweg (Den) Team GLS                                          2
 
Young rider
 
1 Mark Cavendish (GBr) T-Mobile Professional Cycling               4.05.17
2 Matti Breschel (Den) Team CSC                                           
3 Kenny Van Hummel (Ned) Skil-Shimano                                     
4 Rune Udby (Den) Glud & Marstrand Horsens                                
5 Jonas Aaen Jørgensen (Den) Team GLS                                     
6 Enrico Gasparotto (Ita) Liquigas                                        
7 Jakob Fuglsang (Den) Team Designa Køkken                                
8 Krzysztof Miara (Pol) Intel-Action                                      
9 Iljo Keisse (Bel) Chocolade Jacques-Topsport Vlaanderen                 
10 Casper Jørgensen (Den) Team Odense Energi                              
11 Fabien Bacquet (Fra) Skil-Shimano                                      
12 Lars Ulrich (Den) Team Odense Energi                                   
13 Dmitry Kozontchuk (Rus) Rabobank                                       
14 Kasper Jebjerg (Den) Team Designa Køkken                               
15 Jurgen Van Den Broeck (Bel) Predictor-Lotto                            
16 Roman Kreuziger (Cze) Liquigas                                         
17 Michael Vanderaerden (Bel) DFL-Cyclingnews-Litespeed                   
18 Markus Eichler (Ger) Unibet.com                                        
19 Dominique Cornu (Bel) Predictor-Lotto                                  
20 David Derod (Fra) Skil-Shimano                                         
21 Frantisek Rabon (Cze) T-Mobile Professional Cycling                    
22 Denys Kostyuk (Ukr) Intel-Action                                       
23 Anders Lund (Den) Team CSC                                             
24 André Steensen (Den) Glud & Marstrand Horsens                          
25 Robert Lauscha (Aut) Elk Haus-Simplon                                  
26 Preben Van Hecke (Bel) Predictor-Lotto                                 
27 Masahiro Shinagawa (Jpn) Skil-Shimano                                  
28 Lasse Bøchmann (Den) Glud & Marstrand Horsens                          
29 Daniel Foder (Den) Team Designa Køkken                                 
30 Nic Ingels (Bel) Predictor-Lotto                                       
31 Bart Vanheule (Bel) Chocolade Jacques-Topsport Vlaanderen              
32 Martin Mortensen (Den) Team Designa Køkken                         0.15
33 Rick Flens (Ned) Rabobank                                              
34 Floris Goesinnen (Ned) Skil-Shimano                                    
35 Jesper Mørkøv (Den) Team Odense Energi                                 
36 Clemens Frankhauser (Aut) Elk Haus-Simplon                             
37 Tom Criel (Bel) Unibet.com                                             
38 Evert Verbist (Bel) Chocolade Jacques-Topsport Vlaanderen              
39 Kenny De Ketele (Bel) Chocolade Jacques-Topsport Vlaanderen            
40 Ian Stannard (GBr) T-Mobile Professional Cycling                       
41 Niki Østergaard (Den) Team GLS                                         
42 Kasper Schjønnemann (Den) Glud & Marstrand Horsens                     
43 Stefan Denifl (Aut) Elk Haus-Simplon                                   
44 Kenny Dehaes (Bel) Chocolade Jacques-Topsport Vlaanderen           0.27
45 Vincenzo Nibali (Ita) Liquigas                                     0.29
46 Michael Mørkøv (Den) Team GLS                                      0.33
47 Kristoffer G. Nielsen (Den) Team GLS                               1.10
48 Martin Lollesgaard (Den) Team Odense Energi                            
49 Michael Berling (Den) Glud & Marstrand Horsens                     4.37
50 Kasper Linde Jørgensen (Den) Team Odense Energi                    4.39
51 Morten Reckweg (Den) Team GLS                                      4.45
52 Marcin Osinski (Pol) Intel-Action                                  6.04
 
Teams
 
1 Team CSC                                                        12.15.51
2 Rabobank                                                                
3 Liquigas                                                                
4 Predictor-Lotto                                                         
5 Skil-Shimano                                                            
6 T-Mobile Professional Cycling                                           
7 Team Designa Køkken                                                     
8 Intel-Action                                                            
9 DFL-Cyclingnews-Litespeed                                               
10 Unibet.com                                                             
11 Team Odense Energi                                                     
12 Glud & Marstrand Horsens                                               
13 Chocolade Jacques-Topsport Vlaanderen                                  
14 Team GLS                                                               
15 Elk Haus-Simplon                                                   0.15
 
Most Aggressive rider
 
1 Clemens Frankhauser (Aut) Elk Haus-Simplon                            10 pts
2 Fredrik Johansson (Swe) Team Designa Køkken                            6
3 Michael Berling (Den) Glud & Marstrand Horsens                         4
4 Morten Reckweg (Den) Team GLS                                          2
 
Final General classification
 
1 Kurt Asle Arvesen (Nor) Team CSC                                19.49.38
2 Enrico Gasparotto (Ita) Liquigas                                    0.14
3 Matti Breschel (Den) Team CSC                                       0.27
4 Maarten Tjallingii (Ned) Skil-Shimano                               0.28
5 Nicki Sørensen (Den) Team CSC                                       0.32
6 Jurgen Van Den Broeck (Bel) Predictor-Lotto                         0.35
7 Jakob Fuglsang (Den) Team Designa Køkken                                
8 Lorenzo Bernucci (Ita) T-Mobile Professional Cycling                0.42
9 Lasse Bøchmann (Den) Glud & Marstrand Horsens                       0.45
10 Marek Rutkiewicz (Pol) Intel-Action                                0.56
11 Roman Kreuziger (Cze) Liquigas                                     0.59
12 André Steensen (Den) Glud & Marstrand Horsens                      1.13
13 Frantisek Rabon (Cze) T-Mobile Professional Cycling                1.19
14 Markus Eichler (Ger) Unibet.com                                    1.32
15 Jacob Moe (Den) Team GLS                                           1.35
16 Michael Blaudzun (Den) Team CSC                                        
17 Denys Kostyuk (Ukr) Intel-Action                                   1.39
18 Marcus Ljungqvist (Swe) Team CSC                                   1.43
19 Bart Vanheule (Bel) Chocolade Jacques-Topsport Vlaanderen          1.51
20 Mark Cavendish (GBr) T-Mobile Professional Cycling                 1.54
21 Dmitry Kozontchuk (Rus) Rabobank                                   2.02
22 Mathew Haymann (Aus) Rabobank                                          
23 Daniel Foder (Den) Team Designa Køkken                             2.04
24 Art Vierhouten (Ned) Skil-Shimano                                  2.24
25 Niki Østergaard (Den) Team GLS                                     2.31
26 Preben Van Hecke (Bel) Predictor-Lotto                             2.32
27 René Jørgensen (Den) Team Designa Køkken                           2.38
28 Jonas Ljundsblad (Swe) Unibet.com                                  2.39
29 Jonas Aaen Jørgensen (Den) Team GLS                                2.48
30 Thomas Oredsson (Den) Team GLS                                         
31 David Derod (Fra) Skil-Shimano                                     2.57
32 Casper Jørgensen (Den) Team Odense Energi                          3.10
33 Harald Totschnig (Aut) Elk Haus-Simplon                                
34 Vincenzo Nibali (Ita) Liquigas                                     3.16
35 Evert Verbist (Bel) Chocolade Jacques-Topsport Vlaanderen          3.19
36 Floris Goesinnen (Ned) Skil-Shimano                                3.51
37 Clemens Frankhauser (Aut) Elk Haus-Simplon                         3.55
38 Bart Dockx (Bel) Predictor-Lotto                                   4.03
39 Arnaud Coyot (Fra) Unibet.com                                      4.05
40 Krzysztof Miara (Pol) Intel-Action                                 4.11
41 Greg Henderson (NZl) T-Mobile Professional Cycling                 4.18
42 Kenny De Ketele (Bel) Chocolade Jacques-Topsport Vlaanderen        4.30
43 Gerben Löwik (Ned) Rabobank                                        4.34
44 Matthe Pronk (Ned) Unibet.com                                      4.35
45 Michael Reihs (Den) Team Designa Køkken                            4.39
46 Tom Criel (Bel) Unibet.com                                         4.42
47 Michael Larsen (Den) Team Odense Energi                            4.43
48 Fredrik Johansson (Swe) Team Designa Køkken                        4.44
49 Jan Almblad (Den) Team GLS                                             
50 Cameron Jennings (Aus) DFL-Cyclingnews-Litespeed                   4.48
51 Allan Johansen (Den) Team CSC                                      5.00
52 Nic Ingels (Bel) Predictor-Lotto                                   5.02
53 Magnus Backstedt (Swe) Liquigas                                    5.04
54 Michael Vanderaerden (Bel) DFL-Cyclingnews-Litespeed               5.24
55 Francesco Chicchi (Ita) Liquigas                                   5.26
56 Martin Mortensen (Den) Team Designa Køkken                         6.32
57 Mauro Da Dalto (Ita) Liquigas                                      6.39
58 Leon Van Bon (Ned) Rabobank                                        6.44
59 Masahiro Shinagawa (Jpn) Skil-Shimano                              7.04
60 Aaron Olson (USA) T-Mobile Professional Cycling                    7.23
61 Stefan Denifl (Aut) Elk Haus-Simplon                               7.27
62 Kenny Lisabeth (Bel) Chocolade Jacques-Topsport Vlaanderen         7.42
63 Ian Stannard (GBr) T-Mobile Professional Cycling                   8.02
64 Servais Knaven (Ned) T-Mobile Professional Cycling                 8.30
65 Michael Pichler (Aut) Elk Haus-Simplon                             8.31
66 Michael Skelde (Den) Glud & Marstrand Horsens                      8.32
67 Bert Roesems (Bel) Predictor-Lotto                                 8.49
68 Jan Valach (Svk) Elk Haus-Simplon                                  9.49
69 Michael Mørkøv (Den) Team GLS                                     10.19
70 Kristoffer G. Nielsen (Den) Team GLS                              11.28
71 Jacob Nielsen (Den) Glud & Marstrand Horsens                      11.46
72 Luca Paolini (Ita) Liquigas                                       12.31
73 Rick Flens (Ned) Rabobank                                         14.37
74 Matti Helminen (Fin) DFL-Cyclingnews-Litespeed                    15.36
75 Jan Boven (Ned) Rabobank                                          16.50
76 Kasper Jebjerg (Den) Team Designa Køkken                          17.12
77 Graeme Brown (Aus) Rabobank                                       22.04
78 Marco Pinotti (Ita) T-Mobile Professional Cycling                 24.36
79 Robert Lauscha (Aut) Elk Haus-Simplon                             25.55
80 Niko Eeckhout (Bel) Chocolade Jacques-Topsport Vlaanderen         28.04
81 Kenny Van Hummel (Ned) Skil-Shimano                               29.02
82 Erwin Thijs (Bel) Unibet.com                                      29.26
83 David Harrigan (Aus) DFL-Cyclingnews-Litespeed                    29.57
84 Max Van Heeswijk (Ned) Rabobank                                   30.04
85 Jens-Erik Madsen (Den) Team Designa Køkken                        36.50
86 Jimmy Casper (Fra) Unibet.com                                     36.51
87 Iljo Keisse (Bel) Chocolade Jacques-Topsport Vlaanderen           37.27
88 Kane Oakley (Aus) DFL-Cyclingnews-Litespeed                       37.30
89 Juan José Haedo (Arg) Team CSC                                         
90 Lars Ulrich (Den) Team Odense Energi                              37.31
91 Robert Radosz (Pol) Intel-Action                                  37.43
92 Benny De Schrooder (Bel) Chocolade Jacques-Topsport Vlaanderen    37.56
93 Rune Udby (Den) Glud & Marstrand Horsens                          38.01
94 Tom Steels (Bel) Predictor-Lotto                                  38.11
95 Anders Lund (Den) Team CSC                                        38.15
96 Dominique Cornu (Bel) Predictor-Lotto                             38.29
97 Piotr Chmielewski (Pol) Intel-Action                              38.32
98 Robby Meul (Bel) DFL-Cyclingnews-Litespeed                        38.36
99 Stefano Zanini (Ita) Predictor-Lotto                              39.47
100 Jeremy Vennell (NZl) DFL-Cyclingnews-Litespeed                   41.43
101 Marcin Osinski (Pol) Intel-Action                                43.19
102 Morten Reckweg (Den) Team GLS                                    44.27
103 Kenny Dehaes (Bel) Chocolade Jacques-Topsport Vlaanderen         45.08
104 Morten Christiansen (Den) Glud & Marstrand Horsens               45.29
105 Anders Fialla (Den) Team Odense Energi                           45.55
106 Kaoru Ouchi (Jpn) Skil-Shimano                                   46.06
107 Kasper Schjønnemann (Den) Glud & Marstrand Horsens               46.39
108 Fabien Bacquet (Fra) Skil-Shimano                                47.44
109 Martin Lollesgaard (Den) Team Odense Energi                      51.26
110 Jesper Mørkøv (Den) Team Odense Energi                           53.25
111 Michael Berling (Den) Glud & Marstrand Horsens                   57.15
 
Points
 
1 Mark Cavendish (GBr) T-Mobile Professional Cycling                    48 pts
2 Matti Breschel (Den) Team CSC                                         42
3 Francesco Chicchi (Ita) Liquigas                                      38
4 Enrico Gasparotto (Ita) Liquigas                                      30
5 Kurt Asle Arvesen (Nor) Team CSC                                      26
6 Juan José Haedo (Arg) Team CSC                                        24
7 Jonas Aaen Jørgensen (Den) Team GLS                                   22
8 Kenny Van Hummel (Ned) Skil-Shimano                                   20
9 Tom Steels (Bel) Predictor-Lotto                                      18
10 Nicki Sørensen (Den) Team CSC                                        16
11 Rick Flens (Ned) Rabobank                                            15
12 Lorenzo Bernucci (Ita) T-Mobile Professional Cycling                 15
13 Mathew Haymann (Aus) Rabobank                                        14
14 Roman Kreuziger (Cze) Liquigas                                       13
15 Graeme Brown (Aus) Rabobank                                          13
16 Lasse Bøchmann (Den) Glud & Marstrand Horsens                        12
17 Preben Van Hecke (Bel) Predictor-Lotto                               11
18 Marco Pinotti (Ita) T-Mobile Professional Cycling                    10
19 Martin Mortensen (Den) Team Designa Køkken                           10
20 André Steensen (Den) Glud & Marstrand Horsens                         9
21 Jakob Fuglsang (Den) Team Designa Køkken                              9
22 Jacob Moe (Den) Team GLS                                              9
23 Denys Kostyuk (Ukr) Intel-Action                                      8
24 Maarten Tjallingii (Ned) Skil-Shimano                                 8
25 Jens-Erik Madsen (Den) Team Designa Køkken                            8
26 René Jørgensen (Den) Team Designa Køkken                              8
27 David Derod (Fra) Skil-Shimano                                        8
28 Greg Henderson (NZl) T-Mobile Professional Cycling                    7
29 Dominique Cornu (Bel) Predictor-Lotto                                 7
30 Jacob Nielsen (Den) Glud & Marstrand Horsens                          7
31 Magnus Backstedt (Swe) Liquigas                                       6
32 Clemens Frankhauser (Aut) Elk Haus-Simplon                            6
33 Morten Reckweg (Den) Team GLS                                         6
34 Rune Udby (Den) Glud & Marstrand Horsens                              5
35 Niko Eeckhout (Bel) Chocolade Jacques-Topsport Vlaanderen             5
36 Daniel Foder (Den) Team Designa Køkken                                5
37 Floris Goesinnen (Ned) Skil-Shimano                                   5
38 Fredrik Johansson (Swe) Team Designa Køkken                           5
39 Nic Ingels (Bel) Predictor-Lotto                                      4
40 Stefano Zanini (Ita) Predictor-Lotto                                  4
41 Kenny Lisabeth (Bel) Chocolade Jacques-Topsport Vlaanderen            4
42 Jurgen Van Den Broeck (Bel) Predictor-Lotto                           4
43 Bert Roesems (Bel) Predictor-Lotto                                    4
44 Michael Berling (Den) Glud & Marstrand Horsens                        4
45 Art Vierhouten (Ned) Skil-Shimano                                     3
46 Marek Rutkiewicz (Pol) Intel-Action                                   3
47 Frantisek Rabon (Cze) T-Mobile Professional Cycling                   3
48 Kane Oakley (Aus) DFL-Cyclingnews-Litespeed                           3
49 Stefan Denifl (Aut) Elk Haus-Simplon                                  2
50 Kenny Dehaes (Bel) Chocolade Jacques-Topsport Vlaanderen              2
51 Leon Van Bon (Ned) Rabobank                                           2
52 Evert Verbist (Bel) Chocolade Jacques-Topsport Vlaanderen             1
53 Krzysztof Miara (Pol) Intel-Action                                    1
54 Jonas Ljundsblad (Swe) Unibet.com                                     1
 
Mountains
 
1 Jacob Moe (Den) Team GLS                                              74 pts
2 Jacob Nielsen (Den) Glud & Marstrand Horsens                          36
3 René Jørgensen (Den) Team Designa Køkken                              34
4 Preben Van Hecke (Bel) Predictor-Lotto                                26
5 Daniel Foder (Den) Team Designa Køkken                                24
6 Martin Mortensen (Den) Team Designa Køkken                            22
7 Floris Goesinnen (Ned) Skil-Shimano                                   16
8 Clemens Frankhauser (Aut) Elk Haus-Simplon                            14
9 Kristoffer G. Nielsen (Den) Team GLS                                  14
10 Morten Reckweg (Den) Team GLS                                        12
11 Fredrik Johansson (Swe) Team Designa Køkken                          10
12 Michael Berling (Den) Glud & Marstrand Horsens                        8
13 David Derod (Fra) Skil-Shimano                                        8
14 Leon Van Bon (Ned) Rabobank                                           8
15 Matti Breschel (Den) Team CSC                                         6
16 Kane Oakley (Aus) DFL-Cyclingnews-Litespeed                           6
17 Marek Rutkiewicz (Pol) Intel-Action                                   4
18 Rune Udby (Den) Glud & Marstrand Horsens                              4
19 Maarten Tjallingii (Ned) Skil-Shimano                                 2
20 Michael Pichler (Aut) Elk Haus-Simplon                                2
 
Young riders
 
1 Enrico Gasparotto (Ita) Liquigas                                19.49.52
2 Matti Breschel (Den) Team CSC                                       0.13
3 Jurgen Van Den Broeck (Bel) Predictor-Lotto                         0.21
4 Jakob Fuglsang (Den) Team Designa Køkken                                
5 Lasse Bøchmann (Den) Glud & Marstrand Horsens                       0.31
6 Roman Kreuziger (Cze) Liquigas                                      0.45
7 André Steensen (Den) Glud & Marstrand Horsens                       0.59
8 Frantisek Rabon (Cze) T-Mobile Professional Cycling                 1.05
9 Markus Eichler (Ger) Unibet.com                                     1.18
10 Denys Kostyuk (Ukr) Intel-Action                                   1.25
11 Bart Vanheule (Bel) Chocolade Jacques-Topsport Vlaanderen          1.37
12 Mark Cavendish (GBr) T-Mobile Professional Cycling                 1.40
13 Dmitry Kozontchuk (Rus) Rabobank                                   1.48
14 Daniel Foder (Den) Team Designa Køkken                             1.50
15 Niki Østergaard (Den) Team GLS                                     2.17
16 Preben Van Hecke (Bel) Predictor-Lotto                             2.18
17 Jonas Aaen Jørgensen (Den) Team GLS                                2.34
18 David Derod (Fra) Skil-Shimano                                     2.43
19 Casper Jørgensen (Den) Team Odense Energi                          2.56
20 Vincenzo Nibali (Ita) Liquigas                                     3.02
21 Evert Verbist (Bel) Chocolade Jacques-Topsport Vlaanderen          3.05
22 Floris Goesinnen (Ned) Skil-Shimano                                3.37
23 Clemens Frankhauser (Aut) Elk Haus-Simplon                         3.41
24 Krzysztof Miara (Pol) Intel-Action                                 3.57
25 Kenny De Ketele (Bel) Chocolade Jacques-Topsport Vlaanderen        4.16
26 Tom Criel (Bel) Unibet.com                                         4.28
27 Nic Ingels (Bel) Predictor-Lotto                                   4.48
28 Michael Vanderaerden (Bel) DFL-Cyclingnews-Litespeed               5.10
29 Martin Mortensen (Den) Team Designa Køkken                         6.18
30 Masahiro Shinagawa (Jpn) Skil-Shimano                              6.50
31 Stefan Denifl (Aut) Elk Haus-Simplon                               7.13
32 Ian Stannard (GBr) T-Mobile Professional Cycling                   7.48
33 Michael Mørkøv (Den) Team GLS                                     10.05
34 Kristoffer G. Nielsen (Den) Team GLS                              11.14
35 Rick Flens (Ned) Rabobank                                         14.23
36 Kasper Jebjerg (Den) Team Designa Køkken                          16.58
37 Robert Lauscha (Aut) Elk Haus-Simplon                             25.41
38 Kenny Van Hummel (Ned) Skil-Shimano                               28.48
39 Iljo Keisse (Bel) Chocolade Jacques-Topsport Vlaanderen           37.13
40 Lars Ulrich (Den) Team Odense Energi                              37.17
41 Rune Udby (Den) Glud & Marstrand Horsens                          37.47
42 Anders Lund (Den) Team CSC                                        38.01
43 Dominique Cornu (Bel) Predictor-Lotto                             38.15
44 Marcin Osinski (Pol) Intel-Action                                 43.05
45 Morten Reckweg (Den) Team GLS                                     44.13
46 Kenny Dehaes (Bel) Chocolade Jacques-Topsport Vlaanderen          44.54
47 Kasper Schjønnemann (Den) Glud & Marstrand Horsens                46.25
48 Fabien Bacquet (Fra) Skil-Shimano                                 47.30
49 Martin Lollesgaard (Den) Team Odense Energi                       51.12
50 Jesper Mørkøv (Den) Team Odense Energi                            53.11
51 Michael Berling (Den) Glud & Marstrand Horsens                    57.01
52 Kasper Linde Jørgensen (Den) Team Odense Energi                 1.01.06
 
Teams
 
1 Team CSC                                                        59.29.56
2 Liquigas                                                            2.10
3 T-Mobile Professional Cycling                                       2.33
4 Team Designa Køkken                                                 3.18
5 Predictor-Lotto                                                     4.04
6 Skil-Shimano                                                        4.37
7 Team GLS                                                            4.57
8 Elk Haus-Simplon                                                    5.04
9 Intel-Action                                                        5.09
10 Rabobank                                                           5.44
11 Chocolade Jacques-Topsport Vlaanderen                              6.34
12 Unibet.com                                                         7.05
13 Glud & Marstrand Horsens                                           9.28
14 DFL-Cyclingnews-Litespeed                                         24.10
15 Team Odense Energi                                                44.18
 
Most aggressive rider
 
1 Jacob Nielsen (Den) Glud & Marstrand Horsens                          16 pts
2 René Jørgensen (Den) Team Designa Køkken                              12
3 Clemens Frankhauser (Aut) Elk Haus-Simplon                            10
4 Jacob Moe (Den) Team GLS                                              10
5 Martin Mortensen (Den) Team Designa Køkken                            10
6 Fredrik Johansson (Swe) Team Designa Køkken                            6
7 Floris Goesinnen (Ned) Skil-Shimano                                    6
8 Michael Berling (Den) Glud & Marstrand Horsens                         4
9 Preben Van Hecke (Bel) Predictor-Lotto                                 4
10 Michael Pichler (Aut) Elk Haus-Simplon                                4
11 Kristoffer G. Nielsen (Den) Team GLS                                  4
12 Morten Reckweg (Den) Team GLS                                         2
13 Leon Van Bon (Ned) Rabobank                                           2
14 David Derod (Fra) Skil-Shimano                                        2
15 Kane Oakley (Aus) DFL-Cyclingnews-Litespeed                           2