Tour de Georgia - 2.HC
USA, April 16-22, 2007
Main Page Results Overall standings Stage Details Live report Previous Stage Next Stage
Stage 6 - April 21: Lake Lanier Islands/Hall Co. to Stone Mountain Park , 182.9km
Fast Freddie makes up for slow spring in Georgia
By Mark Zalewski, North American Editor with Kirsten Robbins in Stone Mountain Park, Georgia
Fast Freddy Rodriguez
Photo ©: Jon Devich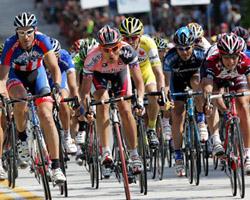 Fred Rodriguez (Predictor-Lotto) usually ends his spring racing campaign with the Tour de Georgia, enjoying a race at home with his family looking on. This year, riding well here was slightly more important to the California native as he battled sickness for most of the spring. "I have won more stages than anyone else here but I've been kind of quiet because I have been coming back from being sick," he said. "It has just been in the last couple of weeks coming back on form. I didn't even know myself how good I was going to feel [here.]"
But the multiple-time USPRO champion usually finds a way - and today it was right up the middle of the road, sprinting from the pack at 150 metres to claim his fourth stage win in the fifth edition of the race.
"In sprinting you win one and you lose lots so I was happy to win one here," he continued. "I would say this stage is hard because of the hills before the finish so it suited my style of racing if it is hard." The hills Rodriguez referred to come in the final circuit finish - a tough 12.5 kilometre (7.8 mile) loop around Stone Mountain Park in the suburbs east of Atlanta. The final three kilometres have two 150 foot elevations changes and a fast, sweeping downhill turn at 550 metres before a straight drag to the finish.
The other two usual suspects, Juan Jose Haedo (CSC) and Ivan Dominguez (Toyota-United) were too little, too late on the line. "I was behind JJ coming at one kilometre to go," Dominguez told Cyclingnews after the stage. "We were like 20 people behind and we started passing guys from the last corner like nothing! I saw the finish coming, coming and I said, 'I have to go!' But making the decision and thinking... it was too late. We got to the top two guys in like two seconds but Freddie was going - we came almost next to him, but we should have gone at 250 metres to go."
...no matter which way you look at it.
Photo ©: Phoenix Sports Technology

Haedo was a little closer at the line, throwing his bike for second to Dominguez's fourth - with Freddie holding on with a bike throw as well. However, it was clear that Haedo and Dominguez were at a disadvantage with their two teams tired from doing all of the chasing of the day's main breakaway. "We were hoping to have someone out there so that the guys could just sit on the wheels," said CSC director sportif Dan Frost. "We knew we could pull them back, but it's a matter of pulling them back at the right moment. Our guys were pulling a lot at the end and it is not easy for them to also help J.J. We also had a flat tyre and problem with Matt Goss' bike, and we had talked about using Matt to bring up J.J., but we could not do that with him back in the peloton."
"The guys did a lot of work today and I wish I could have been in better position," said Haedo. "I still tried hard and I tried my best but it wasn't enough again. The whole day it was CSC and Toyota-United [on the front]. Toyota-United is one of the strongest teams here and they don't have any reason to be ashamed of their race here. We did all the work the whole stage." Even though he did not take the stage win, Haedo does take over the points jersey, but is just one point over Rodriguez. Haedo said he was not yet sure if the team would be working to keep it into tomorrow's final stage around Atlanta. "We will see if the guys still want to work for me or if they want to take it easy one day. I am only one point in front of Freddy and so I will need to finish in front of him."
The chase really starts to go hard.
Photo ©: Jon Devich

Also on the line was the current USPRO champion George Hincapie (Discovery Channel,) obviously mending well from his crash at the Tour of California in February. Even though his team is charged with the task of defending the leader's jersey, resting on Janez Brajkovic's shoulders, he was given the green light once inside three kilometres. "It was safe for me to go for the sprint when Janez was within the three-kilometre mark," he said. "I wasn't too worried either after seeing Christian working for JJ in the sprint. I think [these stages are] a really good time for the rest of the team and I am really thinking positively about the races that I've got left cause I haven't raced in a while and I'm excited about getting back in the game."
The main breakaway was a trio of riders - two Belgians, Olivier Kaisen (Predictor-Lotto) and Maarten Wynants (Quick Step-Innergetic,) and a Kiwi/Aussie who lives in Belgium, Glen Chadwick (Navigators Insurance.) The three went clear about eighty kilometres after a very fast and combative start to the stage, and held their lead all the way onto the closing circuits. "I just tried to get in the moves all day," said Chadwick. "I was in the first big move that went but someone wasn't happy with it so it came back. Then a group of twenty of us got away but there were a lot of sprinters in there, and I was the only one that wasn't, so my team started to chase it back. Through the feed zone the two Belges went and I the rest of the break sorta sat-up so I went after them. It took about a kilometre to get across."
Even though the three riders worked rather evenly all day, Wynants put in a few long pulls and rode away solo in the end to earn the most aggressive rider of the day. However Chadwick is not too concerned with not being named most aggressive. "I'll get it eventually!" he said. And he may be correct, having suffered for a long time in a break on stage two, and the media yet to vote on an overall most aggressive rider for the week.
How it unfolded
The peloton heads into Stone Mountain State Park.
Photo ©: Jon Devich

Sunny skies again gave the riders ideal racing conditions as they set off from Lake Lanier for a southern ride before turning west to the finish at Stone Mountain Park. However, the race organiser insured a fast start to the stage, placing the first sprint line just a few miles from the end of the neutral section. The riders were taunted with the five kilometre to sprint sign place before the zero kilometre mark of the stage. On the line it was Karl Menzies (Health Net-Maxxis) taking out the points and an additional $2,000 offered by the local community.
The high speed of the peloton continued after this with breaks forming and dissolving faster than the officials could write down bib numbers. Finally, a break of two made it away (and easier for the officials to track) with David Millar (Saunier Duval-Prodir) trading pulls with Sergey Lagutin (Navigators Insurance.) The two only managed to get 30 seconds on the field, but still gave it the old college try. With no other riders bridging and the field chasing hard, Lagutin drifted back to the field while Millar soloed on for a few more kilometres.
Eight kilometres later a hefty group of 20 riders, many of them team leaders, rolled off the front. However, with too many sprinters and numbers, it was not easy to organise and the peloton reformed. A little later another large break formed - but through the feed zone the impetus waned. Off the front Olivier Kaisen (Predictor-Lotto) and Maarten Wynants (Quick Step-Innergetic) made a move that no other rider seemed to be interested in - except for Glen Chadwick (Navigators) who bridged across. The three then settled in for about 80 kilometres of work.
Toyota-United and CSC start to work.
Photo ©: Jon Devich

Also for the next 80 kilometres, CSC and Toyota-United worked - at first to keep the break within a reasonable distance, and second to time the catch to dissuade any counter-attacks. The break did manage around six minutes at one point, but after that it was a steady drop to two minutes entering the larger and difficult finishing circuits.
The trio survived the first lap, but were caught soon after on the second, with Wynants giving a last-ditch solo effort to earn him the most aggressive rider award. From there, CSC and Toyota-United continued the pace-making, with Health Net-Maxxis also finally joining in. A few solo attacks came from various Health Net riders, including Kirk O'Bee. "We were trying to soften up CSC on those few little kickers, maybe take off some of their lead-out guys," he said. Even though he was understandably tired from the effort, he still managed a smile, saying: "It was a fun circuit!"
Ivan Stevic even gave a little solo attack while covering one of the many Health Net moves. But an even bigger surprise was seeing Discovery Channel's Tom Danielson and Levi Leipheimer on the front up the hill towards the one kilometre mark, working for George Hincapie. "We were hoping the hill in the last kilometre would be a little bit harder," said Hincapie. "We tried to do something [because] I have been feeling better everyday here."
Fred Rodriguez (Predictor-Lotto)
Photo ©: Jon Devich

But over the top of the one kilometre flag it was all together, with the field single file around the hard 90-degree turn just over 500 metres from the line. "I followed an attack through the one-kilometre to go sign and we toughed it over that," said Rodriguez. "I think that took the edge off of the others. I went over the top with George Hincapie and at that point I was looking for the right wheel. Health Net came by and I jumped on their train. Coming through the last corner I was third wheel and then they stalled on their lead out. I saw 200-metres to go and I felt the sprint coming from behind so I went and was able to hold off Haedo by half a bike wheel."
There were no other changes to the leaders jerseys today, with Janez Brajkovic sitting comfortably at 15th wheel all day and no KOMs for Ryder Hesjedal (Health Net-Maxxis) to defend. Tomorrow's final stage is a circuit race around downtown Atlanta, beginning and finishing near Centennial Olympic Park. Follow along with Grover and the Cyclingnews live coverage of the conclusion to the Tour de Georgia, starting at 1:00 p.m. EDT.
Photography
For a thumbnail gallery of these images, click here
Images by Jonathan Devich/epicimages.us
Images by Phoenix Sports Technology
Images by Trish Albert/www.southeasterncycling.com
Images by Doug Gravino/www.southeasterncycling.com
Images by John Pierce/Photosport International
Results
1 Fred Rodriguez (USA) Predictor-Lotto                                          4.04.00
2 Juan José Haedo (Arg) Team CSC                                                       
3 George Hincapie (USA) Discovery Channel Pro Cycling Team                             
4 David Millar (GBr) Saunier Duval - Prodir                                            
5 Ivan Dominguez (Cub) Toyota-United Pro Cycling Team                                  
6 Alessandro Proni (Ita) Quick Step - Innergetic                                       
7 Karl Menzies (Aus) Health Net presented by Maxxis                                    
8 Andrea Tonti (Ita) Quick Step - Innergetic                                           
9 Davide Frattini (Ita) Colavita/Sutter Home presented by Cooking Light                
10 Valery Kobzarenko (Ukr) Navigators Insurance Cycling Team                           
11 Richard England (Aus) Priority Health Cycling Team presented by Bissell             
12 Janez Brajkovic (Slo) Discovery Channel Pro Cycling Team                            
13 Cesar Augusto Grajales (Col) Jittery Joe's Pro Cycling Team                         
14 Ruggero Marzoli (Ita) Tinkoff Credit Systems                                        
15 Evan Elken (USA) Jittery Joe's Pro Cycling Team                                     
16 Jason Donald (USA) Team Slipstream                                                  
17 Elio Aggiano (Ita) Tinkoff Credit Systems                                           
18 Daniele Contrini (Ita) Tinkoff Credit Systems                                       
19 Charles Dionne (Can) Colavita/Sutter Home presented by Cooking Light                
20 Sheldon Deeny (USA) USA National Development Team                                   
21 Tommy Nankervis (Aus) Jittery Joe's Pro Cycling Team                                
22 Thomas Danielson (USA) Discovery Channel Pro Cycling Team                           
23 Geert Steurs (Bel) Predictor-Lotto                                                  
24 Neil Shirley (USA) Jittery Joe's Pro Cycling Team                                   
25 Cody Stevenson (Aus) Jittery Joe's Pro Cycling Team                                 
26 Jackson Stewart (USA) BMC Racing Team                                               
27 Ben Jacques-Maynes (USA) Priority Health Cycling Team presented by Bissell          
28 Alexandre Moos (Swi) BMC Racing Team                                                
29 Rubens Bertogliati (Swi) Saunier Duval - Prodir                                     
30 Sergey Lagutin (Uzb) Navigators Insurance Cycling Team                              
31 Preben Van Hecke (Bel) Predictor-Lotto                                              
32 David Canada Gracia (Spa) Saunier Duval - Prodir                                    
33 Rory Sutherland (Aus) Health Net presented by Maxxis                                
34 Ivan Santaromita (Swi) Quick Step - Innergetic                                      
35 Pavel Brutt (Rus) Tinkoff Credit Systems                                            
36 Steffen Weigold (Ger) Tinkoff Credit Systems                                        
37 Edward King (USA) Priority Health Cycling Team presented by Bissell                 
38 Christophe Brandt (Bel) Predictor-Lotto                                             
39 Jacob Rosenbarger (USA) BMC Racing Team                                             
40 Christian Vandevelde (USA) Team CSC                                                 
41 John Devine (USA) USA National Development Team                                     
42 Ryder Hesjedal (Can) Health Net presented by Maxxis                                 
43 Dominique Cornu (Bel) Predictor-Lotto                                               
44 Anthony Colby (USA) Colavita/Sutter Home presented by Cooking Light                 
45 Timothy Duggan (USA) Team Slipstream                                                
46 Timothy Johnson (USA) Health Net presented by Maxxis                                
47 Hubert Schwab (Swi) Quick Step - Innergetic                                         
48 Pavel Padrnos (Cze) Discovery Channel Pro Cycling Team                              
49 Ivan Stevic (SCG) Toyota-United Pro Cycling Team                                    
50 Nathan O'neill (Aus) Health Net presented by Maxxis                                 
51 Kevin Seeldrayers (Bel) Quick Step - Innergetic                                     
52 Peter Hatton (Aus) Colavita/Sutter Home presented by Cooking Light                  
53 Benjamin Brooks (Aus) Navigators Insurance Cycling Team                             
54 Scott Nydam (USA) BMC Racing Team                                                   
55 Leonardo Scarselli (Ita) Quick Step - Innergetic                                    
56 Nick Reistad (USA) USA National Development Team                                    
57 Scott Moninger (USA) BMC Racing Team                                                
58 Levi Leipheimer (USA) Discovery Channel Pro Cycling Team                            
59 Lucas Euser (USA) Team Slipstream                                                   
60 Cameron Wurf (Aus) Priority Health Cycling Team presented by Bissell                
61 Jonathan Garcia (USA) BMC Racing Team                                               
62 Matt Shriver (USA) Jittery Joe's Pro Cycling Team                                   
63 Ben Day (Aus) Navigators Insurance Cycling Team                                     
64 Tyler Wren (USA) Colavita/Sutter Home presented by Cooking Light                    
65 Tyler Hamilton (USA) Tinkoff Credit Systems                                         
66 Stefano Zanini (Ita) Predictor-Lotto                                                
67 Christophe Rinero (Fra) Saunier Duval - Prodir                                      
68 Gustavo Artacho (Arg) Colavita/Sutter Home presented by Cooking Light               
69 Craig Lewis (USA) Team Slipstream                                                   
70 Eric Keim (USA) USA National Development Team                                       
71 Michael Blaudzun (Den) Team CSC                                                     
72 Guido Trentin (Ita) Saunier Duval - Prodir                                          
73 Danny Pate (USA) Team Slipstream                                                    
74 Kurt-Asle Arvesen (Nor) Team CSC                                                    
75 Ian Mckissick (USA) BMC Racing Team                                                 
76 Brian Vandborg (Den) Discovery Channel Pro Cycling Team                             
77 Nick Gates (Aus) Predictor-Lotto                                                    
78 Gilberto Simoni (Ita) Saunier Duval - Prodir                                        
79 Thomas Peterson (USA) Team Slipstream                                               
80 Doug Ollerenshaw (USA) Health Net presented by Maxxis                               
81 Austin King (USA) Jittery Joe's Pro Cycling Team                                    
82 Maarten Wynants (Bel) Quick Step - Innergetic                                       
83 Michael Lange (USA) Team Slipstream                                                 
84 David Mccann (Irl) Colavita/Sutter Home presented by Cooking Light                  
85 Adam Bergman (USA) Colavita/Sutter Home presented by Cooking Light                  
86 David Zabriskie (USA) Team CSC                                                      
87 Jonathan Patrick McCarty (USA) Team Slipstream                                      
88 Scott Zwizanski (USA) Priority Health Cycling Team presented by Bissell             
89 Phil Zajicek (USA) Navigators Insurance Cycling Team                                
90 Glen Alan Chadwick (NZl) Navigators Insurance Cycling Team                          
91 Mauro Facci (Ita) Quick Step - Innergetic                                           
92 Martin Pedersen (Den) Team CSC                                                      
93 Chad Beyer (USA) USA National Development Team                                      
94 Jeffry Louder (USA) Health Net presented by Maxxis                                  
95 Christopher Baldwin (USA) Toyota-United Pro Cycling Team                            
96 Trent Wilson (Aus) Jittery Joe's Pro Cycling Team                                   
97 Kirk O'bee (USA) Health Net presented by Maxxis                                 0.28
98 Henk Vogels (Aus) Toyota-United Pro Cycling Team                                0.39
99 Caleb Manion (Aus) Toyota-United Pro Cycling Team                               3.23
100 Olivier Kaisen (Bel) Predictor-Lotto                                           4.52
101 Caleb Fairly (USA) USA National Development Team                                   
102 Burke Swindlehurst (USA) Toyota-United Pro Cycling Team                        6.05
103 Matthew Harley Goss (Aus) Team CSC                                                 
104 Chris Wherry (USA) Toyota-United Pro Cycling Team                                  
105 Anders Lund (Den) Team CSC                                                         
106 Omer Kem (USA) Priority Health Cycling Team presented by Bissell                   
107 Justin England (USA) Toyota-United Pro Cycling Team                                
108 Eric Riggs (USA) USA National Development Team                                     
 
Sprint 1
 
1 Karl Menzies (Aus) Health Net presented by Maxxis                                   5 pts
2 Elio Aggiano (Ita) Tinkoff Credit Systems                                           3
3 Rory Sutherland (Aus) Health Net presented by Maxxis                                1
 
Sprint 2
 
1 Maarten Wynants (Bel) Quick Step - Innergetic                                       5 pts
2 Glen Alan Chadwick (NZl) Navigators Insurance Cycling Team                          3
3 Olivier Kaisen (Bel) Predictor-Lotto                                                1
 
Sprint 3 - finish
 
1 Fred Rodriguez (USA) Predictor-Lotto                                               15 pts
2 Juan José Haedo (Arg) Team CSC                                                     12
3 George Hincapie (USA) Discovery Channel Pro Cycling Team                           10
4 David Millar (GBr) Saunier Duval - Prodir                                           7
5 Ivan Dominguez (Cub) Toyota-United Pro Cycling Team                                 6
6 Alessandro Proni (Ita) Quick Step - Innergetic                                      5
7 Karl Menzies (Aus) Health Net presented by Maxxis                                   4
8 Andrea Tonti (Ita) Quick Step - Innergetic                                          3
9 Davide Frattini (Ita) Colavita/Sutter Home presented by Cooking Light               2
10 Valery Kobzarenko (Ukr) Navigators Insurance Cycling Team                          1
 
Young rider
 
1 Janez Brajkovic (Slo) Discovery Channel Pro Cycling Team                      4.04.00
2 Sheldon Deeny (USA) USA National Development Team                                    
3 Tommy Nankervis (Aus) Jittery Joe's Pro Cycling Team                                 
4 Ivan Santaromita (Swi) Quick Step - Innergetic                                       
5 Edward King (USA) Priority Health Cycling Team presented by Bissell                  
6 John Devine (USA) USA National Development Team                                      
7 Dominique Cornu (Bel) Predictor-Lotto                                                
8 Kevin Seeldrayers (Bel) Quick Step - Innergetic                                      
9 Peter Hatton (Aus) Colavita/Sutter Home presented by Cooking Light                   
10 Nick Reistad (USA) USA National Development Team                                    
11 Lucas Euser (USA) Team Slipstream                                                   
12 Cameron Wurf (Aus) Priority Health Cycling Team presented by Bissell                
13 Craig Lewis (USA) Team Slipstream                                                   
14 Thomas Peterson (USA) Team Slipstream                                               
15 Michael Lange (USA) Team Slipstream                                                 
16 Martin Pedersen (Den) Team CSC                                                      
17 Chad Beyer (USA) USA National Development Team                                      
18 Olivier Kaisen (Bel) Predictor-Lotto                                            4.52
19 Caleb Fairly (USA) USA National Development Team                                    
20 Matthew Harley Goss (Aus) Team CSC                                              6.05
21 Anders Lund (Den) Team CSC                                                          
 
Teams
 
1 Discovery Channel Pro Cycling Team                                           12.12.00
2 Quick Step-Innergetic                                                                
3 Jittery Joe's                                                                        
4 Tinkoff Credit Systems                                                               
5 Predictor-Lotto                                                                      
6 Prodir-Saunier Duval                                                                 
7 Colavita/Sutter Home Presented by Cooking Light Team                                 
8 Priority Health Cycling Team Presented by Bissell                                    
9 The Health Net Pro Cycling Team Presented by Maxxis                                  
10 Navigators Insurance Cycling Team                                                   
11 BMC Racing Team                                                                     
12 Team CSC                                                                            
13 USA Cycling National Development Team                                               
14 Team Slipstream Powered by Chipotle                                                 
15 Toyota-United Pro Cycling Team                                                      
 
General classification after stage 6
 
1 Janez Brajkovic (Slo) Discovery Channel Pro Cycling Team                     23.01.03
2 Christian Vandevelde (USA) Team CSC                                              0.12
3 David Canada Gracia (Spa) Saunier Duval - Prodir                                 3.04
4 Rubens Bertogliati (Swi) Saunier Duval - Prodir                                  3.06
5 Kevin Seeldrayers (Bel) Quick Step - Innergetic                                  4.22
6 Scott Nydam (USA) BMC Racing Team                                                5.35
7 Jeffry Louder (USA) Health Net presented by Maxxis                               6.00
8 Timothy Johnson (USA) Health Net presented by Maxxis                             6.59
9 Lucas Euser (USA) Team Slipstream                                               10.08
10 Ivan Santaromita (Swi) Quick Step - Innergetic                                 12.15
11 Tyler Wren (USA) Colavita/Sutter Home presented by Cooking Light               12.26
12 Levi Leipheimer (USA) Discovery Channel Pro Cycling Team                       24.48
13 Thomas Danielson (USA) Discovery Channel Pro Cycling Team                      26.57
14 Nathan O'neill (Aus) Health Net presented by Maxxis                            27.15
15 David Zabriskie (USA) Team CSC                                                 28.21
16 Anthony Colby (USA) Colavita/Sutter Home presented by Cooking Light            28.55
17 Ryder Hesjedal (Can) Health Net presented by Maxxis                            29.09
18 Danny Pate (USA) Team Slipstream                                               29.55
19 Gilberto Simoni (Ita) Saunier Duval - Prodir                                   30.00
20 George Hincapie (USA) Discovery Channel Pro Cycling Team                       30.13
21 Michael Blaudzun (Den) Team CSC                                                30.37
22 Brian Vandborg (Den) Discovery Channel Pro Cycling Team                        30.49
23 Alexandre Moos (Swi) BMC Racing Team                                           30.50
24 Hubert Schwab (Swi) Quick Step - Innergetic                                    31.30
25 Sergey Lagutin (Uzb) Navigators Insurance Cycling Team                         31.35
26 Thomas Peterson (USA) Team Slipstream                                          32.37
27 Rory Sutherland (Aus) Health Net presented by Maxxis                           32.59
28 John Devine (USA) USA National Development Team                                33.06
29 Andrea Tonti (Ita) Quick Step - Innergetic                                     33.20
30 Glen Alan Chadwick (NZl) Navigators Insurance Cycling Team                     33.44
31 Craig Lewis (USA) Team Slipstream                                              33.53
32 Jason Donald (USA) Team Slipstream                                             34.06
33 Ben Day (Aus) Navigators Insurance Cycling Team                                34.08
34 Cesar Augusto Grajales (Col) Jittery Joe's Pro Cycling Team                    34.16
35 Valery Kobzarenko (Ukr) Navigators Insurance Cycling Team                      34.17
36 Scott Moninger (USA) BMC Racing Team                                           35.07
37 Timothy Duggan (USA) Team Slipstream                                           35.47
38 Preben Van Hecke (Bel) Predictor-Lotto                                         36.05
39 Ruggero Marzoli (Ita) Tinkoff Credit Systems                                   36.06
40 Phil Zajicek (USA) Navigators Insurance Cycling Team                           36.17
41 Pavel Padrnos (Cze) Discovery Channel Pro Cycling Team                         36.44
42 Ian Mckissick (USA) BMC Racing Team                                            36.53
43 David Mccann (Irl) Colavita/Sutter Home presented by Cooking Light             36.54
44 Kurt-Asle Arvesen (Nor) Team CSC                                                    
45 Benjamin Brooks (Aus) Navigators Insurance Cycling Team                        37.18
46 Christophe Brandt (Bel) Predictor-Lotto                                        37.25
47 Jonathan Garcia (USA) BMC Racing Team                                          37.30
48 Maarten Wynants (Bel) Quick Step - Innergetic                                  37.51
49 Jonathan Patrick McCarty (USA) Team Slipstream                                 38.23
50 Dominique Cornu (Bel) Predictor-Lotto                                          38.28
51 Justin England (USA) Toyota-United Pro Cycling Team                            38.29
52 David Millar (GBr) Saunier Duval - Prodir                                      38.34
53 Peter Hatton (Aus) Colavita/Sutter Home presented by Cooking Light             38.41
54 Jackson Stewart (USA) BMC Racing Team                                          38.46
55 Geert Steurs (Bel) Predictor-Lotto                                             39.18
56 Ben Jacques-Maynes (USA) Priority Health Cycling Team presented by Bissell     39.23
57 Christopher Baldwin (USA) Toyota-United Pro Cycling Team                       39.25
58 Doug Ollerenshaw (USA) Health Net presented by Maxxis                          40.08
59 Guido Trentin (Ita) Saunier Duval - Prodir                                          
60 Ivan Stevic (SCG) Toyota-United Pro Cycling Team                               40.18
61 Adam Bergman (USA) Colavita/Sutter Home presented by Cooking Light             40.29
62 Tyler Hamilton (USA) Tinkoff Credit Systems                                    40.31
63 Leonardo Scarselli (Ita) Quick Step - Innergetic                               40.46
64 Edward King (USA) Priority Health Cycling Team presented by Bissell            40.58
65 Charles Dionne (Can) Colavita/Sutter Home presented by Cooking Light           41.38
66 Nick Gates (Aus) Predictor-Lotto                                               41.52
67 Davide Frattini (Ita) Colavita/Sutter Home presented by Cooking Light          42.04
68 Michael Lange (USA) Team Slipstream                                            42.19
69 Cameron Wurf (Aus) Priority Health Cycling Team presented by Bissell           42.22
70 Alessandro Proni (Ita) Quick Step - Innergetic                                 44.24
71 Karl Menzies (Aus) Health Net presented by Maxxis                              44.41
72 Fred Rodriguez (USA) Predictor-Lotto                                           44.44
73 Daniele Contrini (Ita) Tinkoff Credit Systems                                  44.48
74 Eric Keim (USA) USA National Development Team                                  45.04
75 Neil Shirley (USA) Jittery Joe's Pro Cycling Team                                   
76 Burke Swindlehurst (USA) Toyota-United Pro Cycling Team                        45.10
77 Matthew Harley Goss (Aus) Team CSC                                             45.33
78 Christophe Rinero (Fra) Saunier Duval - Prodir                                 45.35
79 Caleb Manion (Aus) Toyota-United Pro Cycling Team                              45.47
80 Jacob Rosenbarger (USA) BMC Racing Team                                        46.08
81 Gustavo Artacho (Arg) Colavita/Sutter Home presented by Cooking Light          46.10
82 Juan José Haedo (Arg) Team CSC                                                 46.24
83 Olivier Kaisen (Bel) Predictor-Lotto                                           47.03
84 Pavel Brutt (Rus) Tinkoff Credit Systems                                       47.54
85 Trent Wilson (Aus) Jittery Joe's Pro Cycling Team                              48.15
86 Kirk O'bee (USA) Health Net presented by Maxxis                                48.51
87 Nick Reistad (USA) USA National Development Team                               49.53
88 Elio Aggiano (Ita) Tinkoff Credit Systems                                      50.12
89 Steffen Weigold (Ger) Tinkoff Credit Systems                                   50.20
90 Mauro Facci (Ita) Quick Step - Innergetic                                      50.26
91 Ivan Dominguez (Cub) Toyota-United Pro Cycling Team                            50.38
92 Anders Lund (Den) Team CSC                                                     50.41
93 Tommy Nankervis (Aus) Jittery Joe's Pro Cycling Team                           51.28
94 Henk Vogels (Aus) Toyota-United Pro Cycling Team                               51.33
95 Martin Pedersen (Den) Team CSC                                                 51.59
96 Richard England (Aus) Priority Health Cycling Team presented by Bissell        52.06
97 Chris Wherry (USA) Toyota-United Pro Cycling Team                              52.47
98 Sheldon Deeny (USA) USA National Development Team                              52.52
99 Chad Beyer (USA) USA National Development Team                                 53.46
100 Matt Shriver (USA) Jittery Joe's Pro Cycling Team                             55.31
101 Austin King (USA) Jittery Joe's Pro Cycling Team                              55.45
102 Evan Elken (USA) Jittery Joe's Pro Cycling Team                               56.02
103 Scott Zwizanski (USA) Priority Health Cycling Team presented by Bissell       57.22
104 Cody Stevenson (Aus) Jittery Joe's Pro Cycling Team                           57.43
105 Stefano Zanini (Ita) Predictor-Lotto                                          58.37
106 Eric Riggs (USA) USA National Development Team                              1.03.23
107 Caleb Fairly (USA) USA National Development Team                            1.04.16
108 Omer Kem (USA) Priority Health Cycling Team presented by Bissell            1.07.16
 
Sprint classification
 
1 Juan José Haedo (Arg) Team CSC                                                     26 pts
2 Fred Rodriguez (USA) Predictor-Lotto                                               25
3 Daniele Contrini (Ita) Tinkoff Credit Systems                                      23
4 Levi Leipheimer (USA) Discovery Channel Pro Cycling Team                           20
5 Ryder Hesjedal (Can) Health Net presented by Maxxis                                16
6 Ivan Stevic (SCG) Toyota-United Pro Cycling Team                                   15
7 Glen Alan Chadwick (NZl) Navigators Insurance Cycling Team                         14
8 Karl Menzies (Aus) Health Net presented by Maxxis                                  14
9 Ben Day (Aus) Navigators Insurance Cycling Team                                    14
10 David Canada Gracia (Spa) Saunier Duval - Prodir                                  14
11 Doug Ollerenshaw (USA) Health Net presented by Maxxis                             13
12 Thomas Danielson (USA) Discovery Channel Pro Cycling Team                         13
13 Alessandro Proni (Ita) Quick Step - Innergetic                                    12
14 Ivan Dominguez (Cub) Toyota-United Pro Cycling Team                               12
15 Janez Brajkovic (Slo) Discovery Channel Pro Cycling Team                          11
16 Sergey Lagutin (Uzb) Navigators Insurance Cycling Team                            11
17 George Hincapie (USA) Discovery Channel Pro Cycling Team                          10
18 Anthony Colby (USA) Colavita/Sutter Home presented by Cooking Light               10
19 Kevin Seeldrayers (Bel) Quick Step - Innergetic                                    9
20 Christian Vandevelde (USA) Team CSC                                                9
21 Timothy Johnson (USA) Health Net presented by Maxxis                               7
22 David Millar (GBr) Saunier Duval - Prodir                                          7
23 Nathan O'neill (Aus) Health Net presented by Maxxis                                7
24 Gilberto Simoni (Ita) Saunier Duval - Prodir                                       6
25 Maarten Wynants (Bel) Quick Step - Innergetic                                      5
26 David Mccann (Irl) Colavita/Sutter Home presented by Cooking Light                 5
27 Jeffry Louder (USA) Health Net presented by Maxxis                                 5
28 Alexandre Moos (Swi) BMC Racing Team                                               5
29 Austin King (USA) Jittery Joe's Pro Cycling Team                                   4
30 Rory Sutherland (Aus) Health Net presented by Maxxis                               4
31 Andrea Tonti (Ita) Quick Step - Innergetic                                         4
32 Charles Dionne (Can) Colavita/Sutter Home presented by Cooking Light               4
33 Scott Nydam (USA) BMC Racing Team                                                  4
34 Elio Aggiano (Ita) Tinkoff Credit Systems                                          3
35 Henk Vogels (Aus) Toyota-United Pro Cycling Team                                   3
36 Rubens Bertogliati (Swi) Saunier Duval - Prodir                                    3
37 John Devine (USA) USA National Development Team                                    3
38 Davide Frattini (Ita) Colavita/Sutter Home presented by Cooking Light              2
39 Olivier Kaisen (Bel) Predictor-Lotto                                               1
40 Danny Pate (USA) Team Slipstream                                                   1
41 Ivan Santaromita (Swi) Quick Step - Innergetic                                     1
42 Valery Kobzarenko (Ukr) Navigators Insurance Cycling Team                          1
43 Lucas Euser (USA) Team Slipstream                                                  1

Mountains classification
 
1 Ryder Hesjedal (Can) Health Net presented by Maxxis                                18 pts
2 Anthony Colby (USA) Colavita/Sutter Home presented by Cooking Light                16
3 Levi Leipheimer (USA) Discovery Channel Pro Cycling Team                           12
4 Phil Zajicek (USA) Navigators Insurance Cycling Team                               12
5 Jeffry Louder (USA) Health Net presented by Maxxis                                 12
6 Alexandre Moos (Swi) BMC Racing Team                                               11
7 Thomas Danielson (USA) Discovery Channel Pro Cycling Team                          10
8 Nathan O'neill (Aus) Health Net presented by Maxxis                                10
9 Lucas Euser (USA) Team Slipstream                                                   9
10 Kevin Seeldrayers (Bel) Quick Step - Innergetic                                    8
11 Rubens Bertogliati (Swi) Saunier Duval - Prodir                                    7
12 Janez Brajkovic (Slo) Discovery Channel Pro Cycling Team                           7
13 Gilberto Simoni (Ita) Saunier Duval - Prodir                                       6
14 Timothy Johnson (USA) Health Net presented by Maxxis                               6
15 Christian Vandevelde (USA) Team CSC                                                6
16 Ben Day (Aus) Navigators Insurance Cycling Team                                    5
17 Michael Blaudzun (Den) Team CSC                                                    5
18 Scott Nydam (USA) BMC Racing Team                                                  4
19 Ben Jacques-Maynes (USA) Priority Health Cycling Team presented by Bissell         4
20 John Devine (USA) USA National Development Team                                    3
21 David Canada Gracia (Spa) Saunier Duval - Prodir                                   1
22 Ivan Santaromita (Swi) Quick Step - Innergetic                                     1
23 Sergey Lagutin (Uzb) Navigators Insurance Cycling Team                             1
 
Young rider classification
 
1 Janez Brajkovic (Slo) Discovery Channel Pro Cycling Team                     23.01.03
2 Kevin Seeldrayers (Bel) Quick Step - Innergetic                                  4.22
3 Lucas Euser (USA) Team Slipstream                                               10.08
4 Ivan Santaromita (Swi) Quick Step - Innergetic                                  12.15
5 Thomas Peterson (USA) Team Slipstream                                           32.37
6 John Devine (USA) USA National Development Team                                 33.06
7 Craig Lewis (USA) Team Slipstream                                               33.53
8 Dominique Cornu (Bel) Predictor-Lotto                                           38.28
9 Peter Hatton (Aus) Colavita/Sutter Home presented by Cooking Light              38.41
10 Edward King (USA) Priority Health Cycling Team presented by Bissell            40.58
11 Michael Lange (USA) Team Slipstream                                            42.19
12 Cameron Wurf (Aus) Priority Health Cycling Team presented by Bissell           42.22
13 Matthew Harley Goss (Aus) Team CSC                                             45.33
14 Olivier Kaisen (Bel) Predictor-Lotto                                           47.03
15 Nick Reistad (USA) USA National Development Team                               49.53
16 Anders Lund (Den) Team CSC                                                     50.41
17 Tommy Nankervis (Aus) Jittery Joe's Pro Cycling Team                           51.28
18 Martin Pedersen (Den) Team CSC                                                 51.59
19 Sheldon Deeny (USA) USA National Development Team                              52.52
20 Chad Beyer (USA) USA National Development Team                                 53.46
21 Eric Riggs (USA) USA National Development Team                               1.03.23
22 Caleb Fairly (USA) USA National Development Team                             1.04.16
 
Teams classification
 
1 Discovery Channel Pro Cycling Team                                           69.25.22
2 The Health Net Pro Cycling Team Presented by Maxxis                              8.42
3 Prodir-Saunier Duval                                                            10.42
4 Quick Step-Innergetic                                                           21.25
5 Team CSC                                                                        36.38
6 Team Slipstream Powered by Chipotle                                             45.21
7 Navigators Insurance Cycling Team                                               46.23
8 BMC Racing Team                                                                 46.29
9 Colavita/Sutter Home Presented by Cooking Light Team                            51.24
10 Toyota-United Pro Cycling Team                                               1.23.24
11 Predictor-Lotto                                                              1.24.43
12 Tinkoff Credit Systems                                                       1.35.14
13 Priority Health Cycling Team Presented by Bissell                            1.35.28
14 USA Cycling National Development Team                                        1.37.05
15 Jittery Joe's                                                                1.45.22

Back to top