Vuelta a España Cycling News for September 2, 2006
Coming up on
Cyclingnews will cover the 60th edition of the Dauphiné Libéré live as of stage 4 on Wednesday, June 10, at approximately 15:00 local Europe time (CEST)/ 23:00 Australian time (CDT)/ 9:00 (USA East).

WAP-enabled mobile devices: http://live.cyclingnews.com/wap/

Edited by Jeff Jones
Vuelta Stage 7 wrap-up
Brajkovic new leader after Valverde wins on El Morredero
Alejandro Valverde (Caisse d'Epargne-Illes Balears)
Photo ©: AFP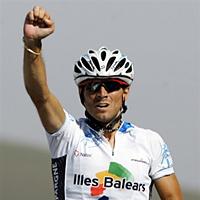 22 year-old Slovenian talent Janez Brajkovic has ridden into the overall lead of the Vuelta after finishing fourth in the second mountain stage to Alto de El Morredero. Brajkovic was just 7 seconds behind winner Alejandro Valverde (Caisse d'Epargne), who saved his best until last and unleashed a powerful kick to overhaul Alexandre Vinokourov (Astana) in the final 100m to win. Second place in the stage went to Carlos Sastre, who is now in third on GC at 10 seconds behind Brajkovic.
The stage was marked by a three man breakaway consisting of Laszlo Bodrogi (Credit Agricole), David Loosli (Lampre) and Staf Scheirlinckx (Cofidis). The trio was able to gain over 12 minutes at one stage, but the peloton quickly reeled all but Loosli in on the last climb. The Swiss rider held on until 2 km to go, when Vinokourov and Brajkovic attacked the Valverde group. Vinokourov then went at 1 km to go, but was unable to resist Valverde's sprint.
"I want to thank all my teammates," declared Alejandro Valverde at the top of El Morredero. "They remained at my side all the day and what they did was really phenomenal work, to help me to obtain that victory which I want to dedicate to them. I really feel good to face the next stages. Now it will be important to recover well for the stage of Sunday that I consider as the queen stage of this Tour of Spain.
"My rivals for the final victory are those which I had mentioned after the stage of La Covatilla but after what we could see today we also have to add to the list Iban Mayo, who I saw very good all day, as well as Alexandre Vinokourov, who we pushed aside a little too early. As for Brajkovic, I knew him and his performance does not surprise me. He will be a dangerous rival, also because he is excellent in the time trials."
Click here for the full results, report & photos and live report from stage 7.
Brajkovic: I'm here to learn
By Shane Stokes in Ponferrada
Janez Brajkovic (Discovery Channel)
Photo ©: Unipublic

Discovery Channel's Janez Brajkovic continued to highlight his talent today, riding strongly on the final climb to take hold of the maillot oro. Although he's a strong time trialist and clearly a very capable climber, he played down talk of a possible overall win.
"I still think that I am a very young rider and not very experienced," he said. "The finish is two weeks away and in that time, many things can happen. We will take it day by day and see how my body will react.
"Johan is such an experienced person that I am sure he will guide me and guide the team in the right way. I trust him 100% percent."
He also spoke about how he got his pro contract and what it means to him. "I started cycling in 2001 and then in 2004 I became the world [under 23] champion in the time trial. At the end of the year I signed a contract to ride with the Discovery Channel team. I went to the team halfway through last year so this is my first full season with them. So far it has been an amazing season. It is a great feeling to work with those people in the team…it is more than a dream."
Sastre improving
Carlos Sastre (CSC) had a relatively good day to finish second behind Valverde in the seventh stage to Alto de El Morredero. "I had a good feeling today, and it was nice to be able to stay all the way up front," he said to team-csc.com. "We're still well positioned in the overall standings, which of course is very important. Today's finish was tailor made for Valverde and there was not much the rest of us could do, but I'm very happy with our performance out there."
"It was a perfect day for us. We kept a low profile on purpose, which turned out to be good tactics," added team director Kim Andersen. "Carlos is simply brilliant at preserving his energy, and he had lots of strength left at the end. We're right where we want to be now in the overall standings ahead of the big mountain stage on Sunday."
Vinokourov close
Alexandre Vinokourov (Astana)
Photo ©: Unipublic

After attacking with 1 km to go in stage 7, Alexandre Vinokourov (Astana) missed out on victory by 100 metres when Alejandro Valverde passed him to win the stage to the top of the Alto de El Morredero. The Kazakhstani eventually finished fifth. "Simply, I could not have won, but I am satisfied because every day I go better," said Vino. "I had very good sensations during the whole stage, am improving and believe that on Sunday I will be even better. Valverde has not been a surprise, I know him well, but we will see what happens on Sunday. Today he was very motivated because I believe that also wanted the leadership."
Andrey Kashechkin finished eighth and is now in fifth overall at 23 seconds. He commented on the final climb: "It is a strange climb, with many changes of pace and rests, very good for explosive riders like Bettini or also Valverde. If it had been a regular climb, it would have been a very different result.
"Valverde has demonstrated what I said two days ago, that he is the top favourite together with Sastre. For me nothing changes with this result, I will continue fighting for the general classification."
Fast Freddie aiming big
By Shane Stokes in Ponferrada
Following Robbie McEwen's elimination on stage 5, Fred Rodriguez is now Davitamon-Lotto's fast man in the sprint. He's normally the lead-out for the Australian, but he's hoping to land a stage win before the end of the Vuelta.
"It was actually our intention from the start that I would be the sprinter later on in the race," he told Cyclingnews at the start of stage 7 in Léon. "Robbie was only going to be here for the first week. We gave it our best shot but came out every day a little bit short due to tactical errors. Robbie was feeling okay, I was doing some good leadouts but it doesn't always work out how you want it.
"His form was in top shape for the Tour. Here it was probably a little bit less but Robbie is still the best guy in the world. I think he had a good chance of winning the first stage we sprinted for, but we miscalculated it by about 50 metres. If I had left him 50 metres later he probably would have had it. Little things like that make such a big difference in the sprint. Of course, if he had the legs he had at the Tour, I think he probably would have won even with those little mistakes. But it has been three Grand Tours for him this year, it is a lot.
"Anyway, now it is my turn to give it a shot. I am going to go out there and see what I can do. I have good legs, I have had good performances here in the past, taking second behind Petacchi. I want to better that, get a stage win. There are plenty of stages ahead to do that."
Rodriguez has won three US road race titles and will miss the race due to his participation in the Vuelta. He says that he would like to have been able to ride, but also that the race will be very unpredictable this year.
"Missing the race in place of the Vuelta is a bit of a bittersweet feeling," he said. "Especially with the form I have going right now, I think I would have a good chance. That said, things have changed this year, it is a little bit different. It is not what I would have preferred for a road race, because it is going to be out of control. It is going to be a little like the last Olympic trials, a free for all. George [Hincapie] wants to do well there with it being in Greenville but he is going to have a hard time controlling the field."
Following the end of the Vuelta, Fast Freddie will head to Austria to ride the world road race championships. He'll most likely fulfil a team role there, although if the course is easier than people are saying, he will try for a result.
"I am going to do the worlds in support of Chris Horner. He is the main guy, I think the course is a little bit hard for me. Okay, with Boonen and Freire going, if they are there at the end then there is a good chance I might be there, but I think the course is a little bit too tough. In that case, I will be supporting Chris."
All for one, one for all for Cancellara
By Shane Stokes in Ponferrada
Fabian Cancellara (CSC)
Photo ©: Unipublic

Paris-Roubaix winner Fabian Cancellara has two goals at this Vuelta. The main one is to help pave the way for a potential victory by CSC team leader Carlos Sastre, second on stage seven and currently third overall, and the second is to build form for the world time trial championships later this month. The Swiss rider seemed happy with things thus far at the start village on Friday morning.
"The racing is going well, every day is a bit better and the team is strong," he said. "We are in a great way for Carlos. We will see how things go over the next few hard stages but it is going well.
"I think that today's [mountain] stage should not be any problem for Carlos. We are holding back a little as regards the riding we are doing because we are not here to kill the team in the early mountain stages. The Vuelta is long and the stages in the mountains are really hard. We will do things in a good way."
"Personally, my first goal is to be here for the team, to work for them, but I can also build form for the world championship time trial at the same time. It is good preparation for that, and each day I am feeling stronger. I won't go for a road stage but will try to win the next time trial. We will see what happens after that, how I feel."
Stage 7 judges' decisions
Several riders got hit with penalties on stage seven, with three being done for pacing. Iban Mayo's somewhat disappointing Vuelta continued when he got hit with 10 second penalty, the deduction of five points plus a fine of 50 CHF, a sentence also doled out to CSC's Fabian Cancellara. Serguei Yakovlev got slapped with a 30 second addition to his time, 15 points plus 150 CHF.
David George also got on the wrong side of the judges, receiving a 30 second penalty plus a 50 CHF fine for prolonged clasping of a water bottle. The man on the other end of the bidon, his Relax Gam manager, received a fine of 200 CHF.
(All rights reserved/Copyright Knapp Communications Pty Limited 2006)