First Edition Cycling News for August 29, 2006
Coming up on
Cyclingnews will cover the 60th edition of the Dauphiné Libéré live as of stage 4 on Wednesday, June 10, at approximately 15:00 local Europe time (CEST)/ 23:00 Australian time (CDT)/ 9:00 (USA East).

WAP-enabled mobile devices: http://live.cyclingnews.com/wap/

Edited by John Stevenson & John Kenny
Full steam ahead for Tour of Britain
By Gerry McManus
2005 winner Nick Nuyens (Quick Step)
Photo ©: John Pierce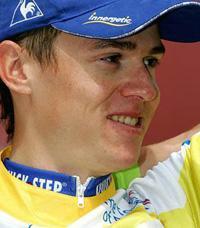 Sixteen teams of six riders make up the 96 starters on the roster sheet for the Tour of Britain starting in Glasgow, Scotland on Tuesday August 29. The third running of the event looks likely to be the most spectacular ever with the final stage into London billed as the rehearsal for when the Tour de France visits the UK next year.
This year's event has attracted the current world champion Tom Boonen who leads the Quick Step – Innergetic team over 860-miles culminating in a Champs-Elysees style finish in The Mall in England's capital city on Sunday September 3rd.
Boonen will start as the favourite lying in second place in the current UCI ranking and he has already raced in Britain winning the stage into Nottingham in 2004. The Quick Step- Innergetic team has a wealth of talent including Nick Nuyens and 24-year-old Italian hope Filippo Pozzato.
Andreas Klöden is in action for his T-Mobile team. Klöden has finished on the Tour de France podium twice in the last three editions of the race. The 31-year-old German had been criticised in the past for not performing well in other events but he answered his critics with a recent win in the Regio Tour in Germany. Klöden has already secured his place with Team Astana for next year and may let Australian triple world time-trial champion Michael Rogers take the lead role. Britain's Mark Cavendish returns to the UK as a stagiaire with T-Mobile and has a stage win on his shopping list.
Discovery Channel professional and former British champion Roger Hammond will be hoping for another stage win to add to his victory in Blackpool last year. Hammond guest rides for the GB team and has yet to reveal his plans for next year but is definitely leaving the US team. Hammond will hold the helm for a young team who will gain valuable experience riding against the top professionals. A good performance from Gerraint Thomas will certainly help to speed up his journey towards a certain destination of the pro ranks.
Phonak iShares ride with the knowledge of their team's demise at the end of the year and their riders may be looking for individual results to boost their search for contracts for next year. CSC and Davitamon-Lotto complete the Pro Tour teams entered.
DFL-Cyclingnews-Litespeed and Recycling.co.uk are the two established top British teams and ride head to head on home soil. Eric Vanderaerden takes up his new role as Director Sportif of the DFL team and the former winner of the Tour of Flanders and Paris Roubaix will certainly inspire the fledgling team. Russell Downing rides full of confidence following his win in the Druivenkoers Overijse race in Belgium last week.
Recycling's Dale Appley was the rider to miss out in the team selection for the team made by manager John Herety. The team that dominated the British Cycling Premier Series will find it a little more difficult against the bigger continental outfits but will find the experience of Chris Newton invaluable.
See also: Full schedule, Start list & 2005 edition
Rogers leads T-Mobile at Tour of Britain
Australian Michael Rogers will lead the T-Mobile team in the Tour of Britain, which starts today in Glasgow. The British national tour is one of Rogers' target events for the year and he comes to it with good form from the Regio Tour, where he won a stage and finished second overall.
"I had my first experience of the Tour of Britain last year and it's a fantastic event," said Rogers in a team newsletter. "I have made it one of my goals to do well at this year's event. I have only had two races since the Tour de France but I'm in good shape and have an experienced team to support me at what will be a very tough race."
The experienced Rogers will be joined by T-Mobile's youngest team member, Briton Mark Cavendish who is riding with the German squad as a stagiaire for the latter part of this season. Riding in his home country is an extra motivation for Cavendish, who won a gold medal in the Madison track event at the Commonwealth Games. "The London finale should suit me as a sprinter. I am expecting a very fast stage there," said Cavendish. "The stage into Liverpool will also be special, as it so close to home and there will be a big Manx contingent coming over to watch."
"The race, with its rolling profile, will suit good all-rounders. Michael Rogers has shown that he has good climbing legs at the moment. And in Olaf Pollack and Mark Cavendish, we have two riders on board, who can be in the mix in bunch sprint finishes," said directeur sportif Brian Holm.
The T-Mobile team for the Tour of Britain will be Olaf Pollack (32), Michael Rogers (26/Australia), Andreas Klöden (31), Mattias Kessler (27), Mark Cavendish (21/Great Britain), and Patrik Sinkewitz (25).
Martín Perdiguero retires
By Antonio J. Salmerón
After ten seasons as professional rider, Martin Perdiguero has retired from professional cycling at the age of 33. Persecution by the UCI over doping was cited by the rider as the reason for his sudden retirement.
"I am tired of [the] hypocrisy. I feel persecuted. Last week, [members of the UCI] came to my house to do a [doping] control. Several people had warned me that they would come," said the Phonak rider in an interview for the Vuelta official sport newspaper AS.
Perdiguero added, "Although Phonak has already announced its disappearance at the end this season, I had a pair of offers from foreign squads for the next year. I know that I still have two more years at a good competitive level, but I have already decided [to say] 'good-bye'. It is better this way, because cycling is now based on [suspicion of] 'who will be the next victim?'"
His decision was influenced by Phonak's withdrawal as a major sponsor in the aftermath of the Floyd Landis affair. "It was a very great blow [Landis' positive test for drugs during the Tour]," he lamented. "After the Landis Tour victory, Landis secured his contract as well as the rest of his team-mates in Phonak," he said. "But now we are all in the street".
Perdiguero said that the actual morale at Phonak is, "Not as bad as it could be in an team that is going to disappear. The morale is not as good as in the Tour, but [the other riders] know that they must ride well if they want a new contract for the next year".
Perdiguero's best year was 2004 when he won eight professional races including the Clasica San Sebastian and the overall and two stages of the Tour of Catalonia.
UCI grants T-Mobile four year license
The International Cycling Union (UCI) has granted the T-Mobile Team a four year ProTour license, to be operated as a German team by High Road Sports, Inc and its sister company Neuer Straßen Sport GmbH, both belonging to T-Mobile Team's future general manager Bob Stapleton.
The license brings some welcome good news to T-Mobile, that has lost some of its biggest names recently. Jan Ullrich was sacked by the team on Saturday after being linked to the Operacion Puerto affair and Tour stars Andreas Kloden and Mattias Kessler have signed for team Astana for 2007.
Stapleton said that the UCI recognised that the team was trying to clean up cycling. "This is an important step for both our team and the ProTour. The UCI immediately recognised the value that T-Mobile brings to cycling and respects the team management's commitment to clean and fair sport," said Stapleton.
"By granting the license, the UCI is laying down a marker," said Ulli Gritzuhn, T-Mobile International's chief marketing officer. "In response, we will continue to actively contribute to the battle against doping, in order to give the sport of cycling back its credibility."
The license grant is, "a first step in the ongoing restructuring of the team," said Stapleton. "The ProTour license provides the necessary security to plan ahead and makes the job easier for the team management."
The Head of sport management and former T-Mobile pro, Rolf Aldag, also welcomed the news from the UCI-headquarter in Aigle. "Now armed with the license, we can approach contract talks with riders very differently. I'm convinced that we are assembling a strong team, capable of meeting our expectations, and not just on the bike," he said.
At the end of July, team sponsor T-Mobile International announced that its working relationship with Olaf Ludwig Cycling was set to end by October 31, but said it would continue its sponsorship engagement, as planned, with a new management regime and clear guidelines
The UCI also extended the licence for Alejandro Valverde's Spanish Caisse d'Epargne-Illes Balears team.
Contador plans return
By Antonio J. Salmerón
Alberto Contador (Astana), who left the Vuelta a Burgos due to health problems, has assured his team that he is fully fit and wants to return to competition as soon as possible.
The Astana director, Herminio Díaz Zabala, said on TVE, "I have phoned [Contador] this morning, and he has assured me that he is ready to return to competition as soon as possible, but we have to take into account that he has had a long time without training and competing."
The next race in which Astana will take part is the Poland Tour, and "Contador wants to convince us that he should be there," said Diaz Zabala.
Renee Junga update
Australian downhiller Renee Junga underwent surgery in Auckland City Hospital on Friday to stabilize spinal injuries after crashing in four-cross practice last Tuesday.
Junga broke the C1 and C2 bones in her neck, two ribs and her sternum and sustained spinal chord damage at the T6 vertabrae.
"The surgeons say they are happy with the way the (10 hour) operation went," said Junga's mother, Sallie Howie. "They put rods and screws in to straighten her back and fused the two broken neck bones.
"They've told us there is a one in 800 chance she may regain feeling below T6 but that is a chance and doctors really don't know why some people with spinal injuries regain feeling and others don't," said Mrs Howie. "There isn't really anything more they can do surgically."
Doctors say her ribs and sternum are healing well and they hope to have Junga sitting up by Tuesday. Barring any complications she is expected to be flown back to Australia by mid-September.
Neiwand pleads guilty to stalking
Former world keirin and sprint champion Gary Neiwand yesterday pleaded guilty in the Melbourne Magistrates' Court to stalking a former girlfriend, her boss and her mother, it was reported by AAP.
39-year-old Neiwand pleaded guilty to five charges of stalking, two of theft, two of using a carriage service in a harassing manner and one of breaching an intervention order.
The Olympic silver medallist started making numerous hang-up calls to his former girlfriend's home and mobile phone early this year after she broke up with him, the court was told. The police prosecutor, acting Sergeant Jo Leechman, said the woman ended the brief relationship after a jealous Neiwand wrongly accused her of seeing other men.
After the woman changed her phone numbers, he started making hang-up phone calls to her mother and sent sexually explicit text messages about the woman to her boss. He got the phone numbers from the woman's phone bill, which he had stolen, Sgt Leechman said. He also sent abusive text messages to a former work colleague and two other people on a stolen mobile phone between May and July, the court was told.
Neiwand's lawyer, Martin Grinberg, described his client's actions as "absurd" and said Neiwand's two young children was ashamed of his behaviour. He said Neiwand had received "terrific" family support after he confessed to them he needed help and had thought about suicide.
Mr Grinberg asked the magistrate to consider a sentence that included psychiatric treatment. "Clearly it's what this fellow needs," Mr Grinberg said. Chief Magistrate Ian Gray will sentence Neiwand tomorrow morning.
In February, Neiwand was jailed for four months after breaching an intervention order requiring him to keep away from his ex-wife. He breached the order by driving past her house.
(All rights reserved/Copyright Knapp Communications Pty Limited 2006)