Janez Brajkovic interview, September 13, 2006
Man for the future
With the Vuelta currently in the mountains for three tough days of high-altitude racing, many eyes will be focussed on the battle for the maillot oro. However those with an interest in the future of the sport will also be keeping tabs on the progress of the highly promising Slovenian rider Janez Brajkovic, who showed highly promising form earlier in the race. Shane Stokes caught up with the Discovery rookie.
Brajkovic smiles in the gold jersey
Photo ©: Unipublic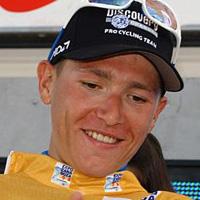 Janez Brajkovic has been the relevation of the Vuelta, finishing second to Danilo di Luca on the first mountain stage to the Estacion de Esqui La Covatilla on day five and then later leading the Vuelta. At the time of his ride to La Covatilla he told Cyclingnews that the performance was an unexpected one. "I was actually very surprised, as for the first couple of days I didn't feel good," he said. "But yesterday my legs were starting to come around. In the first few climbs today I didn't want to push too much, but rather save as much energy as possible. The plan was to help Tom [Danielson] on the final climb. When Di Luca attacked I tried to follow…in the beginning there was a little gap which I managed to close, and then I just followed the wheel.
"I didn't dream about taking the jersey before starting this race. I came here to gain some experience..."
-Janez Brajkovic has surprised even himself with his performance at the Vuelta.
"Obviously Tom is our leader here," the 2004 under-23 world time trial champion continued. "That is my first priority - I don't think I am going to be capable of maintaining this kind of shape for the whole race."
Brajkovic didn't take long to make another big impression. Two days after the La Covatilla stage he went on the attack with Alexandre Vinokourov on the final ascent to the stage 7 finish of Alto de El Morredero. He ultimately finished fourth on the stage, seven seconds behind Alejandro Valverde, but crucially took over the race leadership from Di Luca.
Janez Brajkovic (Discovery Channel)
Photo ©: Unipublic

The Slovenian seemed surprised to be leading a Grand Tour. "I was very happy with how I went today," he said. "The first day in the mountains to La Covatilla went very well. I didn't feel very good at first today, I felt blocked, but as the kilometres passed I felt much better and at the end I tried to get some time. I'd like to say thanks to the whole team - the fact that I am in the leader's jersey is the result of all their work.
"I didn't dream about taking the jersey before starting this race. I came here to gain some experience, that was my first goal. I also came here to help our leader Tom Danielson…my target was to do that and also to finish the tour."
Brajkovic clearly relished wearing the maillot oro but despite the euphoria of the moment, he cautioned against expectations that he would keep it all the way to Madrid. "I still think that I am a very young rider and not very experienced," he reminded journalists. "The finish is two weeks away and in that time, many things can happen. We will take it day by day and see how my body will react.
"Johan [Bruyneel] is such an experienced person that I am sure he will guide me and guide the team in the right way. I trust him 100 percent."
Learning on the big stage
Janez Brajkovic (Discovery Channel)
Photo ©: AFP

Brajkovic's comment about his relative lack of experience appeared to be vindicated when he cracked on stage 9's final climb to Alto de La Cobertoria, losing 2'14 to stage winner Alexandre Vinokourov (Astana) and dropping to 6th overall.
Yet his sudden collapse and fatigued appearance at the top of this climb was due a case of hunger knock. "I actually felt very, very good early on in the stage," he said during the race's first rest day. "Right up until near the end, actually. Then I started to run out of power and felt terrible on the last climb. The problem was that I didn't eat enough during the stage and that had an effect closer to the finish."
He was able to see a bright side, however. "Taking the lead has been huge news back home…it has been seen as very big. Nobody [has done] something like this before. I wore the gold jersey for a couple of days and that is a very big achievement for Slovenian cycling."
Janez Brajkovic (Discovery)
Photo ©: Unipublic

"The jersey is gone now but we will see how the rest of the race goes. I hope to maintain good performances, to finish in the top ten if I can. It's a hard thing to do but I am ready, I am happy to be here, I want to race, I want to do well, I want to help the team. I think I have already achieved a lot for a rider my age…I am pretty satisfied. But if I can keep riding well in the race, then that will be great."
Digging in
Since then, he has been trying maintain his position despite what he himself said was a disappointing performance in the Cuenca time trial last Saturday. He finished in 18th place, 1'49 behind stage winner David Millar, and said he was disappointed with his ride. "The time trial was terrible. The course isn't a problem - if you were good, you were good, but I just couldn't suffer enough. I obviously lost a lot of time and after two weeks of racing, it is clear that my form is going down a bit. I will just try to dig in and lose as little time from here as is possible."
Janez Brajkovic (Discovery)
Photo ©: AFP

Brajkovic was clearly downbeat about his ride, but once more he was able to keep things in perspective. "It is my first grand tour and for me, what I have done is incredible. But of course it is a little bit disappointing too to feel worse and worse, day by day. But it is not a problem - life goes on. Life is great," he concluded.
His performance on the remaining three big stages of the Vuelta will determine whether a top-ten place is possible. Tuesday's rain-lashed ride to the Observatorio Astronómico de Calar Alto was disappointing as he finished nearly six minutes down and dropped to 13th place, although coldness may have been a factor for this rail-thin rider. Wednesday and Thursday takes the riders into further high mountains on stages to Granada and the Sierra de la Pandera. And then next Saturday the final GC will be settled with a 27.5 kilometre time trial to Rivas Vaciamadrid. It will be very interesting to see how he gets on.
Impressive palmares
However the rest of this Vuelta pans out, it is clear that Brajkovic is a very talented rider. He took up the sport relatively recently, but has made great progress since then.
Brajkovic on his way to the gold medal
Photo ©: AFP

"Before 2001 I didn't really follow cycling. Then when I went to high school I had a friend there who was training. I tried a little bit and I really liked it, so that is how I started.
"It took me a while to get stronger. I didn't do so well at the start, as I was pretty much behind others in terms of development. I was really skinny, I was 1.45 metres tall. I wasn't [well] developed, so it took me a while to achieve the right fitness, a couple of years to become competitive."
Brajkovic worked closely with a Slovenian coach called Milan Eržen, someone who still guides him. Results have improved rapidly since his first racing season in 2001. Two years after he started cycling, he was third in the GP Krka and seventh in the Giro delle Regioni. 2004 was the big breakthrough year in the under-23 ranks, with the-then 20 year old taking first in the time trial of the GP Tell, second place overall in the race and the silver medal in the European championships in Estonia. He also won the Trofeo Banca Popolare Piva, took second in the GP Palio del Recioto and third in the Giro del Belvedere.
Janez Brajkovic (Discovery) signs an autograph
Photo ©: Sirotti

"My first victory was important," he told Cyclingnews. "In April of that year [2004] I won the world cup race in Italy, the Trofeo Banca Popolare Piva. That was something. I was in a solo breakaway for 45 kilometres and they couldn't catch me…it was a nice way to win."
But it was his performance later that year which earned him a lot of attention. Dutchman Thomas Dekker went to the world championships in Verona as the outstanding favourite for both the road race and the time trial, but on the day Brajkovic triumphed in the latter, putting 18'96 seconds into his rival.
"I didn't expect this title," he said at the time. "Coming into the race I thought I would be between third and fifth place. I was certain that Thomas (Dekker) would win. For me, I think the key points were the end of the climb and the second part of the race."
Unsurprisingly, Brajkovic's performance earned him a place on the wish-list of several pro teams. He was planning on remaining with the continental KRKA outfit in 2005, but a call before the start of that season caused a change of plans.
Janez Brajkovic (Discovery)
Photo ©: Unipublic

"When Johan [Bruyneel] contacted our team director after the worlds, that was an amazing offer," he says with a smile. "We couldn't resist it.
"I turned pro with Discovery in August last year. I stayed with KRKA for most of the season, as it is backed by a pharmacy company and the European championships were in Russia. This company is big there. So it was important to stay with them until then. In the end I was third. I was pretty disappointed with that. But I guess we have to look at that from the view that every rider is training hard and at a certain point, you are not the strongest. That was the case. It was just that the timing was a little off. But third place is also a very good result."
Swimming, not sinking, in the pro ranks
Once Brajkovic turned pro, it was clear that he was thriving. A string of very solid performances followed, including 13th in the prologue and 7th in the stage 8 time trial at the Eneco Tour. Yet the most impressive ride was certainly his 11th place in the Elite road race at the world championships in Madrid, the then-21 year old sprinting in just behind Tom Boonen and many big household names.
Janez Brajkovic (Discovery)
Photo ©: Sirotti

"I think the 11th place in the worlds was definitely something," he said. "I was there after 270 kilometres so that was a big result for me, especially as I was 21 and in my first few months as a pro.
When I saw the course, I didn't think it was possible to do something like that. But I am quite a smart rider so I tried to save as much energy as possible for the finish. It worked well, even though I normally can't sprint well."
This year he has continued to progress. He was fifth overall in the Tour of Georgia, finishing just 2'15 behind the winner Floyd Landis and also comfortably won the best young rider classification. Fifth place in the Tour of Catalunya followed, as did fifth overall and fourth in the final time trial in the Tour of Switzerland.
"I am quite surprised by how quickly I have progressed," he admits. "But this year I am also six kilos lighter and we also changed my training a little bit and I know my body a little bit more. So I think these are the things that make the difference.
Janez Brajkovic (Discovery Channel)
Photo ©: Sirotti

"I have worked very hard for the whole year…I was at home for only three weeks. I was otherwise at training camps, altitude training, going here and going there, doing tests. But if you want to do well, you have to make some sacrifices."
One of those training camps was held just before the Vuelta. "I was in Slovenia and we had a so-called altitude house. I was there for three weeks, training in the mountains, training long, training hard and training smart also. It wasn't easy because there were some rainy, cold days and training for five hours over mountain passes in five or ten degrees in rain is hard. But when you finish that kind of training day, you are very happy.
"I felt very bad for the first few days of the Vuelta. I have been reading some studies and it is normal in the first week after altitude training to feel bad. The thing is, I didn't feel so bad then, but the first couple of days here were much worse. It must have been dehydration and maybe the change in heat, going from Slovenia to here."
Brajkovic came in nearly six minutes down
Photo ©: Sirotti

Following the Vuelta, Brajkovic said that he will try to again ride well at the world championships. "It is going to be hard because of the three weeks racing here in Spain, then going straight away to Austria and also doing the time trial. I think that maybe I am not going to be as recovered as other riders but I will try. We will see how it goes."
What is certain is that he will have a lot of backing there, both from his new fans, his friends, and his family. The latter have been very supportive to him in his choice of career. "I have a small family, with just my parents and one brother. They are really into cycling. My mother and father and my girlfriend drove 2000 kilometres to visit me in the Tour of Switzerland, just to see me for a couple of hours. They weren't into the sport before I got started, but they are now because of me.
"Longer term, I don't yet have a programme for next year but I would like to do big stage races like the Vuelta and the Giro. But I am not the one who chooses - Johan will do the programme and I think he is the best one to decide. The one thing I believe is that Grand Tours are my future - I don't really like the Classics but I do like long stage races."
Janez Brajkovic (Discovery Channel)
Photo ©: Unipublic

Eight years ago Brajkovic's former team-mate Lance Armstrong finished fourth in the Vuelta and went on to dominate the Tour de France. Could his strong performances here be an indicator that the sport has found another big star?
"I don't know, but for sure I am going to do everything I can," he responded. "I am going to work 100 percent to achieve as much as is possible. I don't know if I am going to win a Tour some day but one thing is sure - I am going to give it 100 percent. We will see."