61st Vuelta a Espaņa - GT
Spain, August 26-September 17, 2006
Discovery Channel's Vuelta: Danielson's coming-out party
Discovery Channel's director sportif Johan Bruyneel and team leader Tom Danielson held a press conference call today as they prepared for the upcoming Tour of Spain - discussing the team's goals and the new role for Danielson as he takes the helm for the final grand tour of the season. Cyclingnews North American Editor Mark Zalewski was there to hear how Discovery's Vuelta preparation is coming along.
Tom Danielson (Discovery Channel)
Photo ©: Luc Claessen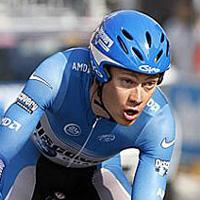 "Putting all of the eggs in Danielson's basket is a return to strategy"
-Johann Bruyneel is returning to the one-leader policy that served the team so well during the Armstrong years.
Back in January when Cyclingnews spoke with Bruyneel and Danielson at the team's presentation in Beverly Hills, it was already decided that Danielson would not race the Tour de France so that he could be the team leader for the Vuelta - both to better his seventh place from 2005 and to prepare for him to lead the team in the 2007 Tour de France. "When we decided Tom would be the leader for the Vuelta, which is something we decided in the beginning of the year, we decided Tom would focus on the Giro and the Vuelta - the two big races he did last year. I wanted to see improvement in both of them. After his seventh place last year in the Vuelta, he had all the reasons to be the team leader this year if everything went to plan. "
It is clear that Bruyneel has been working on long-term plans for Danielson, particularly trying to prevent developing him too quickly even though he started racing in Europe later in his career. "That is one of the reasons why I didn't want him to do [the Tour de France] this year," said Bruyneel. "His age is not a comparison of his experience as a professional rider, so in my point of view he is still a young rider. I thought it was better for him to do two big stage races in one year so that next year he can do the Tour."
Out with the new, back to the old
Tom Danielson
Photo ©: Sirotti

Putting all of the eggs in Danielson's basket is a return to strategy after a departure in the Tour de France where Bruyneel hoped that having more than one potential leader would play out - something that Bruyneel acknowledged did not work. "At the Tour de France it was a choice we had to make because we didn't have a guy who was standing out compared to the other guys. It didn't work out, and we learned a lot. But we are not talking about the Tour we are talking about the Tour of Spain.
"With a guy like Tom it is logical to have just one leader. It doesn't mean we have the big favourite -- I hope that after the half-race we can see Tom as one of the big favourites. Tom proved last year the Tour of Spain is really a race for him. I think this year's profile is even better suited for him."
Egoi Martinez (Discovery)
Photo ©: Jon Devich

Bruyneel also points to the fact that only one rider on the Vuelta team rode in the Tour de France. "We have some young riders, but most important, except for one rider Egoi Martinez, the others did not do the Tour de France so they are all fresh and motivated. And in September it is all about motivation and being fresh. I think [one leader] is a model that works best for us -- one or two protected riders and the whole team around that. It is what we have done in the past and the Tour de France shoes that having too many leaders is not our style of racing. I am happy we can go back to that old model."
Youthful eagerness
Though not young in terms of pure age, Danielson is only in his second year racing at the ProTour level -- and he is ready to turn the corner to show he belongs at the top of it. "I had no confidence at all last year and didn't know what to expect," he admitted. "I had been kicked around a bit in Europe -- had some good results here and there -- to be honest I didn't make any connections between the results I was having and the training I was doing. Now to have more confidence coming in and to know what I am going up against, to know how to get from point A to point B and what it takes. Also the route is good for me, so to me it's a race I get excited about and I am ready to go."
Tom Danielson
Photo ©: Anthony Tan

Danielson believes that his single-minded focus on this race will prove to be the difference. "I have worked hard all year with this goal and objective in my mind. Having done the race last year and coming back I have a little bit of knowledge and know what to expect. The Giro was a nice experience having to follow Savoldelli around. I learned a lot and learned how he used the team -- how he was in the right place at the right time. I am motivated to put it all together to see what I can do. I have trained hard and I know what I am up against. I am very ready."
The training that Danielson refers to was focused on climbing and the time trial -- the two most important aspects of being a stage racer. And though Danielson has always been known as a climber, setting the record for the Mt. Washington hill climb back home, he realized last year that he was missing a critical skill in his ascending.
Tom Danielson (Discovery) pips Floyd Landis (Phonak)
Photo ©: Trish Albert

"I've done a lot of climbing in the Pyrenees - six hour rides with almost 70km of climbing, trying to raise my threshold power. Then I have also worked a lot of my accelerations because Spanish climbers, particularly Valverde, have huge accelerations on the climbs. I remember last year with Heras and Sastre, when they go, they go! It's important for me as I am a light rider."
Tailor-made parcours
With six climbing stages, five of which finish on climbs, Danielson attributes his confidence to this year's route. "Basically there are five mountain top finishes and six [overall] mountain stages," he said. "Three are in the beginning and three and in the end. It's a good test and all the climbs are really steep. The stage in Astoria is super hard. All the climbs suit my ability. Having the team around me will allow me to use my energy in the right places."
Although he makes his European home in Gerona, Spain, he was not able to recon the key stages himself, but will rely on the encyclopedic knowledge of Bruyneel taking in his ear. "I haven't been able to scout the stages -- it's all very far away from where I live in Gerona, the route doesn't even go close to my house at all. Johan he knows the route very well and knows the climbs. For me it will be like a rally car driver with the passenger navigating. He basically tells me when to brake and accelerate and I hope to be able to do what he says in the race."
Tom Danielson at the Discovery team presentation
Photo ©: Mark Zalewski

Bruyneel gave a small glimpse into where he thinks the race will be won, or even lost, though still keeping the cards close to himself. "I think it will be like usual, it will all come down to mountain-top finishes and time trials. There are two big climbs in my opinion, maybe three. There is La Covatilla on stage number five. That will be a big first selection. Then the stage to Astoria up to the Corbatoria will be a very decisive stage. The two time trials are not that long -- one is 33km and the other is 28km -- but he'll have to be there. And then the stage to el maria, which we did two years ago, was quite hard."
"It's late in the season and it's about motivation," Bruyneel said about the specific differenced between the Vuelta and the other two grand tours. "It's pretty clear in the results that the Spanish guys are numerous in the top ten and make it a big objective. Some teams and riders just go to the Tour of Spain because they have to go but are tired from the Tour de France."
Tom Danielson (Discovery)
Photo ©: Luc Claessen

Other than Danielson, of course, Bruyneel feels there are three top contenders for the win. "Menchov, since he was last year's winner, but I just read on the Internet today that he wasn't feeling that great. I don't know if that was true or to get confusion amongst his competitors. Then there is of course Valverde. He dropped out of the Tour de France and since then he has been preparing for the Vuelta. And Vinokourov wasn't able to do the Tour de France so he has big ambitions."
Step-by-step
Bruyneel said he is happy with the progression Danielson has made in his sophomore year in the ProTour and expects him to turn that into a top result in the Vuelta. "I think he really responded to expectations. He was good in the Tour de Georgia -- almost won it. Then the Giro he was helping the team a lot. He took a break and then won the Tour of Austria. He has made a big step compared to last year -- last year was his first big season in Europe and now he has shown he can win races over here. He is definitely able to deal with the role of a leader.
Danielson has closely followed the stepwise progression set by Bruyneel, but wants to make a big step over the next three weeks. "I feel like I have yet to really prove myself as a top climber in Europe. I have been close in other races -- the Tour de Georgia I climbed with the best guys there. Here is an opportunity and I would really like to come out and put a mark on my career in Europe and do something on these mountain top finishes."
Danielson looks comfortable
Photo ©: Mark Gunter

"I have grown as a cyclist and my ability to deal with pressure. I'm also looking forward to having a team. I was looking a magazine pictures of the race from last year and every picture of the peloton you can see me riding on the outside or in the wind moving myself up, but being a bit more savvy and having a team look after me in the peloton, I am really exciting to see what that feels like at the end of the race."