Jayco Herald Sun Tour - 2.1
Australia, October 8-14, 2006
Main Page Results Overall standings Stage Details Previous Stage Next Stage
Stage 6 - October 13: Studley Park and Yarra Boulevard, Kew (ITT), 11.3km
Jongewaard tops incredible GC battle
Day lucky on Friday the 13th
By John Trevorrow in Kew
Ben Day (Carvalhelos-Boavista)
Photo ©: Shane Goss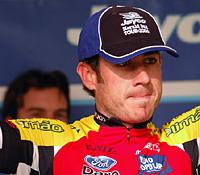 What a day. What a race. The penultimate 11 kilometre time trial has helped create an extremely exciting finish to an international cycling tour. It's all a matter of seconds. Ben Day (Carvalhelhos-Boavista) won the stage by 0.82 seconds from David McCann (Giant Asia Racing), one second to Chris Jongewaard (Savings and Loans) with American Phil Zajicek (Navigators) fourth at 11.88 seconds and Simon Gerrans (Jayco Australia) fifth at 12.19 seconds.
"That was a tough time trial," said stage winner Ben Day. "But I felt good and it's good to win but what a race. What great riders that are going for the win and what great champions they've got around them."
Now the most unbelievable finale is about to unfold. Jongewaard, the Australian mountain bike champion is the unlikely leader of the 2006 Jayco Herald Sun Tour, leading Dave McCann and Simon Gerrans by one second with Navigators American, Phil Zajicek fourth at six seconds. "It is a pretty good feeling hey – a pretty good feeling," said new race leader Chris Jongewaard. "[I am] pretty worn out; it was a tough time trial. It's going to be a race to the finish and I don't mind a criterium, so it is going to be a hell of battle."
So it all comes down to the final stage on Lygon street and it will be something worth travelling a long way to see. We now have four riders who are not sprinters, vying for the bonus seconds that are available in the final 80 minute stage. There are two sprints worth three seconds, two seconds and one second and the stage finish worth 10 seconds for first, 6 seconds for second and 4 seconds for third.
Jongewaard (Savings & Loans)
Photo ©: Shane Goss

What is going to make this the most exciting race imaginable is the fact that each of these guys has a world class sprinter as a teammate. We are going to be presented with the amazing scene of leader Jongewaard being led out by Olympic Gold Medallist Brett Aitken, McCann assisted by powerful German Tobias Erler, Gerrans by the world's best sprinter Robbie McEwen and Zajicek by the criterium specialist, Hilton Clarke. It doesn't get any better than this.
"I'm pleased with my time trial," said Simon Gerrans, third overall. "Especially considering it's not my forte. I didn't think I rode that well, felt a bit all over the shop actually, but I gave it everything and I will again tomorrow. It is just unbelievable that the tour is coming down to this. I'm getting nervous just thinking about it."
Simon Gerrans (Jayco Australian National Team)
Photo ©: Shane Goss

"I thought it might come down to this," said Gerrans' teammate, Robbie McEwen after the finish. "When all the time gaps were so close and only an 11 kilometre time trial, well I thought it would be close. But maybe not this close. It is going to be an eventful day and it will be all about getting that second back. I knew I wouldn't be riding for myself, I will be leading Gerro out so my advice is don't get in my road."
Photography
For a thumbnail gallery of these images, click here
Images by Shane Goss/www.licoricegallery.com
Results

1 Ben Day (Aus) Carvalhelhos-Boavista                       15.45.78
2 David Mccann (Irl) Giant Asia Racing Team                  0.00.82
3 Chris Jongewaard (Aus) Savings & Loans Cycling Team        0.01.00
4 Phil Zajicek (USA) Navigators Insurance Cycling Team       0.11.88
5 Simon Gerrans (Aus) Australian National Team               0.12.19
6 Dominique Rollin (Can) Canadian National Team              0.20.08
7 Tobias Erler (Ger) Giant Asia Racing Team                  0.27.19
8 Karl Menzies (Aus) Health Net Presented By Maxxis          0.29.73
9 Matthew Lloyd (Aus) Southaustralia.com-AIS                 0.30.28
10 Zac Dempster (Aus) Australian National U23 Team           0.39.88
11 Simon Clarke (Aus) Southaustralia.com-AIS                 0.40.72
12 Joe Mcdonnell (Aus) FRF Couriers-Caravello                0.40.97
13 Kirk O'bee (USA) Health Net Presented By Maxxis           0.41.00
14 Stuart Shaw (Aus) Drapac Porsche                          0.44.92
15 Eric Wolhberg (Can) Canadian National Team                0.45.31
16 Mitchell Docker (Aus) Drapac Porsche                      0.45.87
17 Darren Lapthorne (Aus) Drapac Porsche                            
18 Trent Lowe (Aus) Australian National Team                 0.47.42
19 Peter Herzig (Aus) FRF Couriers-Caravello                 0.52.50
20 Joshua Marden (Aus) FRF Couriers-Caravello                0.52.53
21 Robert Mclachlan (Aus) Drapac Porsche                     0.53.86
22 Phillip Thuaux (Aus) Drapac Porsche                       0.57.17
23 Daniel Lloyd (GBr) Giant Asia Racing Team                 0.58.54
24 Joaquim Sampaio (Por) Carvalhelhos-Boavista               1.00.20
25 Ciaran Power (Irl) Navigators Insurance Cycling Team      1.00.65
26 Maint Berkenbosch (Ned) Dutch National Team               1.05.99
27 Peter Mcdonald (Aus) FRF Couriers-Caravello               1.08.36
28 Garrett Peltonen (USA) Health Net Presented By Maxxis     1.10.51
29 John Murphy (USA) Health Net Presented By Maxxis          1.16.91
30 David Harrigan (Aus) DFL-Cyclingnews-Litespeed            1.17.34
31 Russell Van Hout (Aus) Savings & Loans Cycling Team       1.18.21
32 Michael Ford (Aus) Southaustralia.com-AIS                 1.27.72
33 Hossein Askari (IRI) Giant Asia Racing Team               1.28.74
34 Yoshiyuki Shimizu (Jpn) Japanese National Team            1.30.01
35 Makoto Iijima (Jpn) Japanese National Team                1.30.64
36 Scott Peoples (Aus) Australian National U23 Team          1.30.78
37 Tony Mann (Aus) Australian National Team                  1.30.99
38 Mark Walters (Can) Navigators Insurance Cycling Team      1.32.49
39 Ryan Mackenzie (Can) Canadian National Team               1.32.86
40 David Pell (Aus) Carvalhelhos-Boavista                    1.33.49
41 Satoshi Hirose (Jpn) Japanese National Team               1.37.66
42 Mark O'brien (Aus) Australian National U23 Team           1.38.08
43 Kyle Gritters (USA) Health Net Presented By Maxxis        1.40.05
44 Daniel Mcconnell (Aus) Southaustralia.com-AIS             1.40.21
45 Nariyuki Masuda (Jpn) Japanese National Team              1.40.81
46 Yoshiyuki Abe (Jpn) Japanese National Team                1.41.12
47 Johnnie Walker (Aus) Navigators Insurance Cycling Team    1.41.64
48 Cameron Hughes (Aus) Carvalhelhos-Boavista                1.42.46
49 Derek Mcmaster (Can) Canadian National Team               1.44.74
50 Camiel Denis (Ned) Dutch National Team                    1.44.84
51 Casey Munro (Aus) Drapac Porsche                          1.55.06
52 Wesley Sulzberger (Aus) Southaustralia.com-AIS            1.55.74
53 Dean Windsor (Aus) Drapac Porsche                         1.58.42
54 Jonathon Clarke (Aus) Southaustralia.com-AIS              1.58.65
55 Jason Hegert (Aus) FRF Couriers-Caravello                 1.59.55
56 Manuel Cardoso (Por) Carvalhelhos-Boavista                2.01.23
57 Grant Irwin (Aus) DFL-Cyclingnews-Litespeed               2.01.66
58 Jeremy Vennell (NZl) DFL-Cyclingnews-Litespeed            2.02.14
59 Brandon Crichton (Can) Canadian National Team             2.04.64
60 Stephen Gallagher (Irl) Giant Asia Racing Team            2.04.69
61 Ben Brooks (Aus) Navigators Insurance Cycling Team        2.05.58
62 Robbie Mcewen (Aus) Australian National Team              2.06.53
63 James Hannam (Aus) Savings & Loans Cycling Team           2.06.87
64 Brett Aitken (Aus) Savings & Loans Cycling Team           2.08.70
65 Leigh Palmer (Aus) DFL-Cyclingnews-Litespeed              2.09.48
66 Dustin Macburnie (Can) Canadian National Team             2.11.68
67 Matt Wilson (Aus) Australian National Team                2.13.04
68 Patrick Shaw (Aus) Australian National U23 Team           2.13.91
69 Hilton Clarke (Aus) Navigators Insurance Cycling Team     2.18.96
70 Kane Oaley (Aus) DFL-Cyclingnews-Litespeed                2.19.95
71 Bruno Langlois (Can) Canadian National Team               2.20.65
72 Greg Henderson (NZl) Health Net Presented By Maxxis       2.21.62
73 Peter Mueller (Aus) Savings & Loans Cycling Team          2.22.59
74 Paul Griffin (Irl) Giant Asia Racing Team                 2.26.47
75 David Kemp (Aus) Australian National U23 Team             2.27.21
76 Robert Cater (Aus) FRF Couriers-Caravello                 2.30.88
77 Trent Wilson (Aus) Australian National Team               2.35.51
78 Yoshimitsu Tsuji (Jpn) Japanese National Team             2.35.61
79 Ger Soepenberg (Ned) Dutch National Team                  2.38.72
80 Will Dickeson (Aus) Savings & Loans Cycling Team          2.42.52
81 Marvin Van Der Pluym (Ned) Dutch National Team            2.45.28
82 Doug Ollershaw (USA) Health Net Presented By Maxxis       2.45.36
83 Ryan Sullivan (Aus) Australian National U23 Team          2.45.49
84 Yasuharu Nakajima (Jpn) Japanese National Team            2.46.10
85 Cornelius Van Ooijen (Ned) Dutch National Team            2.49.69
86 Stephen Cunningham (Aus) Savings & Loans Cycling Team     3.40.87
87 David Tanner (Aus) Australian National U23 Team           4.03.59
88 Bernard Sulzberger (Aus) DFL-Cyclingnews-Litespeed        4.17.50
 
General classification after stage 6
 
1 Chris Jongewaard (Aus) Savings & Loans Cycling Team     19.07.07
2 David Mccann (Irl) Giant Asia Racing Team                   0.01
3 Simon Gerrans (Aus) Australian National Team                    
4 Phil Zajicek (USA) Navigators Insurance Cycling Team        0.06
5 Dominique Rollin (Can) Canadian National Team               1.52
6 Trent Lowe (Aus) Australian National Team                   2.05
7 Karl Menzies (Aus) Health Net Presented By Maxxis           3.11
8 Simon Clarke (Aus) Southaustralia.com-AIS                       
9 Tobias Erler (Ger) Giant Asia Racing Team                   3.12
10 Mitchell Docker (Aus) Drapac Porsche                       3.34
11 Kirk O'bee (USA) Health Net Presented By Maxxis            3.49
12 Ciaran Power (Irl) Navigators Insurance Cycling Team       5.25
13 Robert Mclachlan (Aus) Drapac Porsche                      7.00
14 David Harrigan (Aus) DFL-Cyclingnews-Litespeed             9.59
15 Joe Mcdonnell (Aus) FRF Couriers-Caravello                17.17
16 Peter Mcdonald (Aus) FRF Couriers-Caravello               19.12
17 Hossein Askari (IRI) Giant Asia Racing Team               20.19
18 Matthew Lloyd (Aus) Southaustralia.com-AIS                26.18
19 Hilton Clarke (Aus) Navigators Insurance Cycling Team     28.04
20 Ger Soepenberg (Ned) Dutch National Team                  28.54
21 Eric Wolhberg (Can) Canadian National Team                30.37
22 Stuart Shaw (Aus) Drapac Porsche                          30.57
23 Ben Day (Aus) Carvalhelhos-Boavista                       32.31
24 Mark Walters (Can) Navigators Insurance Cycling Team      32.58
25 Trent Wilson (Aus) Australian National Team               33.01
26 Scott Peoples (Aus) Australian National U23 Team          33.09
27 Maint Berkenbosch (Ned) Dutch National Team               33.35
28 Joaquim Sampaio (Por) Carvalhelhos-Boavista               34.06
29 Cameron Hughes (Aus) Carvalhelhos-Boavista                34.14
30 Nariyuki Masuda (Jpn) Japanese National Team              34.51
31 Satoshi Hirose (Jpn) Japanese National Team               34.54
32 Yoshiyuki Abe (Jpn) Japanese National Team                35.22
33 David Tanner (Aus) Australian National U23 Team           35.29
34 Peter Herzig (Aus) FRF Couriers-Caravello                 37.01
35 Casey Munro (Aus) Drapac Porsche                          37.41
36 Johnnie Walker (Aus) Navigators Insurance Cycling Team    37.53
37 Patrick Shaw (Aus) Australian National U23 Team           38.51
38 David Pell (Aus) Carvalhelhos-Boavista                    38.53
39 Jonathon Clarke (Aus) Southaustralia.com-AIS              39.02
40 Tony Mann (Aus) Australian National Team                  39.37
41 Paul Griffin (Irl) Giant Asia Racing Team                 40.16
42 Ryan Sullivan (Aus) Australian National U23 Team          40.21
43 Kyle Gritters (USA) Health Net Presented By Maxxis        40.53
44 Mark O'brien (Aus) Australian National U23 Team           41.04
45 Russell Van Hout (Aus) Savings & Loans Cycling Team       42.58
46 Dustin Macburnie (Can) Canadian National Team             43.08
47 Manuel Cardoso (Por) Carvalhelhos-Boavista                43.45
48 Derek Mcmaster (Can) Canadian National Team               44.05
49 Stephen Gallagher (Irl) Giant Asia Racing Team            44.06
50 Makoto Iijima (Jpn) Japanese National Team                44.16
51 Peter Mueller (Aus) Savings & Loans Cycling Team          44.17
52 Brandon Crichton (Can) Canadian National Team             45.14
53 Jason Hegert (Aus) FRF Couriers-Caravello                 45.15
54 Daniel Lloyd (GBr) Giant Asia Racing Team                 47.04
55 Garrett Peltonen (USA) Health Net Presented By Maxxis     47.16
56 John Murphy (USA) Health Net Presented By Maxxis          47.22
57 Ryan Mackenzie (Can) Canadian National Team               47.32
58 Grant Irwin (Aus) DFL-Cyclingnews-Litespeed               48.07
59 Yoshiyuki Shimizu (Jpn) Japanese National Team            48.09
60 Wesley Sulzberger (Aus) Southaustralia.com-AIS            48.11
61 Jeremy Vennell (NZl) DFL-Cyclingnews-Litespeed            48.27
62 David Kemp (Aus) Australian National U23 Team             48.28
63 Camiel Denis (Ned) Dutch National Team                    48.56
64 Bruno Langlois (Can) Canadian National Team               49.01
65 Kane Oaley (Aus) DFL-Cyclingnews-Litespeed                49.35
66 Cornelius Van Ooijen (Ned) Dutch National Team            49.37
67 Stephen Cunningham (Aus) Savings & Loans Cycling Team     49.46
68 Darren Lapthorne (Aus) Drapac Porsche                     49.50
69 Joshua Marden (Aus) FRF Couriers-Caravello                50.23
70 Zac Dempster (Aus) Australian National U23 Team           50.48
71 Bernard Sulzberger (Aus) DFL-Cyclingnews-Litespeed        51.36
72 Leigh Palmer (Aus) DFL-Cyclingnews-Litespeed              51.40
73 Matt Wilson (Aus) Australian National Team                51.43
74 Ben Brooks (Aus) Navigators Insurance Cycling Team        51.51
75 Marvin Van Der Pluym (Ned) Dutch National Team            52.16
76 Michael Ford (Aus) Southaustralia.com-AIS                 52.36
77 James Hannam (Aus) Savings & Loans Cycling Team           52.40
78 Daniel Mcconnell (Aus) Southaustralia.com-AIS             52.48
79 Brett Aitken (Aus) Savings & Loans Cycling Team           53.50
80 Will Dickeson (Aus) Savings & Loans Cycling Team          53.51
81 Greg Henderson (NZl) Health Net Presented By Maxxis       54.27
82 Robert Cater (Aus) FRF Couriers-Caravello                 54.34
83 Dean Windsor (Aus) Drapac Porsche                         56.34
84 Yasuharu Nakajima (Jpn) Japanese National Team            56.49
85 Robbie Mcewen (Aus) Australian National Team              57.35
86 Phillip Thuaux (Aus) Drapac Porsche                       57.44
87 Doug Ollershaw (USA) Health Net Presented By Maxxis       58.24
88 Yoshimitsu Tsuji (Jpn) Japanese National Team           1.17.15