Jayco Herald Sun Tour - 2.1
Australia, October 8-14, 2006
Main Page Results Overall standings Stage Details Previous Stage Next Stage
Stage 3 - October 10: Bendigo to Nagambie, 158.5km
Wilson wins first Sun Tour stage
by John Trevorrow in Nagambie
Trent Wilson (Jayco Australian National Team)
Photo ©: Shane Goss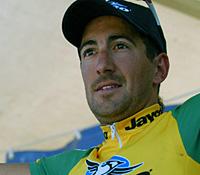 The wind may have died down but the pace was still hot and the breakaways again triumphed on day three of the Jayco Herald Sun Tour.
After 130 kilometres out in front in a six-man breakaway, NSW's Trent Wilson and Matty Lloyd from Victoria broke clear with Wilson finally taking his first stage win after seven years of trying.
"I can't believe it. I am just stoked," Wilson said. "This is my seventh tour and although I've had a couple of top tens on GC, I've never placed in a stage before. But my hats off to matt Lloyd he drove it as well, we both put in, we both had the same objective and, fortunately for me, he was second and I won it."
The second the race got under way, the riders started attacking. There was not a second of peace. After 20 kilometres a group of six got clear, Wilson, Lloyd, Hossien Askari from Iran, Dutchman Maint Berkenbosch and Victorians Darren Lapthorne and Scott Peoples, the young 19 year old from Shepparton.
The group worked well together but were chased by a another six-man break and the two groups raced each other for 50 kilometres with the gap hovering around one minute before the leaders stamped their authority and the lead opened up to more than two minutes. The main peloton stayed at about six minutes for most of the day. Race leader Karl Menzies and his HealthNet team controlled the pace and were not too perturbed.
The boys from the American HealthNet-Maxxis team
Photo ©: Shane Goss

"I felt pretty good actually. I didn't have to do anything, the guys did a great job, the whole team got on the front and they just kept everything in check and made sure that it didn't blow out," a smiling Menzies said. "It was perfect and there's not much else you can do. Once you're in yellow that's the race you've got to ride. I didn't have to touch the wind all day so it was actually a bit of a recovery day. Save it all up for Lake Mountain on Thursday."
Menzies main challenger is still Simon Gerrans, and he also had an easier ride today. "The day panned out perfectly for us. We said this morning that it would be perfect to let a break go that didn't have any serious GC dangers in it and with one of our guys in it. That's exactly what happened. The HealthNet guys just sat on the front and set a good pace and we had a trouble free day."
For Wilson it was obviously the biggest win of his career and his teammates surrounded him as the crossed the line. "They're all good mates of mine and they're professional bike riders and they know how much it means to get a win like this. A few beers tonight I reckon, it's a big weight of my shoulders. I can finish the year now a quite happy man. I will have a big celebration on Saturday night, especially if Gerro wins the tour.
Trent Wilson (L) goes on the attack during a climb
Photo ©: Shane Goss

"I was really feeling nailed towards the end but Davo had faith in me and I just kept having a go. Once we got clear I thought I was a chance. When I hit out I though this is the longest 200 metres I've ever done. I didn't really have the legs today but I obviously I came good."
Team manager Dave Sanders said that Wilson had some doubts out on the road.
"Yeah we had to way up the options. We had a one in six chance with Trent and a bit better odds if we closed the gap and rode for Robbie. But I thought it would be a lot of energy spent by the team to close it up and I reckoned Trent would go OK. He has impressed me greatly this week and you don't have to be a great sprinter to win when everyone is tired. And they all looked very tired. So we just played the cards, telling them that Robbie was coming so Trent didn't have to do too much. He attacked at least four times near the finish and also went with all the other attacks. He really really wanted it. He showed real character and I'm very proud of him."
Photography
For a thumbnail gallery of these images, click here
Images by Shane Goss/www.licoricegallery.com
Results

1 Trent Wilson (Aus) Australian National Team              4.14.05
2 Matthew Lloyd (Aus) Southaustralia.com-AIS                      
3 Darren Lapthorne (Aus) Drapac Porsche                       0.23
4 Hossein Askari (IRI) Giant Asia Racing Team                     
5 Scott Peoples (Aus) Australian National U23 Team                
6 Maint Berkenbosch (Ned) Netherlands-Altipower                   
7 Mark Walters (Can) Navigators Insurance Cycling Team        2.56
8 Peter Mcdonald (Aus) FRF Couriers-Caravello                     
9 Russell Van Hout (Aus) Savings & Loans Cycling Team         3.01
10 Nariyuki Masuda (Jpn) Japanese National Team               4.09
11 Karl Menzies (Aus) Health Net Presented By Maxxis          4.39
12 Marvin Van Der Pluym (Ned) Netherlands-Altipower               
13 Grant Irwin (Aus) DFL-Cyclingnews-Litespeed                    
14 Joaquim Sampaio (Por) Carvalhelhos-Boavista                    
15 Ger Soepenberg (Ned) Netherlands-Altipower                     
16 John Murphy (USA) Health Net Presented By Maxxis               
17 Manuel Cardoso (Por) Carvalhelhos-Boavista                     
18 Chris Jongewaard (Aus) Savings & Loans Cycling Team            
19 Tobias Erler (Ger) Giant Asia Racing Team                      
20 Simon Clarke (Aus) Southaustralia.com-AIS                      
21 Henk Vogels (Aus) Australian National Team                     
22 Dominique Rollin (Can) Canadian National Team                  
23 Kirk O'bee (USA) Health Net Presented By Maxxis                
24 Camiel Denis (Ned) Netherlands-Altipower                       
25 Matt Wilson (Aus) Australian National Team                     
26 Simon Gerrans (Aus) Australian National Team                   
27 Joshua Marden (Aus) FRF Couriers-Caravello                     
28 David Harrigan (Aus) DFL-Cyclingnews-Litespeed                 
29 David Kemp (Aus) Australian National U23 Team                  
30 Brandon Crichton (Can) Canadian National Team                  
31 Phil Zajicek (USA) Navigators Insurance Cycling Team           
32 Tony Mann (Aus) Australian National Team                       
33 Ciaran Power (Irl) Navigators Insurance Cycling Team           
34 Ryan Mackenzie (Can) Canadian National Team                    
35 Zac Dempster (Aus) Australian National U23 Team                
36 Makoto Iijima (Jpn) Japanese National Team                     
37 Eric Wolhberg (Can) Canadian National Team                     
38 Michael Ford (Aus) Southaustralia.com-AIS                      
39 Robbie Mcewen (Aus) Australian National Team                   
40 Cornelius Van Ooijen (Ned) Netherlands-Altipower               
41 Garrett Peltonen (USA) Health Net Presented By Maxxis          
42 Dean Windsor (Aus) Drapac Porsche                              
43 Kane Oaley (Aus) DFL-Cyclingnews-Litespeed                     
44 James Hannam (Aus) Savings & Loans Cycling Team                
45 Jason Hegert (Aus) FRF Couriers-Caravello                      
46 Johnnie Walker (Aus) Navigators Insurance Cycling Team         
47 David Mccann (Irl) Giant Asia Racing Team                      
48 Trent Lowe (Aus) Australian National Team                      
49 Mark O'brien (Aus) Australian National U23 Team                
50 Mitchell Docker (Aus) Drapac Porsche                           
51 Cameron Hughes (Aus) Carvalhelhos-Boavista                     
52 Stephen Gallagher (Irl) Giant Asia Racing Team                 
53 Brett Aitken (Aus) Savings & Loans Cycling Team                
54 Peter Mueller (Aus) Savings & Loans Cycling Team               
55 Joe Mcdonnell (Aus) FRF Couriers-Caravello                     
56 Satoshi Hirose (Jpn) Japanese National Team                    
57 Robert Cater (Aus) FRF Couriers-Caravello                      
58 Stephen Cunningham (Aus) Savings & Loans Cycling Team          
59 Daniel Lloyd (GBr) Giant Asia Racing Team                      
60 Casey Munro (Aus) Drapac Porsche                               
61 David Tanner (Aus) Australian National U23 Team                
62 Paul Griffin (Irl) Giant Asia Racing Team                      
63 Robert Mclachlan (Aus) Drapac Porsche                          
64 Will Dickeson (Aus) Savings & Loans Cycling Team               
65 Bruno Langlois (Can) Canadian National Team                    
66 Brendan Brooks (Aus) FRF Couriers-Caravello                    
67 Yoshiyuki Shimizu (Jpn) Japanese National Team                 
68 Ben Brooks (Aus) Navigators Insurance Cycling Team             
69 Derek Mcmaster (Can) Canadian National Team                    
70 Ghader Mizbani (IRI) Giant Asia Racing Team                    
71 Greg Henderson (NZl) Health Net Presented By Maxxis            
72 Ben Day (Aus) Carvalhelhos-Boavista                            
73 Jonathon Clarke (Aus) Southaustralia.com-AIS                   
74 Yoshiyuki Abe (Jpn) Japanese National Team                     
75 Phillip Thuaux (Aus) Drapac Porsche                            
76 Doug Ollershaw (USA) Health Net Presented By Maxxis            
77 Yoshimitsu Tsuji (Jpn) Japanese National Team                  
78 Yasuharu Nakajima (Jpn) Japanese National Team                 
79 Stuart Shaw (Aus) Drapac Porsche                               
80 Hilton Clarke (Aus) Navigators Insurance Cycling Team          
81 Peter Herzig (Aus) FRF Couriers-Caravello                      
82 Patrick Shaw (Aus) Australian National U23 Team                
83 Kyle Gritters (USA) Health Net Presented By Maxxis             
84 Jasper Lenferink (Ned) Netherlands-Altipower                   
85 Wesley Sulzberger (Aus) Southaustralia.com-AIS                 
86 Ryan Sullivan (Aus) Australian National U23 Team               
87 Bernard Sulzberger (Aus) DFL-Cyclingnews-Litespeed             
88 Jeremy Vennell (NZl) DFL-Cyclingnews-Litespeed                 
89 David Pell (Aus) Carvalhelhos-Boavista                         
90 Dustin Macburnie (Can) Canadian National Team                  
91 Leigh Palmer (Aus) DFL-Cyclingnews-Litespeed                   
92 Daniel Mcconnell (Aus) Southaustralia.com-AIS                  
DNF Thijs Poelstra (Ned) Netherlands-Altipower                    
DNS Jacek Moraiko (Pol) Carvalhelhos-Boavista                     
DNS Virgilio Santos (Por) Carvalhelhos-Boavista                   
 
General classification after stage 3
 
1 Karl Menzies (Aus) Health Net Presented By Maxxis        9.41.01
2 Tobias Erler (Ger) Giant Asia Racing Team                   0.05
3 Dominique Rollin (Can) Canadian National Team               0.15
4 Simon Gerrans (Aus) Australian National Team                0.22
5 David Mccann (Irl) Giant Asia Racing Team                   0.26
6 Chris Jongewaard (Aus) Savings & Loans Cycling Team         0.27
7 Kirk O'bee (USA) Health Net Presented By Maxxis                 
8 Phil Zajicek (USA) Navigators Insurance Cycling Team            
9 Robert Mclachlan (Aus) Drapac Porsche                           
10 Simon Clarke (Aus) Southaustralia.com-AIS                  1.13
11 Trent Lowe (Aus) Australian National Team                      
12 David Harrigan (Aus) DFL-Cyclingnews-Litespeed             1.43
13 Ciaran Power (Irl) Navigators Insurance Cycling Team           
14 Mitchell Docker (Aus) Drapac Porsche                       3.49
15 Henk Vogels (Aus) Australian National Team                 4.58
16 Joe Mcdonnell (Aus) FRF Couriers-Caravello                 7.39
17 Trent Wilson (Aus) Australian National Team               24.58
18 Darren Lapthorne (Aus) Drapac Porsche                     25.30
19 Hossein Askari (IRI) Giant Asia Racing Team                    
20 Maint Berkenbosch (Ned) Netherlands-Altipower             25.31
21 Mark Walters (Can) Navigators Insurance Cycling Team      28.07
22 Peter Mcdonald (Aus) FRF Couriers-Caravello                    
23 Matthew Lloyd (Aus) Southaustralia.com-AIS                28.30
24 Scott Peoples (Aus) Australian National U23 Team          28.57
25 Hilton Clarke (Aus) Navigators Insurance Cycling Team     29.28
26 David Kemp (Aus) Australian National U23 Team             29.46
27 Tony Mann (Aus) Australian National Team                       
28 Grant Irwin (Aus) DFL-Cyclingnews-Litespeed               29.50
29 Ger Soepenberg (Ned) Netherlands-Altipower                     
30 John Murphy (USA) Health Net Presented By Maxxis               
31 Makoto Iijima (Jpn) Japanese National Team                     
32 Eric Wolhberg (Can) Canadian National Team                     
33 Garrett Peltonen (USA) Health Net Presented By Maxxis          
34 Cameron Hughes (Aus) Carvalhelhos-Boavista                     
35 Brett Aitken (Aus) Savings & Loans Cycling Team                
36 Stephen Cunningham (Aus) Savings & Loans Cycling Team          
37 Daniel Lloyd (GBr) Giant Asia Racing Team                      
38 David Tanner (Aus) Australian National U23 Team                
39 Greg Henderson (NZl) Health Net Presented By Maxxis            
40 Ben Day (Aus) Carvalhelhos-Boavista                            
41 Jonathon Clarke (Aus) Southaustralia.com-AIS                   
42 Kyle Gritters (USA) Health Net Presented By Maxxis             
43 Wesley Sulzberger (Aus) Southaustralia.com-AIS                 
44 Ryan Sullivan (Aus) Australian National U23 Team               
45 Jeremy Vennell (NZl) DFL-Cyclingnews-Litespeed                 
46 Joaquim Sampaio (Por) Carvalhelhos-Boavista               30.25
47 Bruno Langlois (Can) Canadian National Team                    
48 Stuart Shaw (Aus) Drapac Porsche                               
49 Camiel Denis (Ned) Netherlands-Altipower                  30.46
50 Stephen Gallagher (Irl) Giant Asia Racing Team                 
51 Satoshi Hirose (Jpn) Japanese National Team                    
52 Kane Oaley (Aus) DFL-Cyclingnews-Litespeed                31.00
53 Yoshiyuki Abe (Jpn) Japanese National Team                     
54 Peter Herzig (Aus) FRF Couriers-Caravello                      
55 David Pell (Aus) Carvalhelhos-Boavista                         
56 Dean Windsor (Aus) Drapac Porsche                         31.03
57 Casey Munro (Aus) Drapac Porsche                               
58 Bernard Sulzberger (Aus) DFL-Cyclingnews-Litespeed             
59 Russell Van Hout (Aus) Savings & Loans Cycling Team       31.52
60 Robbie Mcewen (Aus) Australian National Team              33.13
61 Marvin Van Der Pluym (Ned) Netherlands-Altipower          33.15
62 Matt Wilson (Aus) Australian National Team                     
63 Joshua Marden (Aus) FRF Couriers-Caravello                     
64 Phillip Thuaux (Aus) Drapac Porsche                            
65 Leigh Palmer (Aus) DFL-Cyclingnews-Litespeed                   
66 Nariyuki Masuda (Jpn) Japanese National Team              33.23
67 Manuel Cardoso (Por) Carvalhelhos-Boavista                     
68 Brandon Crichton (Can) Canadian National Team                  
69 Derek Mcmaster (Can) Canadian National Team                    
70 Doug Ollershaw (USA) Health Net Presented By Maxxis            
71 Johnnie Walker (Aus) Navigators Insurance Cycling Team    33.30
72 Peter Mueller (Aus) Savings & Loans Cycling Team               
73 Ben Brooks (Aus) Navigators Insurance Cycling Team             
74 Patrick Shaw (Aus) Australian National U23 Team           33.35
75 Zac Dempster (Aus) Australian National U23 Team           33.53
76 Ryan Mackenzie (Can) Canadian National Team               33.58
77 Ghader Mizbani (IRI) Giant Asia Racing Team                    
78 Dustin Macburnie (Can) Canadian National Team                  
79 James Hannam (Aus) Savings & Loans Cycling Team           34.18
80 Jason Hegert (Aus) FRF Couriers-Caravello                      
81 Mark O'brien (Aus) Australian National U23 Team                
82 Michael Ford (Aus) Southaustralia.com-AIS                 34.53
83 Cornelius Van Ooijen (Ned) Netherlands-Altipower               
84 Will Dickeson (Aus) Savings & Loans Cycling Team               
85 Daniel Mcconnell (Aus) Southaustralia.com-AIS                  
86 Paul Griffin (Irl) Giant Asia Racing Team                 35.08
87 Jasper Lenferink (Ned) Netherlands-Altipower                   
88 Robert Cater (Aus) FRF Couriers-Caravello                 35.48
89 Yasuharu Nakajima (Jpn) Japanese National Team            37.48
90 Yoshiyuki Shimizu (Jpn) Japanese National Team            41.35
91 Yoshimitsu Tsuji (Jpn) Japanese National Team             58.24
92 Brendan Brooks (Aus) FRF Couriers-Caravello             1.03.42