22nd Tour de l'Aude - 2.1
France, May 12-21, 2006
Main Page Results Overall standings Stage Details Previous Stage Next Stage
Stage 6 - May 17: Arzens – Montreal d'Aude ITT, 31.5 km
Doppmann smashes time trial
Jaunatre retains lead
By Kristy Scrymgeour
Priska Doppmann (Univega)
Photo ©: CJ Farquharson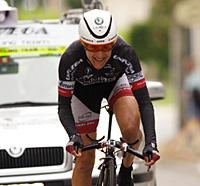 Priska Doppmann (Univega) took out the all important individual time trial in Tour de l'Aude today, taking her second stage of the tour and the third for the team. Her time, which was 59 seconds faster than second place Trixi Worrack (Nurnberger), gives her a very favourable advantage going into the mountain stages of the race.
Last year Doppmann's teammate and time trial specialist Karin Thurig won the time trial by a similar margin, but with Thurig not here this year Doppmann fulfilled that role on a hot and windy day in Southern France. Starting in the town of Arzens, the 31km time trial started straight into a headwind and over lots of rolling terrain before hitting a gradual 7km climb. It traveled over a plateau along the top before descending along a long tailwind section of the course. The last ten kilometers saw many more rollers with a lot of wind before the riders hit the last climb up into the town of Montreal for the finish.
Marina Jaunatre (France)
Photo ©: CJ Farquharson

Taking second was former winner of Tour de l'Aude Trixi Worrack, who now sits in fifth place overall, with Madeleine Sandig, who has worn the yellow jersey on two separate occasions already this tour finishing in third place to maintain a high placing on GC. She now sits in third place behind Doppmann, with her teammate, and defending champion of the tour Amber Neben moving up into fourth overall, trailing Doppmann by just under a minute.
Meanwhile still leading the overall tour is Marina Jaunatre (French National Team), who claimed yellow after a 70km breakaway in yesterday's stage. Jaunatre excelled in the time trial today to place 11th, only 2'12" down on Doppmann and retains the yellow jersey by just over two minutes going into tomorrow's double stage day.
With the first ten riders on GC already separated by five minutes, it shows that already the tough terrain of the tour and the three time trials have played a big part, but with the major climbing days to come, anything can happen as we saw last year with the battle for seconds on the final stage.
The jersey wearers
Photo ©: CJ Farquharson

Photography
For a thumbnail gallery of these images, click here
Images by CJ Farquharson/WomensCycling.net
Images by Philippe Volle/velopalmares.free.fr
Results
1 Priska Doppmann (Swi) Univega Pro Cycling Team                  48.56
2 Trixi Worrack (Ger) Equipe Nürnberger Versicherung               0.59
3 Madeleine Sandig (Ger) Buitenpoort-Flexpoint Team                1.16
4 Amber Neben (USA) Buitenpoort-Flexpoint Team                     1.22
5 Svetlana Bubnenkova (Rus) Fenixs-Colnago                         1.38
6 Judith Arndt (Ger) T-Mobile Professional Cycling                 1.45
7 Olga Zabelinskaya (Rus) Fenixs-Colnago                               
8 Susanne Ljungskog (Swe) Buitenpoort-Flexpoint Team               1.48
9 Kimberly Baldwin (USA) T-Mobile Professional Cycling             2.08
10 Edwige Pitel (Fra) Bianchi Aliverti Kookai                      2.12
11 Marina Jaunatre (Fra) French National Team                      2.17
12 Edita Puncinskaite (Ltu) Nobili Rubinetterie Menikini Cogeas    2.22
13 Maryline Salvetat (Fra) French National Team                    2.29
14 Lyne Bessette (Can) T-Mobile Professional Cycling               2.41
15 Claudia Hausler (Ger) Equipe Nürnberger Versicherung            3.07
16 Suzanne De Goede (Ned) AA-Drink Cycling Team                    3.13
17 Dorte Rasmussen (Den) Bianchi Aliverti Kookai                   3.23
18 Kimberly Anderson (USA) T-Mobile Professional Cycling           3.32
19 Oenone Wood (Aus) Equipe Nürnberger Versicherung                3.43
20 Théresa Senff (Ger) AA-Drink Cycling Team                       3.50
21 Katryn Watt (Aus) Lotto-Belisol Ladiesteam                      3.54
22 Grace Fleury (USA) USA National Team                            3.59
23 Laure Werner (Bel) Belgian National Team                        4.08
24 Bianca Knöpfle (Ger) German National Team                       4.25
25 Sharon Vandromme (Bel) Belgian National Team                    4.52
26 Cindy Pieters (Bel) Belgian National Team                       5.00
27 Sofie Goor (Bel) Belgian National Team                          5.03
28 Béatrice Thomas (Fra) French National Team                      5.10
29 An Van Rie (Bel) Lotto-Belisol Ladiesteam                       5.11
30 Marta Vilajosana (Spa) Nobili Rubinetterie Menikini Cogeas      5.12
31 Adrie Visser (Ned) AA-Drink Cycling Team                        5.13
32 Olivia Gollan (Aus) Nobili Rubinetterie Menikini Cogeas         5.15
33 Candice Sullivan (Aus) Australian National Team                 5.29
34 Magalie Finot Lavier (Fra) French National Team                 5.33
35 Karine Gautard (Fra) French National Team                       5.41
36 Lisa Brennauer (Ger) German National Team                       5.44
37 Tony Bradshaw (NZl) Les Pruneaux d'Agen                         5.45
38 Natalie Bates (Aus) AA-Drink Cycling Team                       5.50
39 Evelyn Garcia (ESa) Nobili Rubinetterie Menikini Cogeas         5.53
40 Joanne Kiesanowski (NZl) Univega Pro Cycling Team               6.23
41 Alexandra Sontheimer (Ger) German National Team                 6.28
42 Charlotte Becker (Ger) German National Team                     6.35
43 Josephine Groenveld (Ned) AA-Drink Cycling Team                 6.38
44 Emma Rickards (Aus) Univega Pro Cycling Team                    6.41
45 Volha Hayeva (Blr) Bianchi Aliverti Kookai                      6.42
46 Maria Calle (Col) Colombian National Team                       6.51
47 Amy Moore (Can) T-Mobile Professional Cycling                   6.53
48 Alison Shanks (NZl) New Zealand National Team                   6.55
49 Amanda Spratt (Aus) Australian National Team                    6.58
50 Elisabeth Chavanne Brunel (Fra) Les Pruneaux d'Agen             7.02
51 Trine Hansen (Den) Bianchi Aliverti Kookai                      7.08
52 Lauren Franges (USA) USA National Team                          7.17
53 Jenny Mac Pherson (Aus) Australian National Team                7.25
54 Mette Andreasen (Den) Bianchi Aliverti Kookai                   7.28
55 Karen Steurs (Bel) Belgian National Team                        7.35
56 Angela Brodtka (Ger) AA-Drink Cycling Team                      7.37
57 Alexandra Le Henaff (Fra) Les Pruneaux d'Agen                       
58 Eléna Stramoysova (Rus) Fenixs-Colnago                          7.40
59 Elodie Touffet (Fra) Nobili Rubinetterie Menikini Cogeas        7.42
60 Kateryn Curi (USA) USA National Team                            7.43
61 Sharon Van Essen (Ned) Dutch National Team                      7.48
62 Fanny Riberot (Fra) French National Team                        7.49
63 Eva Lutz (Ger) Equipe Nürnberger Versicherung                   7.50
64 Christina Ruiter (USA) USA National Team                        7.53
65 Inge Van Den Broeck (Bel) Lotto-Belisol Ladiesteam              7.55
66 Ina Teutenberg (Ger) T-Mobile Professional Cycling                  
67 Sabine Fischer (Ger) German National Team                       8.02
68 Irène Van Den Broeck (Ned) Dutch National Team                  8.12
69 Chantal Beltman (Ned) Dutch National Team                       8.13
70 Tamara Boyd (NZl) Les Pruneaux d'Agen                           8.20
71 Min Gao (Chn) Giant Pro Cycling                                     
72 Iris Slappendel (Ned) Dutch National Team                       8.26
73 Xiong Yng Ruan (Chn) Giant Pro Cycling                          8.31
74 Siobhan Dervan (Irl) Lotto-Belisol Ladiesteam                   8.35
75 Sarah Duster (Ger) Univega Pro Cycling Team                     8.36
76 Alexis Rhodes (Aus) Australian National Team                    8.54
77 Johanna Buick (NZl) Fenixs-Colnago                              8.55
78 Anke Wichmann (Ger) Equipe Nürnberger Versicherung              8.58
79 Lang Meng (Chn) Giant Pro Cycling                               9.07
80 Carissa Wilkes (NZl) New Zealand National Team                  9.12
81 Sally Ann Cowman (Aus) Australian National Team                 9.45
82 Lise Christensen (Den) Bianchi Aliverti Kookai                      
83 Millerlandy Agudelo (Col) Colombian National Team               9.49
84 Marina Duvnjak (NZl) New Zealand National Team                  9.54
85 Dale Tye (NZl) New Zealand National Team                        9.56
86 Debby Mansveld (Ned) Dutch National Team                       10.50
87 Maja Adamsen (Den) Fenixs-Colnago                              10.52
88 Janne Brok (Ned) Dutch National Team                           10.56
89 Wan Yiu Wong (HKg) Giant Pro Cycling                           11.06
90 Ludivine Henrion (Bel) Lotto-Belisol Ladiesteam                11.13
91 Katherine Lambden (USA) USA National Team                      11.23
92 Magdali Trujillo (Col) Colombian National Team                 11.24
93 Régina Schleicher (Ger) Equipe Nürnberger Versicherung         11.46
94 Alessandra Borghi (Ita) Nobili Rubinetterie Menikini Cogeas    12.07
95 Hannah Banks (Aus) Australian National Team                    12.22
96 Amy Mosen (NZl) New Zealand National Team                      12.27
97 Yanxia Jiang (Chn) Giant Pro Cycling                           12.56
98 Yan Mei Wu (Chn) Giant Pro Cycling                             13.13
99 Marlen Jöhrend (Ger) German National Team                      13.32
100 Monica Mendes (Col) Colombian National Team                   13.46
101 Eléna Eifler (Ger) Fenixs-Colnago                             14.58
102 Marielle Aunave (Fra) Lotto-Belisol Ladiesteam                16.04
 
Points
 
1 Priska Doppmann (Swi) Univega Pro Cycling Team                     30 pts
2 Trixi Worrack (Ger) Equipe Nürnberger Versicherung                 24
3 Madeleine Sandig (Ger) Buitenpoort-Flexpoint Team                  20
4 Amber Neben (USA) Buitenpoort-Flexpoint Team                       17
5 Svetlana Bubnenkova (Rus) Fenixs-Colnago                           14
6 Judith Arndt (Ger) T-Mobile Professional Cycling                   11
7 Olga Zabelinskaya (Rus) Fenixs-Colnago                              9
8 Susanne Ljungskog (Swe) Buitenpoort-Flexpoint Team                  8
9 Kimberly Baldwin (USA) T-Mobile Professional Cycling                7
10 Edwige Pitel (Fra) Bianchi Aliverti Kookai                         6
11 Marina Jaunatre (Fra) French National Team                         5
12 Edita Puncinskaite (Ltu) Nobili Rubinetterie Menikini Cogeas       4
13 Maryline Salvetat (Fra) French National Team                       3
14 Lyne Bessette (Can) T-Mobile Professional Cycling                  2
15 Claudia Hausler (Ger) Equipe Nürnberger Versicherung               1
 
Teams
 
1 Buitenpoort Flexpoint                                         2.31.14
2 T-Mobile                                                         2.08
3 Nürnberg Versicherung                                            3.23
4 French National Team                                             5.30
5 Fénix Colnago                                                    6.37
6 AA-Drink CT                                                      7.50
7 Bianchi Aliverti Kookai                                          7.51
8 Nobili Rubinetterie                                              8.23
9 Univega                                                          8.38
10 Belgian National Team                                           9.34
11 German National Team                                           12.11
12 Lotto Belisol                                                  12.34
13 USA National Team                                              14.33
14 Australian National Team                                       15.26
15 Les Pruneaux d'Agen                                            15.58
16 Dutch National Team                                            19.47
17 Giant PC                                                       21.32
18 New Zealand National Team                                      21.35
19 Colombian National Team                                        23.38
 
General classification after stage 6
 
1 Marina Jaunatre (Fra) French National Team                   11.14.21
2 Priska Doppmann (Swi) Univega Pro Cycling Team                   2.03
3 Madeleine Sandig (Ger) Buitenpoort-Flexpoint Team                2.10
4 Amber Neben (USA) Buitenpoort-Flexpoint Team                     3.00
5 Trixi Worrack (Ger) Equipe Nürnberger Versicherung               3.09
6 Susanne Ljungskog (Swe) Buitenpoort-Flexpoint Team               3.19
7 Judith Arndt (Ger) T-Mobile Professional Cycling                 3.31
8 Kimberly Baldwin (USA) T-Mobile Professional Cycling             4.22
9 Claudia Hausler (Ger) Equipe Nürnberger Versicherung             4.39
10 Edwige Pitel (Fra) Bianchi Aliverti Kookai                      4.49
11 Kimberly Anderson (USA) T-Mobile Professional Cycling           4.59
12 Edita Puncinskaite (Ltu) Nobili Rubinetterie Menikini Cogeas    5.12
13 Maryline Salvetat (Fra) French National Team                    5.18
14 Suzanne De Goede (Ned) AA-Drink Cycling Team                    5.40
15 Théresa Senff (Ger) AA-Drink Cycling Team                       6.27
16 Olga Zabelinskaya (Rus) Fenixs-Colnago                          6.28
17 Lyne Bessette (Can) T-Mobile Professional Cycling               6.52
18 Dorte Rasmussen (Den) Bianchi Aliverti Kookai                   7.27
19 Svetlana Bubnenkova (Rus) Fenixs-Colnago                        7.31
20 Sofie Goor (Bel) Belgian National Team                          8.30
21 Oenone Wood (Aus) Equipe Nürnberger Versicherung                9.00
22 Adrie Visser (Ned) AA-Drink Cycling Team                        9.40
23 Joanne Kiesanowski (NZl) Univega Pro Cycling Team               9.57
24 Eva Lutz (Ger) Equipe Nürnberger Versicherung                  10.23
25 Sharon Vandromme (Bel) Belgian National Team                   10.25
26 An Van Rie (Bel) Lotto-Belisol Ladiesteam                      10.36
27 Laure Werner (Bel) Belgian National Team                            
28 Candice Sullivan (Aus) Australian National Team                10.46
29 Magalie Finot Lavier (Fra) French National Team                11.03
30 Olivia Gollan (Aus) Nobili Rubinetterie Menikini Cogeas        11.54
31 Emma Rickards (Aus) Univega Pro Cycling Team                   12.34
32 Tony Bradshaw (NZl) Les Pruneaux d'Agen                        12.46
33 Maria Calle (Col) Colombian National Team                      13.22
34 Katryn Watt (Aus) Lotto-Belisol Ladiesteam                     13.29
35 Volha Hayeva (Blr) Bianchi Aliverti Kookai                     14.23
36 Marta Vilajosana (Spa) Nobili Rubinetterie Menikini Cogeas     15.08
37 Lang Meng (Chn) Giant Pro Cycling                              15.44
38 Min Gao (Chn) Giant Pro Cycling                                15.50
39 Grace Fleury (USA) USA National Team                           15.51
40 Ina Teutenberg (Ger) T-Mobile Professional Cycling             16.32
41 Bianca Knöpfle (Ger) German National Team                      16.43
42 Béatrice Thomas (Fra) French National Team                     17.01
43 Irène Van Den Broeck (Ned) Dutch National Team                 18.00
44 Sharon Van Essen (Ned) Dutch National Team                     18.28
45 Chantal Beltman (Ned) Dutch National Team                      18.41
46 Jenny Mac Pherson (Aus) Australian National Team               18.48
47 Evelyn Garcia (ESa) Nobili Rubinetterie Menikini Cogeas        19.19
48 Cindy Pieters (Bel) Belgian National Team                      19.40
49 Josephine Groenveld (Ned) AA-Drink Cycling Team                20.04
50 Xiong Yng Ruan (Chn) Giant Pro Cycling                         20.15
51 Alexandra Le Henaff (Fra) Les Pruneaux d'Agen                  21.06
52 Natalie Bates (Aus) AA-Drink Cycling Team                      21.22
53 Amy Moore (Can) T-Mobile Professional Cycling                  21.38
54 Elodie Touffet (Fra) Nobili Rubinetterie Menikini Cogeas       21.49
55 Lisa Brennauer (Ger) German National Team                      21.53
56 Christina Ruiter (USA) USA National Team                       22.15
57 Maja Adamsen (Den) Fenixs-Colnago                              23.16
58 Charlotte Becker (Ger) German National Team                    24.02
59 Lauren Franges (USA) USA National Team                         24.04
60 Johanna Buick (NZl) Fenixs-Colnago                             24.15
61 Elisabeth Chavanne Brunel (Fra) Les Pruneaux d'Agen            25.22
62 Inge Van Den Broeck (Bel) Lotto-Belisol Ladiesteam             26.02
63 Karen Steurs (Bel) Belgian National Team                       26.15
64 Sarah Duster (Ger) Univega Pro Cycling Team                    27.22
65 Trine Hansen (Den) Bianchi Aliverti Kookai                     28.21
66 Lise Christensen (Den) Bianchi Aliverti Kookai                 28.23
67 Marina Duvnjak (NZl) New Zealand National Team                 28.53
68 Eléna Stramoysova (Rus) Fenixs-Colnago                         29.00
69 Alison Shanks (NZl) New Zealand National Team                  29.46
70 Carissa Wilkes (NZl) New Zealand National Team                      
71 Amanda Spratt (Aus) Australian National Team                   30.30
72 Angela Brodtka (Ger) AA-Drink Cycling Team                     30.54
73 Karine Gautard (Fra) French National Team                      31.22
74 Kateryn Curi (USA) USA National Team                           31.55
75 Sabine Fischer (Ger) German National Team                      32.27
76 Tamara Boyd (NZl) Les Pruneaux d'Agen                          33.06
77 Régina Schleicher (Ger) Equipe Nürnberger Versicherung         33.24
78 Fanny Riberot (Fra) French National Team                       39.05
79 Anke Wichmann (Ger) Equipe Nürnberger Versicherung             39.57
80 Alexandra Sontheimer (Ger) German National Team                42.15
81 Katherine Lambden (USA) USA National Team                      43.21
82 Sally Ann Cowman (Aus) Australian National Team                44.03
83 Janne Brok (Ned) Dutch National Team                           44.22
84 Siobhan Dervan (Irl) Lotto-Belisol Ladiesteam                  45.01
85 Dale Tye (NZl) New Zealand National Team                       47.25
86 Ludivine Henrion (Bel) Lotto-Belisol Ladiesteam                48.08
87 Wan Yiu Wong (HKg) Giant Pro Cycling                           48.29
88 Mette Andreasen (Den) Bianchi Aliverti Kookai                  48.54
89 Millerlandy Agudelo (Col) Colombian National Team              49.44
90 Iris Slappendel (Ned) Dutch National Team                      52.02
91 Alexis Rhodes (Aus) Australian National Team                   53.31
92 Magdali Trujillo (Col) Colombian National Team                 54.14
93 Monica Mendes (Col) Colombian National Team                    54.46
94 Yanxia Jiang (Chn) Giant Pro Cycling                           56.03
95 Yan Mei Wu (Chn) Giant Pro Cycling                             56.15
96 Alessandra Borghi (Ita) Nobili Rubinetterie Menikini Cogeas    56.42
97 Debby Mansveld (Ned) Dutch National Team                       57.10
98 Amy Mosen (NZl) New Zealand National Team                      58.18
99 Hannah Banks (Aus) Australian National Team                    59.01
100 Marlen Jöhrend (Ger) German National Team                   1.02.26
101 Marielle Aunave (Fra) Lotto-Belisol Ladiesteam              1.17.13
102 Eléna Eifler (Ger) Fenixs-Colnago                           1.29.58
 
Points classification
 
1 Priska Doppmann (Swi) Univega Pro Cycling Team                    110 pts
2 Trixi Worrack (Ger) Equipe Nürnberger Versicherung                 66
3 Suzanne De Goede (Ned) AA-Drink Cycling Team                       60
4 Susanne Ljungskog (Swe) Buitenpoort-Flexpoint Team                 58
5 Madeleine Sandig (Ger) Buitenpoort-Flexpoint Team                  58
6 Ina Teutenberg (Ger) T-Mobile Professional Cycling                 54
7 Judith Arndt (Ger) T-Mobile Professional Cycling                   54
8 Joanne Kiesanowski (NZl) Univega Pro Cycling Team                  50
9 Amber Neben (USA) Buitenpoort-Flexpoint Team                       42
10 Dorte Rasmussen (Den) Bianchi Aliverti Kookai                     42
11 Marina Jaunatre (Fra) French National Team                        39
12 Adrie Visser (Ned) AA-Drink Cycling Team                          34
13 Chantal Beltman (Ned) Dutch National Team                         30
14 Edita Puncinskaite (Ltu) Nobili Rubinetterie Menikini Cogeas      29
15 Svetlana Bubnenkova (Rus) Fenixs-Colnago                          28
16 Oenone Wood (Aus) Equipe Nürnberger Versicherung                  27
17 Jenny Mac Pherson (Aus) Australian National Team                  26
18 Edwige Pitel (Fra) Bianchi Aliverti Kookai                        25
19 Maryline Salvetat (Fra) French National Team                      24
19 Sofie Goor (Bel) Belgian National Team                            24
21 Olga Zabelinskaya (Rus) Fenixs-Colnago                            23
21 Olivia Gollan (Aus) Nobili Rubinetterie Menikini Cogeas           23
23 Kimberly Baldwin (USA) T-Mobile Professional Cycling              22
24 Lisa Brennauer (Ger) German National Team                         20
24 Lauren Franges (USA) USA National Team                            20
26 Lang Meng (Chn) Giant Pro Cycling                                 16
27 Volha Hayeva (Blr) Bianchi Aliverti Kookai                        14
28 Sharon Vandromme (Bel) Belgian National Team                      12
28 Christina Ruiter (USA) USA National Team                          12
30 Alexandra Le Henaff (Fra) Les Pruneaux d'Agen                     10
31 Kimberly Anderson (USA) T-Mobile Professional Cycling              9
32 Laure Werner (Bel) Belgian National Team                           8
32 An Van Rie (Bel) Lotto-Belisol Ladiesteam                          8
34 Théresa Senff (Ger) AA-Drink Cycling Team                          7
34 Katryn Watt (Aus) Lotto-Belisol Ladiesteam                         7
34 Irène Van Den Broeck (Ned) Dutch National Team                     7
37 Claudia Hausler (Ger) Equipe Nürnberger Versicherung               6
38 Josephine Groenveld (Ned) AA-Drink Cycling Team                    5
38 Eléna Stramoysova (Rus) Fenixs-Colnago                             5
40 Lyne Bessette (Can) T-Mobile Professional Cycling                  4
40 Béatrice Thomas (Fra) French National Team                         4
40 Magalie Finot Lavier (Fra) French National Team                    4
40 Eva Lutz (Ger) Equipe Nürnberger Versicherung                      4
44 Bianca Knöpfle (Ger) German National Team                          3
44 Candice Sullivan (Aus) Australian National Team                    3
46 Alexis Rhodes (Aus) Australian National Team                       2
 
Teams classification
 
1 T-Mobile                                                     33.46.32
2 Buitenpoort Flexpoint                                            4.35
3 Nürnberg Versicherung                                           10.54
4 French National Team                                            13.52
5 AA-Drink CT                                                     18.08
6 Univega                                                         22.37
7 Bianchi Aliverti Kookai                                         22.41
8 Fénix Colnago                                                   27.37
9 Nobili Rubinetterie                                             28.47
10 Belgian National Team                                          31.02
11 USA National Team                                              51.10
12 Lotto Belisol                                                  53.26
13 Dutch National Team                                            56.37
14 Giant PC                                                       56.45
15 Les Pruneaux d'Agen                                            59.23
16 Australian National Team                                       59.40
17 German National Team                                         1.03.02
18 New Zealand National Team                                    1.30.56
19 Colombian National Team                                      1.56.10