2006 Commonwealth Games - JR
Melbourne, Australia, March 16-26, 2006
Main Page Results Previous event Next Event
March 19: Men's team sprint
Scotland get it from England in close final
By Mal Sawford
The boys from Scotland were flying
Photo ©: Shane Goss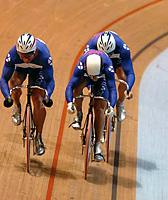 Two impressive rides from the Scottish team of Ross Edgar, Craig McLean and Chris Hoy gave them the gold medal in the team sprint – the first cycling gold to go somewhere other than the Australian or English teams.
England's team of Matthew Crampton, Jason Queally and Jamie Staff set the time to beat in qualifying with a 44.564, but the Scots were up to the challenge, recording 44.265 in the next heat, the second-fastest time by any British team in any competition.
The Australian team saw new lead off rider Shane Perkins, another home town boy, rip out a sub eighteen second lap – something the Aussies have been lacking in recent years, and according to head coach Martin Barras, "Now we really have a team sprint team." Ryan Bayley and Shane Kelly anchored the Australian effort and came agonizingly close to matching England's efforts, but fell short by a mere 0.033 seconds.
Australia had little trouble accounting for New Zealand's Justin Grace, Nathan Seddon and Adam Stewart in the bronze final, and for 19 year-old debutante Perkins, "It was a huge experience for me, I used to go and watch Shane [Kelly] racing at Northcote [velodrome] when I was 10 years old. I've always said I want to be like him. To ride with him is amazing. He takes a lot out of it as well; we push him, he pushes us. And Ryan - what can I say? He's pretty much the best sprinter in the world and he's only 24."
The gold medal match was a much closer affair. The electronic timing showed that Scotland led at every change, but the final result was too close to call by eye, with the winning margin less than three hundredths of a second.
The podium from the three-man team sprint (L-R):
Photo ©: Shane Goss

While a win would have been better, Staff admitted, "I've been sick of watching the TV every day and seeing the Aussies win everything. I'm just glad they didn't win!" On a more serious note, he can still see room for improvement, adding, "This is a brand new team. It shows you the strength of our team sprint and you've got to be happy with that."
Queally agreed: "Both teams did a phenomenal time. We were happy with our ride but we were just beaten by a better team on the day. It's great for Britain as we had two teams in the final and it bodes well for the future. It was an absolute dream final, but one of us had to be a loser."
Speaking for the winning team, Hoy admitted that the final line up for Scotland hadn't been decided until five hours before the session started. Marco Librizzi was the unlucky rider to miss out, but, "Obviously, they made the right decision. We had a trial a week ago and I had a really bad lap, half a second slower than tonight. Going into today I was a little bit tired, so to do a 12.9 was really good."
Photography
For a thumbnail gallery of these images, click here
Images by AFP Photo
Images by Shane Goss/www.licoricegallery.com
Images by Rob Jones/www.canadiancyclist.com
Results
Qualifying
 
1 Scotland                             44.265 (60.996km/h)
  Ross Edgar
  Chris Hoy
  Craig Maclean
2 England                              44.564 (60.587km/h)
  Matthew Crampton
  Jason Queally
  Jamie Staff
3 Australia                            44.597 (60.542km/h)
  Ryan Bayley
  Shane Kelly
  Shane Perkins
4 New Zealand                          46.200 (58.442km/h)
  Justin Grace
  Nathan Seddon
  Adam Stewart
5 Canada                               46.246 (58.383km/h)
  Cameron Mackinnon
  Yannik Morin
  Travis Smith
6 Malaysia                             46.578 (57.967km/h)
  Junaidi Mohamad Nasir
  Mohd Rizal Tisin
  Josiah Ng
7 Barbados                             53.059 (50.887km/h)
  John Cumberbatch
  Jason Forde
  Jason Perryman
 
Final for bronze

1 Australia                            44.719 (60.377km/h)
  Ryan Bayley
  Shane Kelly
  Shane Perkins
2 New Zealand                          46.366 (58.232km/h)
  Justin Grace
  Nathan Seddon
  Adam Stewart

Final for gold

1 Scotland                             44.282 (60.973km/h)
  Ross Edgar
  Chris Hoy
  Craig Maclean
2 England                              44.309 (60.936km/h)
  Matthew Crampton
  Jason Queally
  Jamie Staff