Tour of Qinghai Lake - 2.HC
China, July 15-23, 2006
Main Page Results Overall standings Stage Details Next Stage
Stage 1 - July 15: Qingahi Lake Hotel - Bird Island, 121km
Weissinger opens with a win
By Mark Gunter in Bird Island
Rene Weissinger (Skil-Shimano)
Photo ©: Mark Gunter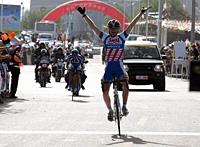 Rene Weissinger (Skil-Shimano) has won the first stage of the Tour of Qinghai Lake, beating Hossein Askari (Giant Asia Racing Team) by a comfortable margin at the finish in Bird Island. There German rider thus became the first leader in the nine day stage race.
Today's stage went from Qinghai Lake Hotel to Bird Island on the western side of the lake. The day was preceded by an opening ceremony to rival any in the cycling world. On the shores of Qinghai Lake An estimated 20,000 people turned out to watch the event. It included some of the country's biggest rock stars and was broadcast live throughout Asia. The riders were presented and they had to ride over a giant floating stage in the shape of a giant bike.
But 121 km lay ahead of them and the peloton was restless early on with a few small attempts being made to break free of the bunch. Sergio Marinangeli (Naturino-Sapore Di Mare) made a solo attempt and held it for several kilometres until he was joined by 17 other rides. With 40km to go, the lead group split up with eventual winner Rene Weissinger (Skil-Shimano) included. Meanwhile the main bunch was falling further behind and will have to put on a good show in the hills if they are to compete in the GC.
The large crowds
Photo ©: Mark Gunter

The stage was amongst stunning scenery which was probably almost unnoticed by the riders as the heat and elevation of around 3200m kept them concentrating on one thing, trying to keep up as the average speed was 50.3 km/h. At 101.8 km Hossein Askari (Giant Asia Racing Team) won the category 2 KOM, but this climb is only a pimple compared to the rest of the tour.
Rene Weissinger (Skil-Shimano) and Hossein Askari (Giant Asia Racing Team) broke clear from the leaders with 8 km to go with Rene taking it on the line for a joyous win.
Photography
For a thumbnail gallery of these images, click here
Images by Mark Gunter/www.pbase.com/gunterphotograph
Results
1 RenÚ Weissinger (Ger) Skil-Shimano                        2.24.20
2 Hossein Askari (IRI) Giant Asia Racing Team                  0.03
3 Sergio Marinangeli (Ita) Naturino-Sapore Di Mare             0.13
4 Stefan Cohnen (Ned) Naturino-Sapore Di Mare                  0.19
5 Eduard Vorganov (Rus) Omnibike Dynamo Moscow                 0.20
6 Nacor Burgos Rojo (Spa) Relax-Gam                                
7 Emanuele Rizza (Ita) Naturino-Sapore Di Mare                     
8 Kenny Robert Van Hummel (Ned) Skil-Shimano                       
9 Tobias Erler (Ger) Giant Asia Racing Team                        
10 Ghader Mizbani Iranagh (IRI) Giant Asia Racing Team             
11 Garcia-Casarrubios Pintor (Spa) Relax-Gam                       
12 Xavier Florencio Cabre (Spa) Bouygues Telecom                   
13 Francesco Failli (Ita) Liquigas                                 
14 Alexandr Dymovskikh (Kaz) Cycling Team Capec                    
15 Pierre Drancourt (Fra) Bouygues Telecom                         
16 Daniel Lloyd (GBr) Giant Asia Racing Team                       
17 Albert Timmer (Ned) Team L÷wik Meubelen                         
18 David Mc Cann (Irl) Giant Asia Racing Team                      
19 JosÚ Mario Almagro Valero (Spa) Relax-Gam                       
20 Maarten Tjallingii (Ned) Skil-Shimano                           
21 Daniel Spence (RSA) South African National Team             0.26
22 Bogdan Bondariew (Ukr) Intel-Action                         0.35
23 Tiaan Kannemeyer (RSA) South African National Team              
24 Jin Long (Chn) Skil-Shimano                                 1.00
25 Vincent Jerome (Fra) Bouygues Telecom                       1.11
26 Song Baoqing (Chn) Chinese National Team                    1.32
27 Mathieu Claude (Fra) Bouygues Telecom                           
28 Ilya Chernyshov (Kaz) Cycling Team Capec                    1.51
29 Andrey Medyannikov (Kaz) Cycling Team Capec                 2.24
30 Vasily Khatuntsev (Rus) Omnibike Dynamo Moscow              2.35
31 Rupert Rheeder (RSA) South African National Team            3.45
32 Jose Rafael Martinez Castillo (Spa) Relax-Gam               5.28
33 Francisco Terciado Sacedo (Spa) Relax-Gam                       
34 Valentin Iglinskiy (Kaz) Cycling Team Capec                     
35 Vyacheslav Vilkov (Rus) Omnibike Dynamo Moscow              6.57
36 Krzysztof Kuzniak (Pol) Intel-Action                            
37 Jos Harms (Ned) Team L÷wik Meubelen                         7.19
38 Marcin Osinski (Pol) Intel-Action                               
39 Rick Fransen (Ned) Team L÷wik Meubelen                          
40 Denys Kostyuk (Ukr) Intel-Action                                
41 Michael Creed (USA) Team TIAA-CREF                              
42 Alexey Shmidt (Rus) Omnibike Dynamo Moscow                      
43 Alexey Lyalko (Kaz) Cycling Team Capec                          
44 Alexandr Dyachenko (Kaz) Cycling Team Capec                     
45 Mauro Da Dalto (Ita) Liquigas                                   
46 Alexandre Pichot (Fra) Bouygues Telecom                         
47 Dariusz Rudnicki (Pol) Intel-Action                             
48 Krzysztof Miara (Pol) Intel-Action                              
49 Rik Reinerink (Ned) Skil-Shimano                                
50 Darren Lill (RSA) South African National Team                   
51 Fang Xu (Chn) Skil-Shimano                                  8.20
52 Kevin Miller (Can) Canadian National Team                       
53 Cody Stevenson (Aus) FRF Couriers-Caravello                     
54 Tong Yu (Chn) Marco Polo Cycling Team                           
55 Peter Mcdonald (Aus) FRF Couriers-Caravello                     
56 Liu Bo (Chn) Chinese National Team                              
57 Ian Macgregor (USA) Team TIAA-CREF                              
58 Luigi Sestili (Ita) Naturino-Sapore Di Mare                     
59 Antonio Quadranti (Ita) Naturino-Sapore Di Mare                 
60 Nicola Loda (Ita) Liquigas                                      
61 Kane Oakley (Aus) DFL-Cyclingnews-Litespeed                     
62 Jiao Pengda (Chn) Chinese National Team                         
63 Dean Downing (GBr) DFL-Cyclingnews-Litespeed                    
64 Orshikh Ulzii (Mgl) Marco Polo Cycling Team                     
65 Javkhlantur Damdinsuren (Mgl) Mongolian National Team           
66 Arnoud Van Groen (Ned) Team L÷wik Meubelen                      
67 Marco Righetto (Ita) Liquigas                                   
68 Rhys Pollock (Aus) Marco Polo Cycling Team                      
69 Denis Kudashev (Rus) Relax-Gam                                  
70 Alberto Curtolo (Ita) Liquigas                                  
71 Alex Pavlov (RSA) South African National Team                   
72 Sebastian Skiba (Pol) Intel-Action                              
73 Chad Hartley (USA) Team TIAA-CREF                               
74 Jacques Fullard (RSA) South African National Team               
75 Daryl Impey (RSA) South African National Team                   
76 Joshua Marden (Aus) FRF Couriers-Caravello                      
77 Alex Coutts (GBr) DFL-Cyclingnews-Litespeed                     
78 Brendan Brooks (Aus) FRF Couriers-Caravello                     
79 Hans Bloks (Ned) Team L÷wik Meubelen                            
80 Bryan Smith (USA) Team TIAA-CREF                                
81 Chun Hing Chan (HKg) Purapharm                                  
82 Cameron Jennings (Aus) DFL-Cyclingnews-Litespeed                
83 Stephen Gallagher (Irl) Giant Asia Racing Team                  
84 Peter Herzig (Aus) FRF Couriers-Caravello                       
85 Maryan Hary (Fra) Bouygues Telecom                              
86 Timothy Duggan (USA) Team TIAA-CREF                             
87 Dmitriy Gruzdev (Kaz) Cycling Team Capec                        
88 Martin Mares (Cze) Naturino-Sapore Di Mare                      
89 Giovanni Bernaudeau (Fra) Bouygues Telecom                      
90 Dan Bowman (USA) Team TIAA-CREF                                 
91 Leigh Palmer (Aus) DFL-Cyclingnews-Litespeed                    
92 Rino Zampilli (Ita) Naturino-Sapore Di Mare                     
93 Fuyu Li (Chn) Marco Polo Cycling Team                           
94 Russell Downing (GBr) DFL-Cyclingnews-Litespeed                 
95 Joe Mcdonnell (Aus) FRF Couriers-Caravello                 10.16
96 Jeremy Vennell (NZl) DFL-Cyclingnews-Litespeed                  
97 Tony Mann (Aus) FRF Couriers-Caravello                          
98 Uuganbayar Khayankhyarvaa (Mgl) Mongolian National Team    10.48
99 Ryan Mckenzie (Can) Canadian National Team                 12.18
100 Ma Haijun (Chn) Marida China National Team                     
101 Wang Yip Tang (HKg) Purapharm                                  
102 Kaoru Ouchi (Jpn) Skil-Shimano                                 
103 Job Vissers (Ned) Team L÷wik Meubelen                          
104 Jean-Noel Wolf (Fra) Marco Polo Cycling Team                   
105 Alexey Bauer (Rus) Omnibike Dynamo Moscow                 13.15
106 Ming Xing Xue (Chn) Purapharm                                  
107 Song Kui (Chn) Marida China National Team                      
108 Wu Shengjun (Chn) Marida China National Team                   
109 Dong Xiaoyong (Chn) Marida China National Team                 
110 Chen Zhenzhong (Chn) Marida China National Team           13.19
111 Qin Ping (Chn) Marida China National Team                      
112 Remko Kramer (Ned) Marco Polo Cycling Team                     
113 Wang Rui (Chn) Marida China National Team                      
114 Kuan Hua Lai (Tpe) Giant Asia Racing Team                      
115 Tuguldur Tuulkhangai (Mgl) Mongolian National Team        13.22
116 Purevsuren Khuyagt (Mgl) Mongolian National Team               
117 Yue Tu (Chn) Chinese National Team                        13.24
118 Liu Peng (Chn) Chinese National Team                           
119 Zhang Liang (Chn) Chinese National Team                        
120 Marco Milesi (Ita) Liquigas                                    
121 Greg Reain (Can) Canadian National Team                        
122 Raphael Tremblay (Can) Canadian National Team                  
123 Naranbat Ariunbold (Mgl) Mongolian National Team               
124 Xitao Ji (Chn) Chinese National Team                           
125 Ivan Terenine (Rus) Omnibike Dynamo Moscow                     
126 Thomas Rabou (Ned) Marco Polo Cycling Team                13.34
127 Cheng Ji (Chn) Purapharm                                  16.00
128 Jasper Lenferink (Ned) Team L÷wik Meubelen                     
129 Rob Britton (Can) Canadian National Team                       
130 Jeffery Sherstobitoff (Can) Canadian National Team             
131 Chak Shing Cheng (HKg) Purapharm                               
132 Alexander Lavallee (Can) Canadian National Team           17.02
DNF Damdinjamts Jargalsaikhan (Mgl) Mongolian National Team        
DNF Konstantin Ponomarev (Rus) Omnibike Dynamo Moscow              
DNF Yang Gao (Chn) Purapharm                                       
DNF Temuujin Baatar (Mgl) Mongolian National Team                  
 
Points
 
1 RenÚ Weissinger (Ger) Skil-Shimano                             16 pts
2 Hossein Askari (IRI) Giant Asia Racing Team                    14
3 Sergio Marinangeli (Ita) Naturino-Sapore Di Mare               13
4 Stefan Cohnen (Ned) Naturino-Sapore Di Mare                    12
5 Eduard Vorganov (Rus) Omnibike Dynamo Moscow                   11
6 Nacor Burgos Rojo (Spa) Relax-Gam                              10
7 Emanuele Rizza (Ita) Naturino-Sapore Di Mare                    9
8 Kenny Robert Van Hummel (Ned) Skil-Shimano                      8
9 Tobias Erler (Ger) Giant Asia Racing Team                       7
10 Ghader Mizbani Iranagh (IRI) Giant Asia Racing Team            6
11 Garcia-Casarrubios Pintor (Spa) Relax-Gam                      5
12 Francesco Failli (Ita) Liquigas                                4
13 Xavier Florencio Cabre (Spa) Bouygues Telecom                  3
14 Alexandr Dymovskikh (Kaz) Cycling Team Capec                   2
15 Pierre Drancourt (Fra) Bouygues Telecom                        1
 
Mountains

Climb - Cat. 2
 
1 Hossein Askari (IRI) Giant Asia Racing Team                     3 pts
2 Maarten Tjallingii (Ned) Skil-Shimano                           2
3 Daniel Lloyd (GBr) Giant Asia Racing Team                       1
 
Sprints
 
1 Emanuele Rizza (Ita) Naturino-Sapore Di Mare                    5 pts
2 Maarten Tjallingii (Ned) Skil-Shimano                           3
3 Mathieu Claude (Fra) Bouygues Telecom                           1
 
Teams
 
1 Skil-Skil-Shimano                                         7.13.40
2 Giant                                                        0.03
3 Naturino-Sapore Di Mare                                      0.12
4 Relax-Gam                                                    0.20
5 Bouygues Telecom                                             1.11
6 Capec                                                        3.55
7 South Africa National Team                                   4.06
8 ODM/Omnibike Dynamo Mosc                                     9.12
9 Intel-Action                                                14.11
10 Lowik Meubelen                                             14.18
11 Liquigas                                                   15.19
12 China National Team                                        17.32
13 TIAA-CREF                                                  23.19
14 FRF/Couriers-Caravello                                     24.20
15 Marco Polo                                                      
16 DFL-Cyclingnews-Litespeed                                       
17 Mongolia National Team                                     31.50
18 Purapharm                                                  33.13
19 Canada National Team                                       33.22
20 Marida China National Team                                 38.08
 
Asian teams
 
1 Giant                                                     7.13.43
2 Capec                                                        3.52
3 China National Team                                         17.29
4 Marco Polo                                                  24.17
5 Mongolia National Team                                      31.47
6 Purapharm                                                   33.10
7 Marida China National Team                                  38.05
 
General classification after stage 1
 
1 RenÚ Weissinger (Ger) Skil-Shimano                        2.24.10
2 Hossein Askari (IRI) Giant Asia Racing Team                  0.07
3 Sergio Marinangeli (Ita) Naturino-Sapore Di Mare             0.19
4 Emanuele Rizza (Ita) Naturino-Sapore Di Mare                 0.27
5 Maarten Tjallingii (Ned) Skil-Shimano                        0.28
6 Stefan Cohnen (Ned) Naturino-Sapore Di Mare                  0.29
7 Eduard Vorganov (Rus) Omnibike Dynamo Moscow                 0.30
8 Nacor Burgos Rojo (Spa) Relax-Gam                                
9 Kenny Robert Van Hummel (Ned) Skil-Shimano                       
10 Tobias Erler (Ger) Giant Asia Racing Team                       
11 Ghader Mizbani Iranagh (IRI) Giant Asia Racing Team             
12 Garcia-Casarrubios Pintor (Spa) Relax-Gam                       
13 Xavier Florencio Cabre (Spa) Bouygues Telecom                   
14 Francesco Failli (Ita) Liquigas                                 
15 Alexandr Dymovskikh (Kaz) Cycling Team Capec                    
16 Pierre Drancourt (Fra) Bouygues Telecom                         
17 Daniel Lloyd (GBr) Giant Asia Racing Team                       
18 Albert Timmer (Ned) Team L÷wik Meubelen                         
19 David Mc Cann (Irl) Giant Asia Racing Team                      
20 JosÚ Mario Almagro Valero (Spa) Relax-Gam                       
21 Daniel Spence (RSA) South African National Team             0.36
22 Bogdan Bondariew (Ukr) Intel-Action                         0.45
23 Tiaan Kannemeyer (RSA) South African National Team              
24 Jin Long (Chn) Skil-Shimano                                 1.10
25 Vincent Jerome (Fra) Bouygues Telecom                       1.21
26 Mathieu Claude (Fra) Bouygues Telecom                       1.41
27 Song Baoqing (Chn) Chinese National Team                    1.42
28 Ilya Chernyshov (Kaz) Cycling Team Capec                    2.01
29 Andrey Medyannikov (Kaz) Cycling Team Capec                 2.34
30 Vasily Khatuntsev (Rus) Omnibike Dynamo Moscow              2.45
31 Rupert Rheeder (RSA) South African National Team            3.55
32 Jose Rafael Martinez Castillo (Spa) Relax-Gam               5.38
33 Francisco Terciado Sacedo (Spa) Relax-Gam                       
34 Valentin Iglinskiy (Kaz) Cycling Team Capec                     
35 Vyacheslav Vilkov (Rus) Omnibike Dynamo Moscow              7.07
36 Krzysztof Kuzniak (Pol) Intel-Action                            
37 Jos Harms (Ned) Team L÷wik Meubelen                         7.29
38 Marcin Osinski (Pol) Intel-Action                               
39 Rick Fransen (Ned) Team L÷wik Meubelen                          
40 Denys Kostyuk (Ukr) Intel-Action                                
41 Michael Creed (USA) Team TIAA-CREF                              
42 Alexey Shmidt (Rus) Omnibike Dynamo Moscow                      
43 Alexey Lyalko (Kaz) Cycling Team Capec                          
44 Alexandr Dyachenko (Kaz) Cycling Team Capec                     
45 Mauro Da Dalto (Ita) Liquigas                                   
46 Alexandre Pichot (Fra) Bouygues Telecom                         
47 Dariusz Rudnicki (Pol) Intel-Action                             
48 Krzysztof Miara (Pol) Intel-Action                              
49 Rik Reinerink (Ned) Skil-Shimano                                
50 Darren Lill (RSA) South African National Team                   
51 Fang Xu (Chn) Skil-Shimano                                  8.30
52 Kevin Miller (Can) Canadian National Team                       
53 Cody Stevenson (Aus) FRF Couriers-Caravello                     
54 Tong Yu (Chn) Marco Polo Cycling Team                           
55 Peter Mcdonald (Aus) FRF Couriers-Caravello                     
56 Liu Bo (Chn) Chinese National Team                              
57 Ian Macgregor (USA) Team TIAA-CREF                              
58 Luigi Sestili (Ita) Naturino-Sapore Di Mare                     
59 Antonio Quadranti (Ita) Naturino-Sapore Di Mare                 
60 Nicola Loda (Ita) Liquigas                                      
61 Kane Oakley (Aus) DFL-Cyclingnews-Litespeed                     
62 Jiao Pengda (Chn) Chinese National Team                         
63 Dean Downing (GBr) DFL-Cyclingnews-Litespeed                    
64 Orshikh Ulzii (Mgl) Marco Polo Cycling Team                     
65 Javkhlantur Damdinsuren (Mgl) Mongolian National Team           
66 Arnoud Van Groen (Ned) Team L÷wik Meubelen                      
67 Marco Righetto (Ita) Liquigas                                   
68 Rhys Pollock (Aus) Marco Polo Cycling Team                      
69 Denis Kudashev (Rus) Relax-Gam                                  
70 Alberto Curtolo (Ita) Liquigas                                  
71 Alex Pavlov (RSA) South African National Team                   
72 Sebastian Skiba (Pol) Intel-Action                              
73 Chad Hartley (USA) Team TIAA-CREF                               
74 Jacques Fullard (RSA) South African National Team               
75 Daryl Impey (RSA) South African National Team                   
76 Joshua Marden (Aus) FRF Couriers-Caravello                      
77 Alex Coutts (GBr) DFL-Cyclingnews-Litespeed                     
78 Brendan Brooks (Aus) FRF Couriers-Caravello                     
79 Bryan Smith (USA) Team TIAA-CREF                                
80 Chun Hing Chan (HKg) Purapharm                                  
81 Cameron Jennings (Aus) DFL-Cyclingnews-Litespeed                
82 Stephen Gallagher (Irl) Giant Asia Racing Team                  
83 Peter Herzig (Aus) FRF Couriers-Caravello                       
84 Maryan Hary (Fra) Bouygues Telecom                              
85 Timothy Duggan (USA) Team TIAA-CREF                             
86 Dmitriy Gruzdev (Kaz) Cycling Team Capec                        
87 Martin Mares (Cze) Naturino-Sapore Di Mare                      
88 Giovanni Bernaudeau (Fra) Bouygues Telecom                      
89 Dan Bowman (USA) Team TIAA-CREF                                 
90 Rino Zampilli (Ita) Naturino-Sapore Di Mare                     
91 Fuyu Li (Chn) Marco Polo Cycling Team                           
92 Russell Downing (GBr) DFL-Cyclingnews-Litespeed                 
93 Hans Bloks (Ned) Team L÷wik Meubelen                        8.50
94 Leigh Palmer (Aus) DFL-Cyclingnews-Litespeed                    
95 Joe Mcdonnell (Aus) FRF Couriers-Caravello                 10.26
96 Jeremy Vennell (NZl) DFL-Cyclingnews-Litespeed                  
97 Tony Mann (Aus) FRF Couriers-Caravello                     10.36
98 Uuganbayar Khayankhyarvaa (Mgl) Mongolian National Team    10.58
99 Ryan Mckenzie (Can) Canadian National Team                 12.28
100 Ma Haijun (Chn) Marida China National Team                     
101 Wang Yip Tang (HKg) Purapharm                                  
102 Kaoru Ouchi (Jpn) Skil-Shimano                                 
103 Job Vissers (Ned) Team L÷wik Meubelen                          
104 Jean-Noel Wolf (Fra) Marco Polo Cycling Team                   
105 Alexey Bauer (Rus) Omnibike Dynamo Moscow                 13.25
106 Ming Xing Xue (Chn) Purapharm                                  
107 Song Kui (Chn) Marida China National Team                      
108 Wu Shengjun (Chn) Marida China National Team                   
109 Dong Xiaoyong (Chn) Marida China National Team                 
110 Chen Zhenzhong (Chn) Marida China National Team           13.29
111 Qin Ping (Chn) Marida China National Team                      
112 Remko Kramer (Ned) Marco Polo Cycling Team                     
113 Wang Rui (Chn) Marida China National Team                      
114 Kuan Hua Lai (Tpe) Giant Asia Racing Team                      
115 Tuguldur Tuulkhangai (Mgl) Mongolian National Team        13.32
116 Purevsuren Khuyagt (Mgl) Mongolian National Team               
117 Yue Tu (Chn) Chinese National Team                        13.34
118 Liu Peng (Chn) Chinese National Team                           
119 Zhang Liang (Chn) Chinese National Team                        
120 Marco Milesi (Ita) Liquigas                                    
121 Greg Reain (Can) Canadian National Team                        
122 Raphael Tremblay (Can) Canadian National Team                  
123 Naranbat Ariunbold (Mgl) Mongolian National Team               
124 Xitao Ji (Chn) Chinese National Team                           
125 Ivan Terenine (Rus) Omnibike Dynamo Moscow                     
126 Thomas Rabou (Ned) Marco Polo Cycling Team                13.44
127 Cheng Ji (Chn) Purapharm                                  16.30
128 Jasper Lenferink (Ned) Team L÷wik Meubelen                     
129 Rob Britton (Can) Canadian National Team                       
130 Jeffery Sherstobitoff (Can) Canadian National Team             
131 Chak Shing Cheng (HKg) Purapharm                               
132 Alexander Lavallee (Can) Canadian National Team           17.32
 
Points classification
 
1 RenÚ Weissinger (Ger) Skil-Shimano                             16 pts
2 Emanuele Rizza (Ita) Naturino-Sapore Di Mare                   14
3 Hossein Askari (IRI) Giant Asia Racing Team                    14
4 Sergio Marinangeli (Ita) Naturino-Sapore Di Mare               13
5 Stefan Cohnen (Ned) Naturino-Sapore Di Mare                    12
6 Eduard Vorganov (Rus) Omnibike Dynamo Moscow                   11
7 Nacor Burgos Rojo (Spa) Relax-Gam                              10
8 Kenny Robert Van Hummel (Ned) Skil-Shimano                      8
9 Tobias Erler (Ger) Giant Asia Racing Team                       7
10 Ghader Mizbani Iranagh (IRI) Giant Asia Racing Team            6
11 Garcia-Casarrubios Pintor (Spa) Relax-Gam                      5
12 Francesco Failli (Ita) Liquigas                                4
13 Maarten Tjallingii (Ned) Skil-Shimano                          3
14 Xavier Florencio Cabre (Spa) Bouygues Telecom                  3
15 Alexandr Dymovskikh (Kaz) Cycling Team Capec                   2
16 Pierre Drancourt (Fra) Bouygues Telecom                        1
17 Mathieu Claude (Fra) Bouygues Telecom                          1
 
Mountains classification
 
1 Hossein Askari (IRI) Giant Asia Racing Team                     3 pts
2 Maarten Tjallingii (Ned) Skil-Shimano                           2
3 Daniel Lloyd (GBr) Giant Asia Racing Team                       1
 
Asian rider classification
 
1 Hossein Askari (IRI) Giant Asia Racing Team               2.24.17
2 Ghader Mizbani Iranagh (IRI) Giant Asia Racing Team          0.23
3 Alexandr Dymovskikh (Kaz) Cycling Team Capec                     
4 Song Baoqing (Chn) Chinese National Team                     1.35
5 Ilya Chernyshov (Kaz) Cycling Team Capec                     1.54
6 Andrey Medyannikov (Kaz) Cycling Team Capec                  2.27
7 Valentin Iglinskiy (Kaz) Cycling Team Capec                  5.31
8 Alexey Lyalko (Kaz) Cycling Team Capec                       7.22
9 Alexandr Dyachenko (Kaz) Cycling Team Capec                      
10 Tong Yu (Chn) Marco Polo Cycling Team                       8.23
11 Liu Bo (Chn) Chinese National Team                              
12 Jiao Pengda (Chn) Chinese National Team                         
13 Orshikh Ulzii (Mgl) Marco Polo Cycling Team                     
14 Javkhlantur Damdinsuren (Mgl) Mongolian National Team           
15 Chun Hing Chan (HKg) Purapharm                                  
16 Dmitriy Gruzdev (Kaz) Cycling Team Capec                        
17 Fuyu Li (Chn) Marco Polo Cycling Team                           
18 Uuganbayar Khayankhyarvaa (Mgl) Mongolian National Team    10.51
19 Ma Haijun (Chn) Marida China National Team                 12.21
20 Wang Yip Tang (HKg) Purapharm                                   
21 Ming Xing Xue (Chn) Purapharm                              13.18
22 Song Kui (Chn) Marida China National Team                       
23 Wu Shengjun (Chn) Marida China National Team                    
24 Dong Xiaoyong (Chn) Marida China National Team                  
25 Chen Zhenzhong (Chn) Marida China National Team            13.22
26 Qin Ping (Chn) Marida China National Team                       
27 Wang Rui (Chn) Marida China National Team                       
28 Kuan Hua Lai (Tpe) Giant Asia Racing Team                       
29 Tuguldur Tuulkhangai (Mgl) Mongolian National Team         13.25
30 Purevsuren Khuyagt (Mgl) Mongolian National Team                
31 Yue Tu (Chn) Chinese National Team                         13.27
32 Liu Peng (Chn) Chinese National Team                            
33 Zhang Liang (Chn) Chinese National Team                         
34 Naranbat Ariunbold (Mgl) Mongolian National Team                
35 Xitao Ji (Chn) Chinese National Team                            
36 Cheng Ji (Chn) Purapharm                                   16.23
37 Chak Shing Cheng (HKg) Purapharm                                
38 Temuujin Baatar (Mgl) Mongolian National Team              33.06
 
Teams classification
 
1 Skil-Skil-Shimano                                         7.13.40
2 Giant                                                        0.03
3 Naturino-Sapore Di Mare                                      0.12
4 Relax-Gam                                                    0.20
5 Bouygues Telecom                                             1.11
6 Capec                                                        3.55
7 South Africa National Team                                   4.06
8 ODM/Omnibike Dynamo Mosc                                         
9 Intel-Action                                                14.11
10 Lowik Meubelen                                                  
11 Liquigas                                                   15.19
12 China National Team                                        17.32
13 TIAA-CREF                                                       
14 FRF/Couriers-Caravello                                          
15 Marco Polo                                                      
16 DFL-Cyclingnews-Litespeed                                       
17 Mongolia National Team                                     31.50
18 Purapharm                                                  33.13
19 Canada National Team                                       33.22
20 Marida China National Team                                 38.08
 
Asian teams classification
 
1 Giant                                                     7.13.43
2 Capec                                                        3.55
3 China National Team                                         17.32
4 Marco Polo                                                  24.20
5 Mongolia National Team                                      31.50
6 Purapharm                                                   33.13
7 Marida China National Team                                  38.08