Recently on Cyclingnews.com
An interview with William Walker, February 1, 2006
Walking on water
A motor on par with Lance Armstrong but around fifteen kilos lighter, and winner of the senior national road race well before his 21st birthday, William Walker is being touted as the next big thing in Australian cycling by his contemporaries, including Robbie McEwen. Story by Anthony Tan.
William Walker
Photo ©: Mark Gunter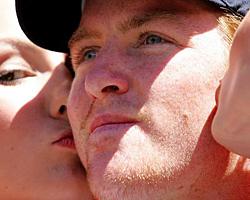 Age: 20
Born: October 31, 1985
Place of birth: Subiaco, Western Australia
Australian residence: Ivanhoe (Melbourne), Victoria, Australia
Teams: Rabobank Continental (2005- )
Career highlights
2006
1st, Road Race, Australian Open Road Championships
2nd, Stage 4, Jayco Cycling Classic
4th, GC, Jacobs Creek Tour Down Under
4th, Stage 1 Jacobs Creek Tour Down Under
13th, GC, Jayco Cycling Classic
2005
1st, Stage 2, Circuito Montanes
2nd, Road Race, U23 World Road Championships
2nd, U23 Road Race, Australian Open Road Championships
2nd, Stage 1, Cinturon ciclista a Mallorca
3rd, Stage 3, Tour de l'Avenir
3rd, Stage 3, Tour de Gironde
5th, Prologue Thuringen - Rundfahrt
4th, Rund um Duren
7th, GC, Tour de L'Avenir
8th, Stage 2, Thuringen - Rundfahrt
8th, GC, Vuelta Ciclista a Leon
14th, GC, Cinturon ciclista a Mallorca
19th, Time Trial, U23 World Road Championships
23rd, GC, GP CTT Correios de Portugal
24th, Ronde van Vlaanderen (U23)
32nd, Druivenkoers Overijse
35th, Hel van het Mergelland
42nd, Cholet-Pays De Loire
44th, Nationale Sluitingprijs
2004
10th, Stage 4, Thuringen Rundfahrt Tour
10th, Time Trial, Australian Open Road Championships
12th, GC, Thuringen Rundfahrt Tour
2003
1st, GC, Giro di Basilicata
1st, U19 National Road Time Trial Series
1st, Stage 1 Giro di Basilicata
2nd, U19 National Road Series
3rd, Stage 4 Giro di Basilicata
4th, Stage 2 Giro di Basilicata
5th, Time Trial, World Junior Road Championships
25th, Road Race, World Junior Road Championships
2002
15th, U19 National Road Series
It was around this time three years ago the name first caught my attention. One of my colleagues enthusiastically told me a 17 year-old schoolboy by the catchy name of William Walker had taken out one of the Bay Series races in Victoria, a series of criteriums held a week before the Australian open road championships and fiercely contested by some of the best riders in the country. That he won was amazing in itself, but it was also the way he won that really got people talking.
That was then…
Photo ©: James Victor

Casually breaking away on his own after the first sprint of the day, this diminutive, freckly red-head from Melbourne, Victoria, has simply ridden everyone off his wheel. Series leader Robbie McEwen led a concerted chase to bring him back, but couldn't do it. In the closing fifteen minutes, Englishman Kristian House bridged up to him, but Walker, 10 years his younger, outsprinted him.
"I haven't really thought about it, to be honest," says the voice next to me, as I catch a ride home with this young prodigy after the third stage of the Jacob's Creek Tour Down Under. "It doesn't seem that long ago; I was on a pretty good level, and I've trained similarly since then. I've done lots since, though - I've been to Europe for a whole year and experienced a bit of the world, and my cycling's improved because of it."
"They needed seven for the track team, so they kind of slung one guy into the team that was a bit of a punter and that was me."
- A rather inauspicious start to William Walker's cycling career
Two days before on the opening road stage, Walker had bridged across to the winning break in a move his team manager at the race, Paul Brosnan, described as "phenomenal".
"He went across after the break had gone, and it was incredible he got there and put himself in that move after the race had effectively gone down the road," said Brosnan, a former top cyclist himself and now head coach at the Tasmanian Institute of Sport.
"He was actually a bit down on himself and looking for answers on why he didn't win, but that's what makes him special. But look, you've got to live and learn and these [other] guys are seasoned professionals; he's still learning about his body and his capabilities."
And this is now
Photo ©: Mark Gunter

Winning the national club time trial championship in Mooloolaba, Queensland and placing second in the road race the year after his Bay Series victory raised his profile a little more - especially when he told me afterwards he "didn't really care about it too much". One month later, however, he upstaged his more experienced rivals yet again - and this time he did care.
Arguably Australia's most prestigious one-day race, the Melbourne-to-Warrnambool Classic is a leg-sapping 299 kilometres, which makes it the longest UCI-classified single day event in the world. A teenager is not meant to be able to win a race of this length, but the then 18 year-old made the decisive nine-man split 110 kilometres from the finish, before he and his team-mate Jonathan Clarke attacked a tiring group with eight kilometres to go. His fast finish in a small group made victory elementary.
________________________
Walker the younger
Both William Walker's two younger brothers have taken up cycling, and this year, his 18 year-old bro Nick will be racing in Europe on a small Dutch team, following a slightly different path to that of his older brother.
"He's really quite a good rider," says Will. "But he's sort of a little bit behind [me] and a little bit less aggressive in races, but he's got a whole year to learn about himself and see how he goes. He'll be thrown in the deep end and he'll be over there [by] himself quite a lot, so it's time to realise it's not an easy life."
Compared to last year, where he lived on his own, Will will be living with three other people, including his brother Nick and two other Russian cyclists. "We won't get bored too often," he says a little mischievously.
After winning 'The Warny',
Photo ©: Shane Goss

Unlike Will, Nick Walker has not gone through an institute of sport program - one must represent Australia first to qualify for a scholarship - but Victorian Institute of Sport coach Dave Sanders has helps him quite a lot. It's certainly the harder road travelled, but as Will says: "If you're going to be pro, you're going to be pro, so you might as well stick it out there on your own and do it the hard way.
"I mean, why do you need to go through the junior world's team or the A.I.S.? It's certainly a nice path - you get looked after pretty well and it's the direct path - but why not make on your own?"
Not that it happens very often, but when the Walker bros do get to train together, brotherly love doesn't seem to come into the equation. Says Will: "They're a little bit scared to train with me, because they think I'm a bit of a Nazi trainer!
"I guess I train too fast and just too hard; when I'm creeping and they're going too fast for me, I get angry at them for going too fast, so I guess it's not really them that's the problem, it's probably me. I'm just hard to train with, I guess."
Judging by his results so far, hard to race against, too.
The Walkers moved from Subiaco, Western Australia, when William was two, where he enjoyed a brief country upbringing in Victoria's Gippsland region before moving from Sale to Melbourne at seven years of age. The second eldest of four brothers - "we're all in four years of each other, so a lot of fighting was going on - still is," he says, grinning - Will was the first in his family to take up the sport, encouraged by a friend at high school.
"I did a little bit of track and I there was five or six good guys in the state [of Victoria]. They needed seven for the track team, so they kind of slung one guy into the team that was a bit of a punter and that was me.
"Davo [Dave Sanders, head coach at the Victorian Institute of Sport] started chatting to me and gave me a training program. I learned how to train and how you have to go a bit harder than what I thought, because you never really know if you've got nobody to tell you. Ever since then, I've gone pretty well. I was about 16 when I first started being helped out by him, and since I was 17, I've been pretty strong."
And he's kept getting stronger.
Last year, Walker spent an entire season in Europe with Rabobank's feeder team, made up of hungry, aspiring professionals, where he lived alone in cycling's heartland that is Belgium, based in a town within the hilly region of Limburg. Asked if he found it tough spending so much time on his own, he replies, "I'm not really the type of person that gets into feeling [homesick] or missing people or anything like that, so I just kind of felt like I was in Melbourne; I was in Europe for nine months and didn't really care less."
"I've got no pressure on me. Anybody says anything about me, I couldn't care less - I want to do it for myself and not for anybody else."
- Walker is very clear about what the word 'pressure' means to him and what others say about him
These may first seem like the words of a spoilt child, but upon closer reflection, it's more a defence mechanism, brought about by someone unwilling to show his weaknesses - an important trait in cycling. The distraction of sitting in the back of the car and looking out the window helps; he later tells me the lull between races has its good and bad points.
"You're around a whole group of guys who you really like and sometimes you go back home and don't really talk to anybody for a whole week. I've got the Xbox with me and I play hours on that. That's the main reason why I train quite a lot when I'm over there - because there's nothing else to do."
Last year in Madrid,
Photo ©: Sirotti

His silver medal in Madrid
Photo ©: Sirotti

In his first races, Walker did okay, but struggled a little with the size of the fields. "I think you've got to make the right decisions and my problem last year was that I wasn't that calculating in a big field; there were bunches of 150 guys and I was kind of out and didn't know what to do," he says.
By July, however, he was beginning to cope much better, training hard and targeting two September events: the Tour de l'Avenir and the under 23 world road championships. "I trained really hard in July, and felt like I deserved to do something well. I didn't get a win, but I got a lot of good placings."
Making the decisive split on the third day of the "race of the future" (the Tour de l'Avenir is restricted to riders aged 25 and under) moved Walker into an excellent position on GC, occupying fifth place. But two days later, in the all-important individual time trial, he appeared to pay the price for his efforts, losing more a minute and a half to stage winner Christian Müller in 22 kilometres. Still, he bravely held on to finish the race seventh behind winner Lars Bak from CSC, placing him in good stead for the world's.
By this stage, most Australian cycling fans were beginning to take note of his name and maybe a few Europeans. But it wasn't till Madrid where the world bore witness to William Walker's precocious cycling talent.
Against the world's best under 23 riders, Ukrainian Dmytro Grabovskyy was a cut above the rest, riding away with around 15 kilometres to go. However, Walker and countryman Chris Sutton also showed their star potential, as they boldly counter-attacked the best of the rest until the former escaped with two kilometres to go, and held off the field for Australia's first under 23 silver medal at a world road championship.
"The guy that won it deserved it and second I was pretty happy with; really happy, actually... it was a good end to the season," he says.
________________________
How far will Willy go?
Asked how he's coping with all the attention, Will says he likes doing interviews and signing autographs, both which he did plenty of during the Jacob's Creek Tour Down Under.
"I find that really cool, but sometimes you get a few people asking at the wrong times. Other than that, it's really good, being... " stumbling for words before saying, "a little bit famous."
So how would he like to be a lot famous?
"I think most people that start cycling want to be famous; they all probably dream of winning the Tour de France, and I'm no different. It might be realistic, it might not be - but I've got to try and become the best I can be, and hopefully be one of the top guys in the world one day."
"Being a little bit famous"
Photo ©: Shane Goss

His team manager at the JCTDU, Paul Brosnan, is almost certain he will: "It would take a tragedy for it not to happen - everything indicates that it will - but at the same time, you've got to play it down a bit, keep him level headed, and also be realistic and remind yourself that he is still a kid," he said.
It's too early to say what sort of rider Walker will become. He can climb and time trial well; after winning the Australian road championship in Mount Torrens, he can obviously handle fairly hilly one-day races; he's not afraid of crosswinds; and "one or two days a year, I can sprint" he says.
"If I really need to sprint, I can do it. Ninety-nine percent of the time, I don't want to do it; I don't like bunch sprints because I'm too much of a scaredy-cat," Walker jokes.
Will has every right to be believe he can reach cycling stardom, but dispels the notion by some that he's a little over-confident with his next statement.
"Look, I'm reasonably confident, but I don't feel I'm that great a rider just yet; I feel I've got a long way to grow, a lot of strength to be gained over the years. And I want to be a lot better than I am now, so hopefully I can just keep plugging away."
Will Walker's biggest win yet
Photo ©: Mark Gunter

The fact that Grabovskyy, the same age as him, stated he doesn't intend make the jump to the professional ranks until at least 2007 is very much in line with Walker's own feelings on the subject.
"I don't feel I have quite the level to do pro races all the time," he says simply - despite having beaten the best Australian riders a few weeks ago at the Australian open road championships, and in stunning fashion. Unfortunately for Walker, though, he won't get to wear the green and gold jersey, as the current rules don't permit under 23 riders to qualify for the elite men's title.
"I was always finishing in the top 30 [last year], but I'd rather work on a better level. I've got plenty of time: the Rabobank team's really good, and they didn't put too much pressure on me when I wasn't going that well last year. They just let me do what I wanted, so they're pretty cool and all the guys on the team are good. I'm chilled out and try and have another year with quite a lot of wins in slightly easier races."
Apart from trying to make the Commonwealth Games team and wanting another crack at the Tour de l'Avenir and the under 23 world road title, Walker doesn't really have any other objectives this year. "I'm just going to try and go well in every race I do - it's as simple as that. I'll probably have a bit easier time in July in terms of training, but [my objective] is just go well in every race. Except for the ones with cobbles... I'll take those ones easy," he smiles.
Australian road champion
Photo ©: Mark Gunter

Knowing what races he can do well in, when to attack, when to bridge across and taking advantage of opportunities has already given young Willy plenty of success, demonstrating a tactical maturity beyond his years.
Robbie McEwen is one rider who believes Walker can become Australia's hottest cycling export within the next few years, but despite recent overuse by the media, the 20 year-old isn't letting it go to his head. "Yeah, he said it to me and it was really an honour to have it said to you by a guy like McEwen and I hope it's true.
"I've got no pressure on me. Anybody says anything about me, I couldn't care less - I want to do it for myself and not for anybody else. People say good things about everybody all the time, and that doesn't mean they should feel pressure on themselves; I want to be good not because I have to be or because I have the talent, I just want to be good anyway."
As Brosnan pulls the car into the tour village opposite the Adelaide Hilton, I quiz him for his prediction on the final podium here at the Jacob's Creek Tour Down Under. He tells me his predictions are more scenarios he'd like to see, but regardless, he accurately forecasts Simon Gerrans winning, Sanchez second and McEwen third. Regardless, it was a valiant effort by Will up Old Willunga Hill the following day, where he was using the outer chainring up much of the seven and a half percent climb.
Will Walker could well be signing
Photo ©: Mark Gunter

I also notice his unkempt hair-do, and ask him if it's got something to do with the 40-plus degree heat or whether he's attempting to set a new trend. "Um, we can workshop that one," he laughs.
"I'm normally a man for a neat haircut; I'm just lazy and I haven't booked a haircut lately. I'll get back to Melbourne, book in, and we'll get the hair going a little bit neater."
So no mullet, then?
"No mullet - but we could do a few other cool things, though. Actually, the mullet, I won't write it off... we'll see."