An interview with Luis Leon Sanchez, January 16, 2006
Back for more
Luis Leon Sanchez enjoying his win at the 2005 Jacob's Creek Tour Down Under
Photo ©: Mark Gunter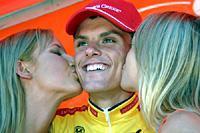 After his success at last year's Jacob's Creek Tour Down Under, Liberty Seguros-Wurth's rising star, Luis Leon Sanchez, enjoyed mixed fortunes during the remainder of 2005. Back in Australia for another crack at Australia's premier stage race, Cyclingnews' Les Clarke spoke with Sanchez and Australian cycling's Spanish guru, Neil Stephens.
Cyclingnews: After the success of last year, do you aim for a repeat performance this year?
Luis Sanchez: I've prepared well this year, but I'll continue to say what I said last year - the objective of our team for this race is to do well as a team. I'm not the only rider here - Allan Davis is here, and he's motivated as he's in his home country - we'll just try and do the best we can as a team.
CN: After the win last year, did it give you a good a strong start to the season you could build on?
LS: It [the win] was unexpected; it was in my second year as a professional, and it was a very important step in my career. It kept me motivated and working towards improving myself as a rider.
CN: After some bad luck last season [Sanchez broke his collarbone soon after the win in Australia] you enjoyed mixed success throughout the year. This season, would you like to be more prominent in the results of some major races?
LS: I'm still young, so I don't want to put too much pressure on myself to get big results; I think the main thing is to keep on learning and working towards the future. I'm lucky I've got some great champion bike riders within the team, and hopefully I'll keep learning from them to achieve good things in the future.
CN: What sort of training have you been doing during the off-season?
LS: I had three weeks of complete rest, then a bit of work in the pool and gym plus some hiking. Then it was time for the mountain bike before jumping on the road bike.
CN: What's on the programme for this season?
LS: The Tour Down Under here in Australia, then Paris-Nice, Setmana Catalana and Three Days of De Panne. Then it's time for a break before Cubenas, the Tour of Catalunya, national championships and the Tour de France.
CN: You are still young, but what type of rider do you see yourself developing into?
LS: I think it's a bit early to try and categorise myself as a bike rider; as a young rider I've always liked the style of racing of a three-week stage race. But I think I have to bide my time, and wait and see how I develop.
CN: How are your legs feeling coming into this week? It's only a five-stage race, but will you have enough in them for the week?
LS: I'm not in bad shape, but in reality I've had a difficult off-season, and a month ago I was in pretty bad shape emotionally and physically. I think I've bounced back quite well, but we'll have to see how I go.
CN: With an abundance of champions to choose from, which Spanish riders provide inspiration for you?
LS: When I was I was younger, I enjoyed watching Miguel Indurain, and he was a great idol for me. Outside of Spain, I also enjoyed watching Laurent Jalabert and my favourite team was ONCE. Therefore, for me it's a dream come true that I can put on the Liberty Seguros-Wurth team jersey as rider.
CN: Last, but definitely not least, do you enjoy football [soccer], and which team is your favourite?
LS: I follow football quite a lot - my younger brother [who is three years younger] is in the B squad for Real Murcia. The team I follow, however, is Barcelona.