Jayco Bay Cycling Classic - NE
Geelong, Australia, January 4-8, 2006
Main Page Results Overall standings Next Stage
Stage 1 - January 4: Williamstown
First blood to Hendo and Mactier
By Mal Sawford in Williamstown
The golden couple
Photo ©: Mal Sawford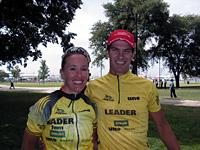 Track specialists took the honours in the opening stage of the 2006 Jayco Bay Cycling Classic, with reigning World Pursuit Champion Katie Mactier (Jayco VIS) victorious in the women's 45 minute event and New Zealand's 2004 scratch race World Champ Greg Henderson (Drapac-Porsche Development Team) taking the men's race. Both riders also doubled up to lead the sprinter's competitions. Just to give the journo's something extra to write about, the two winners are 'an item', with Mactier doing much of her pre-season training in the land of the Long White Cloud.
The circuit was a traditional four left-hand corner rectangle, with only a tight corner around a cobblestone lined roundabout shortly after the finish to test bike handling skills.
Elite Men
15 teams took to the start line on Nelson Parade, including defending champion (and six time series winner) Robbie McEwen, riding for the Volvo T5 Team. McEwen's main threat was expected to come from regular sparring partner Baden Cooke (Portfolio Partners), but a host of other well credentialed riders fancied their chances including Will Walker (Jayco VIS), Henderson, Herald Sun Tour winner Simon Gerrans (Pitcher Partners) and Cooke's teammate Hilton Clarke, all of whom have won stages in previous years.
Trent Wilson (Grand Mercure on Swanston)
Photo ©: Shane Goss
Trent Wilson (Grand Mecure) and Commonwealth Games MTB hopeful Chris Jongewaard (McKnight's Retravision/Fisher & Paykel) kicked off an attacking race, with Wilson attacking half a dozen times in the opening ten minutes. A fall in the middle of the strung out bunch split the field, and at the pace the opening laps were raced the unlucky riders in the back half had no chance of regaining contact and were lapped around the halfway mark.
Caught out by the split were Walker and Cooke's super domestique Matt Wilson, but most of the favourites were well positioned and out of trouble. Soon after McEwen and Cooke opened a fleeting gap, a counter attack came from Clarke, Gerrans and Henderson, with the three clearly committed to the cause. There was no sign of an organised chase from the bunch, and by the first sprint at the fifteen minute mark the trio were 20 seconds clear.
Hilton Clarke (Portfolio Partners)
Photo ©: Shane Goss

Henderson took the points in all three sprints, with no interest shown by his companions. As their advantage grew to 50 seconds, the break had the tail of the main bunch in its sights before easing slightly at the call of 10 to go. Both Clarke and Henderson possess fast finishes, so a late attack from Gerrans seemed his only chance for a win, but the attack never eventuated, Gerrans later saying, "the opportunity just didn't arise to take the initiative."
With a relatively short finishing straight, the race came down to a drag race to be first into the final corner, with Henderson coming up trumps. Although Clarke had his wheel into the corner, Henderson somehow opened a bike length lead coming out of the corner and powered to the line well clear, with Gerrans making a late run on Clarke but coming up just short.
New Zealander Greg Henderson (Drapac-Porsche Cycling Team)
Photo ©: Shane Goss

Six riders split off the front of the chase group in the closing stages to snare the bulk of the series points available, with Mark Renshaw (Skilled) coming over the top of German strongman Christian Lademann to claim fourth. Cooke looked to have the final point on offer for tenth place as he led the bunch to the line, with McEwen not contesting the sprint, before reigning Under 23 Criterium Champion Simon Clarke (Jayco VIS) flew home to earn an all important front row start at Portarlington.
Henderson revealed his initial attack was, "not necessarily to win the race, but I knew it would soften some legs. We all had the gas down, but I didn't think we would stay away. It was just on from the start. Every time you looked around you saw the bunch in single file stretched for miles and because the pace was so high we just edged our way away. Because it's just such a fast course it's sometimes quicker for three guys to get round than the bunch; which it proved today."
The winner made no promises about a repeat performance for stage two, his only prediction "I'll have sore legs!"
Elite Women
Great to see Alexis Rhodes (L)
Photo ©: Shane Goss

The Women's event featured a record ten five rider teams, as well as close to 20 individual riders. Defending champion and World Cup Champion Oenone Wood (Mercure Hotel) started as red hot favourite, but a strong Jayco VIS team led by Mactier fancied their chances. The return to racing of AIS road team members Alexis Rhodes and Kate Nichols after their devastating injuries sustained in the crash that claimed the life of teammate Amy Gillett was an obvious highlight for fellow competitors, officials and spectators, but Rhodes in particular was determined to show that she was ready to race to win.
After a flurry of attacks in the opening laps, ten riders went clear, with the chasing riders split between two large groups. Under the impetus primarily of Wood, Mactier, Olivia Gollan (Werribee Mansion Hotel/NSWIS) and Rhodes (Pitcher Partners), the field fell quickly behind, with the second group lapped before half distance. Making up the lead group were Rhodes' teammates Kiwi Jo Kiesanowski and Hayley Brown, Gollan's team mate Sally Cowman, Tasmanian trackie Belinda Goss (Volvo Team T5), Jessie Maclean (Canberra Capitals) and Monique Hanley (Siemens).
The two intermediate sprints proved a good indication of how the win would be decided. Mactier led out strongly to hold off Kiesanowski for the first, before the tables were turned in the second sprint, leaving both riders tied for the Green Jersey. Wood hadn't contested the sprints, so was something of an unknown quantity as the ten leaders approached the finish, eventually lapping the remainder of the bunch six laps from time.
Oenone Wood (Mercure Hotel)
Photo ©: Shane Goss

Gollan was first to try to split the group at five laps to go, but was quickly reeled in, setting up crowd favourite Rhodes for a counter attack. Maclean chased across, but the effort proved too much and both she and Hanley lost contact as the group swept up Rhodes' move. The eight survivors stayed together for the final laps, before Rhodes led out for her teammate. Kiesanowski took over to be first into the home straight, but was unable to hold off newborn sprinter Mactier, who finally claimed her first win in the event after bursting onto the scene in this event in 1999. Wood sprinted into third to be well placed going into the tough Portarlington stage, with sprinters Goss and Cowman next home ahead of the plucky Rhodes.
Mactier was elated to have taken the win, putting the win down to, "having some confidence in my ability to sprint, rather than attacking and attacking. I've been doing that for years and this is my first win! I've done some good preparation, and the Commonwealth Games are so close and I wanted to hit the Bay Crits with some good legs and come away hopefully on the next level."
Katie Mactier (Jayco/VIS)
Photo ©: Shane Goss

While the winner admitted "it was a bit disconcerting" to be outnumbered in the break, saying, "I would have liked to have had a couple of my girls with me" she felt she was up to the challenge. "I knew there were going to be attacks and I tried to cover most things, and Alex put in a very strong attack with four laps to go. I actually thought there would be a possibility she may be able to hold it, and to be honest if I didn't win I would have liked her to be the winner.
"The girls brought it back together and with the intermediate sprints went I knew that I would place, whether it was first I wasn't quite sure, but I knew I had some good top end speed".
When asked if she felt she could defend the leader's Yellow Jersey over the next four days, Mactier was understandably non-committal, offering, "That's a big ask. I've got some good teammates and that's what we're here to do, so we'll give it our very best shot. I don't like to look that far ahead!"
Support Men
Stephen Rossendell (Praties)
Photo ©: Shane Goss
A strong attack from SASI rider Shaun Lewis at the end of the opening lap saw Tasmanian track star, and last year's second place finisher on the opening stage, Stephen Rossendell (Praties) follow. The pair were joined soon after by up and coming MTB specialist Daniel Braunsteins (Richmond Cyclery), and combining well the trio extended their advantage every lap and never looked like being caught.
Rossendell made no mistake this year in the dash to the line, leading strongly through the final corner to record a clear win over Lewis, while the bunch sprint saw Casey Munro best of the rest.
Photography
For a thumbnail gallery of these images, click here
Images by Mal Sawford/Cyclingnews.com
Images by Shane Goss/www.licoricegallery.com
Results
Elite Men
 
1 Greg Henderson (NZl) Drapac-Porsche Development Team       12 pts
2 Hilton Clarke (Vic) Portfolio Partners                     10
3 Simon Gerrans (Vic) Pitcher Partners                        8
4 Mark Renshaw (NSW) Skilled                                  7
5 Christian Lademann (Ger) Drapac-Porsche Development Team    6
6 Peter McDonald (NSW) FRF Couriers - Caravello               5
7 Jonathan Clarke (Vic) Jayco VIS                             4
8 Trent Wilson (NSW) Grand Mercure on Swanston                3
9 Mark Kelly (IoM) Skilled                                    2
10 Simon Clarke (Vic) Jayco VIS                               1
 
Sprint 1
 
1 Greg Henderson (NZl) Drapac-Porsche Development Team        3 pts
2 Hilton Clarke (Vic) Portfolio Partners                      2
3 Simon Gerrans (Vic) Pitcher Partners                        1
 
Sprint 2
 
1 Greg Henderson (NZl) Drapac-Porsche Development Team        3 pts
2 Simon Gerrans (Vic) Pitcher Partners                        2
3 Hilton Clarke (Vic) Portfolio Partners                      1
 
Sprint 3
 
1 Greg Henderson (NZl) Drapac-Porsche Development Team        2 pts
2 Simon Gerrans (Vic) Pitcher Partners                        1
3 Hilton Clarke (Vic) Portfolio Partners                      1
 
Elite Women
 
1 Katie Mactier (Vic) Jayco VIS                              12 pts
2 Jo Kiesanowski (NZl) Pitcher Partners                      10
3 Oenone Wood (ACT) Mercure Hotel                             8
4 Belinda Goss (Tas) Volvo Team T5                            7
5 Sally Cowman (Qld) Werribee Mansion Hotel/NSWIS             6
6 Alexis Rhodes (SA) Pitcher Partners                         5
7 Hayley Brown (WA) Pitcher Partners                          4
8 Olivia Gollan (NSW) Werribee Mansion Hotel/NSWIS            3
9 Jessie Maclean (ACT) Canberra Capitals                      2
10 Monique Hanley (Vic) Siemens                               1
 
Sprint 1
 
1 Katie Mactier (Vic) Jayco VIS                               3 pts
2 Jo Kiesanowski (NZl) Pitcher Partners                       2
3 Olivia Gollan (NSW) Werribee Mansion Hotel/NSWIS            1
 
Sprint 2
 
1 Jo Kiesanowski (NZl) Pitcher Partners                       3 pts
2 Katie Mactier (Vic) Jayco VIS                               2
3 Sally Cowman (Qld) Werribee Mansion Hotel/NSWIS             1
 
Men Support
 
1 Stephen Rossendell (Tas)                                   12 pts
2 Shaun Lewis (SA)                                           10
3 Daniel Braunsteins (Vic)                                    8
4 Casey Munro (Vic)                                           7
5 Dale Scarfe (NSW)                                           6
6 Gary Mueller (Vic)                                          5
7 Alex James (Vic)                                            4
8 Gavin Bates (NSW)                                           3
9 David Salton (Vic)                                          2
10 Jacob Sutherland (Vic)                                     1
 
Sprint 1
 
1 Daniel Braunsteins (Vic)                                     
2 Shaun Lewis (SA)                                             
3 Stephen Rossendell (Tas)                                     
 
Sprint 2
 
1 Daniel Braunsteins (Vic)                                     
2 Stephen Rossendell (Tas)                                     
3 Shaun Lewis (SA)                                             

Overall standings after round 1

Elite Men
 
1 Greg Henderson (NZl) Drapac-Porsche Development Team       12 pts
2 Hilton Clarke (Vic) Portfolio Partners                     10
3 Simon Gerrans (Vic) Pitcher Partners                        8
4 Mark Renshaw (NSW) Skilled                                  7
5 Christian Lademann (Ger) Drapac-Porsche Development Team    6
6 Peter McDonald (NSW) FRF Couriers - Caravello               5
7 Jonathan Clarke (Vic) Jayco VIS                             4
8 Trent Wilson (NSW) Grand Mercure on Swanston                3
9 Mark Kelly (IoM) Skilled                                    2
10 Simon Clarke (Vic) Jayco VIS                               1
Elite Women
 
1 Katie Mactier (Vic) Jayco VIS                              12 pts
2 Jo Kiesanowski (NZl) Pitcher Partners                      10
3 Oenone Wood (ACT) Mercure Hotel                             8
4 Belinda Goss (Tas) Volvo Team T5                            7
5 Sally Cowman (Qld) Werribee Mansion Hotel/NSWIS             6
6 Alexis Rhodes (SA) Pitcher Partners                         5
7 Hayley Brown (WA) Pitcher Partners                          4
8 Olivia Gollan (NSW) Werribee Mansion Hotel/NSWIS            3
9 Jessie Maclean (ACT) Canberra Capitals                      2
10 Monique Hanley (Vic) Siemens                               1

Men Support
 
1 Stephen Rossendell (Tas)                                   12 pts
2 Shaun Lewis (SA)                                           10
3 Daniel Braunsteins (Vic)                                    8
4 Casey Munro (Vic)                                           7
5 Dale Scarfe (NSW)                                           6
6 Gary Mueller (Vic)                                          5
7 Alex James (Vic)                                            4
8 Gavin Bates (NSW)                                           3
9 David Salton (Vic)                                          2
10 Jacob Sutherland (Vic)                                     1
 
Sprint Championships

Elite Women
 
1 Katie Mactier (Vic) Jayco VIS                               5 pts
2 Jo Kiesanowski (NZl) Pitcher Partners                       5
3 Sally Cowman (Qld) Werribee Mansion Hotel/NSWIS             1
4 Alexis Rhodes (SA) Pitcher Partners                         1
  
Elite Men

1 Greg Henderson (NZl) Drapac-Porsche Development Team        9 pts
2 Simon Gerrans (Vic) Pitcher Partners                        5
3 Hilton Clarke (Vic) Portfolio Partners                      4
 
Teams Championships
 
Elite Men

1 Drapac-Porsche Development Team                            18 pts
2 Portfolio Partners                                         10
3 Skilled                                                     9
4 Pitcher Partners                                            8
5 FRF Couriers - Caravello                                    5
6 Jayco VIS                                                   5
7 Grand Mercure on Swanston                                   3

Elite Women
 
1 Pitcher Partners                                           19 pts
2 Jayco VIS                                                  12
3 Werribee Mansion Hotel/NSWIS                                9
4 Mercure Hotel                                               8
5 Volvo Team T5                                               7
6 Canberra Capitals                                           2
7 Siemens                                                     1