News feature, February 4, 2006
Gene's still a keen bean
Bates puts Comm Games behind him; now it's time to think about La Primavera
Gene Bates
Photo ©: Shane Goss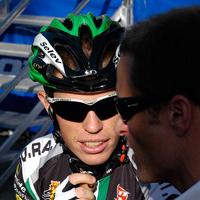 "Not at all" disappointed after hearing the news of only making the shadow team for the upcoming Commonwealth Games in Melbourne, former under 23 Australian champion Gene Bates will simply focus on holding his good early season good form and aim for a stage win at the Tour de Langkawi in Malaysia, his objective being to prove his worth for a place at the team's first major outing of the year, Milan-San Remo. Cyclingnews correspondent at the Tour de Langkawi, Anthony Tan, reports.
"I actually didn't get notified of that, but I guess the selection only came out yesterday. I think it would be fantastic to ride the Commonwealth Games. I've always watched it since I was a kid and it means a lot to Australians, but realistically, if I can forge a career in Europe first, that's far more important," Gene Bates told Cyclingnews at the start of the second stage of the Tour de Langkawi in Tanjung Malim.
"There's plenty of racing to do without coming back to Australia. If it was the Olympic Games, then maybe it'd be a different story," he said when asked if he was disappointed. "So I don't think so... nah, not at all."
This year marks the 24 year-old's first year as a professional, despite earning the U23 green and gold stripes two years ago at the 2004 Australian open road championships in Ballarat, Victoria. Last year, Bates rode with one of Italy's top amateur teams, Zalf-Desiree-Fior, where victory at the Piccola San Remo and almost 20 podium finishes saw him as the number one-ranked amateur in the country for two months, bringing his name to the attention of his current squad, LPR.
"I don't want to wait around that long - I want to sink my teeth in, and get some good results as fast as possible."
- Gene Bates isn't too bothered by his selection to the Commonwealth Games shadow team, but that doesn't mean his ambitions don't lie elsewhere
Quizzed on his excellent start to the year, Bates paused for a moment before saying: "I always try and have a good start to the season; if you can get an edge up on everyone else, for all the better. And it helps with motivation - if you start the season going badly, I think you can only go worse; if you start going well, it's always going to help your morale."
That he had in spades at the Jacob's Creek Tour Down Under, where it was his intention to come away with overall honours in his home-town race. However, the guy from Carey Gully admits he didn't quite have it in the legs on the decisive stage that went up Old Willunga Hill, but nevertheless finished a very creditable fifth overall behind tour winner Simon Gerrans.
"Once the classification was made, then there wasn't really much else to do. I think you either try and make the classification or lose a lot of time on the first day and try and win a stage, so you got to toss it up," he said.
Unfortunately for Bates, whether to go for a stage win or a high GC has already been decided for him at the TM Le Tour de Langkawi, as only one member of his LPR team, veteran Elio Aggiano, made the winning move on Friday's opening stage, where 24 riders gained in excess of seven minutes on the peloton.
"Yeah, it's just one of those things... " he said with a sigh. "Aggiano, he made that break not having too much in the legs but mostly in the head, [based on] the fact that he's been around for so long. I don't think we'll see him on the general classification, though.
"I was pretty nervous and really trying hard to make the break, going with all the wrong moves, and when the right break went, I wasn't there. It's hard to take and team was disappointed, but today's another day, and I'll certainly go out there and give it another go."
If there's a positive to come out of it, his current non-threatening position on the overall classification should allow him to get in a move if he's up for it, and being a solid climber should play into his favour with two very difficult mountain stages to follow. "Before the changes were made, the sprinters' teams would go ahead and take control and by the end of the week the real phase would come out," said Bates about the changes to the race structure.
"Obviously, the classification guys have come out [earlier] and now there's big job of controlling things, so I think they'll be a lot of action after the big days, where people try and grab time back.
"Who's to say that a break won't get ten minutes or twelve minutes today?" posed Bates. "It could easily come unstuck again and turn right around."
However, the diminutive Aussie concedes the power-oriented climbs at the Tour Down Under and the more pure climbs he'll experience in Malaysia are quite different: "It's always early [in the season] to do big climbs like this in February. But I'm confident: everyone's in the same boat and it's only as tough as you make it," he smiled.
It also seems young Gene has developed quite an affinity with Italy. Going on seven years now, this year he'll spend his season in Piacenza near where his team is based, roughly an hour's drive south of Milan. And with language or cultural differences no longer a barrier, it's up to Bates to prove himself on the bike.
"I'm a neo-pro but I'm 24 years old - I'm not 20 - so I'd like to have a really good season and try and get a win up as soon as possible; a dream season would be to perform well in some of the big classics like San Remo and get a start in some of the bigger races the team does.
"I've signed for two years, so I do have a fall-back with next year, but I don't want to wait around that long - I want to sink my teeth in, and get some good results as fast as possible," he said.
And if Bates does get a ride in La Primavera, what's he expecting?
"I think there'll be a lot of pain involved," he chuckles. "A lot of just hanging onto the wheel, but I'm really looking forward to it; I've finally reached the highest part of cycling, and I want to stay here for a while."