Levi Leipheimer interview, August 2, 2006, part 2
Fighting to the end
Levi Leipheimer found himself out of contention after the first long time trial of the Tour. However, he fought hard to the end for a stage win and to regain time on the leaders. In part 2 of Shane Stokes' feature on Leipheimer, he reflects on his Tour performance, how the result could have been different with change team tactics and his immediate racing future.
Part 1: Back in the fold, is here.
Suffering in the heat
Photo ©: Jon Devich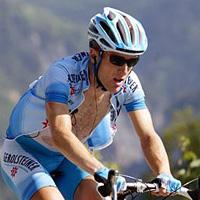 Faced with the realisation that the overall victory was beyond him this year, he fought on. He is satisfied with that, especially his effort on the second day in the Pyrenees, "On Pla de Beret I almost won the stage. I was happy with myself because after the time trial I was down…for a couple of days after that there were flat stages and the rest day, so I didn't have a chance to bounce back, to show myself. So I was kind of down for a while and knew that after that time trial it would be really hard to go for the podium
"But when it came to the big day in the Pyrenees, I told myself I was going to give everything to try to win the stage. I came really close, but the important thing was that I was good and I think that was a huge relief for me, to fight back."
His aggression surfaced again on the road to La Toussuire, when he attacked the lead group in pursuit of several riders who were clear, "I was trying to catch Rasmussen but I should have known better…he wouldn't slow down! I caught the other guys from his breakaway no problem. I figured that it would definitely take longer to catch him. But I only got it down to three minutes or so. And then Floyd had the bad day and that kind of ignited the race behind. So everybody caught me with a couple of kilometres to go. It was all for nothing, but it was still nice to be on that side of the race for once."
Absence of a Tour patron affected race
This year's Tour was the first in eight years without Lance Armstrong, who since his 1999 win had acted as patron. Without a former winner and a dominant team this year, Leipheimer says that the event was much more open and changeable.
Going for a stage win
Photo ©: Sirotti

"It was a very dramatic race," he stated. "I think that no-one really wanted to take control of things, which is why I think you saw a conservative first week or 10 days. Then you saw Pereiro gaining half an hour back and finishing second, when he was 28 minutes behind at one point. So I think it had to do with no one wanting to take control. My opinion is that if T-Mobile had stepped up at a couple of key points, then Kloden should have won the Tour. Definitely. To me, he was the most consistent and if his team had took control at a few key points, then he would have won."
On Landis
When Cyclingnews spoke to him it was just before the news broke about Floyd Landis' positive A sample. At that point in time, he said that he was very impressed by the way his compatriot had performed, "I think up until he had his bad day, he was riding smart and conservative and doing it the way I would have ridden. I thought he was riding the perfect race up until he had his bad day. For him to reassess and come back so strongly the very next day was, I think, impressive. It just showed how strong he was up until that point. I don't think he was ever really on his limit until then, when he had to go for broke.
"When he attacked, I think that everybody thought at the beginning that he was just trying to make a statement, that he was going to go full-speed for a while and then eventually he would blow up. So to go all the way to the finish like that was pretty amazing."
Battling Denis Menchov (Rabobank)
Photo ©: Roberto Bettini

After the stage, the big question was should the other favourites have tried to stay with him, or were they right to sit up in the hope that he would blow? "Well, he put the Phonak team to the front five or six kilometres before the base of the first climb," Leipheimer answered, "They were going like it was a field sprint, like they were leading out Petacchi. People were just shaking their heads, wondering what was going on. Then when they hit the climb, somebody took him perhaps a kilometre into the climb and then he went. I was trying to follow, then Pereiro was dropped and all these guys were getting dropped. I was on my limit.
"It was kind of a mental thing. I asked myself if I should really dig in here and try to hang on, or should I just go and sit with the yellow jersey because it is so far to go. At that point, I was not really concerned with the GC. I was thinking that if Pereiro was already getting dropped, then I was just going to stay with him. I think there were some guys who stayed a little longer, such as Kloden and Evans and Sastre, but I think that they then said the same things to themselves. "This is crazy, this is really hard." They were on their limit but perhaps they could have really dug in and stayed with Floyd until the point when he would have spent himself and couldn't really attack any more, having to ride steady. I think they just thought that the attack was crazy, though, and that they were not going to bury themselves then when there were four or five mountains to go."
Finishing with the bunch
Photo ©: Sirotti

So was there a particular point when people realised that he was gone? "Yeah, I think that was probably by the top of the next mountain, when the gap was already up to six or seven minutes," he replied, "By the next climb it was eight minutes and we were like 'oh my God…'"
That turned out to be the crucial point of the Tour. For hours and indeed days after the stage, the debates raged about whether the teams of Landis' competitors did this correctly, in terms of chasing or holding back.
Course profile and the other teams
Leipheimer feels that the course profile made it difficult to chase, "We did the Saisies, where [Landis] attacked, and then we did the Aravis and the Colombière. They were all one right after the other. So then after that there was a bit of flat, then a small climb and then some more flat before the Joux Plane. I think that CSC were trying to play things tactically…they didn't want to send a guy like Schleck… to the front on those climbs because they would end up dropping riders like Gonchar, Guerini, Jens Voigt and Vandevelde…the guys who would pull once we hit the flatter part. But by then it was too late, the gap was too big. So they were in a hard situation.
Riding with the bunch
Photo ©: Sirotti

"I don't know if they could have done things differently… As I said, if [CSC and T-Mobile] had got a guy like Schleck or Michael Rogers to pull before, then the group would have been too small and there would have been nobody to pull on the flat.
"It was very difficult with the terrain. Those guys [Schleck and Rogers] would really have sacrificed their places, they were like ninth or tenth on GC. But if their teams really wanted to win the Tour, I do think they should have done that, though."
The recently announced reshuffling of T-Mobile's management will fuel further speculation that tactical errors were made during the Tour. However, the fact is that just one of two riders can end up winning this Tour: Floyd Landis or Oscar Pereiro. That decision will come in time, while Leipheimer will be focusing his thoughts on a couple of key targets this season and then the 2007 Tour de France.
The rest of the season
In the break
Photo ©: AFP

"I am doing the Tour of Germany. That is a big goal," he stated, when asked what he was aiming for this summer, "I would like to defend my title. But they moved it up this year, it starts next week. I am pretty tired so we will see. I actually did a criterium last night in Austria, that was really hard. I will then do the Buhl two man time trial on Saturday, and will then rest until Germany."
Although the world championships will be held on a selective course, he is aiming instead for another one day target, "If I do anything [after the Tour of Germany] it will be the US Pro championships. Maybe, maybe not. I need to definitely take a big break after that and recharge totally."
Then it will all be about building up again for what he hopes will be a very strong 2007 campaign.