Recently on Cyclingnews.com
An interview with Tom Boonen, August 29, 2005
Getting the big gear rolling again
Despite injuries and crashes (usually caused by other people!), Tom Boonen has had a stellar season with wins in the Classics and Tour stages. But he's still hungry for more and is using the Vuelta to prepare for another major race in Spain - the world championships. Shane Stokes reports.
Tom Boonen in the Vuelta prologue
Photo ©: Sirotti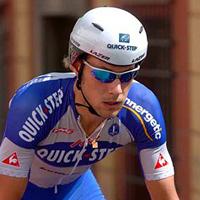 Tom Boonen has had a spectacular year, taking victories such as the Tour of Flanders and Paris-Roubaix, winning two stages of the Tour de France and also triumphing in events such as the Tour of Belgium, where he was first overall and took two stages. Stage wins also came a-calling in Paris-Nice (two), the Tour de Qatar (two) and the Tour of Picardie, as well as a victory in the Grand Prix E3. The talented Belgian crashed heavily in the Tour de France while leading the points classification, injuring his knee, and had he not been forced to pull out, was many people's tip to wear the green jersey all the way to Paris.
Other, less hungry riders would be easing back on the pedals now. But Boonen wants more. He's at the Vuelta to build form for what he hopes will be a winning campaign in the world championships in Madrid next month. Before then, a stage win or two would go down well with the Quick.Step rider.
"For me, the most important thing about this race is to work hard and do a lot of kilometres," he told journalists at the team's pre-race press conference on Friday. "I have to stay relaxed, I don't have to take any risks but that doesn't mean that I won't be mixing it up in the sprints. If I am there and there is a sprint, I will be competing in it, that's for sure.
"On Sunday [Stage 2] there is a second category climb 13 kilometres from the finish. I know it, two years ago in the Vuelta we did the same climb. We also did it twice in the Ruta del Sol. If I am really good, I can stay with the bunch there and go for the sprint. But I don't know how I am going, as yet."
Tom Boonen (Quick.Step)
Photo ©: Shane Stokes

Boonen has some good memories of the race, not least as it was here where he confirmed he had the legs to contest big gallops. "I did the Vuelta in 2003," he recollects. "For a lot of people it was the first time they saw Tom Boonen as a sprinter. Actually it was quite a funny story, because Aurelien Clerc was actually the team sprinter. However, because he was out of shape, I started sprinting for the first time in the Tour of Holland a couple of weeks before. There, I had two second places. In the Vuelta, I finished second behind Zabel and won a bunch sprint for fourth, so I knew that I would be a good sprinter one day. If Clerc had been in good shape and had been sprinting in the Vuelta, it may have taken a bit longer. But, sooner or later, we would have found out that Tom Boonen is a good sprinter."
Although he'd like to win here, he admits that for him, the Tour of Spain doesn't assume as high a priority as some targets earlier this year. "This is not the same as the Tour de France, or the Classics period. Those are far more important for me. I haven't been racing for quite a while. I have been training well but although my legs feel good, I won't know how they really are until I race."
The knee injury plus a heavy early season means that the Quick.Step rider backed off after his withdrawal from the Tour. "I didn't get in a whole lot of competition lately," he says. "I had no chance, really. I crashed on the tenth stage of the Tour, heading to Briancon, and pulled out the following stage. Afterwards, I did some criteriums in Belgium and Holland, did 200 kilometres of the Hamburg Cyclassics race, although I would rather not to have gone. For me, there were no other options, so I had to take a rest after the Tour. I couldn't go to the Eneco Tour, for example."
In green at the Tour
Photo ©: Luc Claessen

"I returned to competition last Saturday in the Tour de Rijke in Holland, but once more I crashed there, after 20 kilometres. I landed on my knee again and there was a bit of panic at first, because it swelled right up. But after a while it was okay."
Boonen's hit the deck a few times this year. "It is indeed a season full of crashes. I crashed twice in the Three Days of De Panne because of mistakes by my team-mates. Then I had three crashes in the Tour, every time because someone else went down and I went over them. It was always someone else, because normally I am not a crasher. It seems like I have had all my bad luck already. So maybe I am saving up my good luck for the world championships."
Apart from preparing for the September 25 D-Day in Madrid, the Vuelta will also serve to show Boonen how he is going after his lay-off. "For me, personally, the first real big test will be the first mountain stage. I can test my legs there and see how good or bad I really am. It would be nice to win a stage, it would be good for the confidence, but it would not be psychological warfare with the other world championship favourites. That will be done in Madrid, not here.
"I don't know anything about the other guys such as Petacchi. I am quite anxious to find out how good they are. Petacchi is coming back from injury, Zabel is not doing so well and Hushovd is coming back from the Tour. Nevertheless, if there is a sprint, one of these guys will win. I am also not forgetting Max van Heeswijk. He can win a sprint in the Vuelta, but not in the world championship because that race is too long for him.
There he goes
Photo ©: Sirotti

This year's world championships is on a mainly flat circuit in Madrid. There, two short climbs each lap will serve to break up the bunch's rhythm slightly, but are unlikely to be sufficiently difficult to rule out a bunch gallop. Boonen, along with the likes of Alessandro Petacchi, Robbie McEwen, Thor Hushovd and Erik Zabel are likely to be the fastest riders there, and all bar McEwen have opted to use the Vuelta as preparation. As is often the case with the sprinters aiming for the worlds, Boonen has decided not to ride the whole race. Instead, he will go just over halfway and then stop. "I will be racing until the 12th stage in Burgos, then I will go back to Belgium, take a short rest and do some more training. I'll then head to Madrid for the world championships. I think those two weeks should be enough to gain extra strength and speed for the worlds. And hopefully I'll be in top condition there."