Recently on Cyclingnews.com
92nd Tour de France - GT
July 2-24, 2005
Mountain Stages
From the Atlantic to Germany and back, the 2005 TdF does a clockwise lap of the country
Photo ©:STdF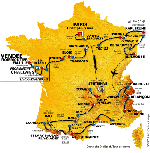 Sunday, July 10, is the first climbing stage of the Tour, Stage nine from Gerardmer to Mulhouse over 170km with six climbs in the Vosges, including Grand Ballon & Ballon d'Alsace. This final ascent, 55km from the finish was the first mountain ever climbed in the Tour 100 years ago.
After Stage nine, which concludes Phase One of the 2005 Tour, the teams will have a one hour air transfer from Mulhouse to Grenoble and on Monday, July 11, enjoy a rest day at Grenoble.
Phase Two of the Tour kicks off with the first Alpine stage on Tuesday, July 12, as Stage 10 heads east from Grenoble to the chi-chi ski resort of Courchevel via the ascent of the Cormet de Roseland and a mountaintop finish at Courchevel 2000.
Another Alpine stage is on the menu for Wednesday, July 13, when Stage 11 heads downhill from Courchevel, then scales the Col de la Madelaine, then up the Galibier and plunges down to for the finish. Thursday, July 14, France's national holiday, is the halfway point of Tour and Stage 12 heads due south from Briancon to Digne les Bains. No big climbs on this stage, just many tough little up and down ascents on what could be a day for surprises on the way to Provence.
After Friday's Stage 13 from Miramas to Montpellier in the Languedoc region, the only transition stage between Alps & Pyrenees over 162km, Phase Three commences with a hard stage on Saturday, July 16, from Agde to Ax-3 Domaines via the Port de Pailheres and finishes atop the Plateau de Bonascre, where Colombia Felix Cardenas won in 2001.
Stage 15 from Lezat-sur-Leze to Saint Lary Soulan (Pla d'Adet) is the queen stage of the 2005 Tour, a classic Pyreneean challenge for the Tour peloton. The second half of the 205km stage ascends five classified climbs before the final assault of Pla d'Adet, including Col du Portet d'Aspet, Mente, Portillion, Peyresourde and the steep Val Louron-Azet before the final mountaintop finish.
Stage 9 - July 10: Gerardmer - Mulhouse, 170 km

Col de Grosse Pierre (955 m), 3.1 km. at 6.4 percent
Col de Bramont (956 m), 3.4 km at 6.5 percent
Le Grand Ballon (1338 m), 21.9 km at 3.6 percent
Col de Bussang (731 m), 6.2 km at 4.5 percent
Le Ballon d'Alsace (1171 m), 9.1 km at 6.8 percent

Stage 10 - July 12: Grenoble - Courchevel, 192 km

Cormet de Roselend (1968 m), 20.1 km at 6 percent
Courchevel (2004 m), 21.8 km at 6.3 percent

Stage 11 - July 13: Courchevel - Briancon, 173 km

Col de la Madeleine (2000 m), 25.4 km at 6.1 percent
Col du Télégraphe (1566 m), 12 km at 6.7 percent
Col du Galibier (2645 m), 17.5 km at 6.9 percent

Stage 12 - July 14: Briancon - Digne-les-Bains, 187 km

Côte des Demoiselles-coiffées (1067 m), 4.6 km at 4.8 percent
Col Saint-Jean (1332 m), 13.2 km at 4 percent
Col du Corobin (1230 m), 12.4 km at 4.5 percent
Col de l'Orme (734 m), 2.7 km at 3.9 percent

Stage 14 - July 16: Agde - Ax-3 Domaines, 220 km

Port de Pailhères (2001 m), 15.2 km at 8 percent
Ax-3 Domaines (1372 m), 9.1 km at 7.3 percent

Stage 15 - July 17: Lezat-sur-Leze - Saint-Lary-Soulan (Pla-d'Adet), 205 km

Col du Portet d'Aspet (1069 m), 2.7 km at 8.4 percent
Col de Menté (1349 m), 7 km at 8.1 percent
Col du Portillon (1320 m), 8.3 km at 7.2 percent
Col de Peyresourde (1569 m), 13 km at 6.9 percent
Col de Val Louron-Azet (1580 m), 7.5 km at 7.9 percent
Saint-Lary-Soulan (Pla-d'Adet) (1669 m), 10.7 km at 7.6 percent

Stage 16 - July 19: Mourenx - Pau, 177 km

Col d'Ichère (674 m), 4.4 km at 6.2 percent
Col de Marie-Blanque (1035 m), 9.3 km at 7.7 percent
Col d'Aubisque (1677 m), 16.5 km at 7 percent
Col du Soulor (1475 m), 2 km at 5.5 percent