Tour de France Tech – August 2, 2005
Edited by John Stevenson
Got tech? Send press releases, news, and tech questions to the Cyclingnews tech desk.
Campagnolo Record brake/shift levers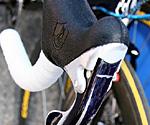 Liberty Seguros' special gear
By Anthony Tan
The Liberty Seguros team's BH bikes were some of the most eye-catching at this year's Tour de France, as they were decked out in some special custom-finished parts. It's not the first time Manolo Saiz' boys have been aboard unusual machines. For the centenary Tour de France in 2003 the team then known as ONCE had special bikes with black-and-gold Campagnolo components.
Matching brakes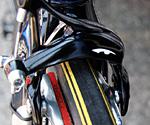 Before the start of Stage 13 of the Tour de France in Miramas, Cyclingnews had the chance the take shots of some very special equipment made for the nine Liberty Seguros-Würth riders at this year's Grand Boucle.
The Campagnolo rear derailleur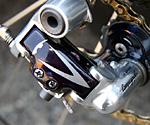 "Nice, huh?" was all head mechanic Faustino Muņoz said when we pointed at the unique insignia on the brake levers with a decidedly quizzical expression.
After a little more prompting, Muņoz said a few more words, telling Cyclingnews that the team's equipment suppliers had made the special edition equipment for the team, which extended to the Mavic brake calipers and Campagnolo Ergopower shifters rear derailleur. The symbol - a sort of very stylised 'M' - designates team manager Manolo Saiz, it seems.
KMC's gold-plated 10-speed chain.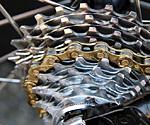 While there's no difference in weight, the items certainly make the already tricked-out BH bike look even tricker (if that's a word), along with KMC's gold-plated chain to boot. And once the chain's done it's life, Ali G fans can wear it round their necks. With a degrease beforehand, of course!
More photography
Images by Anthony Tan/www.cyclingnews.com

Bernucci's Pinarello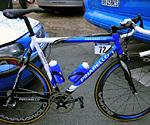 Lorenzo Bernucci's Fassa Bortolo Pinarello Dogma FP
By Tim Maloney, European Editor in Paris
Campagnolo Bora wheel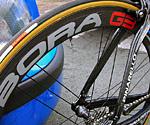 Along with Paolo Savoldelli and Giuseppe Guerini, Lorenzo Bernucci was one of three Tour stage winners from Italy, taking stage 6 in Nancy aboard his Fassa Bortolo Pinarello Dogma FP. This will be the last in a long line of bikes that Fausto Pinarello has prepared for the Silver Team of Fassa Bortolo, as Fassa will not be sponsoring a team next year, a source of understandable despondency for Berna and his buddies among the otherwise positive vibe of the end of the Tour.
Berna's beautiful bike is in Fassa Bortolo team colors, and the 56cm seat tube x 58cm top tube frame is made in Pinarello's proprietary AK61 magnesium tubing, with a M.O.st. 55mm oversize bottom bracket, Onda full carbon fork and rear seat stays. Bernucci uses Dedaelementi's Newton bars and a 140mm stem, and a Pinarello full carbon fibre seatpost with a Selle Italia Flite Gel saddle, the favorite of many pro riders. The drivetrain is all Campagnolo, with Record carbon fibre 172.5mm cranks. The Campagnolo hi profile Bora carbon fibre wheels are shod with new DedaTre Olimpic tubular tires.

George Hincapie's 'Thanks Bro' Giro helmet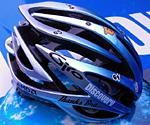 Seven heaven
By Tim Maloney, European Editor in Paris
For his seventh straight victory lap of the Champs Elysees, Lance Armstrong was wearing and riding a raft of special commemorative items, including a special bike from Trek, shades from Oakley and a lid from Giro.
Lance Armstrong's '7X' special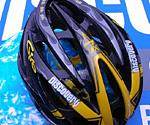 Toshi Corbett, Giro's Senior Marketing Manager, who drives around France every summer at Tour time with his French colleague JP making sure that all Giro and Bell sponsored teams have enough special 'product' showed Cyclingnews two very special helmets for Armstrong and his best biking buddy George Hincapie.
"Lance will wear this special version of the Atmos Lone Star helmet that is kind of his special design," said Corbett. "We made it to match his color scheme on Sunday." Corbett also previewed an Atmos helmet that Lance had made up for George Hincapie. "Lance wanted to thank George for being there for him during all seven Tours, so we made a one of a kind 'Thanks Bro' helmet for Big George."