Tour de France Tech – July 22, 2005
Edited by John Stevenson
Got tech? Send press releases, news, and tech questions to the Cyclingnews tech desk.
Bradley McGee's Lapierre X-Lite Ultimate
Photo ©: Anthony Tan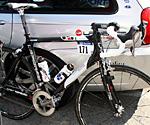 Bradley McGee's Franšaise Des Jeux Lapierre X-Lite Ultimate
Light weight is the order of the day for Bradley McGee's bike as the Australian eyes off a chance at a breakaway in the closing days of this Tour de France.
McGee's Lapierre X-Lite Ultimate is built around the latest version of Lapiere's monocoque carbon fiber frame, which like so many modern frame has the smooth all-one-piece look that comes about from being constructed in, er, all one piece.
You gotta keep your sponsors happy!
Photo ©: Anthony Tan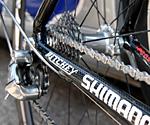 McGee's running gear is Shimano Dura-Ace, including the carbon-rimmed Dura-Ace wheels, though interestingly Corima's brake blocks do the stopping and not Shimano's. Brake pad technology for carbon rims is very much still developing; everyone has their favourite pads, but the distinctive red Corima pads have been a common choice at this Tour.
Syncros making a rare appearance at the Tour.
Photo ©: Anthony Tan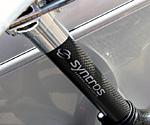 The other major contributor to McGee's bike is Ritchey. Originally known for mountain bike components, Ritchey has reinvented itself as a road bike parts maker in recent years and it's not unreasonable to say that it's one of the most successful companies at spanning the worlds of dirt and tarmac.
Up front, McGee uses Ritchey's Classic round-bend drop bar, and like the time trial bike we mentioned last week, it's not mounted in one of Ritchey's feathery-light WCS stems, but in a Pro grade extension, presumably because the slightly heavier version of the stem is also a bit stiffer.
Ritchey Pro stem and Classic bar
Photo ©: Anthony Tan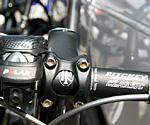 Ritchey also holds up Mcgee's Selle Italia saddle, though in this case by stealth. Very much known as a mountain bike component maker, Syncros is now part of the Ritchey family and that's a Syncros post under McGee's bum.
Shimano's rare Dura-Ace carbon wheels
Photo ©: Anthony Tan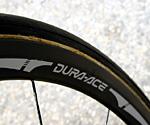 Syncros popularized the two-bolt seatpost design back in the eighties with seatposts that positioned the clamp right on top of the post. For early mountain bikes with laid-back seat angles this had the advantage of getting the saddle forward a bit too, which some riders preferred. For road bikes, though it's an unusual choice and indicates McGee's liking for a fairly forward saddle position.
Photography
For a thumbnail gallery of these images, click here
Images by Anthony Tan/Cyclingnews.com