Tour de France Tech – July 26, 2005
Edited by John Stevenson
Got tech? Send press releases, news, and tech questions to the Cyclingnews tech desk.
Champs Elysees specials
Everyone loves a winner and nobody more so than the suppliers of the bikes that overall winner Lance Armstrong and king of the mountains Michael Rasmussen rode triumphantly into Paris on the final day of the Tour de France. Trek and Colnago created special machines for their special riders, with a custom-decorated Madone SL for Armstrong and an even lighter incarnation of the Extreme-C for Rasmussen. Tim Maloney takes a look.
Michael Rasmussen's Colnago Extreme C Special Pois
Michael Rasmussen's Colnago Extreme-C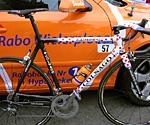 Note the special fluted shape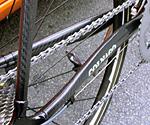 Ernesto Colnago created a special polka-dot bike for his favorite climber, Rabobank's Michael Rasmussen to ride in the final stage of the Tour de France to celebrate Rasmussen's maillot pois of best climber of the 2005 Tour.
Where are the moonbeams?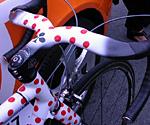 It says "Carbon"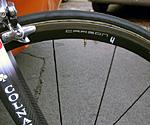 Although Rasmussen ended up losing his podium spot in the final TT in Saint Etienne, he was still quite satisfied to win a stage and wear the plka-dot jersey most of the Tour de France. Although Rasmussen used his 2004 Colnago Extreme-C prototype for most of the Tour, Ernesto whipped up this new 2005 Extreme-C bike for the Raboclimber.
"Michael is a 'bravo ragazzo' and he had a super tour. We're proud of him and wanted to showe him that by making this special bike for him", Colnago explained from his Cambiago, Italy HQ.
Colnago told Cyclingnews, "this new Extreme-C is a special lightweight climbing bike. It's different from (Rasmussen's) prototype because we have used a lighter, higher grade carbon fiber that Ferrari uses in their F1 cars, and the chainstays have a new, fluted shape for more stiffness but weigh less."
Colnago will have a limited series of the Colnago Extreme C Special Pois available later this year. Rasmussen's 56cm model is equipped with Shimano Dura-Ace 10 speed group, specially decorated Cinelli Ram integrated carbon fibre handlebars.
According to Colnago, the frame weighs in at less than 1kg. "We could have maade this bike lighter", explained Colnago, "but it would not have been safe to ride. We have a standard to maintain and will not take any risks."
Lance Armstrong's Trek Madone SL Old Number Seven
Lance Armstrong's Champs Elysees special Trek Madone SL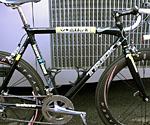 Head tube detail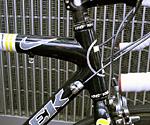 To celebrate his final ride down the Champs Elysees and the final ride of his pro career, Trek and Nike collaborated on a special one off bike that Lance Armstrong can hang on the wall for years to come as the two wheel chariot that delivered him to his final cycling victory.
Lenny Futura's 10//2 icons
"We worked with Nike, who had Lenny Futura create a unique approach to the bike graphics for Lance's 10//2 clothing line," explained Trek's Scott Daubert, who gave Cyclingnews an exclusive pre-race look before the final ride of Lance Armstrong Sunday, where he changed from his superlight Trek Madone SSLx climbing bike.
Old Number Seven is a 58cm model, with an OCLV 110 Carbon Frame, Bontrager Race XXX Lite OCLV 110 Carbon Fork, new Bontrager Aeolus prototype wheels, Race Lite OS 31.8mm stem and new Bontrager RaceLite XXX carbon fiber handlebars. Ever the traditionalist, Armstrong is using a Bontrager branded Selle San Marco Concor Light saddle, a design that he's used for at least 10 years.