92nd Tour de France - July 2-24, 2005
The young one in white
A preview of the best young rider competition
Of all the jerseys available during the Tour de France, the white jersey of best young rider is perhaps the least-known amongst the prizes available overall at the Tour. Riders such as Ivan Basso, Vladimir Karpets and Denis Menchov have won this jersey in recent years, and most go on to become riders that perform in the 'senior' classfications. Les Clarke looks at the riders to watch in 2005.
The white jersey
Photo ©: Christine Grein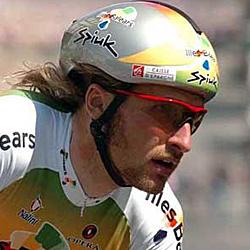 If you're riding the Tour de France and you're under the age of 25, then you are eligible for the white jersey. The main names to look out for this year are:
Allan Davis
Yaroslav Popovych
Vladimir Karpets
Andrei Kashechkin
Alejandro Valverde
Fabian Cancellara
Philippe Gilbert
Bernhard Eisel
Tom Boonen
Alberto Contador
These riders have proven themselves on the big stages so far this year, but there aren't any stages bigger than the Tour de France. Former winners in this competition now feature on the overall leaderboard, and winning the white jersey can be a serious shot in the arm for a young rider looking to consolidate their position in a team or make a step up and change teams.
Normally it's a rider who has the ability to climb that takes out this competition, much like the general classification. But with a few riders that can do both, this race for white can be an interesting sideshow to the main game.
The basic premise of the best young rider classification is that the rider under the age of 25 with the lowest cumulative time (like general classification) is declared the best young rider and wears the white jersey. It's an opportunity to showcase youthful talent in a separate competition that retains prestige in its own right.
Some riders, such as Thomas Voeckler in 2004, can lead the best young rider classification while leading on general classification - this is unusual and it's normally the more senior riders that are able to tough it out for the full three weeks in order to remain high on the GC leaderboard.
Two teams field most of the contenders for this year's competition - Liberty Seguros-Wurth and Francaise des Jeux. They have young squads with plenty of talent, and both directeur sportifs (Manolo Saiz and Marc Madiot) have said in the past they are always looking to develop young talented riders. What better way to blood these riders than to race them in the Tour de France? And this competition encourages more participation by young riders.
In 2005, there's a mixed bag when it comes to the best young rider competition. Last year's winner, Vladimir Karpets, is eligible for the white jersey again, and with a reasonably strong squad around him he's bound to feature in the calculations for the best rider under 25 years of age. He has young gun Alejandro Valverde in his team, who is also eligible to contest the competition, as he was under 25 at the start of the year. With a big engine, good time trialling ability and a strong sprint, Karpets will no doubt do well in the race for the white jersey again.
Allan Davis (Liberty Seguros)
Photo ©: Christine Krueger

A favourite for this competition has to be Allan Davis - the Liberty Seguros rider took third in the competition last year and has been tipped by many to be a GC contender in the mould of Michael Rogers; the two are friends and both were contenders for the white jersey in '04. Davis can mix it in the sprint, but his ability to keep motoring all day is what sets him apart from the rest. Look to Davis to feature in this competition and be amongst the top 50 overall.
Illes Balears' young star, Alejandro Valverde, has been tipped for greatness by many an observer, and the young rider competition may yet be another feather in his cap. There isn't much than hasn't already been said about this young Spanish rider - class, speed and skill - but the temperament and stamina to last three weeks may be lacking in the final analysis. Look out for him, though.
Discovery Channel's super recruit, Yaroslav Popvych, has proven himself in the Giro d'Italia in 2003 and has demonstrated he can survive three weeks of tough riding well. He is definitely a ride to look out for with plenty of class and a strong team to pull him along if need be. Chances are he won't need it and will feature in the race for the white jersey in 2005.
Bernhard Eisel (Francaise des Jeux)
Photo ©: Christine Grein
Philippe Gilbert is one of the strongest young riders in the pro peloton, the Francaise des Jeux rider being predominantly a classics rider with plenty of stamina. This will serve him well during the 2005 Tour, with several stages suiting classics-type riders, and with the likes of Brad McGee and last year's white jersey runner-up Sandy Casar in his team, Gilbert looks the goods to challenge.
And another Francaise des Jeux rider, Thomas L÷vkvist, is one of the youngest riders in this year's Tour but he is certainly touted as a real future star - good racing sense, plenty of stamina and the ability to listen to directions are all traits that have some people talking about the young Swede as a rider to watch in a couple of years. He may not do too much during this year's race around France, but don't be surprised if the name pops up occassionally this year and certainly in the years to come.
Two of Davis' teammates at Liberty Seguros, Luis Leon Sanchez and Alberto Contador, may not be as well-known or as fancied as Davis for honours in the best young rider category, but both have enjoyed success in 2005 and shown they are capable of mixing it amongst the big guns. Contador won overall at Setmana Catalana and has performed consistently all season, showing class and maturity early in his career. Sanchez took overall honours at the Tour Down Under in January - an early season race it my be, but a worthy proving ground for a rider of his age nevertheless.
Alberto Contador (Liberty Seguros)
Photo ©: Mark Gunter

The Francaise des Jeux youth stable has produced another contender - Bernhard Eisel. He enjoyed a successful Tour de Suisse recently against more experienced opposition and can sprint, as he did to win stage 1 of the Tour de Suisse, and support the team effort - this combination will prove especially useful to green jersey contender Baden Cooke in his quest to get back to the top of Grand Tour sprinting. Eisel finished down in the best young rider rankings at last year's Tour, but in 2005 he should improve on this performance.
Tom Boonen's record in 2005 speaks for itself - he returns to the Tour this year still eligible to take out the best young rider competition, but with his focus on the sprints and flatter stages he probably won't be in contention for the white jersey. Stage wins will be his target, and most are tipping he'll be able to get at least one of those this year to follow up the two he managed in 2004.
An outsider for the white jersey will be Liquigas-Bianchi's Michael Albasini. Having won stage 5 of the Tour de Suisse against high-calibre competition which included Michael Rogers and Jan Ullrich, the young Swiss rider has been described as a passista-climber, and as such made it onto a Liquigas roster packed with experienced, talented riders such as Garzelli, Backstedt and Cioni. Even if he doesn't win the competition, he'll learn plenty from these men that have been there before.