92nd Tour de France - July 2-24, 2005
An interview with Dave Zabriskie, July 2, 2005
Zabriskie means Zoom!
By Anthony Tan in Noirmoutier-en-I'lle
Zabriskie means Zoom
Photo ©: AFP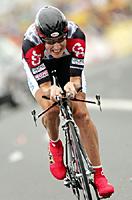 The 19th rider to leave Fromentine at two minutes to four this afternoon, America's TT top-gun David Zabriskie was always going to be one of the early men to watch. And the 26 year-old didn't disappoint, setting the best time that stood and stood and stood - going all the way to become the first maillot jaune of the 92nd Tour de France.
"Unbelievable...I really don't know quite what to say. I never thought this would happen, never, ever, ever," said Zabriskie with an facial expression that implied it still hadn't happened.
On whether there was a particular strategy he used before starting today's stage, he said the only strategy he used - and always uses - was to go as hard as he could for as long as he could. "[In time trials] you have to go hard the whole time, so the whole thing was hard.
"It's becoming a common thing for me to wait around after the time trials," he added with a smile to Cyclingnews, referring to his most recent time trial win at this year's Giro d'Italia. "But it doesn't get any easier - especially when the last rider to go was Lance!"
When Cyclingnews caught up with Zabriskie straight after his ride, which he rode in 20 minutes and 51 seconds, clocking an amazing average speed of 54.676 kilometres an hour, we first asked Team CSC's funny man whether it was a course that suited his characteristics.
A word from Mr Hinault
Photo ©: AFP

"Actually, I didn't mind it," he said in his typical matter-of-fact sort of way, adding that his versatility in the contre-la-montre meant that he doesn't really favour a flat course such as today's over a hilly one, or an undulating parcours versus a flat one. "There goes a good test for them," he added about whether today's time trial provided a good test for the contenders. "But so much can happen over the course of these three weeks; I think everybody's just opening up their legs right now, and you're going to see a lot more action."
Speaking with him a few weeks after the Giro d'Italia, Zabriskie said at the time he wasn't sure of his chances of riding, but today he told Cyclingnews he had a pretty good idea he was going all along. "I had a good idea; I just didn't want to be the one who said: 'Hey - I'm going!' [before the official announcement]."
"Though it's good to get [the Tour] started and get it going. I only raced once in June, so it's been a long wait to get going [racing] again. You hear a lot of things... 'Ooh, it's the Tour de France!' - but you gotta come here yourself to see what it's all about."
As he said so himself, never in his wildest dreams did he think what happened to him today was possible, and the inauspicious start he was maybe hoping for has now been thrown right out the window. But there are a growing number of people who aren't surprised by his steady progression and recent string of results at the sport's highest level, including CSC team manager Bjarne Riis and team-mate Jens Voigt, who finished in the top 10 himself today.
In yellow
Photo ©: Sirotti

"Dave probably has more potential than he knows," said Voigt to Cyclingnews at the Tour de Suisse. "It's definitely a win for the team that he signed for us. He can really dig deep and really hurt himself - so yeah, I really rate him as a team-mate and as a friend."
However, Dave Z is under no illusion as to what his real job entails in the weeks ahead, and for this Tour at least, he doesn't feel any extra pressure being the maillot jaune. "I'm just Dave Zabriskie... I do what I do, and that's all I can do."
Zabriskie's low-key, low stress approach to life on and off the bike downplays the American's importance in this 92nd Tour de France. This man has already shown at the Giro d'Italia he's not only capable of producing stage-winning TT times, but is also an extremely valuable team member in the mountains, so once again, his main job will be to protect team leader Ivan Basso as much as possible in the Tour's key stages.
"You see all the people here [today] and you already feel it's a big deal, but I also know it's going to get even crazier!" he said with the grin of someone who thrives in crazy times.
So are there possibilities of becoming a Tour rider in the future?
"Yeah, I think I have other possibilities," he said with quiet confidence. "Obviously, I do very well in the time trial, but I think if I can keep on progressing and improving in other areas, I can win different style races."
For now, Dave Zabriskie can savour the finest moment of his cycling career so far, and no-one can take that away from him. "I didn't think this would happen but it happened, and tonight, it will be difficult for me to sleep. I don't know how long I can keep it," he said.