Recently on Cyclingnews.com
Tour de France news feature, June 22, 2005
T-Mobile supporting Ullrich with age and experience
By Susan Westemeyer in Bonn
The T-Mobile Tour team:
Photo ©: Mani Wollner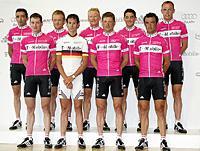 Team T-Mobile has announced a mature and experienced team with which it hopes will help captain Jan Ullrich finally beat Lance Armstrong and win the Tour de France next month. "Ullrich is our clear number one," said Team Manager Walter Godefroot, clarifying a major question.
Ullrich will be supported by two former podium finishers, Andreas Klöden and Alexander Vinokourov, the latter who said, "The most important thing is that one of us wins yellow." In the mountains, Ullrich will be backed up by veteran Giuseppe Guerini and team newcomer Oscar Sevilla. Matthias Kessler, Tobias Steinhauser, Daniele Nardello and Tour-debutante Stephan Schreck complete what Director Sportif Mario Kummer calls "the best team we could bring." It is definitely not a young and inexperienced team - the riders average 30 years old and have ridden a total of 36 Tours de France.
One famous name was missing, but still managed to come in for his share of attention. As the nine riders filed onto the stage, a fan called, "Where is Erik?" "He's not here today," said Kummer coolly. He later explained that the team leadership started discussing the team make-up last fall, discussions which continued until two weeks ago. "Then we had to make a decision." A review of the major riders showed Ullrich and Vinokourov in good form and Klöden improving, and the decision was made. Ullrich, who gave his input in to the decision-making process, said, "Such a decision is always difficult - Erik deserved a spot, but we want to concentrate one hundred percent on the yellow jersey."
A relaxed Jan Ullrich
Photo ©: Mani Wollner

Looking at this year's course, Kummer said that the team time trial won't be decisive and won't produce big time differences. However, the 20th stage in Saint-Etienne "is probably the hardest individual time trial in Tour history," and will be equally as decisive as the Pyrenean stages. Is that why the team scouted those mountain stages and not those in the Alps? No, he said, it was simply because "the Alpine passes were still snowed in."
A last-minute change to the team saw the substitution of Daniele Nardello for Russian Sergei Ivanov. In fact, some of the team's promotional material includes Ivanov on the team. But the Italian has apparently finally recovered from back problems suffered in a crash in the Tour of Qatar early in the year, and he said, "I battled my way back at the Tour de Suisse. My condition is good. Now I plan to support the team as much as possible."
Giuseppe "Turbo-Beppe" Guerini
Photo ©: Mani Wollner

There was some surprise that Paco Lara had not been nominated after doing quite well in Asturias. Kummer explained that Lara's season highlights had been planned for before the Tour. He was in top form now, but it was doubtful as to whether he could hold that form for another few weeks. His help would be most needed in the third week and it was too much of a question as to whether he would be up to it.
The "Tour oldie" is Giuseppe Guerini, who at 35 has already started 18 Grand Tours, but says that "the enthusiasm never goes away." Tour newcomer, 26 year-old Stephan Schreck, was asked which was dominant, anticipation or nerves. Right now the anticipation is highest, "but I expect the nerves will eventually kick in next week when we travel to France."
Vinokourov:
Photo ©: Mani Wollner

Alexander Vinokourov is the team's "joker," a strong podium candidate. He toes the party line ("I won't be there to ride my own race but to ride for the team") but is keeping all his options open ("When team tactics allow it I will also take my chances to go for a stage win").
After the presentation, the team was off for a final joint training ride before celebrating Klöden's 30th birthday. Then they went their own ways, planning to meet again next Wednesday to travel to France and take on the challenge.
T-Mobile for the Tour: Giuseppe Guerini (35 years old, Italy, 9th Tour start), Matthias Kessler (26, Germany, 3rd Tour start), Andreas Klöden (30, Germany, 4th Tour start), Daniele Nardello (32, Italy, 8th Tour start), Stephan Schreck (26, Germany, first Tour start), Oscar Sevilla (28, Spain, 4th Tour start), Tobias Steinhauser (33, Germany, 3rd Tour start), Jan Ullrich (31, Germany, 8th Tour Start), Alexander Vinokourov (32, Kazakhstan, 5th Tour start).
Photography
For a thumbnail gallery of these images, click here
Images by Mani Wollner/www.foto-grafik-satz.de