Australian Road Cycling Championships - NE
Sunshine Coast, Australia, September 3-11, 2005
Main Page Results Previous Day
Day 7 - September 11: Criteriums: under 19 women; under 19 men; under 23 men; elite women; elite men
Thrilling Climax to National Club Road Cycling Championships
Poad's national title hopes pipped at the post
Peter Dawson
Photo ©: John Flynn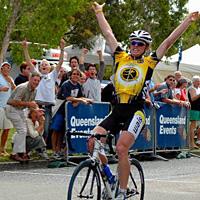 At the end of two weeks of captivating racing, it was only fitting the Australian Club Road Championships on Queensland's Sunshine Coast would end today with a race which, for those who were there, will remain in the 'bottled forever' category.
Rarely, if ever, have Australians cheered so loudly for a native kiwi (an Australian term used to describe New Zealanders), than when they willed the gutsy Jaaron Poad (Ffast Velo Cycles) to the finish line of today's Elite Men's National Criterium Championship.
Just as he did in yesterday's road race, the 28 year old Brisbane based cyclist jumped virtually from the gun, establishing a small breakaway group, in which he did most of the driving.
On paper at least, the breakaway had the right composition for success. Initially Poad was joined by re-emerging track pursuit champion Peter Dawson and Australian development rider Jonathon Cantwell (Lifecycle).
But when Dawson tired and Cantwell chose not to take turns on the front for reasons only he will probably understand, it was Poad who was left out front all alone in the dying minutes of the race.
For the small but incredibly supportive crowd at Currimundi, the final five laps of the 60 minute Elite Men's criterium were an 'edge of your seats' affair.
Jaaron Poad
Photo ©: John Flynn

The gap reduced slowly from twenty seconds to ten seconds, then with victory in his sights, Poad the attacker was run down by the bunch sprinters, ten metres from the finish line.
"That's the closest I've come to a national title and not get it, I'm lost for words to be quite honest," a shattered Poad told Cyclingnews.
"I thought I had it, the brakes came on at the end."
Adding further sting to the defeat, it was one of Poad's breakaway partners in Peter Dawson who won the dash to the line and claimed the National Club Criterium title.
"Maybe he did the smart thing and went back to the group," Poad pondered as he searched for meaning in today's result.
Road race winner Peter Herzig
Photo ©: John Flynn

Dawson was more circumspect in his analysis.
The re-emerging track pursuit star was a well deserved winner, given he shared the effort with Poad while in the breakaway group and didn't shirk turns out front for much of the race.
"I really felt for him on the line but I take a win when I get one," Dawson said.
"It's been a long time since I've had a really big win like this so I'm ecstatic."
Dawson and Poad were both critical of what eventuated from today's breakaway group, which seemed to self destruct for no apparent reason, when clearly all three riders had much to gain by sharing the work.
"My opinion is if there's three of you, you ride to win the race and you're all guaranteed a medal," said Poad.
Stephen Rossendell
Photo ©: John Flynn

"We had a bit of discussion and it didn't work out, I spose that's bike racing hey, some people race with their hearts and some people race with their heads."
Still, Dawson's win was one to savour in itself and a sign that his recovery from knee surgery is on track.
"I'm going to get back to Europe next year, but this year I was worried I was never going to get back to the European scene," Dawson admitted.
"Now I'm happy the knee's good, the form's starting to come up and I'm starting to get some wins.
The minor placings in today's Elite Men's Criterium were awarded to Joe McDonnell of the Sutherland Shire Cycling Club and Peter Milostic of Penrith Panthers.
Mactier wins women's race
Katie Mactier
Photo ©: John Flynn

Wiping away the memory of a DNF in yesterday's Elite Women's Road Race, it was another star of the track in Katie Mactier (Carnegie Caulfield C.C.), who cruised to victory in the Elite Women's Criterium.
The world pursuit champion was part of a group of six riders who established an early breakaway. Brisbane's Sally Cowman (Victor Cycle Club), who has impressed with her strong all-round riding at these championships, also giving maximum effort up front along with Emma Mackie (Queensland University) who won yesterday's Elite Women's road race.
The sprint finish however was clearly suited to Mactier, who never appeared to be greatly challenged. The next best in the race for the minor medals were Emma Mackie and Kelly Harry (Peel Districts).
"I had a bad day yesterday, you have them, but for me I like having a go in crits and I find it hard to sit in," Mactier said post-race.
"I've just come from the Tour of Murray with the men it was just five days of solid racing."
As for today's result, it's a sign Mactier's form is getting sharper heading towards her next major career objectives on the track and road.
In coming weeks she plans to sit down with coach John Beazley, and fine tune a program with the month of March in mind.
"Absolutely as far as mentally I've been geed up for commonwealth games," Mactier affirmed.
"Since I've finished Athens and then of course worlds in L.A. (where she won gold in the 3000 metre pursuit) this year was a terrific result for me. I've never represented Australia at commonwealth games it's going to be huge and I'm hoping to ride track and road."
Under 23 Men's Criterium
Matthew Lloyd
Photo ©: John Flynn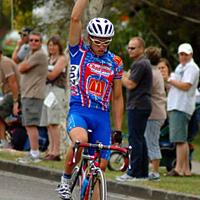 The under 23 men's criterium also made for exciting racing, with a breakaway move by yesterday's road race winner Simon Clarke and Carnegie Caulfield team-mate Tommy Nankervis almost succeeding.
But with the main bunch chasing hard in the dying laps it simply wasn't to be.
Instead, it was an other Victorian in Matthew Lloyd (Saint Kilda Cycling Club) who emerged victorious.
The up and coming hillclimber who has spent this year racing with a division two road team in Europe, chose not to help chase down his fellow Victorians. Lloyd waiting until his mates had been caught, before launching a decisive attack in the final few laps.
"Just got back from France and wasn't expecting it to work out that way," Lloyd admitted while accepting the fortuitous outcome.
"We've got way better sprinters in the team than myself and I thought the only way to have a dig today would be to just have a crack off the front and sometimes it works."
Nankervis and Clarke ensured it would be a Victorian one-two-three on the podium, Lloyd showing promising form heading into next weekend's Grafton to Inverell race, which should more suit his mountain climbing qualities.
Plenty of talent in Under 19s
Tess Downing
Photo ©: John Flynn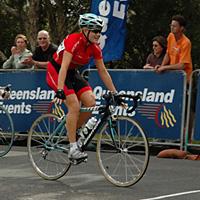 Just as the junior division had proven earlier in these championships, today's under 19 Criterium events confirmed the stocks for Australian road cycling are looking incredibly strong.
In the under 19 women's category, Melbourne teenager Tess Downing (Carnegie Caulfield) made it gold in triplicate, by taking the honours in today's criterium. It followed gold medal winning performances in the Thursday's time trial event and yesterday's road race.
There was simply no stopping the Drapac Porsche development squad rider in today's criterium event. Downing rode a sensible race, before storming into the final corner and winning the sprint finish.
"I've always thought of getting three all at one nationals," a smiling Downing said shortly after winning her third gold medal for the championships.
"All three it's unreal now I'm excited. It's definitely a confidence boost, I can tell you that."
Another Solo Breakaway in Under 19 Men's Event
In the under nineteen men's criterium, the scenario wasn't unlike the elite men's race at today's championships, only the result was vastly different.
Shepparton Cycling Club's Shaun Morris turned on one of the rides of the championships, when he went from the gun, established a breakaway group and never looked back.
Morris was joined off the front of the under 19 bunch by Darwin Cycling Club's Matt King and Bendigo's Josh Grundy.
The three riders worked effectively together to make the move a successful one, before king launched an attack heading into the finishing straight.
"He caught me off my game a bit, I was chasing all down the back straight and he had a good ten metres on me coming into the finishing straight," an emotional Morris recalled of the frantic dash for home.
"I Kicked again and I got him."
In what might have been a lesson for the elite men, the three riders involved in the break shared the medals.
King, the Territorian, who hails from the same unlikely cycling nursery of Katherine which produced Cadel Evans, equally emotional about his silver medal performance.
"Yere it was awesome, tough very tough," King admitted.
"I always thought of going out tough today and show em what I've got."
Club Championship
The overall title of National Club Champion was awarded to the Midlands Club from Perth, which performed with distinction across the junior and senior ranks during the ten days of cycling on the Sunshine Coast.
Photography
For a thumbnail gallery of these images, click here
Images by John Flynn
Results
Elite men
 
1 Peter Dawson (Peel Districts Cycle Club)
2 Joe McDonnell (Sutherland Shire CC)
3 Peter Milostic (Penrith Panthers CC)
4 Aaron Salisbury (Carnegie Caulfield CC)
5 Jonathan Cantwell (Lifecycle Cycling Club)
6 Jaaron Poad (Ffast Cycle Club)
7 Peter Herzig (Uni Cycle Club)
8 Kurt Dutton (Victor Cycle Club)
9 Brendan Hill (Lifecycle Cycling Club)
10 Jeremy Betts (Lifecycle Cycling Club)
11 Luis Trueba (Macarthur Collegians CC)
12 Gilbert Gutowski (Broncos)
13 Greg Rossiter (Southern Districts CC)
14 Timothy Decker (Bendigo & District CC)
15 Riki Lanyon (C.A.T.S.)
16 Craig Mackie (Murwillumbah Cycle Club)
17 Matthew Newlands (Victor Cycle Club)
18 Allan Sieper (Canberra Cycling Club)
19 Stephen Blair (Canberra Cycling Club)
20 Daniel McCulloch (Ffast Cycle Club)
21 Adam Murchie (Footscray Cycling Club Inc)
22 Andrew Deane (Ffast Cycle Club)
23 Adrian Salter (Footscray Cycling Club Inc)
24 Chris Pryor (Ffast Cycle Club)
25 Andrew Naylor (Blackburn Cycling Club Inc)
DNF Alistair Hartley (Kangaroo Point C C)
DNF William Evans (Uni Cycle Club)
DNF Steven George (Ffast Cycle Club)
DNF Martin Tobin (Wangaratta Cycling Club Inc)
DNF Ivan Vella (Uni Cycle Club)
DNF Grant Webster (Echuca/Moama Cycling Club)
DNF Leighton Jefferson (Victor Cycle Club)
DNF Damian Copeland (Ffast Cycle Club)
DNF Wadi Nadzri (Balmoral Cycle Club)
DNF Steven George (Ffast Cycle Club)
DNF William Evans (Uni Cycle Club)
DNF Stephen Palomba (Ffast Cycle Club)
DNF Mark Ledgerwood (Ffast Cycle Club)
DNF Jonathan Coulter (Victor Cycle Club)
 
Elite women
 
1 Katie Mactier (Carnegie Caulfield CC)
2 Emma Mackie (Uni Cycle Club)
3 Kelly Harry (Peel Districts Cycle Club)
4 Sally Cowman (Victor Cycle Club)
5 Jessie Maclean (Canberra Cycling Club)
6 Hannah Banks (Uni Cycle Club)
7 Rahna Demarte (Northcote Cycling Club Inc)
8 Nathalie Laurendeau (Midland CC)
9 Kate Mercer (Uni Cycle Club)
10 Kelly Furey (Hunter District CC)
11 Anouska Edwards (Rockhampton Cycle Club)
12 Louise Kerr (Uni Cycle Club)
13 Kristy Gablonski (Uni Cycle Club)
14 Jennifer Manefield (Parramatta CC)
15 Kate Charge (Lidcombe Auburn CC)
16 Toireasa Gallagher (Bathurst CC)
17 Theresa Elmes (Ffast Cycle Club)
18 Jess Haynes (Uni Cycle Club)
19 Laura Bortolozzi (Randwick Botany CC)
DNF Zoe Southwell (Parramatta CC)
DNF Emily Yorkston (Uni Cycle Club)
DNF Charlotte Warren (Uni Cycle Club)
DNF Lisa Payne (Norwood C.C.)
DNF Vicki Eustace (Tuggeranong Vikings CC)
DNF Carol De Jong (Uni Cycle Club)
DNF Michelle Curtin (Ffast Cycle Club)
 
Under 23 men
 
1 Matthew Lloyd (St Kilda Cycling Club Inc)
2 Tommy Nankervis (Carnegie Caulfield CC)
3 Simon Clarke (Carnegie Caulfield CC)
4 Mitchell Docker (Brunswick Cycling Club Inc)
5 Matthew Goss (West Tamar CC)
6 Mathew Rex (Norwood C.C.)
7 Bradley Payne (C.A.T.S.)
8 David Kemp (Toowoomba Cycling Club Inc.)
9 Kai Rothlisberger (Lifecycle Cycling Club)
10 Casey Munro (Brunswick Cycling Club Inc)
11 Bradley Norton (Shepparton Cycling Club Inc)
12 Phil Gough (Peloton Sports Inc.)
13 Warren Scott (St George CC)
14 Mark Frendo (Uni Cycle Club)
15 Jai Crawford (Hobart Wheelers)
16 Brendan O'Connell (Lifecycle Cycling Club)
17 Wesley Sulzberger (West Tamar CC)
18 Sean Finning (Castlemaine Cycling Club Inc)
19 Brendan Kay (Victor Cycle Club)
20 Matthew Wood (Kangaroo Point C C)
21 Bernard Sulzberger (West Tamar CC)
DNF Daniel Thorsen (Shepparton Cycling Club Inc)
DNF Nathan Silleto (Canberra Cycling Club)
DNF Patrick Shaw (Ballarat/Sebastopol C C)
DNF Ben Rix (Bendigo & District CC)
DNF Morgan Pilley (Byron Bay Freeriders)
DNF Sam Brown (Carnegie Caulfield CC)
DNF Dean Windsor (Bathurst CC)
DNF Peter Thompson (Ipswich Amateur C C)
DNF Jared Rowney (C.A.T.S.)
DNF Kyle Marwood (Bendigo & District CC)
DNF Grant Irwin (Rockhampton Cycle Club)
DNF Jeremy Davis (Lifecycle CC)
DNF Stephen Rossendell (Hobart Wheelers)
 
Under 19 women
 
1 Tess Downing (Carnegie Caulfield CC)
2 Jessica Hume (Wagga Wagga CC)
3 Tiffany Cromwell (Norwood C.C.)
4 Skye-Lee Armstrong (Parramatta CC)
5 Peta Mullens (Latrobe City Cycling Club)
6 Emma Sonerson (Tamworth CC)
7 Loren Rowney (C.A.T.S.)
8 Grace Sulzberger (West Tamar CC)
9 Joanna Von Berky (Hamilton Pine River Wheelers)
10 Belinda Thompson (Canberra Cycling Club)
11 Tahlia Clayton (Ararat&District Cycling Club)
12 Tiffany Manion (West Tamar CC)
13 Angeline Papajcsik (Balmoral Cycle Club)
14 Katie Smith (Rockhampton Cycle Club)
15 Philippa Martin (Midland CC)
16 Jessica McCallum (Midland CC)
 
Under 19 men
 
1 Shaun Morris (Shepparton Cycling Club Inc)
2 Matt King (Darwin Cycling Club)
3 Joshua Gundry (Bendigo & District CC)
4 Scott Sunderland (South West CC)
5 Jayden Veljacich (Midland CC)
6 Fabio Calabria (Canberra Cycling Club)
7 Benjamin Phillips (Broncos)
8 Jarrod Harman (Mersey Valley Devonport CC)
9 Mario Giramondo (Carnegie Caulfield CC)
10 Aaron Jones (City of Burnie CC)
11 Matthew Curnow (Carnegie Caulfield CC)
12 Darcy Rosenlund (Broncos)
13 Chris Jory (Port Macquarie)
14 Cameron Meyer (Midland CC)
15 Jeremy Hogg (Rockhampton Cycle Club)
16 Damion Drapac (Brunswick Cycling Club Inc)
17 Joel Davis (Kangaroo Point C C)
18 John Rayner (Mersey Valley Devonport CC)
19 Russell Gill (Norwood C.C.)
20 Luke Barrett (St George CC)
21 Tarquin Wallace (Balmoral Cycle Club)
22 Jack Anderson (Balmoral Cycle Club)
23 Pip Grinter (Bendigo & District CC)
24 Michael Mellish (Central Coast CC)
25 Jarrad Tremayne (South West CC)
26 Mitch Chapman (Orange CTC)
27 Ryan Gittins (Toowoomba Cycling Club Inc.)
28 Bradley Clark (Albury-Wodonga CC)
29 Adam O'Connor (Midland CC)
30 William Robinson (Launceston City CC)
31 Anthony Bennett (Lidcombe Auburn CC)
32 Hayden Josefski (Broncos)
33 Jack Hudson (Colnago-Caravello CC)
34 Mathew Wild (Southern Cross CC)
35 Matthew Pettit (Parramatta CC)
36 Luke Cridland (Southern Cross CC)
37 Kyle Bateson (C.A.T.S.)
38 Todd Dawson (C.A.T.S.)
DNF Alfred Cook (Canberra Cycling Club)