96th Milan - San Remo - PT
Italy, March 19, 2005
An interview with Allan Davis, March 19, 2005
Bundaberg Run
By Anthony Tan
Allan Davis (Liberty Seguros)
Photo ©: CN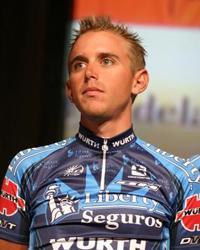 Freire, Zabel, Petacchi, Bettini and Valverde aren't the only names to watch for today: a short, blonde-haired 23 year-old, unafraid of the sport's bigger names, could well steal the show from beneath them.
"I've been thinking of this race for a while now," says Liberty Seguros leader Allan Davis to Cyclingnews, the night before a race he's dreamed more than once of winning.
In the space of 12 months, this 23 year-old prodigy from Bundaberg, a small town on Australia's east coast best known for its iconic Bundaberg Rum distillery, went from being a third year apprentice to adopting a co-leadership role at some of cycling's biggest one-day races. But the change, while dramatic, doesn't seem to bother him: "I've come here without any excuses," Davis says firmly.
"After finishing the Vuelta a Murcia [where he won two stages - Ed], I have been working very well and I feel in good shape. I have one more year of experience and especially after doing the Tour of France [last year], I have changed physically. It [the Tour] was a big learning curve for me, and from there until the end of the year, it was a big step forward.
That big step (really a giant leap) included a win at the Giro del Piemonte, fourth place in Paris-Tours and fifth at the world road championship in Verona, behind now three-time world champion Oscar Freire (Rabobank), Erik Zabel (T-Mobile) and fellow Australian Stuart O'Grady (Cofidis) - the exact same guys he'll be slugging it out with tomorrow at Milan-San Remo, if he's to arrive on the Via Roma ahead of the rest.
However, 'Alby' as he's affectionately known, downplays his role as one of the favourites for tomorrow: "The first thing is that I don't have the same pressure, such as Rabobank with Freire, Fassa with Petacchi, Telekom with Zabel and Quick Step with Boonen and Bettini," he says.
"I believe that we have a brilliant team, and that gives us other options besides me. We're in a nice situation to surprise the favourites."
- Davis speaking about Liberty being the underdogs at Milan-San Remo
"That's good [for Liberty Seguros], because it takes responsibility away from us. Besides, I believe that we have a brilliant team; Ángel Vicioso is also riding very well, as is [Giampaolo] Caruso, and that gives us other options besides me. We're in a nice situation to surprise the favourites."
CN: First of all, it's the first serious race for you this year, so you must be a little nervous?
AD: I've been thinking of this race for a while now, especially since I've been training for this race since November. It's pretty much my first big goal of the season, so yeah, I'm a bit nervous, but I know in the back of my mind that I couldn't be more ready than what I am now for this race. I've stayed healthy for a long time now, and everything's gone to plan, so that is always handy to have in the back of my mind.
CN: This year is a little different for you. 2004 was a somewhat of a breakthrough year, with your results in some of the World Cups and the World Championships, and Manolo [Saiz] has obviously put that extra confidence in you with your role in the team this year, so in that respect, I guess you can be assured of having that extra support than you otherwise would have?
AD: Yeah, the end of the season last year went well for me. Doing the Tour [de France] was a big thing - I learned a lot and matured physically and mentally, and it was a big learning curve for me - and from there until the end of the year, it was a big step forward, progression-wise, and I finished off well in some big races and got some good results. It's given myself, Manolo and the team a lot of confidence, and a bit more confidence in the one-day races like tomorrow.
CN: The fact that it's your third Milano-Sanremo, does that make it easier or harder?
AD: Experience is always good. Last year's [M-SR] was a lot better than the year before; I finished in the front group, but I was a bit relaxed going over the Poggio, and once I got there, I realised I couldn't move when I got to the bottom. That sort of experience comes with the race, and each year you do it, you learn something new out of the race - there's still a lot to learn, but I'm glad I've done it two times before.
CN: Have you been training over these roads for tomorrow's race, particularly the Poggio and Cipressa?
AD: [starts laughing] Nah, I've only been over them twice...
CN: Was that the two times you did it before?
AD: Yeah... I haven't been over them since last year! [more laughs] But seriously, Manolo said to me if the course profile had changed, I would have come over to have a look at it, but it's identical to last year and the year before, so there was no need to check it out. I know in my mind where I have to be.
CN: It's crunch time once you hit the Cipressa, but would you say the descent is equally important, because you can lose a lot of places in that short space of 15 or so kilometres before the start of the Poggio?
AD: With this race, you need to be at the front for the start of the Cipressa and also at the front for the start of the descent, because there's a lot of switchbacks. But you need a bit of luck on your side, too; you're hoping there'll be no crashes in the position you're in, particularly before the start of the climb. Once it gets onto the coast road, it's mad - everyone's got the same idea - but that's what makes the race what it is, I think, so you need a bit of luck as well as good legs on the day.
CN: What's the ideal finishing scenario for you, coming into the Via Roma?
AD: It'd be nice without Petacchi there! [laughs]; I'm pretty sure he's the fastest guy in the world at the moment - he's sensational in a flat sprint - and with him there, it makes it difficult. But watching Tirreno [Adriatico] last week, Oscar Freire is equal favourite; if I could get to the finish without Petacchi or Freire that be great, but I can't see it happening.
CN: Having said that, there is a chance that guys like Petacchi and Cipollini, your pure sprinters, won't be able to make it over the climb in the front group - but your climbing has obviously improved a lot in the last year?
AD: Yeah, hopefully that works in my favour, but in saying that, last year I went up the Cipressa on the limit, and I just made the front group. But I think I'm in better condition that last year, and after the season I had in 2004, I've matured a lot and hopefully that sways in my favour.
CN: You have a co-leadership role with Angel Vicioso tomorrow; how does that suit you?
AD: Yeah, it takes a bit of the pressure off [me]. Angel's got an enormous burst up something like the Cipressa or the Poggio, so he's just another option for the team, and I look it as a positive thing. We'll just talk about it tomorrow and see how we're both feeling; you sort of have a picture in your mind, but anything can happen on the day, bad luck, mechanicals... so it's good to know Angel's there - he's in good form, and it's a good race for him.
CN: What's your plan for the rest of the year - are races like Liege-Bastogne-Liege on the cards?
AD: At this stage, I'll be doing [Tour of] Flanders and [Paris] Roubaix - Manolo's going to give me another year or so before I do races like Liege and Amstel - and then hopefully do the Tour. After the Spring Classics, I'll probably have a bit of a break before concentrating on making the Tour team, then look at things after that, just taking things one step at a time.
CN: Finally, what's for dinner tonight?
AD: A lot! [laughs] It's such a long race, and by halfway, you're hungry again, so tonight and tomorrow morning, it's about getting in as much as you can.